AROUND THE RINK
By Scott Burnside, ESPN.com


Given the tightness of playoff races that figure to stay that way through the final days of the regular season (six points separated seventh through 14th in the East and nine separated seventh and 12th in the West), goaltending depth is likely to be one of the most crucial issues facing teams as the NHL schedule enters its second quarter.
It's no longer adequate for a backup netminder simply to give the starter a rest – he has to produce points. Those who don't will falter.
Even a team like Anaheim, which has a plethora of goaltending depth with Ilya Bryzgalov and Jean-Sebastien Giguere, was in recent days forced to use untested Michael Wall, who earned his first NHL victory while Giguere and Bryzgalov were injured.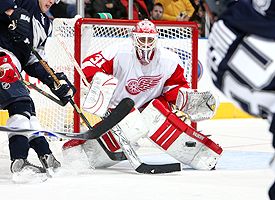 In Nashville, GM David Poile is thanking his stars that he re-signed backup Chris Mason, who was an unrestricted free agent in the offseason. Mason, of course, relieved Tomas Vokoun late last season and acquitted himself well in a first-round playoff loss to San Jose. Now, Mason is once again "the man" as Vokoun is out for at least a couple of weeks (maybe longer) with a thumb ligament injury. Mason was 5-1-2 with a .927 save percentage before Thursday's game against St. Louis. Still, the longer Vokoun is out, the more likely it's going to be that Michael Leighton, picked up on waivers Nov. 27, will have to shoulder some of the load in Nashville.
That element of depth will factor into the Predators' continued hold on the Central Division lead. Not that Detroit, the team in pursuit of the Predators, is much better off. Undrafted Joey MacDonald, who is 0-1-1 with an .825 save percentage, stands to see some regular ice time as Chris Osgood will be out of action for up to a month with a hand injury. Coach Mike Babcock is reluctant to overload starter Dominik Hasek, so MacDonald will have to earn his keep in the coming days if the Wings are to keep the Predators in sight.
If some teams' depth is being tested by circumstance, others are leaning on depth out of necessity.
In Dallas, Marty Turco is suddenly being pushed by rookie Mike Smith, who was 5-1 with a .937 save percentage before giving up four goals on 14 shots in Thursday's 4-3 loss to Washington.
Some teams live by the philosophy that depth is meaningless if you don't need it. Like the New Jersey Devils, whose incomparable Martin Brodeur has played in 22 of the Devils' first 23 games, while Scott Clemmensen has played in just two and has an 0-0-1 record.
But is that a philosophy that is ultimately doomed to fail? Brodeur is 34 years old and has lost four in a row as the Devils have dropped below the playoff Mendoza line into ninth place in the East. Part of GM Lou Lamoriello's problem is that he simply can't afford to upgrade at the backup position, even though it's clear he has little or no confidence in Clemmensen's ability to shoulder even a modest amount of the workload.
The same can be said in Calgary, where defending Vezina Trophy winner Miikka Kiprusoff has appeared in 21 of 23 Flames games. Luckily for the Flames, Kiprusoff just seems to get better the harder he works.
MORE NET MOVES

The Phoenix Coyotes made a move to shore up their goaltending depth by acquiring Mikael Tellqvist from the Toronto Maple Leafs for journeyman forward Tyson Nash. The move reunites Tellqvist with former Toronto teammate Curtis Joseph.
When Tellqvist first arrived in Toronto, a third-round draft pick in 2000, he was seen as the heir apparent to Joseph. After stellar international play, Tellqvist was also seen as the future of Sweden's national team. Neither turned out to be the case as Tellqvist could never seem to seize the moment when the moment was presented to him. In Toronto, he became stalled behind Joseph and then Ed Belfour and more recently Andrew Raycroft and J.S. Aubin. On the Swedish national team, he was buried by Henrik Lundqvist, who won a gold medal for the Swedes last winter in Torino.
In Phoenix, Tellqvist, 27, will be asked to help give Joseph much-needed rest, but he'll also be auditioning for the starting role that may open up in the coming months as Joseph's services will almost certainly be in great demand in advance of the trade deadline.
--S.B.
CHANGING OF THE GUARD


In the not-too-distant past, the Western Conference was considered the domain of the run 'n' gun style of hockey as the Colorado Avalanche, Detroit Red Wings and Vancouver Canucks, among others, lit it up while the Eastern Conference was the home of bruising, defense-first hockey with the tight-checking Buffalo Sabres, Carolina Hurricanes, New Jersey Devils and Philadelphia Flyers.
No more.
Fifteen of the top 16 NHL scorers reside in the Eastern Conference, as do five of the NHL's most prolific offensive teams. In short, if you can't light it up in the East, you're in trouble. Meanwhile, six of the top seven defensive teams are denizens of the Western Conference.
What does it mean? For the last two playoff years, the Cup has gone to the flash-and-dash teams of the East.
-- S.B.