AROUND THE RINK
By Scott Burnside, ESPN.com


Jeremy Roenick has always existed in that gray area between emotional and infantile. Now, with his long and vocal career stuttering to an end in Phoenix, the tilt is definitely toward the infantile.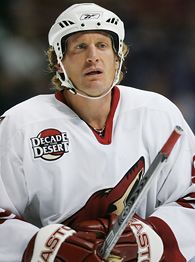 After Roenick, who is suffering from back spasms, was told by Coyotes coach Wayne Gretzky that he would be scratched for Tuesday's game in Vancouver, Roenick apparently left GM Place, had a beer and some dinner, and did not meet with the media after the game.
Worse than his defying protocol and leaving his team and teammates, Roenick appears to see nothing wrong with what he did, telling The Arizona Republic's David Vest, "I don't think there is anything wrong with going and having a nice dinner, having a beer and watching the hockey game. I don't know why everybody is trying to create a stir or create a controversy."
Roenick, who was a self-proclaimed embarrassment last season in Los Angeles, has been treated exceptionally well by the Coyotes this season, especially given that Roenick's hands have deserted him and he has been reduced to a third-line checker and member of the team's second power-play unit.
Although it was imagined he might make a significant contribution to the team's offense when he was signed as a free agent in the offseason, Roenick has six points and is minus-9 in 28 games.
A source familiar with the situation told ESPN.com that part of the problem is that Roenick wants to play when he's hurt, something he has done throughout his 1,210-game career. But he can't contribute that way, and Gretzky wants a healthy Roenick in the lineup or no Roenick at all. The source said that point was reiterated to Roenick during a Thursday meeting with team brass and J.R. has told the team he will toe the company line. He also accepted another benching Thursday, a message from Gretzky for Roenick's dinner outing. Roenick is expected to be back in the lineup Saturday night vs. Calgary.
One would think that if Roenick can't act right for Gretzky, then his act has worn itself out. As for anyone thinking Roenick might be attractive to a contending team looking to add some depth come the trade deadline in late February, these are the kinds of stunts that make GMs put their phones down for good.
ROCKING THE VOTE
Let us begin with this rhetorical question: Is Rory Fitzpatrick NHL All-Star material?
Heck no. In more than a decade of bouncing around the fringes of the league, the jury's still out on whether the Rochester native is NHL material at all with his 27 points in 226 games.
But did Daniel "Rudy" Ruettiger deserve to play football for Notre Dame? Heck no.
But sometimes, whether you deserve something is less important than why it should happen.
Which is why we wholeheartedly endorse Steve Schmid, a 22-year-old newspaper ad salesman from Auburn, N.Y., who is the man behind "voteforrory.com," the online engine that has propelled Fitzpatrick into a heated battle for All-Star fame and created a bit of a controversy along the way.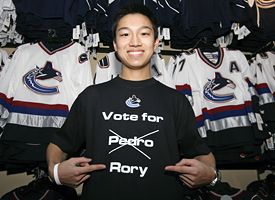 Appreciative of Fitzpatrick's hardworking style during his tenure with the Sabres between 2001 and last season, Schmid began a write-in campaign that has caught fire.
Based on numbers released by the NHL on Tuesday, Fitzpatrick has garnered an eye-popping 269,048 votes, more than Western Conference defenders such as Robyn Regehr, Rob Blake, John-Michael Liles, Sergei Zubov and Mathieu Schneider.
"Basically, everyone has found their own reasons for voting for Rory and just rolled with it. Some people vote in protest of how stale the All-Star Game has gotten, some vote to show the NHL that the fans can make a difference, others vote because they admire Rory's hard work and dedication," Schmid told ESPN.com via e-mail this week. "I honestly didn't expect much, but I figured it might be something that people would support. I'm slightly surprised, but I can see why it's all happened."
But there is trouble at the Fitzpatrick base camp.
Although the raw vote totals continue to pile up, there has been a sudden jump in votes for San Jose Sharks defenseman Scott Hannan, who has leapt into fourth place overall. Scott Niedermayer, Nicklas Lidstrom, Chris Pronger and Dion Phaneuf round out the top five in voting.
Before voting ends Jan. 2, Schmid is hoping he can appeal to Sharks fans to vote as a block in the hopes that Fitzpatrick can catch on with the groundswell of San Jose voters and surge into one of the top two spots needed to guarantee Fitzpatrick a spot in Dallas on Jan. 24.
The other avenue is that Fitzpatrick could earn a spot by a commissioner's appointment. The problem for commissioner Gary Bettman is that Fitzpatrick doesn't exactly fit the mold of Mark Messier, Al MacInnis, Jari Kurri, Igor Larionov and others he has named to All-Star squads in the past.
Still, Fitzpatrick might be the perfect player to bestow the designation on, given the fans' response in the first season that voting has gone exclusively online. In the first 12 days of voting, the number of votes had exceeded all votes in 2003-04 by about 10 percent.
"The response absolutely exceeded expectations. It has been a great success, and a ton of fun for our fans," NHL spokesman Frank Brown said.
Some will suggest that Fitzpatrick's potential presence in Dallas somehow denigrates the institution. But with all due respect to All-Stars living and dead, people, it's the All-Star Game. This is an event about closing the gap between fans, players and sponsors, not about any meaningful competition. It's a schmooze-fest of the highest order. Nothing more, nothing less.
And given that, surely there's a place for Fitzpatrick here.
--S.B.