Year No. 10, and still going strong

By John Buccigross
ESPN.com
Archive
Writing is like playing hockey. Both are activities that require creativity and skill, and prove much more difficult when one is largely devoid of either. As a default gateway, one can at least muck, grind and get to the front of the net, and constantly look for inspiration to fuel the fight. The fight never ends. Some days are easier than others. Hockey players get heavy legs, and writers get heavy brains. Sometimes you ride the flow of the game, and sometimes it is work.
2010 marks the 10th calendar year I've been banging on an assortment of keyboards, writing about hockey in this space. Much has changed in the world since then. Blogs were just getting launched in 2001; there was no trapezoid on NHL ice; linesman Ray Scapinello was three seasons from retirement; Taylor Swift and Steven Stamkos were 11 years old; Garth Snow had a surgically implanted pole vault stretching his shoulders from goal post to goal post; Patrick Roy was still wearing XXXXXXXXXL-sized sweaters; Pat Verbeek was not yet a retired ball of hate; both the Columbus Blue Jackets and Minnesota Wild were in the middle of their first NHL seasons (2000-01); and Zigmund Palffy was still a King.
Here are some snippets from columns I've written since 2001:
I live my life around a James Joyce quote -- Joyce being the Irish writer who died in 1941, never having a chance to utter: "Jarkko Ruutu slew foots Espen Knutsen deep in the Columbus zone."
Instead, he wrote: "Chance furnishes me what I need. I am like a man who stumbles along; my foot strikes something, I bend over and it is exactly what I want."
I don't know how I got here, but here I am. I love hockey. You love hockey. Game on.
What is an interest of Sergei Gonchar's outside of hockey?
Gonchar: Tennis. I love to watch tennis. [Peter] Bondra, [Andrei] Nikolishin and [Danius] Zubrus also like tennis. I play almost every day in the summer when I go back to Russia, against Viktor Kozlov of the Panthers. He lives near me in St. Petersburg.
Detroit Red Wings: Certainly not a lock, but the most likely to win it all. I believe they are the smartest team in professional sports. I believe their intellect, talent and savvy will carry them through. They will get better with each round.
In July, I got a surprise call from the ESPN sales department asking me if I would like to go to Colorado and play in Joe Sakic's charity golf tournament -- and it would actually count as WORK days. Paid flight, hotel, per diem, carpe diem, Celine Dion, Marcel Dionne, Marcel Hossa, the whole Rico Fata enchilada. I replied, "Geez, I'd like to, but I've already committed to the HAROLD SNEPSTS GOLF TOURNAMENT FOR THE BENEFIT OF CANADA GEESE WITH EXCESSIVE BOWEL MOVEMENTS." After a slight pause from the sales guy, I added, "But I can cancel that."
No. 1: Who gave you the nickname "Little Ball of Hate"?


Pat Verbeek: Glenn Healy. Glenn, Ray Ferraro and I were all playing in New York with the Rangers. Glenn called Ray "Big Ball of Hate" because of his off-the-ice grumpy demeanor. He called me "Little Ball of Hate" because I was grumpy on the ice. It really stuck when I went to Dallas, and Ray left a note in my locker and put "Little Ball of Hate" on it. The guys in Dallas ran with it.
On the flight from LAX to Newark, I sat next to an 18-year-old Australian woman (I say "woman" because she had the demeanor, vocabulary and sense of humor of a 25-30-year-old) who was on day two of a three-month vacation that will eventually take her to a monthlong volunteer program in Croatia, where they deal with orphaned bears. I couldn't make that up if I tried.
When [Cam] Neely arrived in Boston, it was pre-luxury suite sports nirvana. No JumboTrons, no cell phones, no perks. Just hockey fans. Working men and working big-haired women sweating and stinking and cheering their hearts out for young men who didn't make all that much more money than they did. You didn't need a scoreboard to tell them when to scream. It was the perfect time and the perfect place for No. 8. The one bittersweet aspect about tonight's ceremony is that it won't take place in the Garden. It's like Ted Williams hitting his final home run in Tropicana Field. Why couldn't they have built a replica Boston Garden with modern amenities?
What is not debatable is that the Caps have never had a talent like [Alex] Ovechkin wear their sweater before. Hopefully, he is the start of a major revival in D.C. He is just one piece, and they are more than one draft away, but Ovechkin is the place you want to start.
Ray [Ferraro] said when "Mum" would pick him up after before-school hockey practice in Trail, she would open the glove compartment and place a grilled-cheese sandwich on the little door as Ray got into the family truckster. Those were the greatest-tasting grilled-cheese sandwiches in B.C. because they were made with all the love in the world.
No one is ready for watching a parent die. No one is ready to live without the unconditional love of one's life. But Ray and other sons like him know their Hockey Mom gave it everything they had, right to the end. They know a lifetime of grace and grit is a good way to make that No. 1 power-play unit in the sky.
At the end of that sad, cold night three days after Christmas when the Ferraro boys kissed their Mum good night for the final time, Ray realized his childhood role model didn't play for the Boston Bruins. His hero didn't skate like the wind, fly through the air and wear No. 4 for the Big, Bad Bruins. Ray Ferraro's role model and hero made grilled-cheese sandwiches.
OLN has to change its logo RIGHT NOW. ... Whenever I see it, I sprint to my local supermarket and start compulsively buying three months' worth of produce. When humans see red ovals, they instinctively want to buy squash. There have been hundreds of studies on this. If they don't want to overhaul the logo, some black borders should do the trick.
Rick Middleton did not have a short career. He played 1,005 NHL games. Denis Savard, elected to the Hockey Hall of Fame in 1997, played in 191 more. Middleton had a 50-goal season in 1981-82; Savard never had one. Savard had three 40-goal seasons; Middleton had five. Savard had seven 30-goal seasons; Middleton had eight. Both played equally well in the postseason. Savard was a center and also made those around him productive. I think he and Middleton are very close, but I'll give Savard the nod by a hair, although the Western Conference was clearly a much better conference for offensive players in the '80s. It benefited a lot of Western Conference players, like Dale Hawerchuk. No way was Hawerchuk the third-best forward behind Wayne [Gretzky] and Mario [Lemieux]. [Brendan] Shanahan is a Hall of Famer but is not in [Mark] Messier or Neely's ballpark. Well, maybe the ballpark, but not the batter's box. Messier was, well, Messier, and Neely was a little better than Shanahan in everything he did. Neely's massive playoff numbers go such a long way, as well. Look at them.
You would have loved my Uncle Kenny. He lived on the middle floor of a triple-decker home on 740 East Third St. in South Boston, Mass. He was a small, bald Irishman who drank Narragansett beer and smoked at least a pack of unfiltered Winston cigarettes every day I saw him. He was a roofer who had two sons, three daughters and a wife (my mom's sister) who worked at the big Sears building down the street from Fenway Park. Uncle Kenny was very union, very Catholic, very decent and very profane. Yes, he hit for the South Boston cycle.
Having a son or daughter who plays hockey requires the ability to write large checks that allow another adult to scream at your child four times a week. Every weekend, you'll drive for countless miles, stand in freezing rinks and yell "PASS!" and periodically observe the commandment, "Remember the Sabbath and keep it holy." If you have two children playing at the same time, multiply all of that by two. The check-writing, tire wear, oil changes and screaming; your assertion that the opposing coach, at one point in his life, served time; and understanding that you will spend the afterlife in hell for never keeping the Sabbath holy.
NHL fights also work because after I see one, I don't have the sudden urge to wander into the woods and randomly strangle helpless squirrels. Watching NHL fights doesn't make me, or I believe anyone, more violent. NHL fights don't get my children closer to their violence threshold either. I don't think anything really gets us closer to any of our questionable thresholds unless it involves a ladle of Jack Daniels and a sledgehammer. We largely are what we are and there is nothing Darcy Tucker can do about it.
The most under-the-radar advancement man has made in the last 10 years has been the percentage of dollar bills that are accepted in vending machines. This has not been discussed enough, actually at all, on "Meet The Press," talk radio or "Oprah." There was a time when, if you wanted your Snickers out of a vending machine, your dollar bill had to be as crisp as Don Cherry's collar. Today, you can roll up a dollar bill, shove it in Abe Vigoda's hairy ear (yep, still alive at age 86), take it out, unroll it and the vending machine will accept your bill. This is very satisfying. About the time this technological advancement quietly crept into everyday life, sans the proper fanfare, the Boston Bruins began to become irrelevant. They had OK regular seasons, but they slowly began not to matter.
"Moneyball" works in baseball, but it doesn't work in hockey because hockey is about personality, instinct and heart before everything else. The suffocation of coaching and systems has taken some of that personality out of hockey at all levels, but it is still the essence of the game. If you try to follow a textbook in running a hockey team, you will constantly be one step behind and will make bad decisions. If you are trying to devise and employ "Moneyball"-like statistics for hockey, you are wasting your precious downtime. You would be just as productive wearing a wrestling suit and singing George Michael songs in Sarnia, Ontario, in the hope that a puck-moving defenseman will appear during the second stanza of "Father Figure" and jump on your back for a piggy-back ride to Air Canada Centre in Toronto. One must have talent and gut instincts to build something involving personalities and passion.
Anyone who has driven through the 3,600-foot Fort Pitt Tunnel in Pittsburgh like a burrowing badger in a Buick knows what awaits him or her on the other side of Mount Washington. But that's getting ahead of things. The last Stanley Cup finals game I had attended was June 7, 2004. Ruslan Fedotenko scored two goals in Game 7, and the Tampa Bay Lightning beat the Calgary Flames 2-1. No one mentioned that the Lightning did not have enough Canadian-born players. Ukrainians can come in handy, too. That's the day the music died for me. It was the last game ESPN televised as an NHL rights holder, which meant no more "NHL 2Night," no more All-Star Games and no more Stanley Cup finals road trips. Since then, my job has not had the same joy.
Thanks [hockey] for the person responsible for picking the female participants for Chicago's intermission center-ice shot contest.
Thanks for the joy of Saturdays and Sundays, when I've anticipated my boys' games and watched them play hockey for the past eight years. There is no hope like the hope of a new game.
Thanks for bands at college hockey games ... unless you are three rows in front of one, I suppose.
Thanks for your greatest and everlasting lessons of sacrifice, selflessness and love. It has vanquished tyrants and despair. It has won state championships and Stanley Cups. It is how every game should be played and how every day should be lived. There is no great mystery to teaching and winning hockey games and to living and enjoying life. It is right there in the locker rooms and on the ice. Sacrifice, selflessness and love.
So, knowing this broad piece of hockey history, one can understand how going from those robotic and bemused Russian players watching Team USA in 1980 to Ovechkin acting like an over-served frat boy after scoring a goal is quite a leap. And the irony or coincidence is even more rich when you consider this big, bad Soviet (well, until he was 6) is wearing red, white and blue while playing in Washington, D.C. Talk about smashing the irony curtain. Ovechkin, the Russian, now appears to be the player who cares the most about winning while having the most fun. Can you imagine Slava Fetisov doing what Ovechkin did at this year's All-Star festivities in Montreal?
[Evgeni] Malkin has a similar boyishness in his interactions with teammates and the way he plays the game with wild abandonment. He is not a freight train or rock star like Ovechkin, but he, too, acts like a 5-year-old on Christmas morning when he scores a goal. It is not the contrived, third-rate end zone skit of an NFL receiver, but a reflex of pure joy. From Russia, with love.
Parenting gets less intimate and more sprawling as a child grows older. Time and space engulf little boys and girls, and the importance of Dad dwindles. This is one of life's subtle tragedies, especially in the case of fathers and sons who do everything together, who are pals. I don't hang around grown-ups when I'm not working. I hang around Jack. So, time goes on, the ice gets chippy and there is no Zamboni. There is no turning back. Four-year-old Jack is gone; 5-year-old Jack is gone; 6-year-old Jack is gone, and 9-year-old Jack has only weeks left before he is gone forever. The days vaporize, and all that is left are photos, trophies, used toys and small, faded T-shirts that tell a thousand stories.
That was then. This is 2010.
To help find inspiration and fuel this week to make your click worthwhile, I'm going all out. I've been writing, cutting, pasting and backtracking this in my local Panera Bread while eating my favorite tuna fish sandwich with the magic of potato chips, the complimentary pickle-* and listening to my favorite song in the world at the moment ("It's Thunder And It's Lightning" by the Scottish band We Were Promised Jetpacks).
(* -- Why do they give away pickles? Is there such a glutton of pickles that they can just give them away? And I really like pickles, certainly almost as much as I enjoy a Milky Way. And a Milky Way runs anywhere from 75 cents to $1. Yet, despite my predilection for pickles, I eat them only when I eat out. Maybe that's because, while attending Heidelberg University, I once purchased a jar of pickles and proceeded to eat the entire jar in one sitting. The human digestive system is not designed for that. I also put only oil and vinegar on my salad when I eat out, and salad with oil and vinegar is the only food that physically makes my mouth water. I've never understood that chemical reaction, but it has taken place since indulging in the Pizza Hut salad bar in Wintersville, Ohio, as a lad. When it comes to eating, I'm clearly, like the St. Louis Blues, a better road team.)
My passion, and sodium count, are soaring so high right now that I could telekinetically melt Don Van Massenhoven's 'stache off his face from two time zones away.
Wow, we are up to 2,746 words. Are you still here? OK, we will close in brief -- 30 teams, 30 sentences by points total as of Tuesday:
1. Chicago Blackhawks
Best goal differential plus Q-Stache equals best team.
2. San Jose Sharks
Trade Devin Setoguchi, Joe Pavelski, Rob Blake and 12 first-round picks for Ilya Kovalchuk.
3. New Jersey Devils
The best-coached team in the NHL right now.
4. Buffalo Sabres
League MVP candidate Ryan Miller could be Team USA's Mike Richter.
5. Washington Capitals
Alex Ovechkin is averaging 1.52 points a game, the best rate of his career.
6. Phoenix Coyotes
Lack of star power has seen this team fade before.
7. Colorado Avalanche
If they stop scoring goals, they will plummet in the standings.
8. Calgary Flames
All those Flames blueliners may get to rest during the Olympic break, and that could be a good thing in the long run.
9. Nashville Predators
Barry Trotz has 389 coaching wins ... commence statue construction.
10. Pittsburgh Penguins
Would you trade Chris Kunitz, Jordan Staal, Kris Letang and a prospect for Kovalchuk and Maxim Afinogenov?
11. Vancouver Canucks
The most underrated complete team in the league.
12. Los Angeles Kings
Trending to be a .500 team; must keep scoring like Monday night in San Jose.
13. Boston Bruins
Miroslav Satan ... and they thought Phil Kessel didn't battle enough.
14. Detroit Red Wings
Nicklas Lidstrom (who will turn 40 in April) has played 41 games this season and has one goal.
15. Ottawa Senators
A bad road team that has played eight fewer road games than at home.
16. Dallas Stars
Eleven overtime losses; what goes around comes around, I guess.
17. New York Rangers
If they stay healthy, I don't think making the playoffs will be a problem.
18. Montreal Canadiens
They've scored more goals than Northeast Division foe Buffalo, but the Habs have given up 27 more goals than the Sabres.
19. Minnesota Wild
About as good as one would suspect upon looking at the roster.
20. Atlanta Thrashers
They should trade Kovalchuk now to help save this season.
21. Tampa Bay Lightning
Trade Vincent Lecavalier, trade Martin St. Louis, tank this season and add another high-lottery draft pick to your growing stable of young talent.
22. New York Islanders
Start losing and get down to the bottom three of the league to draft another star.
23. Philadelphia Flyers
They will make a big move because it is in their DNA, and they'll make the playoffs.
24. Florida Panthers
This team will be better in the second half and contend for a playoff spot.
25. St. Louis Blues
"And Mr. Kovalchuk, we will throw in The Arch, a Clydesdale and Joe Buck if you sign with us."
26. Anaheim Ducks
Jonas Hiller has the most unathletic glove hand (think Margaret Thatcher playing catch) of any goalie in NHL history.
27. Columbus Blue Jackets
What do you say we wheel that cannon back and play the rest of the season without 19th-century weaponry?
28. Toronto Maple Leafs
If the Leafs win the lottery and the Bruins draft Taylor Hall, you won't hear any more Kessel talk out of me.
29. Edmonton Oilers
I just hope Pat Quinn's head (weapon of mass destruction) doesn't explode.
30. Carolina Hurricanes
I would sign six fighters and try to beat the heck out of the other team, "Deliverance" style, for the rest of the team's home games. "Five fights or your money back!"
Happy New Year.
John Buccigross' e-mail address -- for questions, comments or crosschecks -- is john.buccigross@espn.com.
Bucci's Power 5
I am reaching the point in my life when the two dominant thoughts in my brain today involve my bowling with Stacy Keibler and the Chicago Blackhawks' winning the Stanley Cup.
The Capitals will make a move for a defenseman at the trade deadline and enter the playoffs as the team to beat in the Eastern Conference. They lead all NHL clubs in goals scored.
Joe Thornton is playing hard and playing well. I don't recall seeing him play with this much outward effort. If he keeps this up and wins the scoring title and the Sharks win the Presidents' Trophy, he can win the Hart Trophy. He also will be a free agent after next season and, I'm sure, would love one more megadeal.
There is no team playing more as a unit than the Devils. For now, they are completely taking in coach Jacques Lemaire's Kool-Aid. They are combining hard and smart work better than any other team in the league.
They have a great goal differential, a great goalie and plenty of other hockey attributes that make them a factor in the West. I think the hockey world is waiting for Roberto Luongo to carry a team to the Stanley Cup finals. Well, this team is good enough that it wouldn't be extreme heavy lifting for him.
Shot of the Week
It's back. You know how it works: We present an NHL photo, and Bucci provides a caption. E-mail him your suggestions (include your name and hometown/state), and we will use the best ones and provide a new photo the following week.
THIS WEEK: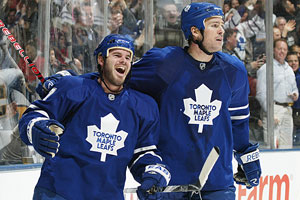 Getty Images
"I'm dreaming of a white Christmas!"
Your captions:
"Coach, he's been frozen like this since I told him we're getting Krispy Kremes after the game."
Larry Nagel (Rochester, Mich.)
"Ha, ha, ha ... I laugh at your use of the trap!"
Eric Luukko (Sutton, Mass.)
"Ahhhh! That feels good. A little lower, please."
Jeff Neistein (Woodland Hills, Calif.)
THIS WEEK: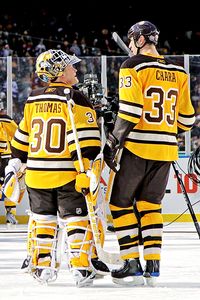 Getty Images
"You have frozen boogers in your nose, Z. Talk about the Green Monster."
Tuesday Poll
Sponsored by Ken the Otter