Updated:
April 20, 2010, 3:11 PM ET
The playoffs so far? Just check out my pool team

By John Buccigross
ESPN.com
Archive
I must admit, I am not a big hockey pool, fantasy hockey guy. I get plenty of joy out of simply watching the games. The competitiveness, toughness and athleticism are inspirational and move me on a nightly basis. The level of hunger and passion so far this postseason has been off the freakin' charts. Truly old-school.
I don't want my made-up hockey team to affect how I watch a game. I do enjoy that aspect of fantasy baseball, because baseball is like waiting for a fireworks show to go off. Sometimes things don't happen for a long stretch and then ... boom! That lends itself to selective moments of extra attention when one of your players is performing. The baseball season is long. Fantasy drives those short-lived moments when you root for the White Sox's Gordon Beckham to go deep.
Hockey is not like watching a deliberate fireworks show. Hockey is like watching a bonfire the size of the Eiffel Tower -- a constant crackling, raging pile of energy. I don't need or want any distraction from that; let the glow burn my face. I don't want to have any ill will toward Nathan Horton because he is not scoring 40 goals a season in order to assist my fabricated hockey team.
However, the past few postseasons, I have taken part in a playoff pool. The rules are simple. Pick one player from each team. Take two goalies, four defensemen and 10 forwards. You get two points for a goal and one point for an assist and a bonus point for overtime goals and assists. A hat trick also gets you a point. A shutout from your goalie gets you two points.
There are 180 entries in my playoff pool this year. I'm ranked 69th as we get set for Tuesday night's action. Here is my squad:
Goaltenders
Tuukka Rask, Boston Bruins:
This was a strange pick because I picked the Sabres to win the series. I guess I just believed Rask would win three games and get a shutout or two and the Bruins would have a chance in this low-scoring series, especially since Rask is such a high-level goalie. Now, the series appears to be shifting toward Boston. This series should continue to be close and low scoring, so it is anybody's game. I'm thinking not many of the 180 entries have Rask and that's good. Once you get behind in a pool like this, similar rosters do you in. You have to go for a couple of different picks and hope they work out.
Jimmy Howard, Detroit Red Wings: I really thought the Red Wings were primed for a run, and they still could be. Howard and the Wings played so well down the stretch. Detroit should be able to figure out this series through its experience; but, right now, the Wings are on their heels and Howard has struggled. The elixir? The rest of the Wings need to play better. Except for Henrik Zetterberg; he's been off-the-charts good.
Defensemen
Dan Boyle, San Jose Sharks:
His bad luck in overtime of Game 3 was unfortunate, but Boyle has earned me three points in the playoffs. The Sharks have given no indication they can make a long playoff run. It's time for
Joe Thornton
,
Patrick Marleau
and
Dany Heatley
(if healthy) to get going. Now. The conventional wisdom in a playoff pool like this is to take defensemen you think will not last long in the playoffs and accumulate points with your forwards and goaltenders. I wasn't big on the Sharks to win more than one playoff round and figured Boyle could be in the top five in playoff scoring.
Tyler Myers, Buffalo Sabres: I questioned the Sabres' ability to score and that's why I went with Myers. He played 27 minutes in Game 3. Like Boyle, I figured Myers would be up near the top of the Sabres' scoring because they would have a hard time scoring playoff goals.
Ed Jovanovski, Phoenix Coyotes: Jovo was fifth in scoring for the Coyotes during the regular season. He has yet to score in the postseason. I should have taken Keith Yandle. He is blooming in the spring of playoff hockey.
Ryan Suter, Nashville Predators: There won't be a lot of scoring from the Preds in this Blackhawks series. Take the defenseman and hope he gets you a couple of points. A six-goal game from Suter would be awesome!
Forwards
Sidney Crosby, Pittsburgh Penguins:
This was the easiest pick. It's Crosby or
Evgeni Malkin
from the Penguins for the pool. Crosby is a safer pick, but Malkin also has looked really good and is such a volcanic player. The Penguins have gotten a good draw in the banged-up Senators, and if the Flyers beat the Devils, the Pens would get the Sabres or Bruins. That's another good matchup for the Penguins. The Capitals would probably have a tougher series against the seventh-seeded Flyers.
Alex Ovechkin, Washington Capitals: Nicklas Backstrom has been the Capitals player to take in the early going of the playoffs; but in the end, Ovechkin should catch Backstrom in pool points once he starts posting multigoal games. That being said, Backstrom is the most underrated player in the NHL by the average fan. He is the real deal.
Mike Richards, Philadelphia Flyers: He has been great, the Flyers player to take in a pool so far. By the way, Jeff Carter is 0-0-0 in the Flyers-Devils series. Richards is an amazingly smart player. He has a great understanding of time and space and is very smart in tight, congested places. Plus, if CBS ever hatches a "CSI: Philadelphia," I would give Richards the lead. He has a TV detective face.
Chris Stewart, Colorado Avalanche: "Beef Stew" has come through with three goals so far for the Avalanche. He is built for the playoffs and is wearing Shjon Podein's No. 25, which is excellent karma for any human roaming this earth. You want to change your karma? Get a giant "25" tattooed on your back with the word "PODES" inked across your shoulder blades. Your life will get better. I'm John Buccigross and I approved this paragraph.
Tomas Plekanec, Montreal Canadiens: The free agent-to-be is having a good series with three goals and an assist. His overtime goal was worth a bonus point. It sometimes takes No. 1 seeds a few games to find their legs after not playing a meaningful game in a long time. The Capitals coasted to the finish, while the Canadiens scraped to the regular-season finish line. But the Caps have arrived and will be a tough out for the rest of the playoffs. We are trending toward the NHL's PR dream final four: Washington versus Pittsburgh and Chicago versus Detroit.
Zach Parise, New Jersey Devils: Parise should be able to get his against Brian Boucher. The Devils need to impose their will on this series. This is where Scott Stevens was so valuable to the Devils. He gave them street cred. Who gives the Devils street cred these days? The Devils should win this series. I picked the Flyers because I thought they would steal the Devils' lunch money and pound their way to the second round. I always root for my predictions, but it frustrates me when I see professional athletes who should probably win unable to figure things out or fight through adversity.
Henrik Sedin, Vancouver Canucks: Well, the ol' Canucks are in trouble. I took the wrong Sedin here. I should have known better. Goals are worth more than assists. Henrik is not a great goal scorer in the regular season, so he certainly won't be a great goal scorer in the postseason, when it's more difficult to score. The Canucks are playing very spirited and physical hockey, but the Kings are taking the punch. I picked the Kings in this series because they have better defensemen and enough sandpaper to be a good playoff team. Mikael Samuelsson was the player to take here. He has tasted Stanley Cup glory. I should have known better.
Jason Spezza, Ottawa Senators: I could use a multigoal game out of the Spez-dispenser. Just three assists so far. I didn't pick a Sens defenseman because I thought (a) Spezza could get a decent points total; and (b) the Sens had a chance in this series. Injuries to Milan Michalek and Alexei Kovalev have left Ottawa with little offense. The Sens just can't generate shots on goal. Pens goalie Marc-Andre Fleury has looked shaky, so if Ottawa can get 28-30 shots on goal, it could make this a long series. Having said that, it looks as though the Penguins have figured this one out.
Dustin Brown, Los Angeles Kings: He is one two-goal game away from being the player to take from the Kings. No goals and three assists so far. He is tough, nasty and relentless. You win playoff games with guys like that. The Kings' two leading scorers after three playoff games are Jack Johnson and Drew Doughty. If I had to take any two defensemen who are currently on the same team to begin next season, I would be hard-pressed not to take these two. Doughty is playing 27 minutes a night. He's 20 years old, people. Johnson is 23 and just loves the big-game moments. The Kings have a special feel about them and they've had it since they held their Fan Fest last August.
Jonathan Toews, Chicago Blackhawks: The Hawks have scored just three goals in their series so far against Nashville. Patrick Kane has been the early star for the Hawks' pool players, but JT will be a consistent force. He has the look and feel of a Stanley Cup champion. When I picture all of the young players in the NHL who have not won a Stanley Cup yet, a photo of Toews raising the Cup seems the most photogenic. It's destiny. This year? Very possibly. If not, soon.
John Buccigross' e-mail address -- for questions, comments or crosschecks -- is john.buccigross@espn.com.
Shot of the Week
It's back. You know how it works: We present an NHL photo and Bucci provides a caption. E-mail him your suggestions (include your name and hometown/state), and we will use the best ones and provide a new photo the next week.
LAST WEEK: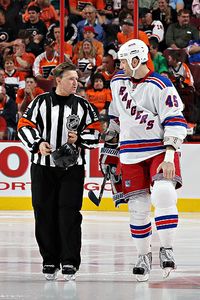 Getty Images
"I fooled 'em. It was a hairpiece all along."
Your captions:

"No, no! YOU can put your helmet back on. We're the ones going home early!"
David Noles (Smyrna, Tenn.)
"My knee is killing me, I was planting flowers all weekend."
Josh (Pittsburgh)
"Will you re-tie my skate?
Joel Mattie (Largo, Fla.)
"Lather, rinse and repeat ... always repeat."
Nate Heinrich (Moorhead, Minn.)
"I've been working on my Captain Morgan's pose. What do you think?"
Robert Heyde (Bellevue, Wash.)
THIS WEEK: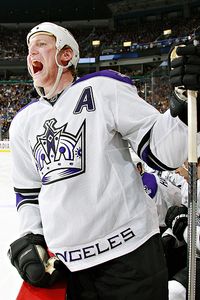 Getty Images
"TODAY'S SPECIAL: FLYING VANCOUVER SALMON!!!!"