Energy, creativity, selflessness and affection
As a boy (age 7 to 10ish), I would spend hot summer nights sleepless in my non-air-conditioned bedroom in my family's 1,200-square-foot cinder-block home (built in 1955) with my feet high on the adjoining wall, slowly swiping my legs back and forth, like windshield wipers on low during a light, humid mist. Kind of a synchronized two-pad stack.
The wall was somewhat cool as I relived the details of the day in my already larger-than-normal head. Then I would envision and imagine far into the future. My feet, dirty feet from another day of outside play, would leave their mark, washable evidence of childhood and adolescent insomnia. Mom protested as she sprayed the 409.
To this day, my mind races, but nothing like childhood (think Matt Duchene multiple crossovers for hours). What some might call nocturnal daydreaming, I call nightlight nightlife planning. I was envisioning a time and place with circumstances desired for reasons probably both instilled and innate. I was very specific in my visions: facial features of future friends, what I might be doing and where I might be living at ages 25 and 35, the color of the sweatshirt my dream girl was wearing as we walked hand in hand on a long, rocky New England beach endorsed by Barry Manilow. All this at age 8.
This repetitive meditation where imagination, yearning and cognition (perception, sensation, notion, intuition) collided continued into my teenage years, where the 7 7/8 head games primarily centered around playing sports, then broadcasting sports, performing live music in a make-believe band, and a family to be named and determined later. Team-oriented. Family, sports, music, fun.
Mom and Dad (Boston born and bred, and poor) initially rented our 1955 built house in Indiana, Pa., in 1968 (no money for a down payment) and then bought it in March 1971 for $21,000.
The basement contained the kitchen and family room. It was big enough to bring a 3-by-5-foot hockey net inside once in a while and play hockey with a mini Nerf basketball.
The second floor had four small bedrooms and a living room. I played Super Jock hockey in the 15-foot hallway and living-room hockey with Dad using chair legs as nets and hands as sticks.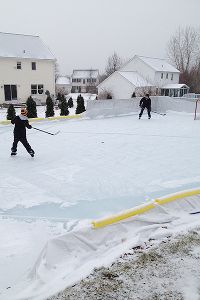 John Buccigross/ESPNThe arctic blast that came early this winter was good for backyard rinks everywhere.
Outside, we had a long driveway with a crude, descending stone wall that doubled as hockey boards with 1,000 stone stanchions that fed into an alley out back. It was a good canvas to play and dream. Nooks, crannies, side yards, alleys, sidewalks and a small-town grid that allowed for expansive bike riding. A pleasant place that helped nurture pleasant people. Jimmy Stewart grew up in Indiana, Pa.
I moved to Steubenville, Ohio, when I was 11. This was like going from a non-checking league to a checking league. Steubenville was an interesting mix of a town: conservative, blue collar, diverse, rugged, union, football, steel mills, patriotic, gambling, drinking and religious.
It had and has backroom bookies in downtown bars and front-lawn Virgin Mary statues in the Labelle section of town. This was life in the corners. I was too young to see the slow decay of this blue-collar, manufacturing river town. All I saw were the people who were so much fun and interesting. Athletics were fiercely played and status was earned through sports.
It can be tougher to dream in a town like this because you seem to be surrounded by absolutes, so many daily battles and a town losing hope for the future. But, I used it to my advantage as our high school coaches pushed us to push ourselves. Also, internalizing can be a positive. One can self-teach some useful characteristics and use obstacles as fuel (cue Jay Z's "So Ambitious"). Steubenville -- and Mom and Dad -- gave me a third-line work ethic.
Those are a lot of words to essentially say that I am a self-improving dreamer. I dream up or imagine big things or unique things and then try to make them reality (early in college, I imagined meeting and marrying Whitney Houston; not all your visions come true). Life is indeed short, so instead of talking about things, why not try to assemble them if they are even in the realm of possibility?
---
As my oldest son, Brett, began to play hockey at age 7, I began to host a daily hockey show ("NHL 2Night") and then began writing a weekly hockey column here on ESPN.com. Hockey was slowly taking over all corners of my life, in and out of work. I watched hockey, talked hockey, made hockey friends and wrote about hockey. I'd been a fan of all sports since birth but my sports focus was narrowing, and at the bottom of the funnel was hockey.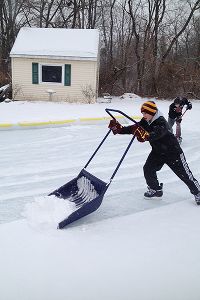 John Buccigross/ESPNHaving your own rink is not an easy job.
If I love something or someone, I love it big. My passion and enthusiasm for things that interest me has always produced lots of energy, stamina, focus and out-of-the-ordinary output. I once produced/voiced an REM top 100 songs countdown. It was a five-cassette tape program that took weeks of long nights in the local radio station where I worked. The cassettes were for primarily one friend. In high school, I handwrote a weekly "The Hockey News" column with news, stats and stories for our weekend, no-adults-involved hockey league. In college, I did ranked intramural teams. In 2011, I started something on Twitter called the #Bucciovertimechallenge. When I love something, it fills me with boundless energy.
Whoever was going to end up being children of mine, well, they were in store for one energetic, affectionate, dreamin' daddy dude. Parenting is easy if you have an abundance of four things: 1) energy 2) creativity 3) selflessness 4) affection. If you give your kids everything you have inside of you, they will eventually give it back. They won't want to let you down. You won't have to punish them or push them to exert.
Fewer words and more action is the recipe. So, if you're looking for another way to show off your energy, creativity, selflessness and affection, I suggest constructing a backyard skating rink. It takes hard work and tests one's patience, but the payoff is huge and the lessons learned and given are deep.
The first skate ever on my backyard rink was at midnight in 2002. In the 11 years since, there have been good years (30 skates), bad years (5 skates) and really bad years (hole in the liner). This year has been a good year, already about nine or 10 days. Any skates in Connecticut before Christmas are a plus. This year we had a three-day, pre-Christmas skate on my 60-by-40-foot surface because of the early Arctic blast. Also, we've had two instances of Mother Nature's Zamboni: a slight thaw, rain, then a nice, cold refreeze. Glass.
This past weekend, Connecticut almost touched 60 and we are back to square one: a two-and-a-half-foot-deep swimming pool. Now we pray for cold.
As many of you know and experienced, a lot of U.S. and Canada had a frigid Christmas break. We all just wanted to curl up and live inside Henrik Zetterberg's beard for that stretch. However, the cold was perfect for backyard rink owners and for so many lakes and ponds across the world -- and some in the U.S. that don't normally get to enjoy such a winter experience.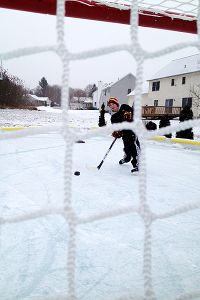 John Buccigross/ESPNIt's nothing but net in Bucci's backyard.
What resulted during this stretch was an avalanche of beautiful pictures sent to my Twitter account. If you follow me on the Twitter, you have seen me retweet a wide array of beautiful and fun outdoor skating pictures over the past few weeks. Opening the links of each of them was like opening a gift on Christmas morning. A picture isn't worth 1,000 words but some are certainly worth more than 140 characters.
The response to the images has been 98 percent positive. There is something magical about outside skating, embracing winter and filling our lungs with life and love. Love is the finest word and concept in the English language. I believe the second finest is freedom, and that's the word that comes to mind when I see some of the pictures. Outside skating is freedom. And so it dawned on me last week: Why don't I take an assortment of these pictures (as many of the best ones as we could) and put them to music, put some text in between some of the photos, and produce a little winter video celebrating the hard work and love of backyard rink builders and the stunning beauty of our continent via our lakes and ponds? Those who reduce their beauty shots to just beaches are living incomplete lives.
So that's what I, the ESPN music department and ESPN.com video producer Justin McWhirter, have done.
Thank YOU, the incomparable hockey fan, for your love of the game, your unique humor and, most importantly, your love of life. If there is a common thread among hockey fans, men and women, it is their energy, creativity, selflessness and affection. Bring that to everything you do.
Plus, with the ninth annual U.S. Pond Hockey Championships coming up this weekend on Lake Nokomis in Minneapolis, Minn., treat this as your little pump-up video for all you beauties (men and women) taking part in this special event.
So, a sincere thank you for that, for sharing these gorgeous pictures and for being consumers of ESPN and ESPN.com. Your love of hockey and sport has helped make this sweaty, dusty boy's dreams come true.
And to imagine up new ones.
SportsCenter anchor
John Buccigross joined ESPN as an anchor in October 1996. He currently can be seen as an anchor on "SportsCenter." Buccigross frequently contributes to ESPN.com during the season.
Bucci's Rink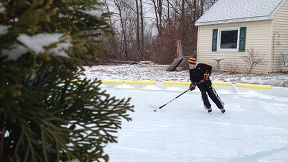 John Buccigross/ESPN John Buccigross' outdoor rink before a heat wave made it a swimming pool.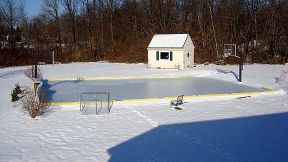 John BuccigrossThe Buccigross family rink made its debut in Connecticut in 2002.
• More outdoor rinks