The NCAA tournament already? Makes sense
Any practical person realizes the NHL regular-season marathon of 82 games is borderline insane. That is too many games for the mind/body of the players and the wallet/attention span of the fan. Probably about 20 percent too long.
I was ready for the Stanley Cup playoffs to start two weeks ago. I know Leafs fans were, too. However, the extra 20 percent will pay Alex Ovechkin $10 million in salary starting next season instead of $8 million, and will pay Dustin Brown $7.25 million next season (GULP!) instead of $5.8 million. Yes, those extra games are sort of a built-in 20 percent bonus for players, team owners and arena owners around the NHL. Those of you who pay $180 for two season tickets to each game are paying $7,380 per season. If the season were 20 percent shorter, about 66 games instead of 82, you would be paying $5,940 for your season tickets.
You could then take that savings to rent a nice hotel room in Miami Beach for a long February weekend. Instead, Ovechkin takes the extra 20 percent of his salary and buys a nice oceanfront condo in Miami Beach.
The NCAA schedule makes more sense. The number of games played varies by school, but is generally in the high 30s. The regular season begins in October and ends in March. The fans' appetite can be built up and effort exerted during a single game because there are only two games per week.
Think of it: Less airplane fuel and bus exhaust, and fewer media folks eating bacon cheeseburgers at 11 p.m. in hotel lobbies. Energy savings, pollution control and heart-friendly eating habits. This just keeps getting better. It also gets the "playoffs" here quicker.
Let's face it, March is cruel. We've suffered through a terrible "Why-in-God's-name-do-I-choose-to-live-so-far-from-the-equator" winter. We are about to break. Every cold, stiff walk to the car makes us angrier and angrier. We need something.
Well, the combination of temperatures breaking 50 degrees and hockey games that really mean something is a start.
The NCAA hockey tournament has arrived to save our lives from a nervous breakdown caused by lack of Vitamin D, eczema-spotted skin and regular-season blocked shots. It all starts this Friday on the ESPN family of networks (ESPNU, ESPN2, ESPN3). This year's Frozen Four is in Philadelphia with the semifinal games on ESPN2 and the title game on ESPN on April 12. So, here's a quick guide to the NCAA tournament, a tiny snippet of stuff to look for. Pro hockey fans ready for playoff action can watch a single-elimination tournament with players who will play in the NHL one day, maybe on your favorite team.
The NCAA tournament has players already drafted by NHL teams (who can leave school for the league at any point) and players who were never drafted and are available as free agents to any NHL team. These players are eligible to play for NHL teams as soon as their seasons are over. For instance, Torey Krug was once a college free agent, signed by the Boston Bruins after his Michigan State team was eliminated in 2012. Now he is an important part of Boston's Stanley Cup quest. On to this year's tournament.
Minnesota the favorite?
The state of Minnesota is the heartbeat of hockey in the United States, and the Golden Gophers have an excellent chance to win their sixth national championship. The Gophers won three titles under Herb Brooks in the 1970s and back-to-back championships (2002-03) under current coach Don Lucia. You get the sense that after an 11-year drought it's time for another, and Minnesota enters the tournament as the No. 1 overall seed.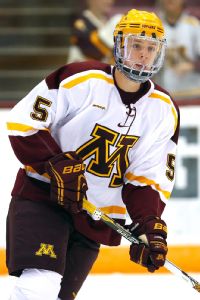 Scott A. Schneider/Getty ImagesMike Reilly could be a dynamic threat for Minnesota.
However, Minnesota is very young and without a go-to guy offensively -- something the Gophers freely admit. But they can certainly skate, especially on the back end. And maybe a go-to guy will emerge. Someone could get hot for four games.
Columbus Blue Jackets fans should watch defenseman Mike Reilly play this Saturday at 5:30 p.m. ET on ESPN2. Reilly plays a 200-foot game. He can fly and can also shoot. He was one of my favorite players to watch in college hockey this season. Like a lot of young players -- and some 40-something anchormen -- he just needs to get stronger and pack on some pounds.
Brady Skjei, who just turned 20, is the only first-round NHL pick on Minnesota's team. Skjei will play for the New York Rangers some day. Hudson Fasching is a big, strong winger who was acquired by the Buffalo Sabres at the recent NHL trade deadline. He will be in Buffalo in two or three years and will be a very popular player. And there are a handful of others who will get their chance at pro hockey.
Minnesota plays on a giant, 200-foot by 100-foot sheet of ice at home. That surface helps them take advantage of their wheels. To win the national title, they will have to win on the 200-foot by 85-foot surface in St. Paul, Minn., and Philadelphia.
Boston College's quest
Boston College has won four national championships since 2001 and has reached the title game in five of the past eight years, winning four times under head coach Jerry York. They have the best offensive player in the country in Johnny Gaudreau, who should win the Hobey Baker Award as college hockey's best player.
A college coach I talked to this year said Boston College is a more dangerous team than Minnesota because of the explosiveness of BC's top line of Gaudreau (Calgary Flames), Kevin Hayes (Chicago Blackhawks) and Bill Arnold (Calgary Flames). All three of these players will get a shot in the NHL and all three have NCAA postseason experience. If this line is hot for four games, the Eagles can win York his sixth NCAA title since 2001 (he also won at Bowling Green State in 1984), as impressive an accomplishment as any in college sports.
But what if the top line is contained? Can the rest of the boys chip in and help Boston College advance? You can watch the most productive line in college hockey Saturday at 4 p.m. ET on ESPNU against Denver.
Union or UMass Lowell?
If you told me to wager 20 percent of my next paycheck on which team will win this season's title, there's a good chance I would pick one of these two schools.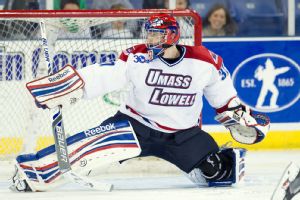 Richard T Gagnon/Getty ImagesUMass Lowell goaltender Connor Hellebuyck earned MVP honors at the Hockey East tournament for the second consecutive year.
UMass Lowell (which plays Saturday night at 7:30 p.m. ET on ESPN3) keeps inching closer to a title under excellent coach Norm Bazin. The River Hawks made the Frozen Four in Pittsburgh last season before losing in the semifinals. Goaltender Connor Hellebuyck (Winnipeg Jets) has a .943 save percentage. They are comfortable playing close games and won the Hockey East tournament.
Union College, out of Schenectady, N.Y., won the ECAC regular season and tournament titles. They have balanced scoring, an intense coach and two really good defensemen in Mat Bodie and Shayne Gostisbehere. From mites to the NHL, you win with smart, great-skating defensemen.
At one point in the season, I had a college coach tell me Gostisbehere (Philadelphia Flyers) might be the best player in the country, a one-man breakout machine. He can fly and can really shoot from the point. If he were 200 pounds he'd be in the NHL right now. But he is still in the 170s and everyone in the NHL is so strong. He will have to figure it out just to survive.
Gostisbehere could begin that process of survival in the American Hockey League this spring or next year. Or he could return to Union for his senior year and keep working on getting bigger and stronger. Sometimes NHL teams put a lot of pressure on players to turn pro at a certain point and players almost always say yes. Sometimes they let the player decide.
North Dakota vs. Wisconsin a doozy
From a historical standpoint, it doesn't get any better than this first-round matchup. Two fantastic fan bases with top-notch arena experiences.
North Dakota has won seven national championships and Wisconsin six. These two square off on ESPNU on Friday night at 8 p.m. ET. North Dakota barely got into the NCAA tournament while Wisconsin, after a slow start, has lost only five games since Nov. 30.
These are two five-star college hockey programs hungry for another title. North Dakota hasn't won it all since 2000, while the Badgers haven't since 2006 when they beat Boston College in Milwaukee (cue Bon Iver, "In Milwaukee off your feet").
The way I see it, nine of the 16 teams in the tournament have a legitimate shot to go four-for-four and kiss the trophy in Philadelphia. Because I'm doing the play-by-play for the East Regional in Bridgeport, Conn., (with Barry Melrose), I won't say who I think will win, but that is 56 percent of the field with a chance. It is truly wide open.
We at ESPN are proud to bring you this great championship with its good people and lasting memories. It is a fast, fun brand of hockey filled with so many fun, interesting stories.
Let's get it on!
SportsCenter anchor
John Buccigross joined ESPN as an anchor in October 1996. He currently can be seen as an anchor on "SportsCenter." Buccigross frequently contributes to ESPN.com during the season.
Rules Primer
Here are some rule differences between the NHL and NCAA games, for those of you who might not be aware:
• A puck shot directly out of play from the defensive zone is not a penalty in NCAA play, unless it is deemed to be intentional. The defending team is not allowed to change.
• If play is stopped because the net is dislodged by the defensive team, the defensive team is not allowed to change.
• Defensive teams are not allowed to hand-pass the puck in the defensive zone. A violation will result in a faceoff and the defensive team is not allowed to change its players.
• If a goal is scored during a delayed penalty, the penalty is enforced. The attacking team's goal counts and the power play begins. This does not apply if another penalty is already in effect.
• On hits from behind the onus is on the player delivering the check, and hitting from behind is a major penalty and a game misconduct/disqualification.
• On plays during which a defender dives, knocks the puck away then trips an attacking player, there will be a penalty for tripping regardless of what happens to the puck.
• Standalone penalties for diving/embellishment can be enforced.
• The referee has discretion to award a goal when the net has been dislodged if a player has started to shoot at the goal previous to the net being dislodged. In previous seasons, the goal would not be allowed if the net was moving or off its moorings.