Players must choose to follow hockey 'morality'
I'm a USA Hockey certified coach and help my son's bantam hockey team here in Connecticut, where I rest my slightly oversized and oblong head. A couple of weeks ago, an opposing coach pulled our head coach aside following the postgame handshake line to inform him that some of our players had been talking a little smack at his team's bench and singing the ESPN "SportsCenter" "Da, da, da/Da, da, da" line after goals. (Blame Patrick Kane.)
We certainly have some top-shelf chirpers on our squad, so that information didn't surprise me much. And it's certainly something that we addressed, especially in a slightly lopsided game. But, hockey is an emotional game, a blood sport, and there will always and forever be actions and reactions, verbal and physical. To tell you the truth, a few words don't bother me after a physical exchange ("Work on those debating skills, Sparky!"). But to embarrass an obviously inferior opponent should never be tolerated as a coach.
What I did not tell the opposing coach (although it was certainly on my mind) is that our team actually did his team a favor. Chirping doesn't cause concussions. However, some of our bigger, more powerful players could have physically DESTROYED some of his players with clean, legal hits. The hits would have felt good to the checker, been exciting for a moment for the crowd and been LEGAL, but would have been wrong to do.
Our 13- and 14-year-olds showed an enormous amount of sportsmanship and human sensitivity during the course of the game by not physically engaging an opponent who is not as physically mature or talented. A couple of teenage chirps would have been welcomed at that point.
But, the players on our team are coached NOT to mindlessly destroy opponents to begin with. They are taught to be hockey players. Play with your head up, move the puck, make flat passes with pace and integrity, take a few chances, be bold, hit to take the puck or prevent a scoring chance, have each other's back and, yes, don't take advantage of those who clearly aren't as strong as you. Be ready for contact, brace yourself, but respect your opponent.
The head coach and I have had the same philosophy since we began coaching together three years ago. No power-play units, no penalty-killing units, please don't hit from behind, fish the puck out of a scrum, try not to hit high (stick on the ice) and everybody has played every situation since they were 11. Brett, my oldest son, had a coach who had power-play and penalty-killing units on his mite and squirt teams when he was growing up! He never played either situation. That's borderline child abuse and definitely hockey abuse. This is Neanderthal thinking. It kills joy and is prejudicial and harmful to the late bloomer.
My youngest son, Jack, has played center, right wing, left wing, right D and left D the past four years. He's been on countless power plays and penalty kills. He's taken countless faceoffs. Whatever high schools our bantams attend, the coaches will be getting well-rounded players with respect for the game, their teammates and their opponents.
Could one of our current players deliver an illegal hit in the future? Of course. Hockey is fast, emotional and occurs in a confined space. There will be infractions. But, without a doubt, players can be coached and conditioned to behave in a certain manner that can minimize injuries and promote skill and entertainment over high hits that lead to wobbly players, head injuries and that scary, nauseous feeling that comes with witnessing players being helped off the ice.
There was a time when those hits were good for the customer base. That time is gone. Very few find a joy in it now; in fact, it's become stomach turning. The early retirements, the suicides, the changed lives. Head injuries damage our internal computers, which define who we are, and preventing injury to our brain should be a primary goal.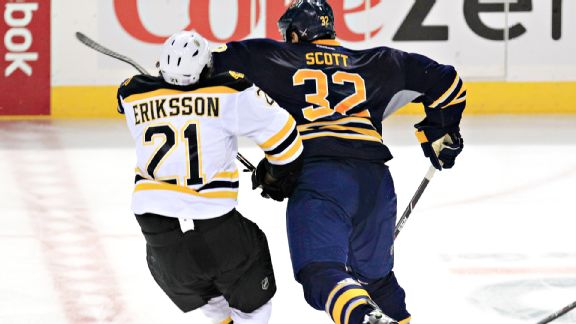 AP Photo/Harry Scull Jr.Buffalo's John Scott is waiting for a hearing to determine the length of his suspension for hitting Boston's Loui Eriksson in the head.
This leads us to Patrick Kaleta and John Scott of the Buffalo Sabres, and the Sabres' organization overall. Kaleta is serving a 10-game suspension, while Scott will have his hearing on Halloween to determine the length of his suspension for hitting Boston's Loui Eriksson in the head last week (my guess is five to eight).
Does a team's attitude about hitting start at the top? Does the coach (Ron Rolston) set a tone for the physical style or does he just play the guys GM Darcy Regier signs to a contract? Are the players preprogrammed to do what they will? Are the Sabres becoming that adult-league team with the one crazy dude who often ends up leaving the ice half-naked after challenging everyone, including his own team, to a fight?
Well, Scott (one career goal in 187 NHL games) has never been suspended. Kaleta (27 goals in 306 games) now has three. As a Sabres fan, the question first and foremost is, "Why are we playing guys like this when we haven't won a playoff series since 2007?" For Sabres fans, this isn't a morality/ethics/health debate as much as it is, "WE STINK, DARCY! PLEASE FIND AND PLAY BETTER PLAYERS!"
Bruins coach Claude Julien told the Boston Globe this: "If a guy chooses to be that and a team chooses to have a guy like that, I don't know. But I'll never tell Shawn Thornton to go after Sidney Crosby or anybody else that's a top player in this league. I'll never do that. So if he does, it's on his own. And if he does it on his own, I don't think personally I'd accept it."
That's the Bruins' culture right now. Of course, they will have suspensions in the future, but the current management team looks for fast, skilled, responsible, two-way players who play hard and on the edge. If you fall far from the line on or off the ice, you will be gone. That's why Tyler Seguin, agree or disagree, is in Dallas.
Thornton is a unique player, the Bruins' Jonny Gomes. He is a dressing-room bonder who will fight men bigger than him to inspire the team and has saucy enough paws to pull off a dirty little dangle once in a while. I do not think the Bruins' regime has Thornton there to fill a defined enforcer role; that is too small of a toolbox for a player on a good team to have. I think the Bruins see Thornton's value beyond that.
Scott and Kaleta do not bring that Thornton vibe to the Sabres, and this is a perfect example of how the Sabres have done a poor job constructing their roster. Their moves have no symmetry. They are erratic and, in many cases, asymmetrical. They built a giant ball of nothingness.
Our bantam team works well because everyone has an understanding of how to play. Hockeywise, the players have few limits. Don't be afraid to make mistakes, be bold, burst at the puck carrier through the neutral zone, cover for the rushing defenseman, make and receive a flat, firm pass. If THESE are the power points to focus on, the gong-show physical play happens less because a more elevated thought process happens in the first half of a player's development. At the youth hockey level it is important to develop skill and to prevent injuries in an arena of physically disparate teenagers.
The Sabres need to begin to build and congeal their team with smart, durable, hockey players, not Sideshow Bob Acts 1 and 2. Matt Moulson is a good place to start. While he won't be cheap to keep (if I'm Moulson's agent, I start the contract talks at five years and $5 million a year), they should try to re-sign Moulson, offer him a letter and help him lead the current young players and the yet-to-be draft picks.
Moulson is a self-made, smart man. After four years of college hockey at Cornell, he turned pro in 2006. Ever since then, Moulson's career has been defined by two things: not missing games and scoring goals. He is also the kind of person the Sabres' team and fans can be proud of. These are the kind of players the Sabres should begin to accumulate. (Vanek is a great player, but we are assuming he will join the Parise, Suter, Minnesota cottage brigade as they plot their way to eventually take over the waters of Lake Minnetonka.)
So, the lesson here? Coaches and "organizations," youth or pro, set the tone for behavior or hockey "morality." Players can choose to play a certain way. Physical and violent are two different styles of play. Kaleta has a choice. The Buffalo Sabres have a choice. South Windsor Youth Hockey has a choice. I have a choice. You have a choice. To be smart and bigger than the other guy. Even if the other guy is Scott.
SportsCenter anchor
John Buccigross joined ESPN as an anchor in October 1996. He currently can be seen as an anchor on "SportsCenter." Buccigross frequently contributes to ESPN.com during the season.
#cawlidgehawkey
The updatedBucciMane Top 10 #cawlidgehawkey Power Rankings:
1. Minnesota
2. Providence
3. Miami
4. Notre Dame
5. Michigan
6. Boston College
7. Quinnipiac
8. North Dakota
9. RPI
10. Clarkson
#TwitterBagSkate
@Buccigross break down the moulson trade. #twitterbagskate

— Ed Schell (@The_Eddo_55) October 29, 2013
@Buccigross: As we wrote here a couple of weeks ago, if I were the Sabres, I would trade Thomas Vanek and Ryan Miller early to get a bigger haul. Now, had they waited, they probably could have gotten a one and a two for Vanek. They probably wouldn't have received a 30-goal scorer like Moulson, but he is a UFA himself next summer, so that makes this kind of unique. The Islanders would have been better off, obviously, with Moulson AND Vanek. I can't imagine the Sabres trading for Moulson without the intent to recruit him to sign an extension during this season. He would be a good guy to help rebrand and reboot Buffalo. The Sabres need to rid themselves of Patrick Kaleta and John Scott and get players who can play. Moulson would be a popular free agent. His deal will be around five years, $25 million.
The Islanders are getting an elite sniper in Vanek. He has scored 40 goals twice and was on a 40-goal pace in last season's lockout-shortened campaign. Also, he can score in the playoffs: 13 goals in his past 26 playoff games. That's important. What I have also noticed in Vanek is that he is becoming a better passer and playmaker as he has aged. Perhaps the Islanders deep down think Vanek can do a better job of making the players around him better than Moulson could. We will find out.
@Buccigross would wayne gretzky be able to compete in todays league? Would he stand out? Would he break the records? #twitterbagskate

— Grant Dockter (@gdockter) October 29, 2013
@Buccigross: 1. Wayne Gretzky would be the best player in the NHL because he was an ultracompetitive person with the best vision in the game's history. 2. Yes, he would stand out. He would have worked out more for the entire year and thus would have been a bigger, faster player with a more explosive shot. 3. He would still break most records. His offensive numbers obviously would have been down because the entire league's are, but he still would have been a top-three player and scorer. 4. The only difference if he played now is that instead of marrying Janet Jones he would have married Blake Lively.
@Buccigross #twitterbagskate Why aren't regulation wins worth 3 points?

— Les Mattson (@boctothorpe) October 29, 2013
@Buccigross: I was told there would be no math.
@Buccigross do the flyers sign mason to a deal before he becomes a ufa this summer? Who is leading right now to be USA goalie?

— James Salantri (@JSalantri) October 29, 2013
@Buccigross: Jonathan Quick will be the guy who starts off as USA's starting Olympic goalie. The other two spots will be between Craig Anderson, Jimmy Howard and Ryan Miller.
Steve Mason is off to a good start in Philadelphia. He is a restricted free agent after this year. If he continues his good play, I would look at a four-year, $12 million deal, or three years at $9 million. The sample is still small, but so far Mason has been a good fit in Philly. If the Flyers came to him with one of those two offers above, I would grab it. If you are the Flyers, you can afford to wait to see if the performance level lasts all season.
@Buccigross whys Minnesota hockey better than the rest of the country? #twitterbagskate

— josh bestul (@BardownBestul23) October 29, 2013
@Buccigross: Because there is more unconditional love for hockey there than anywhere else. The more love in a given place, the better everything is around it. Love is an accelerator.