Just A Thought
>

@ESPN_Burnside: There were lots of questions during our weekly chat on Tuesday about how we thought the big Gotham clash between the New York Rangers and New York Islanders might turn out. Well, not that the Islanders need to answer questions about whether they're for real at this stage of the season, but their emphatic 3-0 whipping of the Rangers at Madison Square Garden further reinforces that Jack Capuano's Isles are full value for their current perch atop the Metropolitan Division. The win also moved the Isles into top spot in the Eastern Conference. They pounded 32 shots at Henrik Lundqvist before Lundqvist was pulled after the second period (Cam Talbot stopped all 12 shots he faced in the third), compared to just 27 shots the Rangers delivered on Jaroslav Halak. The Rangers struggled to deal with a relentless Islanders forecheck, and the Isles scored three times in the second period to earn the victory. Perhaps most impressive is that they did so without scoring help from big guns John Tavares and Kyle Okposo. Surely, the mark of an elite team.
---

@CraigCustance: When the rest of his Western Conference colleagues were making big, splashy moves to add centers this summer, Winnipeg Jets GM Kevin Cheveldayoff was patiently trying his best to keep up. He made a run at Paul Stastny, who instead picked the St. Louis Blues. Jason Spezza and Ryan Kesler had a say in where they were going and neither where too eager to go to Winnipeg. Quietly, the Jets signed Mathieu Perreault to a three-year deal and stuck to their plan to develop the rest from within. The Perreault signing is turning out to be one of the best free-agent moves from last summer. He scored four goals, playing on Mark Scheifele's wing, in an 8-2 rout of the Florida Panthers on Tuesday night and now has 15 on the season. The win was the 500th of coach Paul Maurice's career, and his hiring is another move that's working out just fine for the Jets.
---

@Real_ESPNLeBrun: The Nashville Predators won yet again, this time 4-1 over the visiting Vancouver Canucks, but the real story was the injury to superstar Predators goalie Pekka Rinne. The Hart and Vezina Trophy candidate, who leads the NHL with 29 wins, left the game early in the third period after a mild collision with Chris Higgins of the Canucks pushed him into the back boards, where his left pad hit first. It wasn't violent by any measure, but Rinne was hurt. He was listed as day-to-day after the game with a lower-body injury and will be re-evaluated Thursday by the team. Head coach Peter Laviolette said after the game said he didn't think the injury was bad at first glance, "but you just never know," he said. Talk about a team holding its breath. Rinne missed 51 games last year with a hip issue/infection, and he is their engine so let's hope it is indeed a minor injury.
---

@ESPNJoeyMac: Hockey fans are in for a treat when they watch David Pastrnak. The 18-year-old Boston Bruins rookie continues to impress both on and off the ice. On Tuesday, he provided his second two-goal performance in as many games to help extend Boston's winning streak to four games with a 4-3 victory over the Tampa Bay Lightning. This kid's personality and genuine love of the game have sparked a renewal of confidence for the Bruins. Despite playing only eight games in the NHL this season, the highly skilled forward has made vast improvement since Boston selected him in the first round (No. 25 overall) in last June's draft. He understands where he needs to be at all times, plays a solid two-way game and always keeps his legs moving. There shouldn't be any hesitation from GM Peter Chiarelli to keep Pastrnak with the Bruins for the remainder of the season.
---

@KatieStrangESPN: As if things couldn't get any worse for the Minnesota Wild -- whose nosedive continued Tuesday with a 7-3 pounding by the Pittsburgh Penguins Tuesday -- it now appears likely the team will be without top defenseman Ryan Suter after the nasty elbow Suter delivered to Pens antagonist Steve Downie. The elbow has gotten the attention of the league's department of player safety, which will hold a hearing with Suter on Wednesday. That sort of uncharacteristic move from Suter is a perfect example of the kind of frustration rampant within the Wild's ranks right now, and they can ill-afford his absence. Suter leads the team with 29:35 of ice time per game, so if he misses any games, there will be a huge hole on their back end to fill. Looks like another rough week ahead for Mike Yeo and company.
Picture This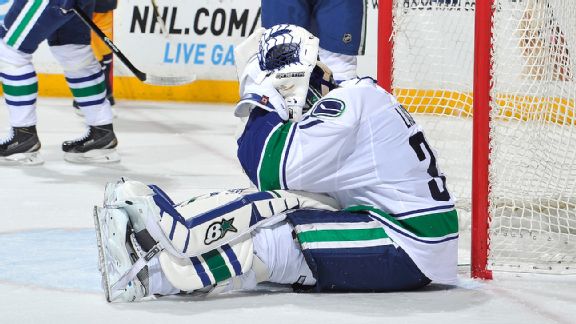 Frederick Breedon/Getty ImagesEddie Lack wasn't feeling so well after giving up a third-period.goal against the Predators.
Top Performers
Mathieu Perreault | Winnipeg Jets
4 G, 0 A, 7 SOG, +4
vs FLA | Final
David Pastrnak | Boston Bruins
2 G, 0 A, 7 SOG, +4
vs TAM | Final
Jaroslav Halak | New York Islanders
27 SV, 0 GA
@ NYR | Final
Quote Me On That
"We're so easy to play against. We lose battles. The details of our game are terrible. We don't make it hard on the other team."
-- Wild LW Zach Parise afte the team lost for the 12th time in the past 14 games
---
"It's great. Any time you see a guy get those four like that, it's fun. It's fun to be a group ... [But] the fun's over with now. We've got stuff to maintain and get back to work."
-- Jets D Dustin Byfuglien after teammate Mathieu Perrault's four-goal game
Stats Central
• Canucks: Fall to 7-11-1 when their opponent scores first.
• Blues: Are now 15-1-2 when leading after two periods.
• Henrik Lundqvist (NYR): Was 11-1 in previous 12 appearances before being pulled vs. Islanders.