Just A Thought
>

@ESPN_Burnside: OK, so let's map out that parade route. Ha ha, just kidding. But oh, those wacky Toronto Maple Leafs. After two embarrassing losses to Buffalo (6-2) and Nashville (9-2) had Leafs Nation ablaze with talk of a coaching change or other significant personnel change, the Leafs do what they always do: they played against character. With the team seemingly reeling defensively and in goal, they looked Thursday night like a real hockey team with an impressive 5-2 victory over the Tampa Bay Lightning. The Leafs scored three in the second period -- two by James van Riemsdyk, including a wicked snap shot from the left side that beat Ben Bishop top shelf -- to help put out the fires of discontent and keep Leafs jerseys from flying onto the Air Canada Centre ice (unless the fans noticed that the team didn't salute them after the game; what was with that?).
---

@ESPNChiPowers: Every November, the Ringling Bros. and Barnum & Bailey circus moves into the United Center for two weeks, and the Chicago Bulls and Chicago Blackhawks move out. It's known simply as the circus trip, and it's been going on for decades. The Blackhawks began this season's trip -- six road games in 10 days -- against the Calgary Flames on Thursday and got off to a positive start with a 4-3 victory. The Blackhawks have fared well on this trip in recent years. They are 22-11-4 since 2007 and haven't been worse than .500 on the circus trip in a single season during that span. Just last season, they went 6-1-0. No one likes to be on the road for two weeks, but the Blackhawks sell it as a bonding experience. Patrick Kane was truthful when he said earlier this week, "By the end of the trip you're kind of sick of one another, but at the same time, if you're winning and doing the right things on the ice, it makes the trip that much more enjoyable."
---

@Real_ESPNLeBrun: When Scott Powers was talking about the circus being in town I thought he was here in Toronto. But I digress. Let's head to Montreal, where Thursday night the NHL-leading Canadiens bounced back impressively from a 4-0 loss to the Pittsburgh Penguins two days earlier by disposing of the visiting St. Louis Blues 4-1 at the Bell Centre. Max Pacioretty led the way, scoring twice to give him 10 goals on the season. I know people like Katie and Craig keep waiting for the Habs to go off the rails this season -- and it may very well happen -- but Michel Therrien's men keep chugging along atop the East. Impressive.
---

@CraigCustance: Now, Pierre, I don't know why you're dragging me into your Montreal analysis. I think any team with Carey Price, one of the few legitimately elite goalies in the league, can stay on the rails for long stretches as he's healthy and playing well. No, I'm not crazy about their possession numbers, but a great goalie can make up for that. The team I'm more suspicious of is in the one in Calgary. I say this as someone who greatly respects the man behind the bench and the way Bob Hartley has his team competing, even when they get down early as was the case Thursday night. And I also believe they've got the right man in charge in GM Brad Treliving. But the Flames are shooting 10.57 percent at even strength right now, the best in the league. Nobody finished over 10 percent last season, when the Flames were at 7.86. So, if there's ever a correction to that number Calgary's 3.05 goals per game average is going to drop and wins will be harder to come by. Jonas Hiller has been a great addition, but he's not Carey Price, so when the goals dry up the points in the standings will, too.
---

@KatieStrangESPN: Fantasy owners, take note: Florida Panthers forward Nick Bjugstad's stock is steadily rising. The 22-year-old appears primed for a breakout season and has been brimming with confidence during a stretch of stellar play recently. Thursday night, the former University of Minnesota standout tallied twice in the Panthers' 3-2 shootout victory over the San Jose Sharks and got the difference-maker on his first shootout try of the season. Just two games prior, Bjugstad recorded a career-high four points. With seven points in the past three games, he appears to have put the lengthy scoring drought he went through to open the season in the rearview mirror. Look for big things from him in his third year as a pro.
Picture This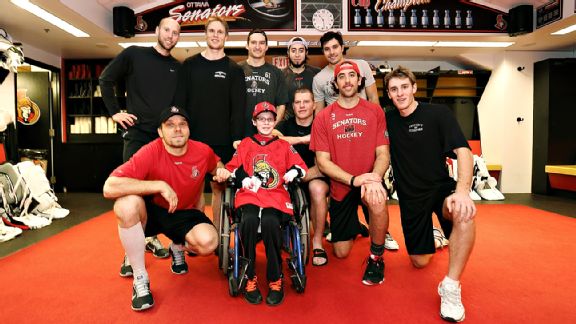 Andre Ringuette/NHLI/Getty ImagesJonathan Pitre, center, was a Senator for a day on Thursday and greeted his teammates after a win over the Predators
Top Performers
Carey Price | Montreal Canadiens
31 SV, 1 GA
vs STL | Final
Max Pacioretty | Montreal Canadiens
2 G, 0 A, 5 SOG, +2
vs STL | Final
Darcy Kuemper | Minnesota Wild
37 SV, 2 GA
@ PHI | Final
Quote Me On That
"It was nice for us to put that little streak, whatever you want to call it, the bad play behind us. Now we have to build on this and find some consistency."
-- Maple Leafs RW James van Riemsdyk on the win over the Lightning
---
"We had stretches where we've struggled to score goals, and we came in and scored four against a team that doesn't give up many. That really helps the confidence."
-- Canadiens LW Max Pacioretty on the win over the Blues
Stats Central
• Canadiens: Improve to 12-0 when tied or leading after two periods.
• Blues: First loss in Montreal since 2004.
• Joe Thornton (Sharks): Assist vs. Panthers extends point streak to eight games.