Just A Thought
ideo1>

@ESPN_Burnside: Yes, the Detroit Red Wings were without Pavel Datsyuk and Henrik Zetterberg, their top two scorers, on Wednesday night against Philadelphia, but the outcome, a shocking 6-3 loss (in which the Red Wings coughed up 3-1 lead, allowing four third-period goals), highlighted what is a burgeoning problem for coach Mike Babcock: his goaltending. Specifically, Babcock is faced with the reality that what is supposed to be his best goaltender is not his best goaltender. Jimmy Howard took the loss Wednesday after allowing five goals on 33 shots. Yes, the four third-period goals the Flyers registered included two power-play markers and an empty-net goal, but the fact is that Howard has just one win in his last eight appearances and six times over that stretch has allowed three or more goals. Jonas Gustavsson, meanwhile, has won four in a row for the Wings and is a sparkling 7-0-1 on the season. Maybe it's just a bump in the road for Howard, but right now he's in danger of playing himself out of contention for the U.S. Olympic team and out of the starter's role in Detroit.
---

@CraigCustance: In front of an audience that included Team Canada coach Mike Babcock behind the bench and Team Canada GM Steve Yzerman scouting in the press box, Claude Giroux did his best to capitalize in leading the Flyers to a 6-3 win over Detroit on Wednesday. Giroux finished the game with a goal and an assist, winning 64 percent of his faceoffs. As usual, Yzerman was coy with offering up any specific insight on what he was looking for from Giroux. "We've been watching these guys for years," Yzerman said. "[We] just see how they're playing through the course of the start for the season and make sure we really understand the players, know their strengths, know where they can play, what they do well." Giroux still has a slow start to overcome, but more performances like he turned in Wednesday help the cause.
---

@Real_ESPNLeBrun: A 4-1 loss in Ottawa on Nov. 7 left the Habs with a mediocre 8-8-1 record, and tension was beginning to build in the NHL's most passionate market. Cue the comeback. The Canadiens are 9-1-2 since that point, vaulting all the way up to second place in the Atlantic Division, just one point behind longtime rival Boston entering Thursday's big game at home against the Bruins. The B's have two games in hand, it should be noted, but it doesn't take away from Montreal's impressive run over the past three and a half weeks. The usual suspects -- Carey Price, P.K. Subban, Andrei Markov, Lars Eller and Tomas Plekanec -- have been terrific, but a player who has really been noticeable as well given how poorly his season began is diminutive center David Desharnais, who after going the first 19 games of the season with just one assist has put up nine points (3-6) in his past eight games while centering a line with Max Pacioretty and Brendan Gallagher. On Wednesday night, Desharnais scored with 37 seconds remaining in the third period to force extra time against host New Jersey, and he scored again in the shootout as the Habs stole one from the Devils, capping a home-and-home sweep of New Jersey. I watched the whole game and I'd say the Canadiens were a little fortunate to grab this one, but when things are rolling like they have been for the Habs, you make your own breaks. Now a big test awaits Thursday night against the mighty B's.
---

@KatieStrangESPN: For a Calgary team stuck in 13th place in the Western Conference standings and without rookie sensation Sean Monahan (injured left foot), there hasn't been much in the way of good news lately. But Wednesday night, they got their captain Mark Giordano back, and it looked like he barely missed a beat. The 30-year-old veteran denfenseman, playing in his first game since Oct. 21, notched a goal and an assist in his return to action as he helped lead the Flames to a 4-1 win against the Phoenix Coyotes at the Scotiabank Saddledome. The veteran blueliner didn't seem to struggle being thrown back into the fire after his six-week absence with a broken ankle. Giordano logged 20:28 in ice time as the Flames erased a 1-0 deficit and scored four unanswered goals against the Yotes. Calgary's red-hot penalty kill also looked good, scoring a league-leading sixth short-handed goal this season.
Picture This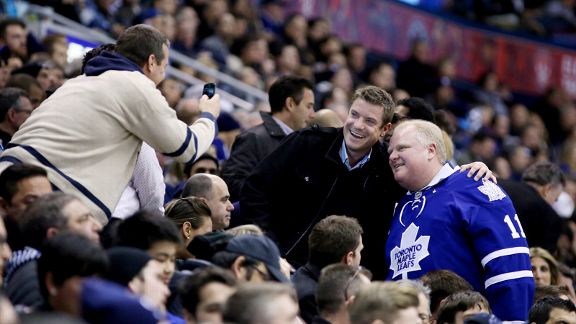 Carlos Osorio/Toronto Star/Getty ImagesToronto Mayor Rob Ford poses with fans at the Leafs game on Tuesday night.
Quote Me On That
"I was sure it was a goal. I tipped one earlier this year that was a little higher than that, so there was no doubt."
-- David Desharnais on his tying goal in the third
Stats Central
• David Desharnais (MTL): game-tying goal (3) with 30 seconds left, and had deciding goal in the shootout
• Sean Couturier (PHI): 2 goals (4, 5), 2 assists (his 1st career 4-point game)
• Flyers: 2nd win at Detroit in past 25 seasons
• Flyers: 9-3-1 in past 13 games
• Red Wings: loss snaps 4-game win streak (just 3rd regulation loss in past 13 games)
• Mikael Backlund (CGY): 1st goal (3) since Oct. 19 (snaps 18-game span without goal)