Commentary
Previewing the conference finals
We started with 30 teams and now we are down to the final four.
The Western Conference finals begin Sunday and the East on Monday. Here's my preview:
Shot of the Week
It's back. You know how it works: We present an NHL photo, and Bucci provides a caption. E-mail him your suggestions (include your name and hometown/state), and we will use the best ones and provide a new photo the following week.
LAST WEEK:

The Tragically Hip-check. (Getty Images)
Your captions:
"We'll win this game or I'll make a Ranger fly out of my butt. Let me demonstrate."
-- Jeff Trush
"See, I told you Siamese twins on opposite teams will not work!"
-- Dennis Lettau (Lansing, Mich.)
"I learned this move from jumping subway turnstiles."
-- Jay Burbank (Orlando, Fla.)
THIS WEEK: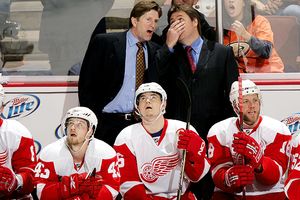 "The girl in the orange T-shirt does not have a real knife. It's imaginary. You're fine." (Getty Images)
Western Conference finals: Detroit versus Chicago
The Winter Classic opponents meet indoors for the right to play for the Stanley Cup.
Chicago was 2-2-2 against the Red Wings during the regular season. The Blackhawks haven't won a Stanley Cup since 1961, when they beat, yes, the Red Wings, before anyone ever heard of The Beatles. The Wings haven't won a Cup since June, before anyone ever heard of Lady Gaga. Goo goo g'joob!
These are clearly the two best teams in the Western Conference. Both are well coached, both have Stanley Cup-winning goalies, both are deep at defense, both have underrated grit and both have plenty of slick offensive playmakers.
Chicago played better as its series with Vancouver went along. Brian Campbell is playing with confidence on the back end, giving the Hawks a dynamic presence. But he and the rest of the Hawks have to play at a very high level against Detroit, dig deep and play courageous, nasty hockey.
Jonathan Toews was also a force by the end of the Canucks series, and I expect him to have good games against Detroit. Kris Versteeg is really a nifty player who has sensational hockey sense. Martin Havlat leads the team in playoff scoring and is setting himself up nicely to be one of the top free-agent prizes in the offseason. He has 26 points in his past 22 Stanley Cup playoff games. Those are big-time numbers. Plus, he just turned 28. It is suspicious his most durable season (81 games) came in a contract year, but I think he would be a good signing for many teams, like Atlanta, Los Angeles (lots of cap room), the New York Islanders and New York Rangers (need offense, but they are cap-strapped), maybe even the Penguins (the contracts of Petr Sykora and Miroslav Satan are up and equal a combined $6 million).
Chicago also has an amazing home crowd that is clearly energizing its team. Please televise the anthem live, TV people. You'll have plenty of time to run perfect-pushup ads.
The Red Wings are still the most complete team in the NHL. They are a great skating team with a defense that has skill and mobility, much more so than the Hawks saw against Vancouver. The Wings' offense is a touch deeper than the Blackhawks, and Pavel Datsyuk will be more comfortable playing against the Hawks' defense than Anaheim's.
The Hawks have some ferocious-hitting forwards, like Ben Eager; and while Datsyuk won't have to deal with Chris Pronger anymore, Chicago is mobile and that is a good weapon against Datsyuk. Todd Marchant was also effective against Datsyuk for most of the Anaheim series and the Hawks have a player like him in Samuel Pahlsson.
Johan Franzen and Marian Hossa match up well against a Hawks defense that is not as rugged as Anaheim's. As a whole, Detroit should be better prepared for this series than the Hawks as a result of its series against the Ducks. Anaheim is a real load with two Hall of Fame defensemen and some big, slick offensive players with lots of sandpaper. That being said, the games in Chicago will be no picnic; maybe the Ducks took some starch out of the Wings.
We would be remiss if we ignored the important battle between the coaches: the Hollywood head of hair of Mike Babcock versus the growing legend of the Q-Stache. Readers of this space know that the Hawks' success can largely be attributed to the power of Joel Quenneville's second-to-none mustache, aka the Q-Stache. It has power even Chuck Norris can't explain. Why I went against the Q-Stache in the second round versus Vancouver, I will never know. Babcock's head of hair, a Hair Hart Trophy finalist again this season, along with Todd McLellan's San Jose salad and Cory Clouston's moss in Ottawa, is the one thing that could take the Q-Stache down. This is something that has to be taken very seriously. I do not take this responsibility lightly.
This is close, but, in the end, I think Detroit has too much offense for Chicago. I see the Wings' lighting the lamp often, and while the Hawks are also capable of scoring, I don't think they can win in a shootout series against Detroit. I can't believe I'm going against the Q-Stache again, but I am. If the Hawks win, I deserve a public flogging from the Stache himself. But I think Babcock's hair and the Wings' offense will be too much, even for the Q-Stache. Red Wings in six.
Eastern Conference finals: Penguins versus Hurricanes
Just like the Red Wings-Hawks series in the West, these are the two best teams in the Eastern Conference right now and they are battle-tested. The Penguins have faced their in-state rival Flyers and the high-powered
Washington Capitals
. The Hurricanes have faced the Devils and Bruins and beaten both of them in thrilling Game 7s. That's
very
impressive. In fact, Carolina has won six straight playoff series and four straight Game 7s. Holy Shnikey! The Hurricanes' beating the Bruins means the Penguins get home ice.
The Penguins are clearly responding to coach Dan Bylsma. He is the perfect man at the perfect time. It kind of reminds me of Glen Sather in Edmonton without the borderline arrogance. Bylsma is basically letting them go, demanding toughness and tenacity, letting their talent to take them far. I am a big Marc-Andre Fleury believer. I think Fleury and/or Carolina's Cam Ward should be on the 2010 Canadian Olympic team and either could easily be a starter there.
The Penguins' defense is hurting with Sergei Gonchar's injury. He won't have his A-game, but still could be a power-play presence. The rest of the Penguins' defense is sturdy and solid. In fact, these two defenses are very similar. With players like Kris Letang and Joe Corvo, both teams are primarily blue-collar with a little skill mixed in. A healthy Gonchar would maybe give the Penguins an edge, but I don't think that will be the case with the state of Gonchar's knee. I would say the goaltending and defense in this series is pretty much a push. A strong Penguins power play is needed for Penguins fans.
The Hurricanes are championship-tested with a good defense and a very good goaltender. They have an excellent balance of grit, skill and right- and left-handed shots. They play in a pressure-free environment and can even ride "giant killer" status. If they can knock off the Penguins, they will have beaten the No. 1, No. 3 and No. 4 seeds. They have a star in Eric Staal and very good role players. Ward is a very good goalie who has been in enough big games that he is now in the upper tier of NHL goalies. The Canes also have a level of defensemen the Penguins have yet to see this postseason. Carolina's blueliners are stronger and deeper than the Bruins' (because of injury) and Capitals'.
The challenge for the Hurricanes is that the Penguins are faster and more explosive than either New Jersey or Boston, and can roll multiple scoring lines. When Jordan Staal is scoring, the Penguins are nearly unbeatable. No team in hockey can match the Penguins up the middle with its big three of Sidney Crosby, Evgeni Malkin and Staal. The Penguins don't have any big-time wingers. That void keeps them from being a dominant team, and I do think Carolina's aggressive style could slow down Malkin.
So, in the end, I think it does come down to Crosby and Malkin. If they have their A-game, the Penguins move on. If they don't, and the Hurricanes are able to neutralize them, it will be Carolina against the Red Wings in a rematch of 2002. I'll take No. 87 and No. 71. Penguins in seven for a rematch of last season's Stanley Cup finals.
The Mother of All Mailbags
Hi John,
"But, after Ovechkin, is there enough to be a factor in the playoffs? That is the great mystery for the Capitals." -- John Buccigross, Oct 6, 2008.
I'm still recovering from the Caps' Game 7 flop. So, maybe I'm a bit bitter. I'd like to get your take on the team Caps GM George McPhee has put together. I know the media buys into the notion that the GM has done a good job. I'm not so sure. Ovechkin hides a lot of weaknesses.
Todd
That last sentence is well put, Todd. The Capitals obviously have holes to fill. The two salary drags are Michael Nylander and Jose Theodore, who make a combined $9.3 million. If there is some way the Capitals can extricate those two contracts from their books, they will be able to significantly upgrade their team.
---
Mr. Bucci,
On this album, "No Line on the Horizon," "Breathe" and "Cedars of Lebanon" stand out for me. "No Line on the Horizon's" chirpy guitars lift me up like "Ultraviolet [Light My Way (1991)]." "Cedars of Lebanon" haunts like a 1986-87-ish Joshua Tree-era demo/B-side and "Breathe" won me over on French TV. "Breathe" is a swirling, spinning haze that starts off a lot like "Where the Streets Have No Name" B-side "Race Against Time," but quickly changes direction and gathers pace. "Magnificent" is the easiest track to like, but it's such an obvious sop to how people think U2 should sound.
But there's very little else on this U2 album that I feel like I had to hear. I find its middle section particularly without raison d'Ítre. In contrast, I thought the middle section on "All That You Can't Leave Behind" ("Walk On," "Wild Honey," etc.) constituted that album's heart and soul. This album doesn't bother me, and it has a few great moments (for me, at least). But I can also very easily imagine life without it. I'm particularly surprised how some people were even going so far as to say that "No Line on the Horizon" was going to be a radical, creative departure for U2. There's nothing at all radical about this record; it's very safe.
And considering its ambient atmospherics, "The Unforgettable Fire" was a much more radical departure (just one year after the flag-waving "War") than "No Line on the Horizon" (almost four full years after "How To Dismantle an Atomic Bomb"). All this said, I still have a single $250 lower-tier premium ticket for U2's Sept. 25 concert at Giants Stadium. But I'm now weighing being there against the Singapore Formula One Grand Prix that same weekend. Oh, well.
Sean King
You lost me at Singapore Formula One Grand Prix.
---
Johnny,
Do you see the Red Wings retiring Maltby and Draper's numbers when their great careers are over? You can't build a winner without guys like them, and they have been solid checkers on arguably the best team for the past dozen years. Do other teams retire role players' numbers, or do only the Yzermans and Orrs of the world get that honor?
Josh
Nashville
Character players do get their numbers retired, but I think Kirk Maltby and Kris Draper will fall a little short.
"If I accept you as you are, I will make you worse; however, if I treat you as though you are what you are capable of becoming, I will help you become that." -- Johann Wolfgang Goethe
---
John,
What are your thoughts about Jim Balsillie wanting to buy the Phoenix Coyotes and wanting to move them to Hamilton, Ontario (possibly)? He's already been denied buying Pittsburgh and Nashville. Where do you think would be the next home for the Coyotes (Winnipeg, Hartford, Quebec, Kansas City, Hamilton or Phoenix)?
Christian Schefer
Floral Park, N.Y.
Well, I would like to see another team in Ontario. I think it makes fiscal and emotional sense. It makes the league better. Phoenix is a huge market, but it is a sprawling one that is very car-dependent. The Coyotes will need to be a big-time winning team to draw well; otherwise, people will just not make the effort. I'm a big believer that NHL teams create NHL fans, and so I never like to see U.S.-based teams go away. Time will tell if things will work in Phoenix. We do know it is teetering. The economy is a long way from recovering and the scars will last decades.
---
Bucci,
I've e-mailed you before and was curious again about your opinion. I'm a rabid L.A. Kings fan (yes, yes, I know), and our future is starting to show a glimmer of hope. They draft fifth in the upcoming NHL draft and I'm curious who you think they may go after? It's difficult to target someone at fifth, but I'm sure they have their eye on someone. What are your thoughts? They have gone defense the past few years and look to have built quite a stable of defensemen. The future also looks bright in the goalie department with Quick and Bernier. Personally, I like what I've seen from Evander Kane. I watched him in the junior worlds and he seems like a solid, gritty, goal-scoring pivot.
Mike Miller
I think the Kings will end up with Evander Kane or Brayden Schenn. The Kings could also use that pick in a trade with a team that's having salary-cap issues and get a player or goalie who could immediately help. They have options.
---
Bucci,
Thanks to you and your column, the Q-Stache has taken on a life of its own and is infiltrating, even inspiring, conversations between myself and my friends and family back in Chicago!
What started out as the humorous anthropomorphizing of Coach Q's facial hair while watching a Hawks game (uh-oh, the Q-Stache is angry! Vancouver won't like the Q-Stache when it's angry!), has now turned into non-game day conversations concerning issues such as, the deification of the Q-Stache, how many live goats the Q-Stache could consume in one sitting, the Chuck Norris-esque feats of prowess the Q-Stache is capable of, and whether it is advisable to stare directly at the Q-Stache with the naked eye, or if it should be viewed using one of those eclipse-viewer thingies!
Part Swerski's Superfans, part mythological doomsday cult, we have come to embrace the power and glory of the Most High and Mightiest of Mustaches! If, by chance, you're looking for a new religion, here are some of the beliefs and commandments of the Q-Cult provided for your perusal:
The Q-Stache is all powerful.
The Q-Stache is all knowing.
The Q-Stache is eternal.
(Pretty standard stuff in ANY religion)
Thou shalt not have any facial hair other than the mustache.
The Q-Stache smells like whatever a believer wants it to.
Joel Quenneville cannot exist without the Q-Stache. It is only the power of the Q-Stache that allows him to maintain his molecular cohesiveness. Without it, he would slowly dissolve into a fleshy puddle (much like Chet in "Weird Science").
John Mazur
Seattle
Amen, brutha. Amen.
---
Hi John,
I was at the world championships in Bern last week and saw something I figured you'd enjoy. Thanks for a consistently great column.
Scott
Geneva, Switzerland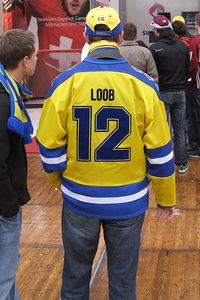 International man of mystery.
John Buccigross' e-mail address -- for questions, comments or crosschecks -- is john.buccigross@espn.com.
SportsCenter anchor
John Buccigross joined ESPN as an anchor in October 1996. He currently can be seen as an anchor on "SportsCenter." Buccigross frequently contributes to ESPN.com during the season.
2009 STANLEY CUP PLAYOFFS

The conference finals are here. Scott Burnside, Pierre LeBrun and the rest of our NHL team preview the action:
CONFERENCE FINALS
MORE COVERAGE
SPORTSNATION