Commentary
What Game 7 means to us
Game 7 equals …
• Cinnamon French toast and a side of home fries. Served by Megan Fox. In a Winnipeg Jets sweater.
• Ne-Yo opening for Animal Collective opening for MGMT opening for Ben Folds opening for Prince opening for Blink 182 opening for Green Day opening for U2 opening for Bruce Springsteen opening for Tool opening for whatever the "Hockey Night in Canada" opening montage is for Friday's Game 7.
[+] Enlarge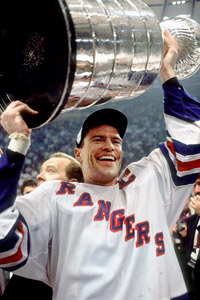 Bruce Bennett Studios/Getty ImagesGame 7 equals ... ending a 54-year-old curse in grand fashion.
• A 9-year-old boy with his hat on backward shooting a flawless, roof-daddy wrist shot in his shorts on a warm June night at a tattered, rusty net. And, remember, Game 7 is not on a school night. Rejoice, Sparky.
• The selfless soul of hockey, best defined by Bobby Orr's soul. If deity is selfless, thoughtful, humble and sensitive toward others, then we should be, too.
• The smell of a new pair of skates.
• The mayhem in the movie "The Hangover." It most resembles a young, single NHL player's offseason once Game 7 is over. The craziest bachelor party you've attended is for the 24-year-old left winger making $2.5 large. Every night in Vegas is Game 7.
• The smell of an old pair of skates.
Game 7 equals …
• The bond of father and son, their shared-logo T-shirt and their shared stomach of nerves as the puck is about to be dropped Friday night. Stomachs in Pennsylvania and Michigan will feel as though they just ate five pounds of grapes.
• The pride and passion of two rust-belt cities mortgaging a portion of their summer moods pending the result of a 60-minute hockey game. Whoever wins Friday night, it will matter much to the proud and soulful people of Detroit and Pittsburgh. The Cup will feel warm and welcomed at either victory party.
• The Facebook message from the girl you didn't have the courage to ask out when you were in high school. If you are in high school right now and are reading this, ask that girl out next hockey season. Tell her you have two tickets to the game and you wanted to know if she could go.
• Listening to music with your headphones on in the dark. The best way to listen to music and, sometimes, deal with an unreasonable mate.
Game 7 equals …
• The fountain of youth. No other game keeps its population younger. Mike Emrick and Jim Hughson will sound like they are calling their first hockey game during Game 7. Gordie Howe will curse at referee Paul Devorski over an uncalled hook on Pavel Datsyuk. Mario Lemieux will be more nervous than any game he ever played in. Everyone associated with the game -- you, me, scouts, players, coaches and administrators -- will hate the tension but love how the game, this game, makes them feel so alive.
Hockey is a great vaccination for boredom. Life is hard and cruel. Leaving childhood, leaving adolescence, entering middle age and moving slowly into the autumn of our years is all taxing and sad -- not to mention dealing with the tragedies that happen along the way that chip away at our spirit.
All we can do is keep moving, keep skating and keep living the best we can, selflessly and passionately, until the final buzzer sounds. Just like the players in Friday's Game 7.
Game 7 is here. Stay thirsty, my friends.
[Editor's note: Be sure to check out Bucci's end-of-season extravaganza column on Tuesday.]
John Buccigross' e-mail address -- for questions, comments or crosschecks -- is john.buccigross@espn.com.
SportsCenter anchor
John Buccigross joined ESPN as an anchor in October 1996. He currently can be seen as an anchor on "SportsCenter." Buccigross frequently contributes to ESPN.com during the season.
EDITORS' PICKS
Boston dealt a blow to Florida, while other Eastern playoff contenders looked to keep pace.
Inside the NHL

While it's too late for this season, the Blue Jackets are getting healthy and showing how tough they will be moving forward.
LeBrun »

Marc-Andre Fleruy has to prove he can dominate in the playoffs before anyone will expect the Penguins to make noise this spring.
Inside the NHL