Commentary
'Smiling Assassin'? Hey, for Fleury, it fits
PHILADELPHIA -- Marc-Andre Fleury doesn't grit his teeth, he grins.
In fact, we imagine the Pittsburgh Penguins netminder, under siege as he was for most of Game 4 on Tuesday night, being bombarded by pucks, poked and pushed by desperate Flyers, and not grimacing as you might expect. Just maybe offering up a giggle or two. And grinning.
It's who he is, and therein lies the problem for the young goalie who turned aside 45 of 46 shots en route to a 3-1 victory over Philadelphia that sends Pittsburgh back home with a 3-1 series edge and a chance to eliminate the hated Flyers on Thursday night.
You see, if he wasn't so darn cheerful, if he didn't respond to every query with that perpetual toothy grin, people might be viewing him with a lot more reverence.
Fierce? Fiery? You think Ed Belfour and Patrick Roy.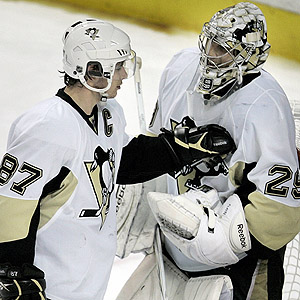 AP Photo/Tom MihalekMarc Andre-Fleury made 45 saves Tuesday to help the Penguins take a 3-1 series lead against the Flyers.
Think Fleury, and you imagine, "Aw, shucks."
Hard to imagine him assaulting a bug, let alone a television set, as Roy famously did one day in coach Bob Hartley's office.
After Tuesday's performance, though, it wouldn't be a surprise if the Flyers start calling Fleury "The Smiling Assassin" because this one was pretty special.
Philadelphia outshot Pittsburgh 34-13 through the last two periods as it fought desperately to erase a 2-0 lead built by the Penguins on goals before the midway point of the second period.
When Daniel Carcillo scored his first career playoff goal off a rebound in the slot at the 11:44 mark of the third, the Wachovia Center erupted. It was the 37th shot of the night for the Flyers, and if anyone on the ice could have heard anything other than "Huh?," it would have been a miracle.
How did Fleury react?
Well, first he grinned, then he closed the deal as Maxime Talbot added an empty-net marker with 51.3 seconds left, assuring the game and, in all likelihood, the series at the same time.
"He was the difference," said Kimmo Timonen. "We pretty much threw everything at him and he was pretty good. Sometimes that happens. If there is something we can take out of this game, the way we played, we threw pucks at him. We have to keep doing that, and hopefully, we get bounces."
Surrounded by reporters after the game, Fleury talked about how the multitude of shots made the game go faster and how he just tried to focus on the puck when the Flyers were on one of their many power plays.
Asked about his most memorable save, he mentioned managing to get his glove on a shot by Mike Richards during a power play. "That was fun," he said.
The Flyers, who went 0-for-8 on the power play, were left dumbfounded at their inability to beat the native of Sorel, Quebec.
"You can't let him to continue to outwork us," Flyers coach John Stevens said. "I don't want to say he outworked us, but he beat us because we didn't get more than one puck in the net."
Fleury lost in regulation just twice in his last 19 games of the regular season. He's now 3-1 in the postseason and everyone -- especially Jeff Carter -- remembers Fleury's stunning toe save in Game 2 that kept the Flyers from taking a 3-1 lead in a game they eventually lost 3-2 in overtime.
Then came Tuesday's larceny, when the Flyers took the Penguins out of their game, forcing them into penalties and pressuring their defense, and still trail in the series, in a 3-1 hole almost no team can come back from at this time of year.
"Now we have given ourselves zero margin for error, that's the problem," Stevens said. "Now the focus is to try and play like that every night, and I think we will deserve a better fate."
Sadly for the Flyers, that's not necessarily how it works. A performance like Fleury's suggests his sense of timing and intestinal fortitude is going to take fate completely out of the equation.
Think about not just the nature of the saves Fleury made, but also when he made them. With the game scoreless in the first period, Fleury made a great stop at the end of a Philly power play on Claude Giroux to deny the Flyers the opening goal that meant so much to them in their win in Sunday's Game 3.
In the second period, Penguins rugged forward Matt Cooke took a bad penalty, smashing Carter into the boards away from the play and drawing an interference call. Fleury kept the Flyers at bay; as Cooke stepped out of the box, the puck came to him and he led the rush that resulted in the Penguins' first goal by Sidney Crosby. At the end of a Pittsburgh power play in the same period, Fleury denied Simon Gagne on a wicked shot from the slot.
Shortly after that, Tyler Kennedy made a nice move to his backhand and beat Martin Biron for a 2-0 lead. Moments after, Fleury stuck out his left pad to thwart Daniel Briere and preserve the two-goal lead. When it looked like the Flyers' domination would lead to something tangible, Fleury turned them back.
Maybe it's because he's still a kid, 24 years old with a sunny disposition. Maybe it's because he plays on a team where the roving light of attention will always fall on others. But Fleury's name rarely, if ever, comes up in discussion for the 2010 Canadian Olympic team or league awards.
"Because of the great level of talent we have on this team, he's not going to get the credit he deserves," Penguins defenseman Rob Scuderi said.
In some ways, Scuderi and Fleury have grown up in the Penguins' organization together, playing in the minors and now in Pittsburgh.
"Every single year I've played with Flower, he's gotten better," Scuderi said. "And that's scary."
We spoke with Fleury early in this series and he said how it was nice people weren't asking questions about whether he could do the job at the playoff level now that the team had been to the Stanley Cup finals. But now he seems to have internalized that experience and is using it to take another step forward.
He said when the noise got really loud Tuesday, he thought that was when his experience from the finals against Detroit came in handy (even though the Pens lost in six games).
So, is he any different this season?
"Maybe a little more mature, a little older, you know, got some experience," Fleury said. "Once you play in the final, you see the pressure, the stress, and it helped me I think."
Maybe there's steel and fire in there after all.
"Yes, it's something I like to take pride in," Fleury said. "In practice, I hate when the guy scores. My dad always told me to work hard. That's all you control, it's all you can do, and if I give my best, good things will happen."
He was grinning, of course, when he said it.
Scott Burnside covers the NHL for ESPN.com.
ESPN Senior Writer
Covers hockey for ESPN.com
10 years at Toronto Sun, Windsor Star and National Post
Wrote best-selling true crime book "Deadly Innocence"
EDITORS' PICKS
Boston dealt a blow to Florida, while other Eastern playoff contenders looked to keep pace.
Inside the NHL

While it's too late for this season, the Blue Jackets are getting healthy and showing how tough they will be moving forward.
LeBrun »

Marc-Andre Fleruy has to prove he can dominate in the playoffs before anyone will expect the Penguins to make noise this spring.
Inside the NHL