Commentary
Ovie, Caps are NHL's best young team
WASHINGTON -- They chanted, "M-V-P," and hurled their hats onto the ice. And when it was over, when Alex Ovechkin's hat trick had trumped Sidney Crosby's hat trick in a monumental clash of NHL titans, it was hard not to believe we had witnessed a kind of passing of the torch.
Not the torch that defines who the greater player is -- that debate might ever rage -- but rather the torch that defines which is the greater team in this moment.
In the wake of this terrific, hard-fought 4-3 Washington Capitals victory Monday, it is hard not to view the Capitals, instead of the Pittsburgh Penguins, as suddenly the young darlings of the Eastern Conference, as suddenly the best young hockey team in the game.
For every goal Crosby scored -- and he scores pretty much all of them now for the Penguins -- Ovechkin and the Capitals had an answer. They were answers perhaps even the Capitals themselves did not know they possessed.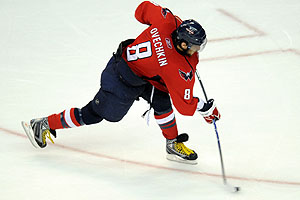 James Lang/US PresswireAlex Ovechkin scored two goals less than three minutes apart in the third period to help the Caps beat the Pens on Monday night.
"I think it's good for fans to see great players play against each other and two great teams play against each other," Ovechkin said. "It's [an] interesting time, it's [an] interesting game."
What would fans think, watching such a display?
"Sick game. Sick goals by me and him," Ovechkin said.
For the second game in a row, the Capitals allowed the Penguins an early 1-0 lead. They also allowed the Penguins a second one-goal lead in the second period. Then, slowly, inexorably, the Capitals stole the game from the team that was supposed to know how to close out these kinds of games.
"I think there were a lot of questions. I mean, we'd never been in this position before, Pittsburgh has," said Dave Steckel, whose second goal of the series tied the score at 2 with less than five minutes in the second period. "They had the experience. We came out tentative; it showed. Tonight, we came out a little better and we played right to the end, and so did they. It could have went either way, but I'm glad we persevered."
Last spring, the Penguins had an answer for everything in the Eastern Conference as they roared to the Stanley Cup finals with a 12-2 record. This spring, it is the Capitals who appear to have an answer for everything, whether it's the continued excellence of rookie netminder Simeon Varlamov, who made 33 more stops Monday night, or the production from grinders like Steckel.
On this night, of course, the answer was named Ovechkin.
"Nice job, Ovie," center Nicklas Backstrom understated in the Capitals' dressing room after Ovechkin had sauntered by, wearing the hard-hat award given to the player who works hardest.
Down 1-0 thanks to a Crosby power-play goal in the first period, it was Ovechkin who tied the score with a wicked shot off a Viktor Kozlov pass.
Tied at 2 going into the third period, Ovechkin ripped shots past Pittsburgh netminder Marc-Andre Fleury twice to give the Capitals a 4-2 lead. They would need both those markers, as Crosby scored his third goal with 30.4 seconds left, batting the puck out of mid-air with the Penguins on a power play and Fleury on the bench.
But the Penguins never got another chance and return to Pittsburgh trailing 2-0 in the series against a Capitals team that looks like some alien organism, growing stronger and building confidence with each shift, each period, each small success.
"Right now, you're not seeing a lot of celebration," Capitals owner Ted Leonsis said after the game. "We mean business."
Had the Penguins won Game 2, it would have been the first time since the current playoff format was adopted in 1994 that all four conference semifinals series were tied at 1. But Capitals coach Bruce Boudreau said they tried to learn a lesson from watching how all three of the other teams down 1-0 had rallied to tie their series.
"The one thing we've learned from experience is you can't take for granted that you're going to be successful," he said. "When you're playing good teams with a lot of character like Pittsburgh, it doesn't get any easier."
Here's the moment that just might have galvanized this Caps team, suggesting anything is possible and spelling the end for the Penguins.
Just past the midpoint of the third period with the score tied at 2, the Penguins' sputtering power play was given another chance when Caps defenseman Milan Jurcina was whistled for interference. The ensuring power play yielded nothing. Nada. Not a sniff of a chance, let alone what might have been the goal to turn this series around.
As Jurcina stepped back on the ice, Evgeni Malkin, the NHL's defending scoring champion, slew-footed Steckel in the Capitals' zone. Tweet. A tripping call. Four seconds later -- four -- Ovechkin ripped home a shot that Fleury might not see even on the replay.
Cause and effect -- these are the moments that change the course of a game, a series, a playoff year.
Then, as though to add an exclamation point, Ovechkin stepped over the blue line again 2:29 later and ripped a shot past defenseman Sergei Gonchar and over Fleury's catching glove, and the die was cast.
"It's fun to watch the best in the world compete against each other and how they take it personal," said Washington forward Brooks Laich. "I'm just glad our guy came out on top tonight. He was fantastic. He's a fun guy to play with. He just goes down the ice, and it seems like pucks just fly off his stick."
It will be easy to mark Malkin as the goat in this one. Remember, this series was supposed to be about the game's three seminal players -- Ovechkin, Crosby and Malkin. Crosby, who scored once in Game 1 and now has six goals in his past three playoff games, has answered the bell. Ovechkin, who also scored once in Game 1, is clearly in the game. Malkin? No goals and no real heavy lifting yet.
Yes, the next two games, Wednesday and Friday, are in Pittsburgh, where the Penguins are very tough to play against, and there still is time for this compelling series to become even more so.
"Belief is a big part in what you're doing and how you're doing it," said Pittsburgh coach Dan Bylsma. "In situations like this, it's difficult. We're not where we want to be, and we're disappointed at this point in time with being down 2-0, but you have to draw on what you know and experience. I also think we have a belief that we can win hockey games if we play the right way."
But the Penguins' problems aren't so much what they aren't doing as what the Capitals are doing to them. In a classic battle of skill and sand, the Capitals are winning the kinds of games the Penguins had become accustomed to winning. The Capitals not only have imposed their will on this series, but they also have taken that will away from the Penguins.
Who knew they were capable of such a thing? Really.
OK, apparently Boudreau knew.
"We've got the guys who never quit," he said. "Not only the Alexes and Nick and that, but the other guys that I've coached in the minors, [they] never quit when we were down. They've been down numerous times in championship games and they've come back. I'm pretty sure of their character and I know they would never quit.
"They've never failed to come back yet, so far, so I'm keeping my fingers crossed."
Scott Burnside covers the NHL for ESPN.com.
ESPN Senior Writer
Covers hockey for ESPN.com
10 years at Toronto Sun, Windsor Star and National Post
Wrote best-selling true crime book "Deadly Innocence"
THE SHOWDOWN: CAPITALS VS. PENGUINS
Crosby. Malkin. Ovechkin. The NHL's three biggest stars on the same playoff stage with a conference finals berth on the line:
ANALYSIS
WATCH
VOTE