Commentary
Pens' Malkin finds game, redemption
PITTSBURGH -- So, just how do you say "redemption" in Russian?
Facing the prospect of falling hopelessly behind 3-0 in this Eastern Conference semifinal, beleaguered scoring champ Evgeni Malkin produced a virtuoso performance in leading the Pittsburgh Penguins to a 3-2 overtime victory over the Washington Capitals on Wednesday night in what continues to be one of the most compelling playoff series in recent history.
The victory, assured by a deflected Kris Letang point shot 11:23 into the first overtime session, set up what should be a dramatic 48 hours of hockey this weekend, as the teams will play Game 4 on Friday in Pittsburgh and Game 5 the next night in Washington.
[+] Enlarge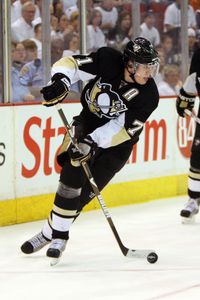 Jason Bridge/US PresswireEvgeni Malkin scored once and had nine shots on goal in Wednesday's Game 3.
Often in playoff hockey, justice is hard to find.
Ask the Detroit Red Wings whether they believe there has been justice in the past two games of their series against the Anaheim Ducks. On Wednesday night, though, there was justice. The Penguins shook off a wacky bounce off the end boards that produced the first Caps goal just 1:23 into the game and a late power-play marker that deflected in from a bad angle off Penguins netminder Marc-Andre Fleury to dominate the Capitals and produce a victory that was absolutely vital to their continued playoff health.
"There wasn't any self-doubts for us," Pittsburgh forward Matt Cooke said. "They got a lucky bounce in the first, and they got a lucky bounce in the third. You have to be able to overcome bad bounces, and you have to be able to overcome their great goaltending."
And that's exactly what the Penguins did.
Over the last two periods and overtime, the Penguins outshot the Capitals 34-15. At one point, they drew six straight minor penalties, and they added another power-play opportunity in overtime.
Players who had been ghost-like in this series emerged and helped hem the Capitals in their zone for long periods of time.
No one emerged more dramatically than Malkin, though.
He had not played well in Games 1 and 2, and acknowledged as much after Game 3. "I feel good. I know I [did] not play good the last two games," the notoriously media-shy Malkin said.
How often do we hear people talk about raising their level of play and going to that "next level" as though they get there by pushing a button on an elevator? How often does it happen?
But Malkin did it, carrying the puck with confidence, dipping and weaving, creating scoring chances on almost every shift.
In one example of justice being served, it was Malkin's rising shot on the power play that looked to give the Penguins the victory with 4:59 left in regulation. It was Malkin's first goal in six games. He finished with nine shots on goal, more than any other player.
"Over the last few days, he's taken a bit of heat," Pittsburgh captain Sidney Crosby said. "It was a big game, and he definitely came to play."
Defenseman Brooks Orpik recalled how animated Malkin got while watching the Russian game at the World Championships earlier in the day.
"He got pretty excited there, so we were hoping there was going to be a carry-over to this game," Orpik said. "He hears everyone being critical of his performance. He's one of those guys, he's so competitive, he wants to do so well, he's got so much pride. I think sometimes he just presses a little too much. It's not his effort, it's maybe just a case of him over-thinking sometimes."
When you're up 2-0 in a series as the Caps were, a loss like this stings, but it isn't devastating. But this certainly was Washington's weakest performance since early in the first round, when it fell behind 3-1 to the New York Rangers.
"Well, they played great," Washington coach Bruce Boudreau said. "They were going on all cylinders, and we were watching them skate."
"I think they deserved to win," Alex Ovechkin said. "They played better than us, and everybody see it."
It was Ovechkin who opened the scoring with the weird, off-the-end-boards goal to give the Caps the early 1-0 lead. Strangely, the team that scored first in all three games went on to lose. The loss spoiled another superlative effort from rookie netminder Simeon Varlamov, who faced 42 shots.
"He was outstanding," Boudreau said. "When you get a goaltending effort like that, you have to win, because they don't come around every day."
If Malkin redeemed himself with his best game of this playoff season, there were plenty of others who emerged from the woodwork to enjoy a taste of redemption on the Pittsburgh side.
Malkin's linemate, Ruslan Fedotenko, had just one goal through his first eight postseason games but opened the Penguins' scoring Wednesday when his attempted pass bounced off Washington defenseman Milan Jurcina's stick and right back to him, giving him an open net.
Bill Guerin, without a goal since the second game of the opening round, provided a perfect screen on Malkin's power-play goal.
And Letang, the overtime hero, was doubtful to even play in Game 3 after taking a big hit in the waning moments of Game 2 from Washington defenseman Mike Green.
"I mean, it was a game-time decision," Letang said. "It depends how I feel. I felt pretty good and I told the coach that I was ready to play."
He explained how Crosby had set up the play that led to the winning goal.
"We called the play before. Sid won it to Mark Eaton, and he gave me a little pass between my legs for a one-timer," Letang said. "It was a perfect pass. I just tried to take a good shot on net. It felt great, especially when I missed so many chances during the game."
Starting Friday, we'll find out whether the Penguins' Game 3 win will evolve into something even more dramatic in this already compelling series or whether the Capitals can regain control.
Scott Burnside covers the NHL for ESPN.com.
ESPN Senior Writer
Covers hockey for ESPN.com
10 years at Toronto Sun, Windsor Star and National Post
Wrote best-selling true crime book "Deadly Innocence"
THE SHOWDOWN: CAPITALS VS. PENGUINS
Crosby. Malkin. Ovechkin. The NHL's three biggest stars on the same playoff stage with a conference finals berth on the line:
ANALYSIS
WATCH
VOTE