Commentary
Capitals' biggest challenge is to forget
WASHINGTON -- It may not have ended with a magical moment, what with Evgeni Malkin's attempted pass bouncing off the stick of sprawling defenseman Tom Poti and into the Washington Capitals' net in overtime, but make no mistake: This was a classic through and through.
Not that anything should be a surprise at this point in a series that has been a hockey symphony, building through the first five games to a crescendo, to a single moment of high drama that could come as early as Monday night now that the Pittsburgh Penguins own a 3-2 series lead in the wake of Saturday's 4-3 overtime thriller.
"I thought it was our best game of the series," Capitals coach Bruce Boudreau said. "I thought we had as many chances as they did. I thought we had the energy that they did. I thought we played a really good game that was decided in overtime.
"I mean, you can't get closer than that. One shot. [David] Steckel puts it in in overtime, we're sitting and we're talking a different tune, there's all different questions and we're all happy on this side of the microphone anyway."
And there's the rub, no?
Given everything that was so good about Washington's performance, trying to push the memory of the puck sliding into the open side of its goal 3:28 into the first overtime period will be a supreme challenge for the Capitals.
How can it not? After tying the game on a late goal by Alexander Ovechkin (his second of the night) and having a golden chance to win in the first 30 seconds of overtime, this kind of loss can suck the spirit from a team that has lost three straight games.
"It's a tough hill to climb, but you just got to think of it as one game," Boudreau said of Monday's Game 6 in Pittsburgh.
[+] Enlarge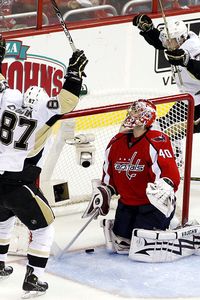 AP Photo/Pablo Martinez Monsivais Evgeni Malkin celebrates his overtime goal with teammate Sidney Crosby, left, in front of Caps goalie Simeon Varlamov.
The first 30 seconds of overtime were a microcosm of the game.
Capitals checking center Steckel found himself alone in front of an open Pittsburgh net with the puck just slightly ahead of him. But the puck was rolling, and skipped just out of Steckel's wheelhouse -- like the game itself.
"I was trying to wait for it and it was a little ahead of me. It wasn't going to settle down and I just took a whack at it, it went off the top of my stick and went wide," Steckel said of his glorious chance.
Sidney Crosby led a dangerous rush back the other way that left Washington goaltender Simeon Varlamov and defenseman John Erskine shaken up as bodies went flying. Three minutes later, with one second left in a Penguins power play, it was all over.
It was that kind of night.
It's been that kind of series.
Each game has delivered something compelling, some new level of drama or showcase for the tremendous talent assembled on both teams. Saturday brought the complete package as these two teams pushed each other back and forth.
The Penguins led by a goal early in the second period, but the Capitals held a 2-1 lead going into the third period. The Penguins tied it and then went ahead with two goals in the first 6:27 of the third. Ovechkin, superlative as usual, tied the game with 4:08 left in regulation, charging down the right side and slipping home a nifty Nicklas Backstrom pass. It was Ovechkin's 10th goal of the postseason and seventh of the series.
"Ovie's Ovie. I mean I think I've talked about friggin' the cows come home with him, I mean there's got to be something else to talk [about]. He plays good all the time. He's the MVP," Boudreau said.
As fine a performance as Ovechkin has delivered throughout, the Penguins have shown something even more impressive, perhaps: the ability to win in the face of adversity. Less than 24 hours after losing star defenseman Sergei Gonchar to injury after a controversial hit by Ovechkin, they became the first team in this series to steal a win on the road.
"This team, I don't want to say I'm surprised by it, but the resiliency level on this team & everybody is on board. All the time," said Pittsburgh defenseman Brooks Orpik.
In their first playoff victory this year in which Crosby did not register a point, the Penguins were led by the team's third line. Jordan Staal and linemates Matt Cooke and Tyler Kennedy combined for two goals and two assists.
"When you have a third line in your lineup that can play like that, it adds another dimension to your team and it certainly was there tonight," Pittsburgh coach Dan Bylsma said.
Earlier in this series it was the Capitals' third line which helped to take the burden off Ovechkin and Alexander Semin, as Steckel scored in each of their first two games, both Capitals wins.
"Hopefully it's our turn next time," Boudreau quipped.
In the first round, the Capitals dropped the first two games at home to the New York Rangers and trailed 3-1 in the series before winning three straight, an experience they insist will put them in good stead moving forward in spite of Saturday's bitter disappointment.
"Tonight's game has nothing to do with Monday night's game. We have to show up tomorrow and look at what we did and make improvements and show up Monday as if it's our Game 7. It's another elimination game for us, we're sort of getting used to these," defenseman Brian Pothier said.
"The desperation, the urgency, it's an elimination game for us, therefore every single shift is, I mean, that's it, it's end all, be all for us. We have to make sure we're prepared for Monday," he added.
What did Ovechkin think?
"Today we play good," he said. "It's not good enough. We're going to be better next game. Somebody thinks this series is over? It isn't."
Scott Burnside covers the NHL for ESPN.com.
ESPN Senior Writer
Covers hockey for ESPN.com
10 years at Toronto Sun, Windsor Star and National Post
Wrote best-selling true crime book "Deadly Innocence"
EDITORS' PICKS
Boston dealt a blow to Florida, while other Eastern playoff contenders looked to keep pace.
Inside the NHL

While it's too late for this season, the Blue Jackets are getting healthy and showing how tough they will be moving forward.
LeBrun »

Marc-Andre Fleruy has to prove he can dominate in the playoffs before anyone will expect the Penguins to make noise this spring.
Inside the NHL