Commentary
In the end, Crosby stands alone
WASHINGTON -- When it really mattered, when it came time to make a statement about greatness and winning and leadership, this one turned out to be a colossal mismatch.
In a stunning departure from the back-and-forth, intensely close nature of the first six games of this Eastern Conference semifinals series, the Pittsburgh Penguins took the Washington Capitals to the woodshed in their own building Wednesday night in a 6-2 win.
It was a powerful lesson handed down by the Penguins, and the figure at the head of the class was none other than 21-year-old captain Sidney Crosby.
"In my opinion, best all-round player in the league. He proved it tonight, and no disrespect to any player," Pittsburgh GM Ray Shero told ESPN.com after the Penguins had advanced to a second straight East finals. "Alex Ovechkin is unbelievable for our game. Unbelievable player. We kind of shut him down [and] he had 14 points in this series, that's how great he is.
[+] Enlarge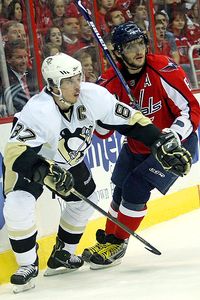 Bruce Bennett/Getty ImagesSidney Crosby and Alex Ovechkin finished with 13 and 14 points, respectively, in their second-round showdown.
"The league's so fortunate to have both these guys and [Evgeni] Malkin and guys like this. These guys are carrying the flag for the league. But tonight was a statement. Both ends of the ice, [Crosby] was the best player out there and made it happen for us and said what he is as a player and a person tonight."
You could hardly find more different human beings than Crosby and Ovechkin, from backgrounds to personalities to styles of play. Yet, as different as they are, they will forever be joined by their inexhaustible desire to win. It was what made this series so special, this battle of wills, this rare ability to drive their teams forward despite adversity and mistakes on display for all to see.
Yet, in the final act of this grand drama, the spotlight fell solely on Crosby.
After Ovechkin was stoned by Pittsburgh netminder Marc-Andre Fleury on an early breakaway attempt, it was Crosby who opened the scoring, deftly taking a deflected Sergei Gonchar shot on his right skate blade, directing it to his stick and burying it for a 1-0 lead.
Eight seconds later, Craig Adams scored to make it 2-0. Then, it was Crosby again, setting up the third and ultimately winning goal just 28 seconds into the second period. This time, Crosby waited patiently on an odd-man rush for linemate Bill Guerin to enter the Capitals' zone, feeding him a pass that Guerin ripped past rookie netminder Simeon Varlamov.
"You know what, he won't say he likes [to be] front and center, the big stage or anything like that, but he just really knows how to perform in it and he really stepped up," Guerin said of Crosby.
Crosby would add a second goal on a breakaway after a giveaway by Ovechkin, tucking the puck between the pads of Jose Theodore, who replaced Varlamov after the Pens' fourth goal. Crosby barely raised his arms in celebration, as though he understood this battle had been won, the opponent vanquished.
"Well, he's our leader. We go where he leads us. He did it all series and he did it again tonight, got us off to a 1-0 lead," Pittsburgh defenseman Mark Eaton said. "You could tell the end of Game 6 how determined he was. You knew that was going to carry over into tonight, and it did, and everybody fed off of that."
Crosby finished the series with 13 points, one fewer than Ovechkin, who added a meaningless goal after the Penguins had built a 5-0 lead and managed to record points in every game in the series. In the end, it wasn't enough.
"They were more composed with the puck, and the other thing they did and the reason they won the game is because they outworked us," Washington forward Brooks Laich said. "It's not easy to stand in front of you guys and say that we've been outworked in our building in a Game 7. I'm sure that's something we're going to have to think about for a long time."
As the teams shook hands, Ovechkin whispered in congratulations and told Crosby he hoped the Pens won the Cup. It was a magnanimous comment from a player who has quickly established himself as a virtuoso star but who lags far behind Crosby in something infinitely more important: team success.
"It feels good just because of the way the series went, not particularly because it was me and him," Crosby said. "There was a lot of eyes on this series. It was a battle for both teams individually. We both wanted to make sure we did a good job."
Since the end of the lockout, Crosby's Penguins are 23-15 in postseason games with a trip to the Stanley Cup finals and consecutive berths in the East finals under their collective belts. Ovechkin's Capitals are just 10-11.
Those are numbers that will haunt Ovechkin, no matter how many individual awards pile up on his mantel.
"I'm very disappointed. They played better," he said. "I didn't score on the breakaway, so if I score the first goal, maybe a different game. I didn't score it. They're experienced guys. They're a great team. They played great."
Hockey never got its ultimate showdown when Wayne Gretzky and Mario Lemieux were in their prime, never got a chance to see what the best players of a generation would and could do when squared off in a playoff series. This series provided a little insight into what that kind of series might have been like.
For the first six games, this was as compelling as anyone could imagine, and judging by the attention and buzz that surrounded this series, it was the kind of confrontation that made the sport sexy once again for the casual fan. And if you look at any compelling moment, chances are either Ovechkin or Crosby was involved.
"I think it's great for the game, I think we've all said that," Shero said. "You turn on the TV, everyone's talking about it. I have friends, even though I haven't heard from them in a long time, and they're following Ovechkin-Crosby and Washington-Pittsburgh, and it's great that people are talking about the game."
You know what? He wouldn't have said it after the Penguins lost Game 6 in overtime at home, but Shero wasn't sorry to see it play out the way he did, in a seventh game.
See, here's the thing about this series that some people forget. As much as it's been about Ovechkin and Crosby and how this series would play out, this is as much a statement about a Penguins team many had left for dead midway through the season.
Shero couldn't convince Marian Hossa to return, and Ryan Malone wanted too much money. The GM ultimately fired Michel Therrien early in the new year and installed unknown Dan Bylsma behind the bench.
Shero said he went down to the benches during warm-ups, something he rarely does, and found himself getting emotional at the prospect of what might happen in the hours ahead.
"Actually, I got, personally, a little emotional," Shero said. "Honestly, these coaches and these players, I think they've done a fantastic job and I didn't know who was going to win Game 7, but I just know that I didn't want it to end because I love spending time with these guys. Players have been great. Anyway, it's just been a real special run for us here."
In the Penguins' dressing room, there was a strange calmness. No goofing around, certainly no champagne or signs of celebration.
"I think it's experience," Crosby said. "We're not old veterans by any means, but at the same time, we've been through a lot for a young group. We've been in a lot of different situations probably quicker than most teams can say they've been in.
"You don't expect anything but the best from the guy next to you. Everyone holds true that responsibility."
Sounds like somebody who knows more than a little about the best.
Scott Burnside covers the NHL for ESPN.com.
ESPN Senior Writer
Covers hockey for ESPN.com
10 years at Toronto Sun, Windsor Star and National Post
Wrote best-selling true crime book "Deadly Innocence"
THE SHOWDOWN: CAPITALS VS. PENGUINS
The series featuring the NHL's biggest stars in Crosby, Malkin and Ovechkin didn't let fans down. We recap the Pens' 4-3 series win over the Caps:
ANALYSIS
WATCH
THE SERIES