Commentary
Pens' Satan rebounding in postseason
PITTSBURGH -- There is a certain wariness in Miroslav Satan when he is approached by reporters.
Perhaps that's because he knows the inevitable line of questioning.
The references to what has been, for the most part, a disappointing season in Pittsburgh, one that included an embarrassing stint in the minors after the trade deadline and multiple games as a healthy scratch.
It's as though he expects someone to actually ask him whether he really is the underachieving, handsomely paid pooch many in the hockey community believe him to be.
[+] Enlarge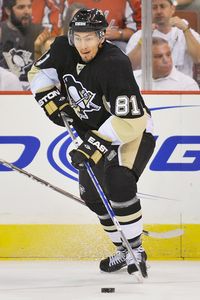 Jamie Sabau/Getty ImagesMiroslav Satan has five points in his last five games for the Penguins.
We don't ask him that, of course. And surprisingly, Satan ends up revealing significant perspective on his travails this season, proving once again that judging a book by its cover is never wise.
The 34-year-old native of Topolcany, Slovakia, has put together an impressive career that includes nine seasons with at least 20 goals and three with 35 or more goals. He was signed by the Pittsburgh Penguins in the offseason, ostensibly to provide scoring touch for Sidney Crosby or Evgeni Malkin.
And although he did come up with 17 goals, there was a definite lack of chemistry. As a result, GM Ray Shero brought in Bill Guerin and Chris Kunitz at the trade deadline, and both of them now line up with Crosby every night.
Satan? He ended up in Wilkes-Barre with the Penguins' AHL affiliate for 10 games. One might have imagined such a trip would result in desultory performances and contempt for his situation. One would be wrong.
Satan was a model citizen in Wilkes-Barre. There are stories of his taking players out to dinner and sharing his experiences with them.
"For whatever reasons, what happened happened, and I had to spend some time down there, so I tried to make the best of it. So that's about it," Satan told ESPN.com on Wednesday. "It's an approach that works in life, also."
Satan returned from the minors on the eve of the playoffs but was a healthy scratch until coach Dan Bylsma yanked Petr Sykora from the lineup late in the first round against Philadelphia.
"I can tell you, I wasn't used to that, watching the games from the press box," Satan said. "That was definitely a new situation, something new for me mentally to learn from. You've just got to wait for your opportunity, and when you get it, use it."
It has taken some time, but Satan has slowly seen his contributions grow. He collected three nice assists in the Penguins' second-round series against Washington and scored the first goal of the Eastern Conference finals against Carolina in Game 1, putting a nifty move on Carolina netminder Cam Ward as he broke in alone. He has five points in his past five games.
For a player who has developed a reputation as not being a big-game producer and has never been seen as a heart-and-soul guy, Satan's recent results have been a bit of a revelation. Not to Bylsma, though.
"If you had been around him when he went to Wilkes-Barre, how he reacted there, how he worked there, his attitude there, then when he came back, his attitude, his approach to what might happen, you would understand why he's out there having success right now," Bylsma said.
Satan told Bylsma that whenever the coach needed him, he would be ready. And he turned out to be as good as his word.
"In practice, he worked like he was ready to go," Bylsma said. "He's earned more opportunities with the way he's played, both things he's done offensively and away from the puck and workwise. He's earned that right to have that success in the game that he did with his attitude, the way he's worked, the way he's approached the game."
Satan acknowledged that some people might be surprised at how he has handled the challenges this season.
"For people who know me, they wouldn't be surprised," Satan said. "But I guess if they didn't know me, maybe they found out something they didn't know about me."
It's unlikely Satan will return to the Penguins next season. He is scheduled to be an unrestricted free agent this summer, but his recent postseason play should pique the interest of more than a few GMs around the NHL.
"I signed with this team to be in the playoffs, so here I am. So I'll take it game by game," Satan said. "I don't want to think about what was in the past. I don't want to think about what will be in the future. Just win the game tomorrow. That's my focus. I don't care about anything else."
Scott Burnside covers the NHL for ESPN.com.
ESPN Senior Writer
Covers hockey for ESPN.com
10 years at Toronto Sun, Windsor Star and National Post
Wrote best-selling true crime book "Deadly Innocence"
EDITORS' PICKS
Boston dealt a blow to Florida, while other Eastern playoff contenders looked to keep pace.
Inside the NHL

While it's too late for this season, the Blue Jackets are getting healthy and showing how tough they will be moving forward.
LeBrun »

Marc-Andre Fleruy has to prove he can dominate in the playoffs before anyone will expect the Penguins to make noise this spring.
Inside the NHL