Commentary
This spring, all systems go for Geno
PITTSBURGH -- It was about this point in the playoffs last season that Penguins center Evgeni Malkin started to hit the wall. Like the Tin Man after a heavy rain, he started to creak to a halt and came to a virtual standstill in the Stanley Cup finals against Detroit.
This season, the big center has created a virtual vapor trail as his game has become more molten with each playoff game.
Ask the Carolina Hurricanes, who spent the first 10 or 15 minutes after Thursday's Game 2 trying to make sure their scorched sweaters were completely out before they packed for what had to have been a disheartening trip back to Raleigh, N.C.
[+] Enlarge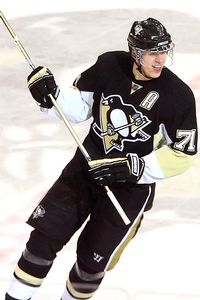 Jason Bridge/US PresswireEvgeni Malkin has 13 points and two game-winners in his past five playoff games for the Penguins.
In a game that had it all -- a breakneck pace, multiple lead changes and big-time battles in the trenches -- it was one player, Malkin, who emerged to take control with a three-goal, one-assist performance in the Pens' dominating 7-4 victory.
The win gave the Penguins a 2-0 series lead in the Eastern Conference finals with Game 3 set for Saturday night in Raleigh. It had to leave the hard-working Hurricanes wondering how, or even if, they are going to compete against a team that has both its superstars -- Malkin and Sidney Crosby, who had another ho-hum, goal-and-an-assist night -- playing in another stratosphere in terms of creativity and plain old dogged determination.
Between the two of them, Malkin and Crosby now have collected 49 postseason points in 15 games. But perhaps more impressive Thursday was the fact that as the see-saw battle progressed, it was the stars who led the way in terms of determination, forcing turnovers and making plays.
"Even when it was 6-4, 7-4 and [Carolina] started being a little more chippy, [Malkin] wanted to be on the ice; he wanted to go out there and be part of that, and [it] shows a little bit what kind of player Evgeni is," said linemate Maxime Talbot, whose goal early in the second period was courtesy of a deft Malkin center-ice pass that sent Talbot in alone on Carolina netminder Cam Ward. "It sends a huge message."
On some level, this kind of performance shouldn't be surprising.
Malkin led the NHL in scoring this season, but there were moments early in the Washington series when he looked just slightly lost -- moments, brief as they were, that were eerily reminiscent of Malkin's late-postseason fade a year ago.
Perhaps it's coincidence; maybe it's not. But after the Capitals took a 2-0 lead in that series and Alex Ovechkin looked like he was going to win the battle of the super-studs, Malkin righted his ship and became almost unstoppable.
"The puck's going in, so you guys are less tough on him," Talbot said. "I remember you were talking about him against Washington, and one game he had seven scoring chances, but the puck was not going in. But he was still being Evgeni Malkin, which brings a lot of momentum to our team. Now, the puck's going in and he's the hero, but he deserves that attention because he's unbelievable."
Not only did Malkin take over the playoff scoring lead Thursday, but he has amassed 13 points and scored two game-winners in his past five playoff games. The Penguins' record over that period is 4-1.
Some suggested the sleeping bear was ignited after a tussle with Carolina's Chad LaRose midway through the second period, but that would suggest Malkin wasn't already enjoying a titanic evening before then.
"Geno does play with an edge; that's the thing," Penguins forward Bill Guerin said. "He doesn't play on the outside at all. Some nights more than others, but tonight he really played with an edge and he has been since I think Game 3 of the Washington series. He's really been playing with a lot of grit."
For his part, Malkin insisted he isn't doing anything different.
"I play the same; it's maybe a good day for me tonight," he said. "I try to play the same. Of course it feels great. It feels awesome. It's my first hat trick in playoffs."
Maybe it's his mother's home cooking (his parents, pleased as punch, were shown on the video scoreboard after his goals), but this is definitely a different Malkin on display as these Eastern Conference finals unwind.
In Game 2, he danced up and down the ice, controlling the puck as though it had been fastened to his stick, whirling and twirling through traffic, in and out of the corners. On his first goal, he leapt over the bench, raced like a freight train into the Hurricanes' zone and popped home a rebound to give the Pens a 2-1 lead.
He scored his second goal (what would turn out to be the winner) by tapping in his own rebound from the side of the net after he started the play by setting up Chris Kunitz for a solid shot.
It was the third one, though, that put an exclamation point on the evening, perhaps suggesting there is more where that came from. Less than four minutes after he'd given his team the lead, Malkin pushed the puck ahead off the draw past Carolina center Matt Cullen, recovered it in the corner, then raced his way behind the Canes' net and whirled in front, snapping a backhand high over Ward to make it 6-4.
There was some talk he might have "called" the goal a la Babe Ruth, but with the crush of reporters surrounding him in the Penguins' locker room and his limited command of the language, well, something might have been lost in translation.
"It wasn't Babe Ruth. He was going for it on the draw," Guerin said after the game. "He just said he wanted to go for it on the draw and just make something happen."
Penguins coach Dan Bylsma wasn't so sure.
"The third goal? Well, the faceoff play. It was called the 'Geno' for a reason," Bylsma said. "There's not many players in the world that can make a play like that, and two of them are on our team."
It's early. We have seen the Hurricanes come back all spring long. They did Thursday, scoring three times in the first period to take a 3-2 lead and tying the game at 4 in the third period before Malkin put on his clinic.
But the problem for the Canes is, with Malkin looking very un-Tin Man-like and the Penguins showing their own penchant for revivalism, the road they must travel suddenly looks very long indeed.
Scott Burnside covers the NHL for ESPN.com.
ESPN Senior Writer
Covers hockey for ESPN.com
10 years at Toronto Sun, Windsor Star and National Post
Wrote best-selling true crime book "Deadly Innocence"
EDITORS' PICKS
Boston dealt a blow to Florida, while other Eastern playoff contenders looked to keep pace.
Inside the NHL

While it's too late for this season, the Blue Jackets are getting healthy and showing how tough they will be moving forward.
LeBrun »

Marc-Andre Fleruy has to prove he can dominate in the playoffs before anyone will expect the Penguins to make noise this spring.
Inside the NHL