Commentary
The little things escape Pens in Game 1
DETROIT -- The devil is always in the details, isn't it?
A missed faceoff, a too-long shift, losing sight of a crazy, bouncing puck.
Those are details the Pittsburgh Penguins -- so good for so much of Game 1 of the Stanley Cup finals -- could not quite get a handle on. They were the details the Detroit Red Wings -- so cool and precise even without Hart Trophy candidate Pavel Datsyuk -- took care of en route to a 3-1 victory in Saturday's opening game of the series.
In less than 24 hours, they will be back at it again and the Penguins will have to show they can move beyond the discouragement of a game that bore little resemblance to last season's finals series opener, yet ended with the same disheartening result.
[+] Enlarge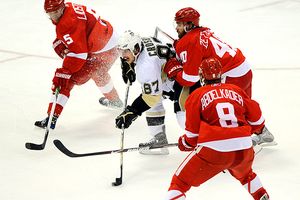 Leon Halip/US PresswireSidney Crosby was held without a point and had just two shots on goal in Saturday's Game 1.
"Yeah it's discouraging because we obviously wanted to take Game 1," Pittsburgh forward Craig Adams said.
The central theme heading into this series was the lessons the Penguins hoped to have learned from last season's disappointing six-game loss to the Red Wings. And for most of the second period and much of the third, Pittsburgh played like a team that had learned something. The Pens outshot the Red Wings 32-30 and, in terms of quality scoring chances, held an edge in that department, too.
"Last time we played them, it took them a couple games to get going. They were very good tonight. They were very competitive," Detroit coach Mike Babcock said.
"It was a tighter game for sure than Game 1 last year. They got experience from last year," Johan Franzen added. "They know what it takes a little bit more. They played better defensively. It's going to be a really tight and long series I think."
Except & except & except.
There was that moment late in the second period with the game tied at 1 and the Penguins pressing when Hal Gill and Rob Scuderi could not get off the ice. Two, three times they tried and could not get off as the Wings kept regaining possession and dumping the puck into the Pittsburgh zone.
After an icing call, Pittsburgh coach Dan Bylsma called a timeout. If the Pens can simply clear the puck, Bylsma's a genius and maybe the game turns out differently. But Henrik Zetterberg won the ensuing draw from Sidney Crosby and Franzen somehow coaxed the puck off a sprawled Marc-Andre Fleury and into the net with 57.4 seconds left in the second.
It was hardly a golden chance.
Not like Evgeni Malkin's breakaway early in the second period. Or the golden second-period chance Miroslav Satan had or the opportunities Chris Kunitz and Bill Guerin had to put the Penguins ahead. Or Crosby's chance that somehow ended up rolling up on Wings goalie Chris Osgood's back in the Detroit crease.
All were denied by Osgood, who made 31 stops and was far superior to Fleury, who looked lost on the first two Red Wings goals.
"I thought we generated some pretty good scoring chances," Crosby said. "Our line, I think we've got to find a way to get a few more. But they're a good hockey team and you've got to execute when you get them. We had a couple that didn't go in, and maybe that's the difference."
The Penguins may not have given the Wings much, but it was enough for a veteran team to stake out a one-game lead.
Case in point. Less than three minutes into the third period, Detroit's fourth line, rarely on the ice because of the matchups Babcock is looking for against Malkin and Crosby, somehow managed to maintain control of the puck in the Penguins' zone. Rookie Justin Abdelkader knocked down a high rebound and beat Fleury, who, like Jordan Staal, was standing next to Abdelkader and could not find the puck when it popped into the air.
It was Abdelkader's first playoff goal. It was set up by Ville Leino, who earned his first playoff point on the play.
"It doesn't matter who we put out there, we got a lot of trust in all the players out there," Franzen said.
Here's the thing about opportunity lost and found. Abdelkader and Leino aren't even in the lineup if Kris Draper and Datsyuk or Tomas Kopecky are healthy.
"That's the thing. They're such a good team, they find ways to win," Adams said. "We need to find a way to win Game 2."
With Game 2 looming some 21 hours after the horn sounded to end Game 1, one might think the Penguins would hold some advantage, that getting back at it right away will put more pressure on the Red Wings, who continue to struggle with injury issues.
Brooks Orpik delivered a big hit on Marian Hossa that took the wind out of the Wings forward, who has not been anywhere as productive as he was last postseason when he was a member of the Penguins.
Nicklas Lidstrom seemed to be laboring in his first game back after missing two with a lower-body injury. He said he felt fine, but Game 2 will no doubt put an unusual strain on the six-time Norris Trophy winner.
If there are physical reasons to suggest the Wings might be vulnerable in Game 2, then the mental element will be paramount to the Penguins. They already face what is a must-win game against a veteran Red Wings team that looks unlikely to blow a 2-0 series lead.
Discouraged? Bylsma wouldn't go there. Not quite.
"There are emotions that go through your mind. You had them in the stands and we had them on the bench, they had them on the ice," Bylsma said. "Did we have a chance, a couple of chances in the second to get the lead? We certainly did. But they got the advantage early.
"We can do a better job. We did some good things. I think there are some areas that we can keep at. But that's the challenges. And getting back at it tomorrow is a good thing for us."
By Sunday night, we'll find out for certain what lessons the Penguins have learned.
Scott Burnside covers the NHL for ESPN.com.
ESPN Senior Writer
Covers hockey for ESPN.com
10 years at Toronto Sun, Windsor Star and National Post
Wrote best-selling true crime book "Deadly Innocence"
EDITORS' PICKS
Boston dealt a blow to Florida, while other Eastern playoff contenders looked to keep pace.
Inside the NHL

While it's too late for this season, the Blue Jackets are getting healthy and showing how tough they will be moving forward.
LeBrun »

Marc-Andre Fleruy has to prove he can dominate in the playoffs before anyone will expect the Penguins to make noise this spring.
Inside the NHL