Commentary
Different road, same reality for Pens
DETROIT -- Different path, same destination for the Pittsburgh Penguins.
True, they were not humiliated the way they were last season, when the Penguins were outscored 7-0 through the first two games of the Stanley Cup finals. But with Sunday's 3-1 loss, the second in two nights, the Penguins have over the course of about 27 hours come face to face with a past they seem unable to escape, one that includes yet another Stanley Cup parade in Motown.
As much as the Penguins can point to the chances they created and the lack of luck they have endured through the first two games -- they hit two goalposts, and it's entirely possible Sidney Crosby scored but a review could not determine whether the puck actually crossed the line underneath Henrik Zetterberg -- those sentiments ring hollow in the face of the bleak reality this team now faces.
[+] Enlarge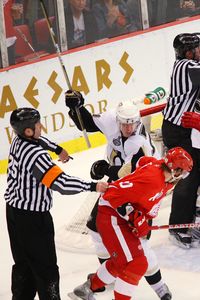 Claus Andersen/Getty ImagesThe Pens' frustration boiled over toward the end of Game 2, when Evgeni Malkin got into a scrum with Henrik Zetterberg.
"I think there's a lot of positives. You don't think we played poorly? That's the positive we take out of it," said veteran Bill Guerin, who could not bury a perfect pass from Crosby in the second period that would have tied the game at 2, instead ramming the puck off the inside of the far post.
"We did some good things. I thought we did a lot of good things tonight," Guerin said. "If we bury a couple of more chances, it could be a different game. We didn't. We are where we are. We've got to play for one game."
Crosby, held pointless for the second straight game in this series, concurred.
"It doesn't feel good, but at the same time, we know our game can be successful," he said. "We truly believe if we play the same way, we're going to come out on the right side of things."
These are the kinds of things players say to comfort themselves, to fill up the void when they face an unpleasant reality. In this case, the Penguins' reality is that they must now win four of five games against the defending Stanley Cup champions.
We can't pronounce that it's not going to happen -- that would be a bold statement, wouldn't it? -- but, really, it seems highly unlikely.
"Hey, crazier things have happened, and that's the way we look at it; we just play for one game," said Guerin, who was sporting a cut on his forehead, courtesy of a first-period high stick, that required a handful of stitches.
We are, of course, mindful that this is a Penguins team that did erase a 2-0 series lead against Washington after dropping two on the road to start that second-round series.
But these are the Detroit Red Wings. They might be banged up and relying on fresh-faced youngsters like Justin Abdelkader, who had never scored an NHL goal, let alone an NHL playoff goal, before this series and now has two, and Jonathan Ericsson, who tied the score at 1 early in the second period. But they are still the Red Wings.
"That's really been Detroit Red Wing hockey," Detroit GM Ken Holland told ESPN.com. "If you think back to '97, we've always liked to have four lines. We get contributions from different people. That's the way we built our team. That's why we don't have guys who lead the league in scoring. We try to limit our players' limits, roll four lines; we try to get everybody out there."
Wait a minute. Wasn't the start to this series supposed to favor the Penguins?
Nicklas Lidstrom was just coming back to the lineup after missing two games with a lower-body injury. Pavel Datsyuk appears a long way from returning with a foot injury. Kris Draper is out.
With back-to-back games, this looked like the Penguins' best chance to get ahead in this series, to assert themselves as a different creature than the one that was dominated early in last season's finals and could never quite catch up. If that advantage ever existed, it is certainly gone now. Maybe the advantage was only illusory.
"I think it's hurt us; don't kid yourself," Detroit coach Mike Babcock said. "I thought we were exhausted out there tonight. It's amazing what will does for you. We talked about that before the game. You've got to will yourself through, grind it out and we'll get a day off tomorrow. We should be a better hockey team going into Pittsburgh."
That's bad news for the Penguins, who have scored just one even-strength goal in two games, while the Red Wings have scored six.
Take a snapshot of this.
Trailing 2-1 heading into the third, the Penguins were pressing the Red Wings in the first two minutes. Crosby slid a shot past netminder Chris Osgood, but the puck struck the far post. Crosby regained the puck and slid it past a fallen Osgood and underneath Zetterberg, who was behind Osgood.
Does the puck go in? Does Zetterberg cover it with his hand, resulting in a penalty shot? Both might have happened, but neither were called.
"It was pretty close. When there's a big scramble like that, it's tough for the refs to get a good look," Crosby said. "And I think they have to be absolutely sure if they're going to call a penalty shot."
Just over a minute later, Abdelkader snapped a rolling puck past a stunned Marc-Andre Fleury to make it 3-1.
Game over, perhaps series over.
By the end of the game, there was Evgeni Malkin, who scored the Pens' only goal on a power play in the first period, going after Zetterberg, mauling him and receiving an instigator penalty. In theory, the penalty carries a one-game suspension, although, predictably, NHL executive vice president and director of hockey operations Colin Campbell rescinded the suspension.
"They're competing hard and they're frustrated," Babcock said. "Their team is playing hard. They've played us real hard. There is no room."
Maybe the Penguins will return home to Pittsburgh and be rewarded for all the good work they did in Detroit.
"We played two good games. We [outshot] them in two games," said Pittsburgh forward Pascal Dupuis, who was reinserted into the lineup for Game 2. "If we keep playing well, the hockey gods are going to be on our side."
Perhaps. Or maybe this is just a matter of the hockey gods getting ready for the same result as a year ago, regardless of the path these two teams take to get there.
Scott Burnside covers the NHL for ESPN.com.
ESPN Senior Writer
Covers hockey for ESPN.com
10 years at Toronto Sun, Windsor Star and National Post
Wrote best-selling true crime book "Deadly Innocence"
EDITORS' PICKS
Boston dealt a blow to Florida, while other Eastern playoff contenders looked to keep pace.
Inside the NHL

While it's too late for this season, the Blue Jackets are getting healthy and showing how tough they will be moving forward.
LeBrun »

Marc-Andre Fleruy has to prove he can dominate in the playoffs before anyone will expect the Penguins to make noise this spring.
Inside the NHL