Commentary
Cup win completes incredible journey
DETROIT -- There he was, Mario Lemieux, former captain and current owner of the Pittsburgh Penguins, searching the crowd on the Joe Louis Arena ice surface for his captain, Sidney Crosby. Finding Crosby, Lemieux gently handed the Stanley Cup back to him and, in doing so, closed the circle on the Penguins' remarkable championship run.
For a team that on this night lost Crosby to a knee injury early in the second period and still gutted out a thrilling 2-1 victory over the defending Stanley Cup champions from Detroit, its first championship since 1992 is as much a celebration of an improbable journey as it was the celebration of a game.
An improbable journey for a franchise that looked dead and gone just a few years ago.
An improbable journey for a team that fired its coach and looked like a long shot just to make the playoffs in mid-February.
[+] Enlarge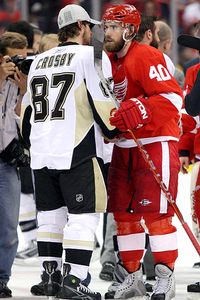 Luc Leclerc/US PresswireThe on-ice battle between Sidney Crosby and Henrik Zetterberg was one of the many dramatic subplots of this year's finals.
An improbable journey for players who consistently refused to buckle when logic suggested they would do just that.
"Dream come true. It's everything you work for," said Crosby, who started the traditional Cup procession by taking the great trophy from NHL commissioner Gary Bettman, becoming the youngest captain to win a Stanley Cup. "It just feels so good. This is exactly how you picture it, what you play for."
For the second straight game, the Penguins held off a talented, driven Detroit team without goals from either Crosby or Conn Smythe Trophy winner Evgeni Malkin (who did post an assist on the Penguins' first goal).
Instead, the Pens rode two smart Maxime Talbot goals and brilliant netminding from oft-maligned goaltender Marc-Andre Fleury to become just the second team to lose the first two games of the Cup finals on the road and come back to win the series in seven games.
"It was a different guy every night. The save that Marc made with one second left, he's done that a number of times," Crosby said, referring to Fleury's desperation upper-body save on Nicklas Lidstrom in the waning seconds that maintained the margin of victory.
Talbot recalled speaking to Fleury after the Wings' Jonathan Ericsson had cut the Penguins' lead in half with about six minutes to go in regulation.
"And I'm like, 'Flower, I've got the game winner, you know, try to make the save,' and he did," Talbot said.
The two are close friends and Talbot is often seen talking to the young netminder head-to-head before they come onto the ice at the start of games or in Fleury's crease.
"We always say the same thing," Talbot said.
They talk about life, family, the game. But mostly they talk about how fortunate they are to be where they are.
"We're lucky to be here. That's what we say," Talbot said.
Game 7: An Instant Classic

ESPN Classic will replay the Penguins' 2-1 Game 7 victory over the Red Wings on Sunday (11 p.m. ET).

On Friday night, Fleury earned the respect of the hockey world, turning aside 23 of 24 shots and somehow banishing the memory of three straight losses at Joe Louis Arena in this series.
Fleury was a first overall draft pick for the Penguins. Talbot? He was drafted 234th overall in 2002 and joked Friday that he was worried when the Penguins drafted Crosby in 2005 because he's a center by trade and figured Crosby was going to steal his job.
The man they call "The Gamer" finished the playoffs with eight postseason goals, including the only goals the Penguins would need to land a championship Friday night.
"I just can't believe today that we won the Stanley Cup. That's so special," Talbot said. "Like I like to say, every morning I like to wake up and say today's the best day of my life. Well, today is really the best day of my life."
Veteran Bill Guerin might have summed it up best when he said, simply, "Thank God for Max Talbot." It was Guerin whom Crosby first handed the Cup to after holding it aloft himself. Guerin won a Stanley Cup as a young player in New Jersey in 1995.
"I thought I'd get a million more cracks at it," Guerin said, surrounded by his wife and four children.
But he didn't get another crack until this spring, and it took a huge commitment from his family, who stayed behind on Long Island, to make it happen when the Penguins acquired Guerin at the trade deadline.
"This is what we all wanted. This makes it all worthwhile," Guerin said.
He recalled looking up at the clock and realizing there were just six seconds left in the game. "I just couldn't believe it was really going to happen," Guerin said.
Did it feel any different holding it in his 38-year-old hands? "It's been a long time. I don't quite remember, but it sure feels good," he said.
As the families and players swarmed over the Joe Louis Arena ice, thousands of Pittsburgh fans -- where did they all come from? -- feted them from the stands. Everywhere a tear or a special embrace.
[+] Enlarge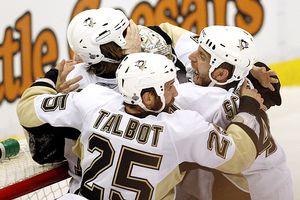 Jerry Lai/US PresswireYour Game 7 hero? Max Talbot, who scored both Penguins goals to help them seal the Cup win.
Hal Gill stood holding his daughter. Often maligned by fans because of his sometimes awkward style of play, Gill was on the ice for the final frenzied seconds in Game 7 (as he was in Game 6, when the Penguins also squeaked out a 2-1 victory). Now, with his family surrounding him, Gill acknowledged he couldn't even recall what it felt like when he was handed the Cup for the first time in his career.
"I don't even know if I remember it," he said. "You just work so hard for something. It really is a journey."
Nearby, Jordan Staal picked up his mother, Linda, and swung her around, his eyes red with emotion. In the summer of 2006, his brother, Eric, brought the Stanley Cup home to the family's sod farm in Thunder Bay, Ontario, after winning it all with Carolina. Jordan would not touch it then, but he did on this night after turning in stellar performances in the finals.
"It's so exciting for him," Staal's father, Henry, said. "It's just so awesome."
Assistant coach Tom Fitzgerald's suit was covered in sweat from embracing his players. He joined coach Dan Bylsma's coaching staff in mid-February and he's been away from his wife and four boys pretty much nonstop since.
As a player, he went to the Stanley Cup finals with the Florida Panthers in 1996, and didn't win a game. "I never thought I'd be back," Fitzgerald said.
He acknowledged that when he took the job, he couldn't imagine this is where the Penguins would end up.
"It just shows you anything is possible," Fitzgerald said. "It just shows you the resilience of this group."
If a team can learn that these things are possible, then they learned from their new coach, Bylsma, who is perpetually optimistic and upbeat. Even when things were bleak this spring, as they were when the Pens were down 2-0 against Washington in the second round and again against a battle-tested Detroit team in the Cup finals, Bylsma remained focused on the things he believed his team could accomplish.
On Friday night, he was rewarded with a championship. Not bad for a guy who started the season as an anonymous AHL head coach in Wilkes-Barre.
"You know, I had plans about this. I had dreams about this," Bylsma said. "I hoped this would happen some day. But good coaches have coached a long time and never gotten an opportunity like this."
GM Ray Shero had his new Stanley Cup hat on even though it didn't go with his dark suit. This is his team. He was criticized for offseason moves that included failing to land Marian Hossa, who signed with the Red Wings in the offseason. Funny, in Game 7, Ruslan Fedotenko and Miroslav Satan, two offseason signings that were also criticized, played well, Satan blocking shots and Fedotenko helping control pucks in the offensive zone.
"It was crazy to see how this team came together," Shero said.
The GM is the son of legendary Philadelphia Flyers coach Fred Shero, who won back-to-back Cups in 1974 and 1975. Now, when Shero takes his children to the Hockey Hall of Fame, they'll not only get to see their grandfather's name, but also their father's name inscribed for all time.
Someone asked Shero if this was the start of a new dynasty and he smiled. Too early to tell that, he said.
But not too early to say this: "Right now, we're the best team in the NHL," Shero said.
Not far away, Crosby appeared with a bottle of champagne, trailing a phalanx of reporters and camera operators as he sought out teammates to spray.
Sounds about right.
Scott Burnside covers the NHL for ESPN.com.
ESPN Senior Writer
Covers hockey for ESPN.com
10 years at Toronto Sun, Windsor Star and National Post
Wrote best-selling true crime book "Deadly Innocence"
PENGUINS WIN STANLEY CUP
A year after a painful playoff exit, Sidney Crosby and the Penguins dethroned the Red Wings to win the Stanley Cup:
GAME 7: ANALYSIS
WATCH
MORE