Commentary
Eleven years later, 'Vladinator' fights on
Originally Published:
April 24, 2009
By
Greg Garber
| ESPN.com
DETROIT -- Sitting on a couch in an expansive townhouse northwest of the city, Vladimir Konstantinov listens intently to his wife tell the sad, wrenching story of his demise.
As Irina Konstantinov describes the brain trauma, the seemingly endless coma and the critical-mass moment in the hospital, she pauses under the harsh television lights, her eyes filled with tears. At the same time one of the toughest, most physical players in the tough, physical history of the National Hockey League shifts uncomfortably in his seat. Off camera, Konstantinov's chin quavers and tears stream down both sides of his remarkably flattened nose.
[+] Enlarge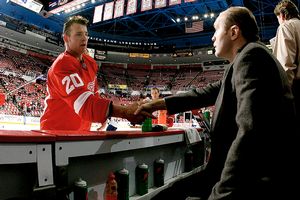 Dave Reginek/NHLI/Getty ImagesVladimir Konstantinov is a frequent visitor to Joe Louis Arena and enjoys spending time with Red Wings players.
Oddly, this is a good thing: an encouraging sign he is engaged and aware.
It has been nearly a dozen years since Konstantinov, at the peak of his career, and two other members of the Detroit Red Wings family were involved in a horrific limousine crash. Eleven years since the Red Wings preserved his locker and made "Believe" their mantra. Eleven years since they pushed his wheelchair onto the ice and Steve Yzerman dropped the 1998 Stanley Cup into his lap.
Konstantinov smiled like a little kid but, a few days later, according to Irina, he had no memory of that uplifting emotional scene.
Today, at the age of 42, after more than a decade largely out of the public eye, what is the quality of Konstantinov's life? What does he remember? How does he feel? Does he have a context for what's happened to him?
The tears say yes.
They called him the "Vladinator," a take on Arnold Schwarzenegger's "Terminator." Later, on that same couch, the Russian's eyes gleam when he is asked what the nickname meant.
"Hit everybody," he said with obvious pride. "Tough."
Konstantinov, who had played for HC CSKA Moscow -- the Soviet Red Army team -- and Nicklas Lidstrom, from Sweden's Vasteras IK, both arrived in Detroit in 1991 as world-class defensemen. Konstantinov, the son of a merchant sailor, was called Dyada -- Grandpa -- by his Russian Red Wings teammates because of his stoic nature. Together, Konstantinov and Lidstrom were the blue-line backbone of the Red Wings' 1997 championship, the first Stanley Cup for Detroit in 42 years.
Lidstrom, in some ways, represents what might have been for Konstantinov, who was the runner-up to Norris Trophy winner Brian Leetch in 1997. Lidstrom has won four Stanley Cups in 15 seasons with the Red Wings. Detroit's captain has been recognized as the NHL's best defenseman in six of the past seven seasons. Along with the Capitals' Mike Green and Zdeno Chara of the Bruins, he is a Norris finalist this year.
"He was one of the best at his position when he had the accident," Lidstrom said recently at Joe Louis Arena. "He was getting better and better every season, and just excelling as a hockey player. And just when he hit his prime -- the accident happened."
When Konstantinov makes one of his occasional visits to the Joe for a Red Wings game, Lidstrom remembers to say hello and ask him if he needs anything.
"After the accident, he's slowly -- not back to where he was -- but I think he's trying," Lidstrom said. "I think he wants to be part of something. And I think that's one of the big reasons he still comes into our locker room."
Suspended animation
The median that separates the north- and south-bound lanes of Woodward Avenue to the north of 14 Mile Road in Birmingham, a suburb of Detroit, is an unexceptional expanse of grass.
This is where, on June 13, 1997, the white stretch Lincoln Town Car limousine driven by Richard Gnida veered across several traffic lanes, skipped the curb, grazed a metal pole and crashed into a tree. The tree is no longer there, but the fallout of that accident still hangs over the Red Wings.
Six days earlier, Detroit had brought home the Stanley Cup. The Red Wings finished the regular season with fewer than 100 points and didn't have home-ice advantage, but they produced a rousing sweep of the Philadelphia Flyers in the Cup finals.
[+] Enlarge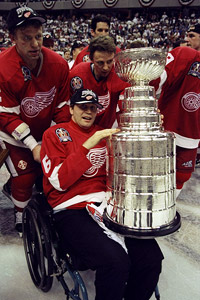 Getty ImagesVladimir Konstantinov's wife, Irina, says her husband couldn't remember this 1998 Cup celebration just days after it happened.
The celebration continued for days in Detroit. The Red Wings scheduled a golf outing at the Orchards Golf Club in nearby Washington. They did it right; limos were ordered so the partying wouldn't put anyone at risk. Konstantinov, teammate Slava Fetisov and team massage therapist Sergei Mnatsakanov didn't golf that day, but after driving around the course in golf carts, they stepped into the limousine driven by Gnida and headed back to goalie Chris Osgood's house.
Gnida was driving with a suspended license after two convictions for drunken driving. Later, he told police he blacked out on Woodward Avenue. When his passengers, who were not wearing seat belts, noticed Gnida had nodded off, they pounded the partition to try to get his attention. Seconds later, they slammed into it.
Fetisov was released from the hospital within a week, but Konstantinov and Mnatsakanov suffered serious injuries. Konstantinov immediately fell into a coma.
"The prognosis from the very beginning was terrifying," Irina Konstantinov said. "His brain was getting more and more swollen, and at one point I remember we were given just a few hours, [doctors] saying that most likely he was going to die."
But he didn't. Irina is convinced her husband's superbly athletic body saved him.
"I think he's just his own hero," she said. "He went through the toughest moment and he lived."
Konstantinov's brain was violently torn in several places. This disrupted his ability to communicate and interfered with movement and balance and cognitive skills. It also impacted his ability to make sound judgments. Walking and talking, the doctors said, might never be possible.
He moved with Irina and their daughter Anastasia to Florida and focused on rehabilitation for two years. Gradually, he learned to sit up in a chair, then stand for a few minutes. The words, after months of speech therapy, began to come one or two at a time, more easily in Russian. After hitting a plateau two or three years in, according to Irina, Konstantinov has made incremental progress, from moving room to room with a walker to remembering his early days in hockey to communicating in short sentences.
A few years ago, he actually interrupted a conversation between Irina and one of his nurses.
"We never dreamed of him interrupting us," Irina said. "We were so happy -- we were high-fiving each other. It was, 'Look at our boy! He's butting into our conversation!'
"For all the families who have been told that they shouldn't believe anything is possible, they should know that it is. There's a great deal of him remembering things better now than 10 years ago. Or five years ago. Or three.
"There is a difference today."
Mnatsakanov wasn't so lucky in terms of his physical condition. He is permanently paralyzed from the waist down.
Gnida subsequently served seven months in Oakland County Jail for driving without a license. After leaving a suburban topless bar two years later, he was arrested for a third drunken-driving conviction.
Still strong
Prodded by his relentlessly upbeat therapist, Polly, Konstantinov is walking at a modest pace on the treadmill.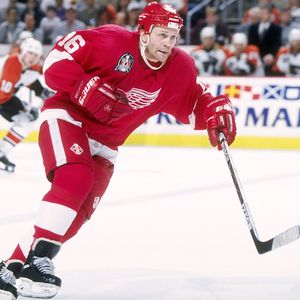 Getty ImagesVladimir Konstantinov's nickname was "Vladinator" because of his on-ice toughness.
"Should we go faster, or is it good?" she asks.
"Good," Konstantinov answers.
"You like walking on the treadmill?" Polly asks.
"Nyet!" Konstantinov says, smiling.
Several times a week, Polly pushes Konstantinov through his paces in her rehabilitation facility west of Detroit.
Konstantinov is in pretty good shape, not terribly far from the 5-foot-11, 190-pound frame that intimidated -- and irritated -- opposing forwards.
"Vladdy never lost his strength," Lidstrom said. "You can still feel it shaking his hand. He's such a strong man, mentally and physically. I think that's one reason he was able to [come back]."
Konstantinov still requires 24-hour care; a regular shift of nurses watch over him, prepare his meals and keep him company. He likes going out to eat, chipping and putting, watching Russian movies and playing cards, particularly Uno.
"Certain tasks are very hard for him, but math and cards are such an easy task," said Irina. "He always wins. I think he's ready to go to Las Vegas and make some money."
Konstantinov's attention span is limited. He is happiest, say those who know him best, with the scenery unfolding in front of him in a moving car. But after spending a few days with him, it was clear Konstantinov has retained a sense of humor.
Asked to describe his short game in golf, he smiled and said "Bad," drawing laughter from a camera crew.
Another thing Konstantinov enjoys is attending Red Wings games. He is a frequent guest of owner Mike Ilitch.
"He's still part of the team," Lidstrom said. "He'll come into the locker room before we hit the ice for warm-up. Most all the guys come up to him and shake his hand. He remembers the old players that he played with."
For the younger players, there is a sobering sense of awe.
"I get goose bumps thinking about it," said Red Wings defenseman Niklas Kronwall. "Knowing what happened, and all of a sudden he's in the locker room. He just gives you the chills a little bit.
"I think that just keeps everybody grounded. You never know what's around the corner."
The Red Wings fans remember him fondly. When Irina wheeled him through the concourse at a recent game at Joe Louis Arena, he was mobbed. One man was wearing a Konstantinov jersey.
"You're my hero," one said to him.
"Thank you," Konstantinov said.
Irina said she's happy that there is a certain -- once unimaginable -- quality to his life.
"I think he found his own way to deal with it," she said. "And he knows what his limitations are by now. And he is doing it great."
Greg Garber is a senior writer for ESPN.com.
Senior Writer
Greg Garber joined ESPN in 1991 and provides reports for NFL Countdown and SportsCenter. He is also a regular contributor to Outside the Lines and a senior writer for ESPN.com.
EDITORS' PICKS
Boston dealt a blow to Florida, while other Eastern playoff contenders looked to keep pace.
Inside the NHL

While it's too late for this season, the Blue Jackets are getting healthy and showing how tough they will be moving forward.
LeBrun »

Marc-Andre Fleruy has to prove he can dominate in the playoffs before anyone will expect the Penguins to make noise this spring.
Inside the NHL