Commentary
Top playoff storylines to watch
This is the time of year when stories are made, stories that will be recounted to generations and generations. Although it's impossible to predict the unpredictable, let's take a look at 10 possible storylines that could generate headlines in the first round of the playoffs:
The game's most controversial player meets the game's best goal scorer. Each is a showman in his own way. We all remember what Avery did to Devils goaltender
Martin Brodeur
in the first round last season. What will he have in store for Ovechkin? It remains to be seen how often they'll be on the ice together, but when they are, will Avery target Ovechkin and try to get under his skin? And will Ovechkin let it get to him? Curious minds want to know.
[+] Enlarge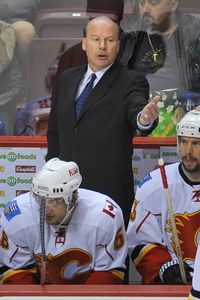 Nick Didlick/Getty ImagesFlames coach Mike Keenan will try to lead Calgary past Chicago in the first round.
How strange do you think it will be for Moen as his Sharks face the Ducks in the first round? The players with whom he has earned battle scars during the past four years, including winning the ultimate hockey prize in 2007, will be on the opposite side of Moen's rage. Moen is a hard-as-nails forward who makes the opposition earn every inch of ice around him. He has some good friends on that Ducks team, but he must park those feelings for two weeks and treat his friends like enemies.
3. San Jose's year?
The Sharks have been perennial contenders for five seasons but have been unable to get back to the Western Conference finals since they first got there as a young squad in 2004. During the past nine months, GM Doug Wilson has brought in Cup winners in
Rob Blake
,
Dan Boyle
,
Brad Lukowich
,
Claude Lemieux
,
Kent Huskins
, Moen and coach Todd McLellan. He's hoping those proven winners will help his talented core get over the hump. The Presidents' Trophy win was impressive, but we all know there's only one title that matters in hockey. Is this the Sharks' year?
4. Economy in Michigan
Few areas in the U.S. have been harder hit by the recession than Detroit, where some homes are selling for $7,000. It's a depressing reality. Buying tickets to playoff hockey games is not a big priority for a lot of families hanging on for dear life. So, if you see empty seats at Joe Louis Arena this spring, don't blame the defending Cup champs or the NHL or commissioner Gary Bettman. Real life is sinking in.
5. How will the soap opera end in Montreal?
Surely the Canadiens have at least one more headline grabber for us, right? It has been a 100th anniversary season full of sensational headlines -- from a spectacular midseason collapse to some of their players' potentially having ties to a mobster, to their best forward's being sent home for a week to clear his head, to the firing of their coach, to the possible sale of the team. What else is in store? If the Habs somehow upset the highly favored Bruins, even without their best player,
Andrei Markov
, in the lineup, all will be forgotten in La Belle Province.
6. Hockey's back in the Windy City
How amazing will it be to hear the United Center rocking at playoff time? We already can picture the crowd during the national anthem. The NHL is such a better place with the Blackhawks back in the playoffs. Here's hoping
Jonathan Toews
& Co. can provide us with a few rounds of fun. This is a great hockey market that has been dormant way too long.
7. All-California series
Not since 1969 have two California clubs met in the NHL playoffs. We can tell you that people in both the Anaheim and San Jose front offices are loving that they'll get decent travel for once in their lives. Don't underestimate that little fact. Whichever team wins this series will be a lot fresher than normal entering the second round because it won't have to travel two or three time zones back and forth in the first round.
8. Mike Keenan's last stand?
If the
Calgary Flames
lose in the first round to the
Chicago Blackhawks
, which many people believe will be the case, will it be the last we'll have seen of Keenan behind the Calgary bench? Or any NHL bench? The Flames have stumbled in the stretch run, blowing what was once a 13-point divisional lead over Vancouver in late January, and someone surely will pay the price if the Flames bow out in the first round. They had bigger goals than that this season.
9. Can Ozzie stop the puck?
Hard to believe so many respected hockey people genuinely question
Chris Osgood
less than a year after he won a Stanley Cup. But it has been a tough season for the Red Wings goalie, and we figure coach Mike Babcock won't hesitate to pull him for
Ty Conklin
at any point if the veteran netminder can't deliver the goods. Who knows, maybe Osgood will simply flick the switch and become the goalie he was a year ago. He would love to have the last laugh.
10. Another new Cup champion?
The three post-lockout Stanley Cup champions have all made the postseason dance. Detroit (2008) remains a powerhouse, while Carolina (2006) and Anaheim (2007) enter the playoffs on serious runs. Will it be four different Cup champs in four post-lockout seasons, or will the Red Wings, Ducks or Hurricanes reclaim the prize for a second time during that span?
Pierre LeBrun covers the NHL for ESPN.com.
ESPN Senior Writer
Covers the NHL for ESPN.com and TSN in Canada
Six years on the "Hockey Night In Canada" Hotstove panel
13 years at The Canadian Press national news agency
2009 STANLEY CUP PLAYOFFS

The Stanley Cup playoffs kick off Wednesday. Scott Burnside, Pierre LeBrun and the rest of our NHL team preview the first round:
EASTERN CONFERENCE
WESTERN CONFERENCE
MORE COVERAGE
SPORTSNATION