Commentary
Still want to doubt Chris Osgood?
DETROIT -- Perhaps one day, about five years after Chris Osgood is done with his NHL career, we'll all wake up and realize he was a better goalie than anyone ever gave him credit for.
Perhaps it will be the day he goes into the Hockey Hall of Fame with 400-plus wins and a few Stanley Cup rings.
But, until then, it seems Osgood will have to live with the fact no matter what he does, people will second-guess him.
"It doesn't really bother me to be honest," Osgood told ESPN.com during an interview over lunch Monday. "I know I have respect from the guys in the room and they know what I can do."
Yes, Osgood's biggest fans are the 20 players making millions of dollars wearing the Red Wings' jersey, who can't figure out why most of the outside world continues to doubt the 36-year-old netminder. He has 389 career regular-season wins, tied for 10th all time in the NHL with Dominik Hasek. Next up on the list is none other than Grant Fuhr (403), the goalie Osgood idolized growing up in Edmonton. Impressive company.
[+] Enlarge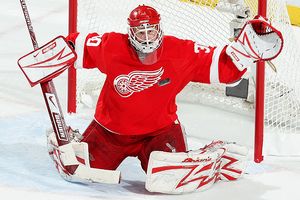 Dave Reginek/NHLI/Getty ImagesChris Osgood has a 2.06 goals-against average and .922 save percentage this postseason.
"Yeah, I don't know why that is, that's always been a subject in here," said six-time Norris Trophy winner Nicklas Lidstrom. "He's always been the strong mental goalie -- when it's needed, he comes up with a big save or a big game. If he has a bad game, he'll bounce back with another strong effort. We've seen that numerous times in the playoffs, not just this year, but other years as well.
"I don't know why he doesn't get the respect he should be getting."
Wings general manager Ken Holland has a few theories on that.
"First of all, there's a perception that we can put anybody in our net," Holland told ESPN.com. "We've always had high-profile talent. And through the years, we've always outshot the other team, so our goalie is in a position to only be responsible for the loss; he's not responsible for the win. I think Dominik Hasek had a hard time when he first got here, I think Curtis Joseph had a hard time with it, because we win because of our skaters and we lose because of our goalie. It's the perception."
That's a perception that has dogged Osgood. When this team wins, Osgood gets zero credit. When they lose? He gets singled out.
"By no means are we going to win solely because of me nor lose solely because of me," said Osgood. "Why we're so successful is that we don't rely on one player. Whether it's Hank, Pav, Nick, Raffy, Mule, anybody -- we're a team. That's actually why we've won our last two games of the playoffs because our role players have played well.
"So I never feel that pressure of having to go out and win a game. I've got to be solid and make the saves at the right time."
Theory No. 2 from Holland: selective memory.
"People remember Jamie Langenbrunner's long goal from center ice against Ozzie," said Holland, recalling the forward's overtime goal in Game 5 of the 1998 West finals against the Dallas Stars. "But it depends on what you want to remember. Somebody wants to remember that goal; I remember that Ozzie shut them out in Game 6 2-0 [to advance]. I remember that he bounced back when there was lots of pressure and lots of people waiting for him to wilt.
"And one year in the playoffs, Al MacInnis scored from center ice and sent the game into overtime," added Holland. "What I remember is that we won in overtime. People want to remember that goal, but I remember that we won in overtime. Depends what you want to remember. At the end of the day, when Chris Osgood is challenged, that's when he challenges the best. When there's a bad goal or a bad game, he's going to give you your best performance."
Last spring, when Osgood was brilliant in a six-game win over the Penguins in the Stanley Cup finals, he slowly began to change some minds. He began getting some of his due, albeit in baby steps.
Then came this regular season. Whatever goodwill Osgood built up last spring evaporated with a porous campaign that had many people saying, "See, I told you so." The Cup hangover affects players in different ways, and Osgood is the first to admit he wasn't ready for the 82-game grind so quickly after sipping champagne.
"Physically, I was there, but mentally, I wasn't," said Osgood. "The playoffs were so long. I was sitting there thinking, 'We were at the top of the mountain, now we're at the bottom and we have to go all the way back up again and there's a long way to go.' So yeah, there were nights I didn't play well for sure.
"I buried myself early in the year statistically, where I had no shot of getting close to where I even wanted to be."
One day in February, Holland called Osgood into his office. It's a meeting that changed everything.
"I expected our entire team to have a struggle mentally," recalled Holland. "But enough was enough. So I called Ozzie into the office and said, 'Let's have a minimum week's breather.' And I reamed him out. I thought it was important that he get back to what makes him successful."
"He gave it to me a little bit, and rightfully so," said Osgood. "That gave me a wake-up call, which everybody needs."
"

Physically, I was there, but mentally, I wasn't. The playoffs were so long. I was sitting there thinking, 'We were at the top of the mountain, now we're at the bottom and we have to go all the way back up again and there's a long way to go.'

"

-- Wings goalie Chris Osgood on his regular-season struggles
So for 10 days in mid-February, Osgood got a break from the team. It allowed him to recharge his batteries. But being the close-knit team the Wings are, it didn't go without some ribbing from teammates.
"Guys were calling me Kovy," said Osgood with a chuckle.
That would be Alexei Kovalev, who was also sent away for a mental break by the Montreal Canadiens around the same time. Mind you, it was a much bigger story in that city given everything that happened there this season.
One night during the break, Osgood stayed behind while the Wings played in frigid Minnesota. Again, the guys wouldn't let go.
"The guys were calling me and texting me, 'Hey, what are you and Kovy doing?'" laughed Osgood. "So even when things seem as bad as they can be, they're really not that bad."
Osgood used the time away to his advantage, working on his game every day with Wings goalie coach Jim Bedard.
"We worked on little things, just position-wise. I think I was moving a bit too much," said Osgood. "Just little things that I got away from. I've had slumps before, but this was like two months and I got frustrated. I got pissed off that it was still going on. I tried a bunch of different things and nothing would work. I had to refocus myself mentally and get ready for the playoff drive.
"Since then, my game has progressively been getting back to where I need it to get. But do I want to go through that again? No, not a chance, it was terrible."
Lesson learned, he said.
"Going into this summer, I'm going to do things in training and in practice, mentally, to make sure that doesn't happen again," said Osgood. "It's amazing at 36 how you learn something new every year. Yes, I had a disappointing regular season, but I'm going to use that to make sure it doesn't happen again."
This postseason, Osgood has been terrific, silencing his critics (for now). The fans at Joe Louis Arena show their appreciation by chanting, "Ozzie, Ozzie," before and during games. Maybe the rest of the hockey world hasn't given him the love, but the hometown fans sure have.
"The fans have always been great, this is a second home for me," said Osgood. "The fans come to my house and say, 'Great job.' Even if things don't go well, they're supporting me. When they're chanting my name before games, it pumps me up. I want to do well for them. I appreciate it."
His 2.06 goals-against average in these playoffs is the best among the four remaining goalies and his .922 save percentage tops both Pittsburgh's Marc-Andre Fleury and Chicago's Nikolai Khabibulin.
"He's worked really hard to get his game back," said Wings coach Mike Babcock. "I think he would be the first to admit that he probably wasn't engaged at the start, and when things snowball on you, it takes a while to get it back. That's what happened to Ozzie. But he knows what he's doing. He's a way better goalie than people think."
On the way to the Western Conference finals, Osgood faced Columbus' Steve Mason and Anaheim's Jonas Hiller, a pair of young goalies who got plenty of media coverage for their impressive play.
"You know, each year, there's always the new, hot goalie," said Babcock. "But our guy is still playing. Everyone is talking about Hiller and everyone is talking about Mason and everyone is talking about [Miikka] Kiprusoff and everyone is talking about [Roberto] Luongo. That's fine.
"But [Martin] Brodeur and Ozzie are the only two guys who have won three Cups in the National Hockey League that are still playing. They must have done something right."
Luongo will earn $7.5 million next season, while Osgood will happily receive his $1.45 million fare. One guy has won two playoff series in his career, the other has won three Cups.
Hey, Luongo is a superstar goalie, don't get us wrong. But it's interesting when you sit down and think about it, given the decision the Vancouver Canucks will have to make with Luongo going forward, how the Wings have "gotten by" with the low-paid Osgood in net.
"There's a lot of great goalies in the league, most of them are out right now," said Holland. "Chris is still playing."
Osgood couldn't resist when asked again about the lack of respect some people have for him around the league.
"Everybody says Kenny is one of the best GMs in the league," said Osgood. "Well, there's a reason why he brought me back."
Touché.
"I mean, I don't mind, I'll have my day," continued Osgood. "My numbers are good and I think I've proven over my career that I love playing in playoffs, I love playing in big games."
Just like the guy he grew up watching in Edmonton.
"I idolized Grant Fuhr, because even though the score was 5-4, he would make the big saves at the right time," said Osgood. "I was always in awe of him and I always grew up with that mentality of making the big saves at the right time and giving your team a chance to win. I wanted to be like him and I approached it that way. He seemed to love the playoffs, and so do I."
Pierre LeBrun covers the NHL for ESPN.com.
ESPN Senior Writer
Covers the NHL for ESPN.com and TSN in Canada
Six years on the "Hockey Night In Canada" Hotstove panel
13 years at The Canadian Press national news agency
2009 STANLEY CUP PLAYOFFS

The conference finals are here. Scott Burnside, Pierre LeBrun and the rest of our NHL team preview the action:
CONFERENCE FINALS
MORE COVERAGE
SPORTSNATION