Commentary
This OT loss was killer for Hawks
DETROIT -- The players and coaches on both teams said all the right things. The Blackhawks, because they need to convince themselves they're still very much in this series. The Red Wings, because they don't want to incite the Hawks.
But the truth is, this was the backbreaker, the dagger, the killer.
The Blackhawks took their best swing Tuesday night, a dramatic improvement over Game 1, and, quite frankly, may have deserved a better fate. But the fact the defending Cup champs were able to absorb the Chicago push and still prevail 3-2 in overtime Tuesday night leads one to think there is no other result in the Western Conference finals than a Detroit series win. And perhaps it will be a short one.
At the risk of overplaying a point, it's hard not to think of the similarly young Penguins going down 2-0 in last season's Cup finals and how, despite a late push, the early hole was too much to overcome.
[+] Enlarge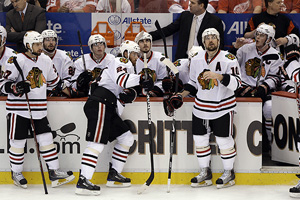 AP Photo/Paul SancyaThe Blackhawks outshot the Red Wings 39-38 in Tuesday's Game 2.
This was a body blow that was hard to take for Chicago. The looks on the young Blackhawks' faces in the visitors dressing room said as much after the game. Some refused to take their equipment off long after Mikael Samuelsson had scored the winner 5:14 into overtime.
"There's a lot of things going on inside right now, emotionally and everything, but I know personally, and the rest of the guys, we're not going to quit," said Hawks blueliner Brian Campbell. "We're going to come back hard Friday night [for Game 3]."
Credit Campbell. He stood there Tuesday night after the game and waited until every single media person got their licks in. Many a player would run and hide in the showers. He did not.
But he was indeed the goat in Game 2 as his turnover led to Samuelsson's overtime goal. Campbell tried a risky play at the Detroit blue line when a simple shot on goal or dump-in to the corner would have been wiser, safer choices. Instead, he tried to send the puck across to defense partner Cam Barker while passing it through Samuelsson. The Wings forward knocked it down from midair and led a 3-on-1 break that ended up with Valtteri Filppula setting him up for the one-time winner.
"I was going to shoot and I saw the guy come all the way over to me, making [Barker] open," explained Campbell. "I tried to go between the stick and the skate, which usually is a tough play to knock down and defend. Obviously, he found a way, but those are the chances you take.
"If I get it over to Cam, maybe we're celebrating in the locker room right now. I would do it again."
In Campbell's defense, Samuelsson himself said he thought his own decision to leave Barker and chase down Campbell was "kind of a risky play."
"But it worked out," Samuelsson said with a smile.
On a night when Hart Trophy nominee Pavel Datsyuk went an 11th game without a goal and linemate Marian Hossa was barely noticeable, the Wings showed once again why they're so darn hard to beat. The winning goal came from the third line.
"I think our depth is so important," said Daniel Cleary, who scored his fourth goal in three games. "We can roll four lines and so no one's dead at the end of the game going into overtime. Even our big guns still got a lot left."
Wings netminder Chris Osgood was terrific once more, stopping 37 of 39 shots. He never seems to get mentioned when Detroit wins; so consider him mentioned and rightfully so.
But, oh, this was so close to swinging the other way. Jonathan Toews had one of those games that defines a young star. With Wings legend Steve Yzerman looking on Tuesday, No. 19 for the Hawks willed his team to a much better effort, scoring a pair of goals. He tied it at 12:20 of the third period on a nifty redirection and you had the inescapable sense the Chicago captain was on to something magical.
"We did some better things tonight," said Toews. "We can build off that. We're going to stay upbeat. We'll go to the rink tomorrow and work hard and not think about tonight. It would have been nice to get the split, but we'll keep at it."
This will be the game the Hawks will remember this summer while sucking back a cold one. If they could only get that overtime goal in Game 2. Campbell might sit back this summer and replay the blunder that cost his team a shot at an all-important split in Hockeytown.
"It's pretty frustrating right now after we battled hard," said Campbell. "It's a crappy way to lose."
Pierre LeBrun covers the NHL for ESPN.com.
ESPN Senior Writer
Covers the NHL for ESPN.com and TSN in Canada
Six years on the "Hockey Night In Canada" Hotstove panel
13 years at The Canadian Press national news agency
2009 STANLEY CUP PLAYOFFS

The conference finals are here. Scott Burnside, Pierre LeBrun and the rest of our NHL team preview the action:
CONFERENCE FINALS
MORE COVERAGE
SPORTSNATION