Commentary
'Fill-in' Filppula doing just fine, thank you
DETROIT -- Valtteri Filppula was the 95th player chosen in the 2002 NHL draft.
You know, that was the year Petr Taticek went ninth overall to Florida, Jesse Niinimaki went 15th to Edmonton, Jakub Koreis went 19th to Phoenix, Martin Vagner 26th to Dallas, Jonas Johansson went 28th to Colorado ... well, you get the picture.
Filppula is yet another example of why the Detroit Red Wings stay on top. A tip of the hat yet again to assistant GM Jim Nill and his scouting staff.
[+] Enlarge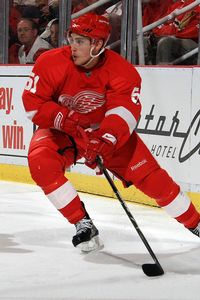 Dave Reginek/NHLI/Getty ImagesValtteri Filppula has one goal and 12 assists in 15 playoff games this spring.
"He's a great skater. Powerful. When you give him the puck, he can do anything at full speed."
That was Marian Hossa on Tuesday, describing not Pavel Datsyuk, his regular center, but rather the fill-in Filppula. Yeesh, some fill-in. The pair combined for six points in Sunday's Game 4.
Tell me again how many teams lose a guy like Datsyuk (foot injury) and simply promote a talented player like Filppula from the third line?
"I think Fil probably in his own heart and his own mind thinks he should always be in that spot all year long anyway," said Red Wings coach Mike Babcock. "He doesn't get that opportunity that much when we don't play Datsyuk and [Henrik] Zetterberg together. Fil we think is a second-line center in the NHL."
Well, in fact, Filppula was Detroit's second-line center last season in the playoffs because Babcock had Datsyuk and Zetterberg playing together on the top line.
"When we got Hossa [last summer], we separated them," said Babcock. "Fil became our third-line center."
The 25-year-old Finn took it in stride.
"I don't think it's a bad thing at all," he said on the eve of Game 5 of the Western Conference finals against the Chicago Blackhawks. "We have a lot of good players, and no matter what the role is, every guy is important. That way, you want to win and be a team that has a chance to win, and that drives the players the most."
A moment we won't soon forget. Through all the hooting and hollering in the Wings' dressing room last June after capturing the Stanley Cup, we ran into former Wings executive and coach Scotty Bowman, and he went on and on about one player: Filppula.
Zetterberg had won the Conn Smythe, Datsyuk had been superb and Nicklas Lidstrom was majestic as always, but we'll never forget how Bowman, the game's greatest all-time coach, talked at length about Filppula.
Now we're beginning to see even more of what Bowman was talking about. Filppula has 13 points (1-12) in 15 playoff games this spring, surpassing last season's tally of 11 points (5-6) in 22 games. Suddenly, the offense is coming in bigger doses.
"I've been trying to play the same way," Filppula said. "Getting more offense this year, which is always good. The main thing is to play really well defensively and be happy with the offense I can get."
Datsyuk has missed a pair of games and didn't skate again Tuesday, meaning he's a question mark for Game 5. Filppula hasn't wasted his chance after being bumped up to play with Hossa and Tomas Holmstrom.
"It's not a good thing Pav's out, but I'm trying to make the best of it," said Filppula. "The biggest thing is to try and win games. ... That's the main thing, right now."
It's no coincidence that of his 13 points, 12 of them are assists. He's a pass-first player. Babcock has been on him all season to shoot more.
"It's true. I should be shooting more," said Filppula. "You get a lot of rebound goals when you're shooting, so that's why I need to be shooting more, as well."
He's 11th on the team with only 25 shots in the postseason. Hossa leads with 70.
"He's a lot like Pav that way," said Babcock, referring to Datsyuk. "Pav never shot the puck either. As time goes on ... what they learn over time is the best scorers shoot the puck. They have the dimension to their game that the puck comes off goalies. All you have to do is look at the pass Hossa made off the pads of [Cristobal] Huet right to Fil. To me, that's a great play. The great thing about that pass is all goalies, the way they play today on the lateral feed, they're loaded and they're pushing across. When you pass it off them, they're locked up, so the net is empty.
"I think the more confidence he gets with his shot ... and that's what it is, you can tell them to shoot all they want. If they don't think they're going to score, they won't shoot. That's part of it."
Added Wings forward Dan Cleary: "He's a young player and once he figures that he can shoot more, he's going to be that much more dangerous."
One step at a time. Filppula began his career thinking about only one thing: defense.
"Back home, you have to play good defense first," said the native of Vantaa, Finland. "In the elite league as a young player, that's the first thing you have to do to make the lineup, is to play well defensively. It's always been the No. 1 thing."
He's listed at 6-foot and 193 pounds. There's a fellow Finn that's nine and half years older and listed at 5-foot-10 and 182 pounds. They're both left-handed shots and both play with similar tenacity. The comparison to Saku Koivu lit up Filppula's eyes when we suggested it Tuesday. He grew up idolizing him.
"I like the way he plays with the puck and makes plays and plays tough as well, even though he's not a big guy," said Filppula. "I always like the way he moved and made plays."
There's only one fly in the ointment for Filppula in Detroit. How the heck does a Finn get along with eight Swedes in the dressing room?
"Pretty well, I think," he laughed. "No problems. It's actually a lot of fun. I understand a little bit [of Swedish], so they can't make too much fun of me."
A little more investigative journalism helped us discover Filppula may understand more than just a bit of Swedish.
"He says he doesn't know Swedish, but I know he knows," said Swede Mikael Samuelsson. "You can see him make a certain face when we speak Swedish."
Right now, Filppula is letting his play do the talking. And the Swedes on his team are impressed.
"He's got a lot of strengths," said Samuelsson. "He can do it all."
Not bad for a third-line center.
Pierre LeBrun covers the NHL for ESPN.com.
ESPN Senior Writer
Covers the NHL for ESPN.com and TSN in Canada
Six years on the "Hockey Night In Canada" Hotstove panel
13 years at The Canadian Press national news agency
EDITORS' PICKS
Boston dealt a blow to Florida, while other Eastern playoff contenders looked to keep pace.
Inside the NHL

While it's too late for this season, the Blue Jackets are getting healthy and showing how tough they will be moving forward.
LeBrun »

Marc-Andre Fleruy has to prove he can dominate in the playoffs before anyone will expect the Penguins to make noise this spring.
Inside the NHL