Commentary
Osgood vs. Fleury? No contest so far
DETROIT -- Two games in 27 hours, but only one first star.
Chris Osgood was named the first star in the opening two games of the Stanley Cup finals, strengthening his Conn Smythe Trophy bid and picking off his long-standing critics one by one.
The Detroit Red Wings were black and blue and battered and had only two days to regroup after the Western Conference finals. Back-to-back games? No problem. Wings up 2-0.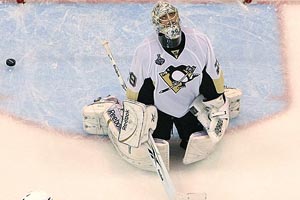 Harry How/Getty ImagesMarc-Andre Fleury has allowed six goals in the first two games of the Cup finals.
"Osgood was the key factor in that," Wings general manager Ken Holland told ESPN.com. "First star in Game 1. We got outshot again today."
The 36-year-old Osgood stopped 62 of 64 shots this weekend and received some help from his posts in Sunday's 3-1 win, but he was calm and collected throughout, standing tall when the Penguins threatened.
"They've got good players, they make plays and pass it around good," Osgood said.
What he didn't say, what he couldn't say, was that he is hammering his counterpart, Marc-Andre Fleury, in the goaltending battle right now. And for the second year in a row. With the Penguins pressing for the equalizer early in the third period Sunday night, Justin Abdelkader scored on a knuckler in what should have been a throwaway shot. Instead, Fleury didn't make the stop, which resulted in a back-breaking goal that put the Wings ahead 3-1 and sucked the wind out of the Penguins' push.
"It wasn't easy to read, but you've still got to make some key saves to keep the game tight," Fleury said on the third goal.
Fleury was better Sunday than his shaky performance in Game 1, but Abdelkader's goal just can't go in. Never. Certainly not in the Stanley Cup finals, in such a pivotal game.
"I think he's been pretty solid," Penguins superstar Sidney Crosby said of his goalie. "I think the one, the third one, he'd probably like to have that one back. But other than that, he's been solid for us. ...
"He's been, unfortunately, on the wrong side of some bad bounces with last game with those boards. He's been steady for us, though. We've got to do a better job when it's a tie game and have a chance to go on a lead there. We've got to keep going."
Well, that's the captain protecting his goalie. What else is he going to say? "I can't believe that went in"?
A year ago, the fact Osgood outplayed Fleury was a moot point. The Red Wings outplayed the Penguins in every other facet, so the goalie battle wasn't as glaring. This season, it's front and center. The Penguins have played well enough to win a game so far. They've outshot the Wings twice at Joe Louis Arena. That rarely ever happens.
"They were good last year, but I just think they have more experience this year," said Osgood. "They're making smarter plays than they did last year. They stick to their game plan, it seems, throughout the 60 minutes. By no means are we going to say we outplayed them in two games -- they played good hockey the first two games and gave us everything we can handle.
"We felt good that we're up 2-0, but we know that we can play better in Game 3. We've got to get a day off and rest up and have our best game in Game 3."
No, the Red Wings were not overwhelming this weekend. They were just good enough. And Osgood was the X factor. His critics have often labeled him a passenger on a great team, but he's again showed in these playoffs that he's every much a part of that great team.
His lousy regular season, one in which he was sent away from the team for 10 days, that's a distant memory. If the season ended today, we'd hand him the Conn Smythe Trophy.
"You [media] guys are surprised, I've been here with him since 1996," said Holland. "He just wins games. He's a battler, a competitor. This was probably his worst regular season in his career. But I think he should have got votes for the Conn Smythe a year ago. He's been huge for us this year in the playoffs again.
"Right from the first game against Columbus, the first 10 minutes, they outshot us and outplayed us and he's settled into a groove ever since."
They way Osgood has played, we're not sure how Red Wings executive and Team Canada Olympic boss Steve Yzerman doesn't hand him an invite to the team's summer camp in August. If four or five goalies get invites, how does Osgood not get one?
But that's a story for another day. There's still business to finish here. Osgood is two wins away from his fourth Stanley Cup ring.
Pierre LeBrun covers the NHL for ESPN.com.
ESPN Senior Writer
Covers the NHL for ESPN.com and TSN in Canada
Six years on the "Hockey Night In Canada" Hotstove panel
13 years at The Canadian Press national news agency
EDITORS' PICKS
Boston dealt a blow to Florida, while other Eastern playoff contenders looked to keep pace.
Inside the NHL

While it's too late for this season, the Blue Jackets are getting healthy and showing how tough they will be moving forward.
LeBrun »

Marc-Andre Fleruy has to prove he can dominate in the playoffs before anyone will expect the Penguins to make noise this spring.
Inside the NHL