Commentary
Even in defeat, Hossa has no regrets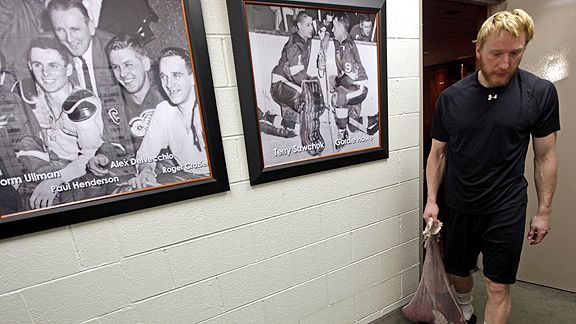 AP Photo/Paul Sancya Hossa gave up a lucrative offer from the Pens to join the Wings this past offseason.
DETROIT -- You'll find few nicer guys in the NHL than Marian Hossa. He's a polite chap, a soft-spoken Slovak liked a great deal by most every teammate he's ever had.
But 11 months ago, he slapped the Pittsburgh Penguins in the face, whether he meant to or not, when he turned his back on a five-year, $35 million deal and stunned the hockey world by signing a one-year, $7.45 million deal with Detroit.
"I know myself, I made the right decision," Hossa said on a conference call in July. "But it wasn't easy to throw that much money away. We'll see at the end of next year whether I decided good or not. I truly believe I made the right decision."
One Penguins fan answered that question Friday night when she e-mailed a photo to Pittsburgh Tribune-Review beat writer Rob Rossi of her wearing a Pens jersey with Hossa's old No. 18 with the name "BADCHOICE."
A subdued Hossa came out to meet the media Friday night, just like he has every day during this series, and he answered the same question over and over and over again. He dreamed of winning a Cup in Detroit. Instead, the nightmare scenario became reality for him after the Penguins sealed their win in Game 7.
"That's life, sometimes you make choices," Hossa said. "I still had a great year in this organization. Great guys, great people around. It could go both ways, just one goal makes a difference. You score one more and you celebrate. Sometimes, that's life and you just have to move on. It's a great life experience."
He admitted the pressure of the situation may have got to him. He was scoreless in the seven-game Cup finals series.
"Whether you like it or not, there's lots of pressure," Hossa said. "You learn when the pressure is on and you learn how to handle it. It's squeezing you. It's a pretty tough one. I tried to battle hard, but I couldn't get anything done offensively. ...
"It's not easy. We've got lots of things going on. I tried to block it, but you're human. It's not easy."
Perhaps Penguins fans should be thanking Hossa. After all, if he stayed, perhaps the team doesn't have such a hard time. Perhaps there's no coaching change. Perhaps Bill Guerin and Chris Kunitz aren't acquired at the trade deadline.
"Regret? I don't regret it," Hossa said. "It could be different circumstances if I sign in Pittsburgh. They probably couldn't sign some other players and they'd be a different team. We could sit here for hours discussing this, but it would be a different team and it could be different things."
Penguins blueliner Brooks Orpik said some of his teammates might have felt different, but he didn't begrudge Hossa his decision.
"I have nothing but respect for the guy," Orpik said. "I don't feel bad for him, but he was in a difficult situation."
Pierre LeBrun covers the NHL for ESPN.com.
ESPN Senior Writer
Covers the NHL for ESPN.com and TSN in Canada
Six years on the "Hockey Night In Canada" Hotstove panel
13 years at The Canadian Press national news agency
EDITORS' PICKS
Boston dealt a blow to Florida, while other Eastern playoff contenders looked to keep pace.
Inside the NHL

While it's too late for this season, the Blue Jackets are getting healthy and showing how tough they will be moving forward.
LeBrun »

Marc-Andre Fleruy has to prove he can dominate in the playoffs before anyone will expect the Penguins to make noise this spring.
Inside the NHL