Rangers' Tortorella suspended by NHL
Updated:
April 26, 2009, 12:23 PM ET
ESPN.com news services
NEW YORK -- Rangers coach John Tortorella has been suspended by the NHL for one game because he squirted a fan with water and threw a water bottle into the stands, striking a spectator in Washington.
Tortorella, who replaced the fired Tom Renney in February, will miss Game 6 on Sunday when New York hosts the Capitals with a chance to advance to the second round of the playoffs.
The NHL ruled Saturday night that Tortorella's actions Friday night during the Rangers' 4-0 loss that cut their series lead to 3-2 warranted a serious punishment.
LeBrun: NHL Pushes Back

Suspending John Tortorella is a ballsy move by the league, which is apparently trying to send a tough message, writes ESPN.com's Pierre LeBrun. Story
At 6:33 of the third period, Tortorella got into a verbal confrontation with a fan behind the bench. A video replay showed the coach heaving a green water bottle into the crowd. Tortorella then grabbed forward Aaron Voros' stick and held it high, waving it in the fan's direction.
"We do not take this action lightly," league disciplinarian Colin Campbell said in a statement. "It is the result of an entire day of investigation and evaluation that included the retrieval and review of videotape of the incident and discussions with Mr. Tortorella, other Rangers' bench personnel and a number of other people, including the security personnel at the Verizon Center.
"That investigation revealed that Mr. Tortorella squirted a fan with water before Mr. Tortorella was doused with a beverage."
"While it is a difficult decision to suspend a coach at this point in a playoff series, it has been made clear to all of our players, coaches and other bench personnel that the National Hockey League cannot -- and will not -- tolerate any physical contact with fans," Colin Campbell said in his statement.
Tortorella wasn't on the ice for practice Saturday, but seemed confident while speaking to reporters after the session that he would be behind the bench Sunday. He said he was not allowed to speak about the matter.
"As far as that situation, I've been asked not to comment on that by my boss," Tortorella said.
The Rangers released a statement Saturday night indicating their displeasure with the league's decision.
"We disagree with the suspension and will have no further comment."
[+] Enlarge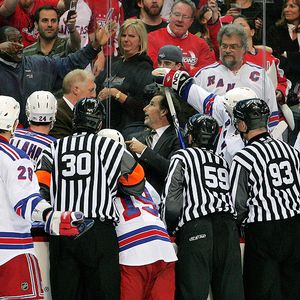 Len Redkoles/Getty ImagesRangers coach John Tortorella, at center, got into it with fans behind the bench during the Capitals' Game 5 win.
NHL commissioner Gary Bettman declined to comment when ESPN.com e-mailed him late Saturday night. There is still no word on who will lead the Rangers' bench in Tortorella's absence, but interim assistant coach Jim Schoenfeld, who is also the team's assistant GM, will likely take the lead.
And since the team's AHL affiliate in Hartford was eliminated from its playoff series this weekend, Wolfpack head coach Ken Gernander and assistant J.J. Daigneault could be on hand as assistants.
Capitals' season ticket-holder Claudette Chandonia told The Washington Post the bottle Tortorella threw hit her in the head.
"He was losing and he was frustrated, I guess," Chandonia said, according to the report. "I couldn't believe it. I looked up, and he was throwing the water bottle -- and then it hit me right here, right in the head, and it bounced off me."
Fans in the seats around Chandonia confirmed the bottle-throwing and said Tortorella also squirted water through two panes of glass before throwing the bottle, according to the report.
"Good job by our fans. Our fans are one more player for us. They do what they have to do for us," Capitals star Alex Ovechken said Saturday morning at the team's practice. "They scream and they're loud. Maybe it was too much to [throw] beer or water or whatever. But sometimes that happens. And maybe that's going to happen tomorrow against us, too. You never know."
During his postgame news conference, the coach was asked what happened between him and the spectator.
"Ask me a question about the game. That has nothing to do with today," Tortorella replied.
Asked whether he threw a bottle, Tortorella said: "Ask me a question about the game, please."
Stanley Cup Playoffs Blog

Check out the latest updates and analysis from the 2009 Stanley Cup playoffs as our NHL crew weighs in:
• 2009 Playoffs blog
At that point, a Rangers employee said the news conference would end if there were another question on that topic.
Verizon Center facilities president Gary Handleman said no fans were ejected, and the guard closest to the incident said no fans threw anything into the bench, according to the Post.
"Nothing was that unusual," said Alex Boyle of Baltimore, who sat in the same row as Chandonia, according to the report. "Obviously, some people were heckling. But no one was banging on the glass. The usher was right there, and when people were banging on the glass earlier in the game, he said, 'You can't do that.'
"And then I looked up, and he was shaking up a bottle, and he threw it."
Rangers players wouldn't discuss their fiery coach's faceoff with the fan in detail.
"When I looked over, Torts was turned and facing the crowd," Marc Staal said. "He might have gotten squirted or something. I'm not really sure."
The Associated Press contributed to this story.
EDITORS' PICKS
Boston dealt a blow to Florida, while other Eastern playoff contenders looked to keep pace.
Inside the NHL

While it's too late for this season, the Blue Jackets are getting healthy and showing how tough they will be moving forward.
LeBrun »

Marc-Andre Fleruy has to prove he can dominate in the playoffs before anyone will expect the Penguins to make noise this spring.
Inside the NHL