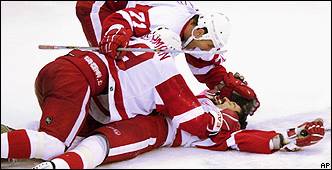 Wire-To-Wire Wings
They were predicted to win it all from the beginning of the 2001-02 season, and the Red Wings delivered Thursday night. Two second-period goals were enough to help veteran-laden Detroit to hoist the Stanley Cup on Thursday, beating Carolina 3-1 and winning the finals in five games. It's the Red Wings' third Cup in six years and the 10th in the club's history.


• Bowman announces retirement | Clement | Engblom
• Y-ronman | Lidstrom MVP | Shanahan's irony
• Carolina's Francis will return | Hasek's future?
• Hurricanes' pain | End for 'Canes?
---
"But let me tell you -- I was just happy to do it, no matter who it was against"
— Detroit's Brendan Shanahan on scoring the Cup-winning goal against his former team
---
Victory Parade




Thousands gather in the streets of Detroit to honor the Red Wings.


Standard | Cable Modem

Detroit vs. Carolina




The Red Wings celebrate as Brendan Shanahan scores an empty-net goal in the final minute.


Standard | Cable Modem

More Audio/Video



Drehs: Defying precident
Only one team has rebounded from a 3-1 deficit in the Cup finals. The Hurricanes plan on making it two.



Hradek: The series is over
Though the Wings still need one more win, the Stanley Cup is theirs.



Adelson: Let 'em see blueliners
While the Wings' offense has been getting all the attention, their defense has been winning them games.



One-on-one with Bret Hedican
Carolina Hurricanes defenseman Bret Hedican strikes a chord with ESPN.com.




More Features

CAR
DET
217
GOALS
251
2.65
GAA
2.28
63/391
PP
73/359
83.7
PK%
86.0
28.6
SPG
31.0
12.5
AVG. PIM
12.8
INDIVIDUAL LEADERS
n/a
GOALS
n/a
n/a
ASTS
n/a
n/a
PTS
n/a
GAA
• Series stats: CAR | DET
• Playoff stats: CAR | DET
• Season stats: CAR | DET
• Comparisons: Player | Team


Find out what others around the country are saying about your team. We surf the Web so you don't have to, bringing you personalized stories - just for Insiders.
Become an Insider today!