The Elite Eight of these Stanley Cup playoffs are set. Five teams have never won a Stanley Cup (Buffalo, Ottawa, Anaheim, Vancouver and San Jose), while three have (Rangers, Devils, Red Wings). The remaining seeds are 1, 2, 4 and 6 in the East and 1, 2, 3 and 5 in the West.
When it was all said and done, we had an upset-free first round, a rather predictable first round. I went 7-1 with my predictions, an Eric Lindros-strong 88 percent. Now, here are my conference semifinals predictions.
Eastern Conference
No. 1 Buffalo vs. No. 6 New York Rangers
The first thing that jumps out me is the New York Islanders were a great first-round tuneup for the Sabres, while the Thrashers were a bad one for the Rangers. New York will be surprised by Buffalo's playoff speed and Henrik Lundqvist will have to be on his game from the get-go.
The Islanders play a physical, in-your-face style and the Sabres can expect more of that from the Rangers. What helps Buffalo is the Rangers don't have a lot of physical players on defense. Once Buffalo gets down low, it should be able to draw penalties and get great scoring chances. There is no one on the Rangers who can handle Maxim Afinogenov, who could have a huge series. That being said, the Rangers have the best all-around offensive player in the series: Jaromir Jagr. He had seven in points in four games against the Thrashers. The Sabres are not a great defensive team and Jagr will have his chances.
The Thrashers, a good scoring team, scored no more than three goals in a game against Lundqvist. This series is a close call. The key is for the Sabres to jump on the Rangers; if the Rangers gain early momentum, they won't give it back.
Paul Gaustad is a very important player for the Sabres. He is a 10-20-goal, 100-penalty-minute guy. They need his jam. The Rangers have better special teams and a big-time, gold medal-winning goalie who could bring some Ken Dryden/Bernie Parent playoff lore to the party. If Ryan Miller is average, the Sabres lose, but I think he will bring success. Sabres in 7.
No. 2 New Jersey vs. No. 4 Ottawa
Ottawa is going to see a completely different team than what it saw in Round 1. Pittsburgh gave up 246 goals during the regular season. The Devils: 201. New Jersey is an experienced team with multiple scoring lines. Scott Gomez is flying and is the playoff points leader through Sunday's action. The free agent-to-be is raising his price tag this postseason and will be a big-time addition to any team if he leaves the Devils.
The Devils should be able to take advantage of Ray Emery's tendency to get woefully out of position. Ottawa has the most underrated defensive corps in the playoffs – it's a Cup-caliber group. The Senators have good size, mobility and physicality. It will be more difficult for Zach Parise and Brian Gionta than it was against Tampa Bay. What really impressed me about the Devils in the first round was the play of Paul Martin, who has to be one of the best every night for Jersey.
The Devils' defensive corps is very dicey and Ottawa should get lots of chances. Martin Brodeur is going to see a barrage of shots. The best defense for the Devils is truly a good offense. If the game is in New Jersey's end, the Sens will clean their clocks. I like the legs of the Devils' skill guys. I think they can play transition hockey, get a few odd-man rushes and make Emery look silly. Devils in 7.
Western Conference
No. 1 Detroit vs. No. 5 San Jose
Everyone is all over the Sharks in this series ... not so fast my friend! The Wings are good. Daniel Cleary is really stepping up. Todd Bertuzzi is showing his puck-possession skills on that big line coach Mike Babcock put together. Detroit has jam and skill and a lot of dexterity on the blue line. Chris Chelios was unreal in Game 6 against Calgary. Dominik Hasek was tracking pucks very well.
That being said, the Flames appeared very average to me, a team with no sense of direction. San Jose is well oiled, well prepared and very clear on what it's doing. The Sharks are a fairways-and-greens hockey team that just keeps coming and coming and coming. They don't hurt themselves. They don't play a confrontational game. Neither do the Wings.
San Jose has good skill on the back end and a great mix up front. If I'm San Jose, my theme is controlled aggression at Hasek. Get shots on net, beat the Wings off the wall to the net and shoot high -- right next to Hasek's ears. Sharks in 7.
No. 2 Anaheim vs. No. 3 Canucks
Sedin twins? Chris Pronger. Chris Pronger? Sedin twins.
Pronger is the only defenseman left in the playoffs that can blow up another team's offense. He is like a great middle linebacker who makes a defense work. He has the reach, smarts and snarl that was made for this time of year.
Vancouver is obviously worn down. Anaheim should jump on the Canucks early, win the first two at home, split in Vancouver, lose Game 5 at home in 16 overtimes and then win Game 6. Emerging Ryan Getzlaf is huge for Anaheim's success.
Vancouver's big defense, which includes world-class goalie Roberto Luongo, should be able to shut down the Teemu Selanne-Chris Kunitz-Andy McDonald line. I'd like to see the Ducks switch up their lines and pair Dustin Penner with Selanne and Getzlaf. An Anaheim win sets up an all-California Western Conference finals. Ducks in 6.
John,
I saved my pennies and am going to get a new jersey. I was thinking about this, what do you think? Even NFL Hall of Famer Thurman Thomas called Chris Drury a "hockey god" when he was sitting in the broadcast booth during a Sabres' game!
Jason
Go Sabres!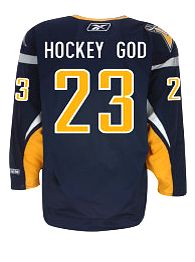 My name is John Buccigross and I approve of this hockey sweater.
---
John,
Do you think we (Pens fans, the NHL, basically anybody who likes hockey) have asked too much of the young Pens this postseason?
Sloan Green
Anchorage, Alaska
In retrospect, probably. Who knows how much Sidney Crosby's broken foot hurt him. He looked close to 100 percent. I went on ESPN Radio in Pittsburgh with Mark Madden and talked about how I was excited was to watch Crosby in the playoffs; I couldn't wait to see him put it in another gear. I was surprised when I didn't see it. Now, I know why.
Still, the series exposed the Penguins' lack of scoring depth and need for a stronger blue line. They should address both needs during the offseason and look to their young players to get a little stronger and better. Penguins GM Ray Shero did well last summer. Let's see if he can get the right forward and defenseman to improve the Penguins. And yes, I believe in Marc-Andre Fleury.
---
Hi John,
I am tired of hearing people talk about how ignorant Nashville fans are. Every team has fans who lack knowledge of the game. At least they are trying. Where a person lives does not dictate how much they know about the sport. I am from Kentucky and grew up with hockey. I am thrilled to finally have a great team close to me. People need to stop being such snobs about this great game and be happy that it is spreading to places that, 20 years ago, were deemed not viable as hockey markets.
Thanks,
Samantha
Kentucky
I agree, tradition takes time. The game can't grow unless you expand and market to children, minorities and the "non-traditional."
---
John,
You did the top three in the next draft. What do the Kings do at No. 4?
Dave Chapman
Let's go Kings!
Orange County, Calif.
I would draft defenseman Karl Alzner. He has a good home-brewed beer name. "Hey, I'll take an Alzner!"
---
Hey Bucci,
I was wondering if I could get a shout out to all the Buffalo fans that read your stuff. Our city could use a championship of any kind right about now. My friends, family and I all love you and your preference for Chris "Hockey God" Drury and Chicken Parm. (On a side note, if you're ever in Buffalo and want some outstanding chicken parm, check out Frank's Sunny Italy on Delaware Ave.)
I'm a student studying in London for the semester, but I still watch every Sabres game online and I can't wait to get home in May to catch up on the fever down on Chippewa St. and at HSBC. We don't have a whole lot to hang on to besides our sports teams and notoriously unhealthy food, so a little love for our often overlooked hockey town would be much appreciated.
Cheers,
Steve from Buffalo
Nothing but love here, Steve. Buffalo has provided Versus and NBC with high ratings, "SportsCenter" with exciting highlights and its fans with hope they will see the Stanley Cup on "Meet The Press."
---
Bucci,
As a seventh grade history/geography teacher in Brooklyn, I find it hard to believe that a literate American would say that Russia is in Asia, and then take issue with Russians being called Europeans. Yes, technically, part of Russia is in Asia, and geographically, it's the biggest part. But, its population is centered in the European part of the country. Most Russian hockey players come from this European region. It would be like saying that America is a Nordic country because Alaska makes up most of its land mass. C'mon now. And where are the props for one of hockey's greatest get-pumped-for-the-last-minute songs, "The Final Countdown" by none other than Europe?
Rob Rossicone
Brooklyn, N.Y.
Здравствуйте Бучий! (That is Russian for "Hello Bucci!")
In regard to whether or not Russia is Asian or European, the Ural Mountains are the generally accepted border between Europe and Asia, and Russia straddles them. So, which side a player is born on would technically determine whether he is "Asian" or "European." However, most Russians, and Russian hockey players, live on the west side. There are, of course, exceptions. Evgeni Malkin, Sergei Gonchar and Evgeni Nabokov are all from the east side of the mountains. But if you were going to bet on which continent a Russian was from, I would take Europe over Asia.
John,
In response to your reader's question about Russia, it could be argued that Russia is transcontinental with the Eastern portion being in Europe.
But then again, we could get into the debate as to whether or not Europe and Asia are actually separate continents. One could argue that they are one landmass, thus making Europe and Asia regions of the continent Eurasia. Therefore, Russian hockey players could be called Eurasian.
To take it further, Asia, Europe, and Africa could be argued to be one landmass sharing a continental shelf thus creating Africa-Eurasia. I guess that would make Africaeurasians.
Jim
New Jersey
Shut up, Jim.
---
JB,
It was mentioned in another ESPN.com column (have no fear, I always read yours!) about the chorus of boos that ensued when the singing of "O Canada" began at the Penguins-Senators game last night. My best friend Brian and I were there, and both stood quietly in respect for the entire song.
Being a member of the United States Air Force Reserve, I am as proud as anyone of my country and the wonderful anthem it possesses. That pride, and the emotionality it evokes when those notes and words strike up, were foreshadowing for the career I would finally
pursue. Part of representing my country, however, is showing the due respect when another country's national anthem plays. I stood at attention, feeling no small amount of shame. My only assuagement was hearing the boos trail off within the first 20 seconds as these people realized the crowd was not joining in their ignorance.
The majority of those in attendance applauded, as well.
Let's Go Pens!
Senior Airman James C. Abel
911th Airlift Wing
Pittsburgh
For the love of God, people! Please stop booing national anthems. Boo property taxes, boo toast that disintegrates when you try to butter it, boo sloppy, drunk people at Guster concerts. But do not boo anthems. You couldn't be a bigger tool if you do.
---
Hey John,
As an avid Devils fan, it is so irritating to me that not a single game of the Devils-Lightning series is being televised on Versus or NBC. NOT ONE GAME! Others series have multiple games! Why the disrespect to both teams? It's so unfair. I wait all year for Devils playoff action to get nothing in return. Thanks, NHL.
Phil Allen
The Devils and Lightning don't rate well nationally. The Devils' playoff ratings have improved a lot, but they are not near the Red Wings, Rangers or Sabres.
---
Hi John,
I responded a couple weeks ago to your comments on Chris Neil and his hit on Drury. You were -- in my opinion -- wrong in your verbal and written statements condemning Neil. Now, I wonder if you will drink the Kool-Aid with your Versus brethren and say [Colby] Armstrong's hit on [Patrick] Eaves was OK. I suspect you will give the same opinion of the Versus talking heads -- your pal [Keith] Jones -- that Armstrong was not at fault. I am even more curious if you mention this at all in your column this week.
Your loyal but discerning reader,
Charlie St. Clair
Hickory, N.C.
Drury was hit from his blind spot after the puck was gone. Eaves was hit straight-on as he carried the puck. Two different hits. That being said, a lot of those kinds of hits don't seem to gain a competitive advantage. Armstrong could have been strong on the puck and broken up the play. Why does he have to throw his shoulder pad into Eaves' head? I understand part of it is to set a tone and create fear in the opponent's pre-concussed head, but those hits end up making one feel nauseous. But Keith Jones, who played the game, said the hit was clean and Eaves needs to keep his head up. I won't argue with him. It just seems like it's so hard for those puck carriers to defend themselves on that offensive zone wheel-around move. Part of the game, I guess.
---
Hey John,
I notice you were doing the Jackie Robinson "SportsCenter" special, and I ask you, who was the first black player in the NHL?
Leo Scaglione Jr.
Staten Island, N.Y.
Willie O'Ree broke the color barrier in the NHL with the Boston Bruins in 1958.
---
John,
I read your comments about Joe Thornton with great interest and I can't say that I agree with them. I don't know how many Sharks games you get to watch, but I'm not sure that I would want him going to the net despite his big body. The one aspect of his game that I think is lacking is his goal-scoring, shooting ability. I think there have already been a couple of instances where he's missed the open net from in close. I think I'd much rather have Milan Michalek going to the net because of his ability to score goals by redirecting shots from there.
Thornton is an absolute beast at controlling the puck along the boards, almost always coming out of there with the puck. After watching the Sharks all season, I think his strength is his ability to set other people up, not actually scoring. Crosby, on the other hand, is a goal scorer, so I think it is somewhat unfair to compare goals scored by the two, as I think Crosby wins that one hands down. I think the reason for so much criticism of Thornton is because instead of watching and marveling at what he does so well, people expect more out of him, i.e. scoring goals, than he's capable of.
Jeff Duignan
Jeff, you make a great point. Big players are sometimes miscast. They sometimes look like they are not trying because their stride is longer. Fans think they should be all things to all people. Thornton is not a great shooter, or he doesn't have confidence to shoot at his true potential. I've compared him before to Adam Oates.
You were incorrect to say Crosby is a goal scorer. He is a goal scorer because he is a very good shooter and will get better as he gains strength. But Crosby's vision is what makes him Crosby. What also makes Crosby is his love of confrontation and seeing the play one step ahead of everyone else. Crosby operates well on every inch of the ice.
Thornton, by nature, is not a confrontational person. He has had some suspensions in the past, when he couldn't control himself, and maybe that's why he steers clear of the front-of-the-net face washings. I've always loved Thornton as a player and a person. I just believe he can play a little harder, a little edgier and a little more in the middle of the ice. I also think he could do a better job of transforming himself for the task at hand. For instance, as he curls to the center of the ice from the top of the circle, he should start to think like a goal scorer. He should practice that move and practice acquiring that mind-set.
In the end, he knows himself better than anyone else and has played a lot of hockey games. He probably knows how he operates best. And he undeniably makes those around him better, which is the best quality any player can have.
---
John,
Can I get your pick for the Cup winner this year? You and all the rest of your crew at ESPN picked the winners for the first round of the playoffs. My question is, do you have a pick as to who will hoist Lord Stanley's Cup or is it still [too] early for a prediction? Go Sabres! One team, one goal!
Thanks,
Chad Lynch
It is so wide open and it's all about matchups. That's why we go one round at a time. I'll say if it is your Sabres, I can see Drury letting Teppo Numminen (1,314 games, no Cup) be the first to raise and take the Cup around the rink.
---
Bucci,
Here's a shot of my son Holden, taken in 2005, with the holiest of grails. The photo was taken at my alma mater, Orchard Lake Saint Mary's, in Orchard Lake. Incidentally, the OLSM Eaglets are the 2007 Michigan High School Athletic Association Division I Hockey Champions. The best part of the photo opportunity was the presence of Red Wings great Johnny Wilson, who was very approachable and a class act. With any luck, I'll be able to get an updated photo once the Wings bring the Cup back home to Hockeytown.
Go Wings!
Chuck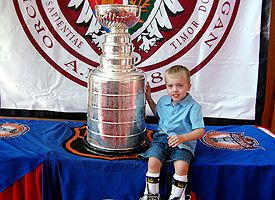 John Buccigross' e-mail address -- for questions, comments or cross-checks -- is john.buccigross@espn.com.