In U2's hit song "Vertigo," Bono wails: "A feeling is so much stronger than a thought."
In Rolling Stone's recent 40th anniversary issue, director Martin Scorsese told writer Peter Travers: "We've been eaten away by the comforts of the consumer products. You become just pummeled with information, and you become deadened. You're not going to feel for anything, and that means you're not going to want to do anything."
Blink 182 begins their final studio CD with the words:
"(Get ready for action!)
I got no regret right now (I'm feeling this)
The air is so cold and low (I'm feeling this)"
For hockey fans, players and coaches, it's the time of the season for feeling. Feeling experiences, impressions, spirit and physical sensations that only desperation can bring. Feelings are powerful. Feelings cause action. If you don't feel, you don't move.
What makes the Stanley Cup playoffs so intoxicating is that as each day the calendar turns, it becomes more about feeling, will, commitment, visualization and sheer determination. Every sport is amped up a notch in the playoffs. But with hockey, you have to go through so many obstacles, most of the time, the man who cares the most will win.
In other sports, the "object" is mostly in the air. Hockey is a ground battle of hand-to-hand combat. There is very little "air" to the game. Thus, it's a time for grinders; for those with high thresholds for pain; for those who understand that the most satisfying times in life are accompanied by great sacrifice and selflessness, for those who understand some of the most unsatisfying times in life are spent watching "Entourage" after realizing there really is no need to watch "Entourage" anymore.
(The expiration date for "Entourage" has arrived. There is no need to refer to it, quote it, or wonder about it anymore. It was a good run, but it lost in the conference semifinals of television life. Boys, shake hands, head back to Queens and enjoy a summer of John Maine spotting fastballs on the outside corner. Better yet, watch the Stanley Cup playoffs and learn about humanity, sacrifice, pain, community and effort. Learn about life.)
Actually, maybe that's the problem -- trying to watch "Entourage" right after watching Game 3 of the Ducks-Canucks series. The "feelings" are so contrary, they can't possibly mesh. Ari was always the dangling thread to the "Entourage" sweater -- the only reason to watch, like Anze Kopitar on the Kings. But even Ari can't save this exhibition game anymore.
Johnny Drama had a half-season run -- a Fernando Pisani -- and is now a predicable caricature of his over-the-top expressions and actions. Kind of like Sean Avery before he came to New York and became a man of substance. New York will do that to a person.
Maybe that's the answer to save "Entourage." Move the show to Queens. Have the boys get their keesters kicked by the old neighborhood, and have Avery and Brendan Shanahan make a guest appearance. Have the cast discover what they've become: an uninspiring, banal organism with no "feeling."
We've said it before and we'll say it again: the Stanley Cup playoffs are the most exciting reality show on television. Its entourage of characters is what people will be talking about 20 years from now, not someone named "Turtle."
Watch the games. Feel the games. Feel life. Pass the beer nuts.
Feelings, whoa, whoa, whoa, feelings. Here are some observations and expectations from the Elite Eight:
As I write this, the Sabres are 6-2 in the postseason. Despite the record, everything appears to be slightly lower than their regular-season peak. If they can find that rhythm, they will blow away the Eastern Conference competition and anyone in the West. I truly believe the Sabres are the best team in these playoffs in terms of what they've shown as their best since October.
Again, they're 6-2 without playing at their peak. What is also interesting is Buffalo lacks a definite, go-to, future Hall of Fame superstar. I think they are the only team in these playoffs that does not have a future Hall of Famer on their roster. Every other team has at least one: Jaromir Jagr, Martin Brodeur, Dany Heatley (500-goal scorer), Nicklas Lidstrom, Joe Thornton, Chris Pronger, Scott Niedermayer, Roberto Luongo.
Is this why the Sabres are often referred to as "deep"? Watching this team makes you realize no team has more players with good hands than the Sabres. You have to be tough to play hockey, but if you can take a hit and have good hands, you are an impact player.
San Jose has all the ability to win the Stanley Cup. I just wish the Sharks' key players had more of coach Ron Wilson's smirk and their crowd's roar. I wish they were a bit more confrontational and played with a little more feeling. Controlled rage not only helps win one-on-one battles, but it also narrows focus. That's why Tiger Woods doesn't blow leads. He is good, but his fire gives him better concentration. Talent + concentration = champion.
I still believe Patrick Marleau or Thornton have to take a lead during this postseason for the Sharks to prevail. They have to talk smack on and off the ice and really lead. Mark Messier was not Mark Messier when he began his professional hockey career. He was friendly, thoughtful and strong, but he wasn't handing out leadership awards. No one has more feelings than Messier. He turned that feeling into fire and that fire into a captain. Messier cries watching "Anchorman." He does this because he is filled with feelings. He can't stop them, he can only hope to contain them. The Sharks need some of this to finish the job.
Game 2 of the Devils-Senators series was one of the best games of the postseason. The world now needs to know the Devils are not a boring team to watch. They have to score goals to win. They can't rely on their defense, which is less reliable, and thus, more exciting to watch. Offensively, the Devils are very talented. Scott Gomez has been flying all postseason, Patrik Elias looked unbelievably fast in Game 2, and Brian Gionta and Zach Parise are exciting to watch just when they skate. The Devils have to play with a little more risk since they lack overall team speed.
I picked New Jersey to win. I always root for my predictions to help my sagging self-esteem, but the Senators' speed at home is going to be tough for the Devils to handle. New Jersey has a chance because they have good offensive players who can beat Ray Emery. If the Devils fail to sell out another playoff game, they should immediately move to Winnipeg during this postseason. If this team can't get a sellout, then maybe New Jersey doesn't deserve a team. There is plenty to enjoy here.
What happened to the Red Wings? Empty seats? Quiet games? Well, we know what happened. The glorious decade of success and sex appeal is over. Gone forever. Steve Yzerman, Joey Kocur, Darren McCarty, Bob Probert, Shanahan, Sergei Fedorov, Brett Hull, Vladimir Konstantinov, and so on. The Red Wings were great and appealing in the 1990s. It was the greatest era in Wings hockey history. Sure, four Cups in six seasons over the 1950s is great; but let's be honest, there were six teams in the league. Once you got a few good players, you were going to contend for a long time. The NHL was small and simple.
The Wings' latest run has been an international success. A caldron of smarts, diversity and personality. They've had a tough act to follow and are doing pretty well. But while they are still a threat, they aren't as interesting.
I picture only four teams winning the Stanley Cup and the Senators are one of them. They are fast, experienced and tough. By now, you know I don't love their goaltending and I doubt they can overcome it. But the Sens have the team speed to skate with anyone. They have a sturdy defense and a dangerous power play. They played well against Buffalo during the regular season because they can skate with the Sabres. I've gained more respect for this team with each game I see them play.
From its goaltending to its defensive corps, this team might be the best. For those of you who read this space every week, you know I've been concerned about Anaheim's scoring against good teams and how it can be neutralized. Because the Ducks don't have a guy who can carry them offensively and because they have players who look like they will never score, Anaheim's margin for error is small.
The Ducks had two great matchups in the first two rounds, playing low-scoring teams like Minnesota and Vancouver, but that will end soon. They are so good defensively, they could still win it all, but I don't have a good feeling watching their games. I wish Ryan Getzlaf, Corey Perry and Dustin Penner played with more fire. I always tell my sons to "turn your eyes on" when he's playing or working out. That's what Yzerman, Messier and Cam Neely did, and that's what Chris Drury, Daniel Cleary, Heatley, Gomez and Jonathan Cheechoo do now. They turn on their eyes and compete.
I have always enjoyed watching the Canucks since the Center Ice package was invented. I like their fans, their players and their city. Canucks home games are always a great watch, but the team lacks the panache of the past. The pre-Steve Moore heyday of the big Todd Bertuzzi-Markus Naslund-Brendan Morrison line was a sight to behold, as was Marc Crawford's hair. I still long to hit an 8-iron off that head of hair.
Luongo is now the star, probably too much so, and Vancouver coach Alain Vigneault looks like Dan Aykroyd in "Dragnet." Not that there's anything wrong with that. They will probably run out of gas. I must say, the throwback uniforms are simply beautiful. The white T-shirts I saw in the crowd Sunday night -- the ones with the throwback logo and blue trim -- are the greatest T-shirts in the world.
Someone in Vancouver: Please send one to me at ESPN. I will wear it every day this summer.
I went to Game 3 of the Rangers-Thrashers series at Madison Square Garden. I always sit in the crowd. No press box for me.
While waiting in line for a beverage, there was a young blonde woman wearing a Thrashers jersey in the next line over. A few seconds later, a young man in a Rangers jersey took his place in line behind her, and after about 10 seconds says, "You're the hottest girl I've seen all day and you're wearing a Thrashers jersey!?"
Ahh, welcome to New York.
Some either love or hate New York. I grew up in small towns in the Mid-Atlantic and Midwest and I love New York City. I love the passion, aura, pulse and "feeling" one gets while sitting in a sold-out Madison Square Garden.
The Rangers are probably not good enough to win the Stanley Cup. But the fire provided by their fans was intoxicating to experience. It has lifted this flawed team with the amazing goaltender to within reach of the NHL's final four. The Rangers' problem is they are playing a faster, deeper team (not by much); fans on the other end of New York State are feeling and hoping and praying for something they have yet to experience.
Their eyes are wide open, and whatever feeling they can pass on to their Sabres, they will. This is a time of feeling and desperation. If a team is good, if it has that feeling and desperation, it is an entourage that will be tough to conquer. Never bet against a team, or a city, which has its eyes turned on.
Bucci,
Your admiration for Chris Drury is well documented. I'm sure you are aware of the lengthy April 16 Sport Illustrated article chronicling his winning ways. The only qualms I have with it is how the author, S.L. Price, characterizes Connecticut as "hardly top-flight hockey territory." I disagree. Correct me if I'm wrong, but there are more U.S.-born NHL captains from Connecticut than any other state (Drury, who is identified in the article as a Sabres co-captain, is from Trumbull and the Washington Capitals captain Chris Clark, who hails from your hometown of South Windsor). Furthermore, Mr. Price must have forgotten the Connecticut connection of Jeremy Roenick (Glastonbury), Brian Leetch (Avon), and a solid player from the late nineties, Craig Janney (Enfield). OK, Connecticut may not produce as many NHLers as Massachusetts or Minnesota, but it ain't too shabby, either.
Keep up the good work,
Will
A relocated Nutmegger in Baltimore
I agree. The SI article was an excellent piece from S.L. Price, a superb writer who I can only hope to approach one day. But I had that same reaction when I read that line. There are more Connecticut-born captains in the NHL right now than Minnesota and Massachusetts combined. Connecticut has an extensive youth hockey program throughout the state, including at the elite level. It has Junior programs, four Division I NCAA programs and two AHL teams. As a writer, I am more than aware of writing lines I wish I could change or get a mulligan. Price's miscue is a very minor one and doesn't even begin to take away from a fantastic profile. But when I read "hardly top-flight hockey territory," I think New Mexico or United Arab Emirates.
---
Hey John,
If Ottawa has never won the Stanley Cup, why did they hoist 10 banners when they returned to NHL a few years ago?
Remember the facts,
Scott R. Fisher
People -- and I got a couple of e-mails on this -- connecting the Ottawa Senators of 1926-27 to the Ottawa Senators of today is like connecting Calvin Coolidge to a gallon of windshield wiper fluid. If you are a Senators fan, you cannot claim any championships when you are talking hockey trash to Maple Leafs fans or to Alanis Morissette. You have none. The original Ottawa Senators existed from 1893 through 1934. The team lasted one more season as the St. Louis Eagles before folding. They returned in 1992. That's 57 years. Sorry, the same name does not mean the organizations are related. I'll give the Cleveland Browns an OK since they were only suspended for three years.
---
Bucci,
I am really tired of the whole "home team wears dark" thing. It just isn't right. I love seeing my home team in white and hope it changes back to the way it should be soon. Have you heard anything about this changing?
Jeremy
Dallas
As I reported here earlier in the season, I was told the NHL plans to return to home whites as part of the introduction of the new Reebok uniforms next season. The uniforms will be similar to those worn at this season's All-Star Game in Dallas. Also, the third jersey will be done away with, at least temporarily. Speaking of the All-Star Game, the 2008 event in Atlanta will be moved from Jan. 16 to Sunday, Jan. 27. That's my birthday, along with Keith Olbermann, Lewis Carroll, Billy "White Shoes" Johnson, Lil' Jon and Patrice Brisebois. It's the Sunday between the NFL's conference championship games and the Super Bowl. I suspect the game will move from Versus to NBC.
---
John,
Thanks for correcting your reader (whether he knew it or not) who asked about the proper Sabres "jersey." It seems that more and more people, including hockey players, have forgotten this eternal truth: hockey players wear "sweaters" not jerseys. I am proud that my 2-year-old California native daughter understands this and properly refers to her game attire as a sweater.
Best,
David Beach
I've got to tell you, David, I believe it is now acceptable to say jersey when referring to hockey uniforms. I've heard too many NHL players call them "jerseys" to begin with. And let's face it, Bill Cosby wears sweaters, Ryan Getzlaf wears a jersey. But I'm a sentimental fart, so if you want to say sweater, I'm fine with that.
---
Bucci,
What kind of dollars and deal do you think it'll take to wrest Scott Gomez away from the Devils? I'd love to see him in a Blue Jackets sweater next season. Do you think they could pull that off?
Tim
Westerville, Ohio
I'm a big Scott Gomez fan. He is only 27. He is very durable. His game totals over his seven-year NHL career: 82, 76, 76, 80, 80, 82, 72. His playoff performance is improving. He doesn't score goals like the ones Daniel Briere or Chris Drury score, but he is in their neighborhood. He would make any team better. I'm sure the Rangers, Islanders, Thrashers, Blues, Penguins, Capitals, Maple Leafs, Flyers, Canucks, Blue Jackets, Oilers, Coyotes and Kings are all interested.
Gomez is a valuable signing for young teams like Pittsburgh, Philadelphia and Washington because he is in his prime and will at least approach the signing value, even if it's a seven-year deal (which he will likely get). I'm sure Gomez and his agent will use the Pavel Datsyuk deal as a model. If Datsyuk is better than Gomez, it's not by a whole lot, so I think $35 million over seven years is the likely starting point for Gomez, and he could probably get around $5.5 million a season. He can pick where he wants to go for about that amount, like if he wants to play in the West.
---
John,
Something I noticed during the Sabres/Islanders series in Round 1: Do you think Aaron Asham chose his No. 45 as a tribute to Cornershop's '90s hit, "Brimful of Asha(m)"?
Thanks, and GO SABRES!
Anthony J. Notaro
Amherst, N.Y.
Ahhhhhh, sure. OK.
---
Bucci,
I noticed you made reference to home-brewed beer in your latest mailbag. As an avid home-brewer and Sabres fan, kudos for bringing attention to this little known and highly awesome hobby. If the Sabres win the Cup, my friends and I plan on brewing a commemorative beer. Not sure what kind yet. I'll send some along. If the Sabres don't reach the ultimate goal, we'll probably still brew some beer. Won't taste as good though.
Cheers to hockey and homebrew,
Kyle
Williamsville, N.Y.
Daniel Brew-air
Chris Brewery
Ryan … Miller
Brew Stafford
---
John,
Attached are two pics from the 'Stan. The first is the hockey rink the Canadians built in Kandahar. The second is a tribute to the fallen Canadian soldiers at the Kandahar airfield. The world and the U.S. population seem to focus on America and whatever views they have on our foreign policy, but this should give a glimpse into the sacrifices our brothers and sisters in the North have also endured. May God bless all who have served and will serve.
SGT Jason Shade
10th Mountain Division Band
Ft. Drum, N.Y.
As I do with anything hockey, especially during the postseason, I get emotional when I think of the sacrifice, selflessness and courage of a soldier. Put them together, and good God, I'm a mess! Like Dick Vermeil watching "Ole Yeller." Be well. We wish you health, happiness and good luck.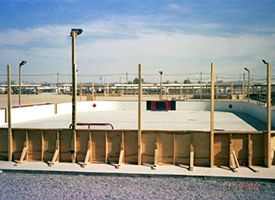 John Buccigross' e-mail address -- for questions, comments or cross-checks -- is john.buccigross@espn.com.