Hollywood Ending
Hollywood Ending
Just like the rest of the Cup finals, the Ducks were just too much. Anaheim ousted Ottawa in five games with Wednesday's 6-2 win to give the franchise its first sip from Lord Stanley.
Burnside
|

Mark J. Terrill/AP Photo
Must Read
The Ducks brought home their first Cup in team history and our experts were live from Anaheim with all of the postgame reaction.
• Watch

: Giguere | Selanne | Nieds
• Analysis

: Levy/Melrose | Hradek

Ottawa gave Sidney Crosby and the Pens an early playoff exit. So, what can Sid the Kid and his team learn from this series? Here's Scott Burnside's list. Story
• Pens ousted in five | The Crosby File

ESPN.com NHL Content Archive
ESPNEWS HEADLINES
ANA/OTT Expert Picks

Buccigross

Burnside

Cohn

Hradek

Melrose
OTT in 6
OTT in 6
ANA in 7
ANA in 7
ANA in 6
Complete Picks
ANA/OTT Injury Report
Sheldon Souray - D - May 29
The signing of Andrei Markov may limit the Canadiens' ability to also sign Souray this offseason.
Ryan Kesler - C - May 24
The Canucks have announced the re-signing of Kesler to a three-year deal, reports the team's official site. Terms of the deal ...
Chris Neil - RW - May 7
Neil (undisclosed injury) did not particpate in Monday morning's practice; however, he is expected to play in the Conference ...
Alex Burrows - RW - Apr 24
Burrows played just eight minutes in a 4-1 series-clinching win on Monday night.
NHL Injury Report
2007 Playoff Leaders
GOALS
ASSISTS
PTS
Daniel
Alfredsson
G: 14

Dany
Heatley
A: 15

Daniel
Alfredsson
Pts: 22

Complete Leaders
GAA
SAVE %
WINS
Dany
Sabourin
GAA: 0.00

Jocelyn
Thibault
SV: 1.000

Ray
Emery
W: 13

Complete Leaders
NHL PodCenter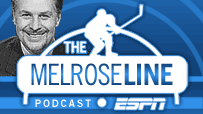 Barry Melrose, the infamous Mullet Man, discusses all of hockey's hottest topics twice a week on The Melrose Line. You can't see the mullet, but you'll feel it!
Here are the latest podcasts:
6/6:
Bye from Anaheim

6/3:
Right call on Pronger
5/29:
Sens in trouble
5/27:
The finals ... finally
NHL Blogs

E.J. HRADEK
Finals thoughts and a fond farewell
Updated: 5/13/11