I am a freak at ESPN.
Walking the hallways and climbing the stairwells of the worldwide leader in sports, I am viewed as a hockey-centric televangelist; a cheerleader with pompoms made of hockey hair. There are some people who pass me and say, "Hey, the hockey guy!"
You would think this tag would please me.
Shot of the Week
You know how it works. We present an NHL photo, and Bucci provides a caption. E-mail him your suggestions (include your name and town/state), and we will use the best ones and provide a new photo the next week.
LAST WEEK: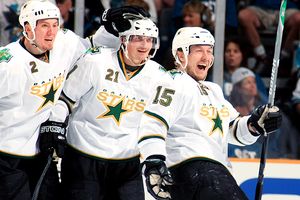 Dancing with the Stars. (Getty Image)
Your captions:

"I give it three stars."
-- Marty (Pittsburgh)
"Look guys! Mark Cuban's getting his butt kicked by the Hanson Brothers!"
-- Bryan Walbridge (Royersford, Pa.)
"I told you they'd play 'Free Bird!'"
-- Terry Walsh (Plano, Texas)
Night at the Roxbury … Dallas style!
-- Andy Kremer (Evansville, Ind.)
THIS WEEK: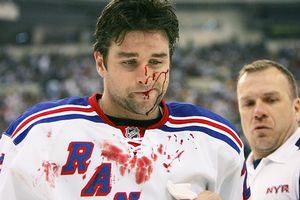 New hockey sweater: $300
Stitches to seal wound: $100
Towel to clean up blood: $20
Having the best head of hair in hockey: Priceless
(Getty)
I've often talked about how it doesn't matter to me if four, or 4 million, people watch a hockey game on TV. That rating doesn't change my view of the sport one way or the other, and the intimacy of the sport is a positive and fosters a stronger emotional bond with the players. But this extra attention at work bothers me. To me, it says our sport is still viewed by many in America as a circus; a sideshow that is only paid attention to in a mass-media way after someone gets injured. No one looks at Karl Ravech and says, "Hey, the baseball guy!"
You see, I have always viewed hockey as a part of the American sports family. As a child, I hummed the music of NFL Films in my head while playing football next to my house and dreaming of being an NFL running back. I shot my Nerf basketball in the house with the CBS basketball theme in my head ("You'll see the best of basketball on CBS"), and played whiffleball every day the weather permitted. And, yes, I played street hockey in the summer, skated in the winter and used the legs of chairs for makeshift hockey nets while Peter Puck was on the black-and-white television. It all just blended together as a series of sporting planets in one athletic universe. There was nothing strange or odd about hockey to me. It was cool and different but the same; as different as country music and heavy metal.
And that continues to this day. I love the anticipation of a big NFL game on Sunday afternoons, Sunday nights or Monday nights. Kevin Garnett, Chris Paul and LeBron James are so exciting and interesting to watch, I find more joy watching how they interact with people than actually playing basketball. I was like that with Larry Bird. Baseball is the game that requires complete mental awareness. Every moment of the game is dominated by thought. The player who thinks most clearly, concisely and quickly is the player who is a joy to watch. That's why I enjoy watching Nicklas Lidstrom and Sergei Zubov so much. Those two play hockey like baseball players. Their minds' fingers are always on the awareness buttons. They are always on the lookout.
This is why I've also grown tired of the "Hockey players are the best guys" cliché. It's as if hockey players are a cliché. But the players really are different! Some are real jerks! This isn't "Leave It To Beaver."
Back to the "Hockey players are the best guys" thing. I have worked at ESPN for close to 12 years, and I can tell you this: Jalen Rose is as nice and pleasant as Darren Pang. John Kruk is as fun to golf with as Ray Ferraro. I filmed one of those "This is SportsCenter" commercials with Vikings running back Adrian Peterson last week. While waiting for some other part of the commercial to be done with the Vikings mascot, Peterson and I sat in an office and talked alone for about a half hour. It reminded me of hanging out with Dany Heatley at the 2002 YoungStars game in Los Angeles. Both were humble, grounded and completely in love with their jobs.
Yes, hockey players are human and no different from other professional athletes. Uncensored hockey history would show that (depending on the topic we were talking about) some players cheat on their wives, have children out of wedlock, get in bar fights, smoke crack, drive while intoxicated, run through an AHL city naked, overpay Ted Saskin, and jump into the stands and fight fans, along with other crimes and misdemeanors. They are the same as other athletes in that regard.
But I think the cliché lives because of hockey's otherworld status among most in the mass media.
All these thoughts that have been in my mind for a while were awoken by what I heard Dallas Stars coach Dave Tippett say after Brenden Morrow's quadruple-overtime game/series winner over San Jose on Sunday night. Tippett said: "That was as fitting as anything I've every seen in sports, that Brenden Morrow got the game winner."
I love that quote. Tippett is thinking big. He is including hockey in the fabric of American sports. He is not thinking small or thinking like a hockey elitist. Tippett is telling people that our game is part of the landscape. Its uniqueness should be part of the sameness. Of course, every game is different. Of course, people are different. But kindness and decency are not a monopoly of the hockey culture. It is everywhere. It's in Tim Kurkjian and Rick Carlisle and Emmitt Smith and Barry Melrose.
Our game is not a freak show. It's part of the purple mountain majesty of sporting passion. It has the passion and physicality of football, the speed and agility of basketball, and the mental faucet drip of baseball.
I am not the hockey guy. I am the American sports fan guy. And hockey has a table in the room. We are separate and unique, but we are equal despite being in the television ratings minority. We have a history and purpose that is undeniable from any reasonable person's common sense department.
It's time to let us come in and play.
(Check out Bucci's conference finals previews and predictions here.)
Mother of All Mailbags
John,
My group of friends try to take an annual hockey trip to drivable NHL cities. This year, we went to Detroit on Valentine's Day weekend. My wife is the best! My friend Chris bought a foam finger for his collection. It was immediately dubbed the One Finger Death Poke!
Jeff Kilpatrick
Dayton, Ohio
That, my friend, is the best thing I've heard all day. But buy five of those foam fingers and you got yourself a Five Finger Death Punch. On tour with Disturbed this summer!
---
Hey Bucci,
How much do players and staff get paid during the playoffs? I assume it's the same amount for each player, but do they get paid based on how many games they play, or is it just a flat amount for whichever round they're in?
Rajiv
Washington, D.C.
Players do not get paid during the playoffs. Their paychecks begin when the season starts and end at season's end. Once a player's team is eliminated, he receives a playoff-share check. Naturally, the check gets bigger the longer you remain in the playoffs. The biggest checks go to the Stanley Cup champs.
---
Bucci,
A friend of mine mentioned he would like to see some new, refreshed logos for teams in the NHL. For instance, the Detroit winged wheel is viewed from the side and he suggested a view of the logo from the front, with the wings spread out. I thought it would be OK for an alternate jersey, but some logos should just be left alone. If there was one team logo you could change in the NHL, whose would it be and what would you change it to?
Brian
Wings fan in Illinois
The Columbus Blue Jackets. Before Columbus entered the NHL, I interviewed for the Columbus Blue Jackets' TV play-by-play job. Among the procedures was meeting with Doug MacLean, who was emperor of the Blue Jackets from 1998 to 2007. MacLean showed me the Jackets-uniform-to-be, and I remember thinking, "Boy, that won't televise well. I don't like it." Of course, I said "Awesome!" to MacLean. I would make Columbus' uniform a simple white "C" with perhaps a thin, red border to go against the dark uniforms. For the whites, it could be blue or red -- whatever looks better.
Hi Bucci,
I wanted to send along condolences to everyone who knew and will miss the late Blue Jackets minority owner, John McConnell. The man meant the world to the hockey community in Columbus. When the city was on the ropes of getting a franchise in 1997, he wrote a personal check for $80 million. He wanted this team, not for himself, but for the Columbus community. He never purchased the team to make money. He had a personal connection with the team and the fans. Whenever Mr. McConnell was in attendance at the game, fans stood and applauded. It was a very unique and special relationship between owner and fans.
There are stories around about his generosity and humility, written by men much smarter and more eloquent than myself. I can say that he will be missed. For Mr. Mac, we will continue to "Carry the Flag."
Brandon M.
---
Bucci
I am Pens fan from Ballarat in Australia and was just wondering what the record is for most wins to start the playoffs. I am well aware that me simply asking this question will result in the Pens losing Game 4 at the Garden on Thursday, but, hey, I was just curious.
Ryan McKenzie
It did! The 1985 Oilers began the playoffs with a 9-0 record.
---
John,
No offense to any women out there …
Ryan
Let's just stop there, Ryan.
---
John,
I read "Jonesy" in one sitting on a cross-country flight. Very nice job by everyone involved. I love the Anson Carter story.
Mike
East Granby, Conn.
Books going fast! Get your copy of "Jonesy" today! Great playoff stories for you Flyers, Capitals and Avalanche fans!
Hockey fact: Of the top 50 scorers of all time, three played in fewer than 1,000 games -- 1. Mario Lemieux; 2. Peter Stastny; 3. Mike Bossy.
---
John,
Maybe if you look at Jaromir Jagr's stats, you may think that his No. 68 should be retired in Pittsburgh. But as a Penguins fan for many years and a resident of Pittsburgh, I believe there is no way that his number will ever be retired in Pittsburgh. If you ever go to a Penguins game or watch it on TV when the Pens play against Jagr, you can hear the fans booing him every time he touches the puck. Do you remember what he said about Pittsburgh? "I feel like I'm dying alive. I don't feel comfortable here right now." And then he demanded to be traded out of Pittsburgh. He left Pittsburgh on bad terms and he will never be welcomed back, let alone have his number is retired in Pittsburgh.
Jeff Brace
Pittsburgh
It is true that when Jaromir Jagr is done playing, he will be remembered by teammates, trainers and coaching staff members. But he will not be loved. I'd love to see Jagr sign a one-year deal for smaller money next season and leave Pittsburgh on a good note.
John,
I appreciate both sides of the argument on Jagr's number being retired in Pittsburgh, but I'd like to make a point that I haven't read or heard spoken yet. True, the going was golden in the beginning. Cups and points and winning and excitement -- sounds like the front side of any passionate relationship. But things turned sour on the back half, and it ended up as a split of bitterness. While I can't possibly know what Jagr was going through in those years, I do know what I saw: Jagr becoming a bad apple. He refused to take shifts, left his heart at home and demoralized the team he was supposed to lead as their captain. Lost his edge maybe? Seeing the way he is still capable of playing now makes it all the more bitter. Maybe Caps fans can relate.
So … does the good outweigh the bad? How does the order of Jagr's flip-flop affect the Pens' decision? If you went through a nasty divorce, would you put your ex on a pedestal because she was your everything in the beginning?
Glenn Fasnacht
Chicago
The most important word in the English language is love. The second most important word is sacrifice. The third most important word is forgiveness. And the fourth most important is mozzarella.
Bucci,
What do you think the chances are of Jagr or Brendan Shanahan coming back to the Rangers?
Dan
Bethlehem, Pa.
I think Shanahan will retire. I believe this is a good time for him to begin what will probably be a very successful rest of his life.
Jagr was the Rangers' best forward in the playoffs. I don't know why they wouldn't want him back unless they are uncomfortable with Jagr's demands in terms of years and salary. Jagr will turn 37 during the 2008-09 season. He probably would like a three-year deal. The Rangers would prefer one or two at a reasonable salary, so they could go after a big-time defenseman and winger. I imagine the Rangers have interest in two Penguins -- Marian Hossa and Ryan Malone.
---
John,
I decided to look up the legendary Swede Hakan Loob on Wikipedia. It is embarrassing that there is not the level of information given to, say, the universe or the second world war. I believe this needs to change, and seeing how you have a medium to rally support for this cause, I am e-mailing you in the hope that this situation is addressed immediately.
Luis Perez
Agreed, Luis. Hakan Loob is the Winston Churchill of Sweden, the Susanna Hoffs of The Bangles and the Boston cream pie donut in the Dunkin' Donuts box.
---
John-bo,
Two years ago, I hated home colors. I thought that home whites were the way to go, but now I realize that home colors allows for a team to express their primary colors so much better. It gives character to the team. Pittsburgh looks silly in their white jerseys, and in the HD, the white blends in with the ice. That's the biggest problem with the whites. You can't tell where the player's chest ends and the ice begins.
Edwards S.
Pittsburgh
I LOVE the Penguins' home white uniforms. Pure and simple, every time.
---
John,
I know you've talked about it before, but it's worth mentioning again. If the NHL expands, there are millions of hockey fans in Southern Ontario hoping to get a franchise to support. As someone who in the past year has been to games in Ottawa, Buffalo and Columbus, I would like nothing more than my own team to support.
Gary
Ajax, Ontario
I agree Southern Ontario probably could support another team, but I'm hearing Kansas City and Las Vegas will be in line ahead of it to get the next expansion team.
---
John,
If Evgeni Malkin does not re-sign with the Pens, where do you see him going?
Chris S.
Westbury, N.Y.
The Penguins will sign Malkin to an extension this summer.
---
John,
Keep up the good work, John Buccigross, from John Buccigrossi.
John M. Buccigrossi
Fort Belvoir, Va.
Sometime in the 1800s, someone in my family dropped the terminal "i" from our name. Some swinger probably said, "There's no 'I' in team, but there are two in Buccigrossi!"
---
John,
I don't know if you are aware of this movie.
It was premiered at the St. Paul International Film Festival this past week and will be released on DVD in November. "Pond Hockey" examines the changing culture of sports through insightful interviews with hockey stars, experts, journalists and local rink rats who are all searching the open ice for the true meaning of sport.
For generations, Minnesotans have grown up on outdoor ice. But there are new climate-controlled arenas in every town, and that's where the kids go to practice year-round now.
From the movie's director:
"In 'Pond Hockey,' director Tommy Haines and his Minnesota crew chronicle the changing culture of hockey, interwoven with the story of the first ever U.S. Pond Hockey Championships, a tournament created to recapture the purity and youthful spirit native to the pond."
Regards,
Tony Vassallo
Not only am I aware of it but my backyard rink is quickly featured in the film. Tommy Haines and his crew were great, and the film is really cool.
---
Bucci,
Sergei Zubov, most underrated player of my lifetime. Agree or disagree?
Stedman
Lafayette, La.
Agree. He is a Hall of Famer in my book.
---
John,
Thought I'd share with you a picture of me and my wife's first child as he gets fired up for the Pens/Rangers playoff series. He's only a month old, but he already is a die-hard Pens fan, just like Daddy.
Greg
Pittsburgh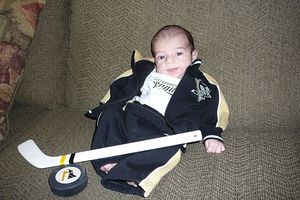 "All the, small things
True care, truth brings."
---
Last week, I asked you to send in suggestions for my buddy Jud, here at ESPN, who recently purchased a top-of-the-line car stereo for his blue Honda Accord. The question was simple: What song should be the first song he plays on his new stereo. Hundreds of songs poured in. Here are some of your suggestions:
"City of Blinding Lights" -- U2
"The Promise" -- When in Rome
"Privilege" -- Incubus
"I Ain't Goin' Out Like That" -- Cypress Hill
"Fade to Black" -- Metallica
"Flagpole Sitta" -- Harvey Danger
"Just put in 'KISS Alive 1' and let it go"
"Keep Me" -- The Black Keys
"Sick of Myself" -- Matthew Sweet
"Kashmir" -- Led Zeppelin
"Turn Up the Radio" -- Autograph
"Paranoid Android" -- Radiohead
"Radar Love" -- Golden Earring
"Just like Heaven" The Cure
"Lose Yourself" -- Eminem
"Song Two" -- Blur
"2112 Overture" -- Rush
"Gideon" -- My Morning Jacket
"Head On" -- Pixies
"Jesus Built My Hotrod" -- Ministry
"Me and Mia" -- Ted Leo/Pharmacists
John Buccigross is an anchorman for "SportsCenter" and ESPNEWS. For questions, comments or crosschecks, e-mail him at john.buccigross@espn.com. To check out his new book, "Jonesy: Put Your Head Down & Skate," click here.