I wish Penn State's football coach was named Joe Faterno. That way, his nickname wouldn't be JOPA, it would be JOFA. And when I think JOFA, I think Loob.
Those three sentences were necessary for this column: "When I think of ___, I think of ___."
Just hair-trigger thoughts when I see an NHL team's name. It's one of the things one does while waiting for the Stanley Cup finals. Please don't grade me. This has the value of the dead raccoon that's been on the curb of my street since Friday. It's just a Jolly Rancher, not hard journalism.
Shot of the Week
You know how it works. We present an NHL photo, and Bucci provides a caption. E-mail him your suggestions (include your name and town/state), and we will use the best ones and provide a new photo the next week.
LAST WEEK: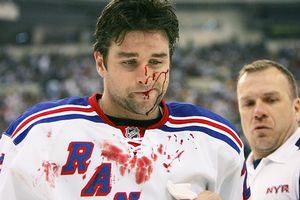 New hockey sweater: $300
Stitches to seal wound: $100
Towel to clean up blood: $20
Having the best head of hair in hockey: Priceless. (Getty)
Your captions:

And the No. 1 reason why the NHL playoffs are better than the NBA playoffs: Blood, no foul.
-- Patrick T. Cavanagh
"That's the last time I ask Shjon Podein to pass the ketchup."
-- Steve Sobotka (Philadelphia)
"Yeah, Kerry Fraser went postal on me, but getting my hands on his secret hair gel recipe was SO worth it!"
-- Scott Zimmerman (Montrose, Pa.)
"And then I ate Jarkko Ruutu's liver with some fava beans and a nice Chianti. Ftpthtpthpthp … "
-- David Feiertag

THIS WEEK: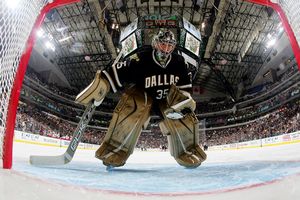 Marty Turco's last resort: A bowl of baked beans, a box of Raisin Bran and let nature take its course. (Getty)
Anaheim Ducks: Scott Niedermayer's beard, Paul Kariya's fogged-up visor after the Scott Stevens hit, Emilio Estevez, Jean-Sebastien Giguere's goalie equipment in 2003 and an arena as clean as your aunt's bathroom.
Atlanta Thrashers: Powder-blue uniforms, good arena, Ilya Kovalchuk's one-timers, Chicken Parm's 400th goal, Dan Snyder.
Boston Bruins: Milan Lucic, a timeless logo, No. 4, Bob Wilson, Fred Cusick, Derek Sanderson, dormant fan base ready to burst and goalie Tim Thomas skating off the ice after a shootout loss. Bonus: No one skates faster at that moment.
Buffalo Sabres: Chris Drury, Daniel Briere, fans, bad management. Rick Jeanneret ("La-La-La-La-LaFontaine!" "May Day!"), Dominik Hasek, The French Connection line, The Aud.
Calgary Flames: Jarome Iginla, Miikka Kiprusoff's beard, the kid who dresses up as Kiprusoff and mimics him during warm-ups, The Red Mile in 2004, His Loobness, Gary Roberts, 1989.
Carolina Hurricanes: The 2002 playoff crowd, Ron Francis, Eric Staal, cheerleaders' navel jewelry, Jim Rutherford.
Chicago Blackhawks: Nothing about the recent past, Al Secord, Tony Esposito's mask, the Panger, Chicago Stadium, hope, resurgence, P-Kane, J-Toews, Rocky Wirtz.
Colorado Avalanche: Ray Bourque, Peter Forsberg, Joe Sakic, Patrick Roy, Hockey God, 2001 Stanley Cup, Shjon Podein in uniform for 24 hours.
Columbus Blue Jackets: Good arena, Rick Nash, promising fan base, Doug MacLean, Brittanie Cecil, Hitch, Steak and Shake, Average Joe's.
Dallas Stars: No. 9, Reunion Arena, Pantera, ice girls, Strangis and Reaugh, Brett Hull, $2 billion.
Detroit Red Wings: Stevie Y's overtime goal over Jon Casey's shoulder, all the 2002 legends skating with the Cup, the logo, Gordie, octopus, Ken Holland, Avs rivalry, "freakin' hand," Probert vs. Domi, Mike Ilitch.
Edmonton Oilers: Revolutionary, Wayne, singing the anthem, Messier, Ryan Smyth, good ice, Glen Sather, Bill Ranford in 1990.
Florida Panthers: The palm trees outside the arena, rats, Bill Lindsay going around Ray Bourque, the 2003 All-Star Game shootout, Roberto Luongo trade and Scott Mellanby.
Los Angeles Kings: Wayne, mullets, miracles, Luc Robitaille, Bob Miller, Jim Fox's hair, Game 7 in Maple Leaf Gardens, stick measurements and Zakk Wylde's "Guitar Hero"-like national anthem.
Minnesota Wild: No empty seats, Marian Gaborik in the open ice, Andrew Brunette's goal in Colorado, Jacques Lemaire, great arena, the heart and home of U.S. hockey.
Montreal Canadiens: Guy Lafleur, No. 9, the Roy trade, Ken Dryden, No. 4, The Rocket's eyes, Jacques Plante, the spring of '93, too many Bruins on the ice and then not enough Bruins on the ice in overtime.
Nashville Predators: Third jersey, country music, Vince Gill, loud arena, trying to survive and waiting for its signature player.
New Jersey Devils: Scott Stevens, Martin Brodeur, Lou Lamoriello, Niedermayer, Exit 16W, Mickey Mouse, John MacLean's goal, Jason Arnott in Dallas, the trap.
New York Islanders: Four Cups, Mike Bossy, 50 in 50, Bob Nystrom in overtime, Ray Ferraro in the 1993 playoffs, Billy Smith's stick, fish sticks, Mike Milbury.
New York Rangers: Mess, Mike Richter on Pavel Bure, No. 2, The Garden, No. 99's goodbye, the next title, Milbury with a shoe in his hand, Domi vs. Probert.
Ottawa Senators: Heatley-Spezza-Alfredsson, Alexandre Daigle, white gloves, singing the anthem, Leafs-Senators playoff games.
Philadelphia Flyers: Bobby Clarke, Bernie Parent, the Broad Street Bullies, Eric Lindros, Jonesy, Ron Hextall vs. Chris Chelios, Gene Hart, Lauren Hart, the Spectrum, Mike Richards' destiny.
Phoenix Coyotes: Warren Zevon, Keith Tkachuk, debt, whiteout, Wayne, Glendale, global warming.
Pittsburgh Penguins: No. 66, Jaromir Jagr's hair, Mike Lange, Civic Arena, Sid, Geno, five OTs, outdoor game, bankruptcy, hope.
San Jose Sharks: Teal, 1990s, the missing ingredient, Patrick Marleau, Joe Thornton, Evgeni Nabokov, Owen Nolan pointing.
St. Louis Blues: Scotty Bowman, blue note, Dan Kelly, Wayne, Mike Keenan, Al MacInnis' slap shot, Chaser, Twister, Brian Sutter.
Tampa Bay Lightning: Phil Esposito, 1999 All-Star Game, Vincent Lecavalier, Martin St. Louis, Brad Richards, Game 7, Hulk Hogan, Stamkos, the next coach.
Toronto Maple Leafs: Darryl Sittler, Mike Palmateer, Mats, Doug Gilmour, Maple Leaf Gardens, Leafs-Canadiens on "Hockey Night in Canada," bureaucracy, Brian Burke, Wendel Clark.
Vancouver Canucks: The giant "V," Bure, Trevor Linden, crowd singing national anthem, Todd Bertuzzi, Markus Naslund, Marc Crawford, Roger Nielsen, Pat Quinn.
Washington Capitals: Alexander Ovechkin, Olaf Kolzig, Dale Hunter, Kono, Landover, Ted Leonsis, the future.
Mother of All Mailbags
John,
Watching the Detroit-Dallas game last night, I couldn't help but notice all the empty seats after the first half of the third period. How the @#$% can Detroit still be called Hockeytown when the fans would rather beat traffic than sit through the last period of a playoff win? The last five minutes of the game were beyond annoying, watching all the fans leave, making sure to wave their hands in front of the camera as they left. That would never happen at a Wild game.
Jon
Maybe the Red Wings should have a cast of standby people like award shows do. At award shows, when an actor(s) leave early or don't show up, they shuffle in people during the commercial breaks so there are no televised empty seats.
Hey Bucci,
I saw your first interview with Don Cherry on SportsCenter today. I get to see him a lot, living near Canada and getting CBC on my cable, and it's awesome that ESPN brought him on for a little. I'm sure I'm not the only one commenting to you about how Cherry was talking about how Wings fans can't even fill up the Joe in supposed Hockeytown. Yeah, I know that Detroit has one of the richest hockey histories in the NHL and the nickname was well deserved, but it's pathetic that they don't sell out, and it makes hockey look bad in general. Try Pittsburgh, Buffalo, Minneapolis or Philly for better hockey towns. Even in Dallas, the fans sell out and they stand for almost the whole game.
Andy
North Tonawanda, N.Y.
Cherry cited a lack of "rock 'em, sock 'em" players like Joe Kocur and Bob Probert. Cherry also mentioned that the Tigers, Pistons and Lions are selling out, so he doesn't buy the economy argument.
John,
To hear media personalities admonish fans is repugnant. Mike Ilitch will not lower ticket prices. I've been a hockey fan all my life, played the game, I love it. I CANNOT afford to go with all my other responsibilities. If I were to go by myself, I'm looking at $100, easily. That does not include gas. People are not disinterested, it's hard out here, OK?!
Also, tell these idiots that European players are not going away. I cannot wait for Nicklas Lidstrom to accept the Cup … I'll never, never, never, never understand the resistance to non-North American players by those in and around the NHL. Hockey fans here have no problem with Swedes. Lidstrom was the leader of the St. Patrick's Day parade. There is no problem with Russians, people still love Vladimir Konstantinov, who is a fixture at The Joe. He was just recently Santa Claus in a Christmas parade. There is no problem with Czechs -- the show of emotion and support to Jiri Fischer was overwhelming.
If the Wings do win the Cup this year, you can bank on another epic celebration parade. Just like the one in Hart Plaza not too long ago -- one million people. That's bigger than anything the Lions, Pistons, Tigers or Wolverines have ever had.
Derek Budd
The lower bowl seats at Joe Louis Arena have been very expensive for some time now. One would think there are enough high-income people to fill those seats. But with the Pistons making playoff runs and the Tigers becoming chic again, and the economy in Michigan suffering greatly, it probably comes down to time and money. There is only so much of each.
Most big cities also have a good number of people who actually live in that city. They can walk or take a subway or cab to the game. That hardly happens in Detroit. Folks have to get in their cars, buy $4-a-gallon worth of gas, park, eat, blah, blah, blah. After all is said and done, two tickets, gas, parking and dinner at one Red Wings playoff game is like a month of dues at a country club or two plane tickets to anywhere in the country.
I think it might have something to do with the players on the team. The 2002 Red Wings were a team of legends led by an icon (Steve Yzerman) that made your jaw drop. No team can compare to that.
Here are some stats cited by Shawn Windsor in the Detroit Free Press:
"--On Thursday, Joe Louis was nearly full by the end of the first period. A free T-shirt promotion had created long lines at the entrances and the crowd arrived unusually late. Yes, there were empty seats, but nothing like the recent past.
--Playoff ticket sales are up by about 1,000 per game compared with last year.
--Last year, Detroit's Fox Sports Network averaged a 3.6 rating during Wings games in the regular season, the lowest in the history of the station. This year, the number jumped 34 percent to 4.7.
--The Wings had 269 unsold tickets for Game 1 against Dallas.
--A $22 regular-season ticket (an upper-bowl seat in the highest rows) cost $63 in the first round of the playoffs last year. This year, that same playoff ticket cost $36 for season-ticket holders and $40 at the gate. Season-ticket holders also were not required to buy an entire playoff package up front."
---
John,
Two words: Widespread Panic. Get to know them, as they are from Athens and the best rock band on tour right now, bar none. If one can handle it. Trust me, please.
Brian Senkowski
---
Mr. Buccigross,
A headline on CNN.com used the word "ginormous" … seriously.
I thought you would want to know.
Jay
Buffalo
I will now punch Wolf Blitzer.
---
John,
I can just see you, Peter Gammons and Merril Hoge sitting around ESPN HQ having this back-and-forth:
"Hey, what's up, Hockey Guy?"
"He's not your Hockey Guy, Baseball Buddy!"
"He's not your Baseball Buddy, Football Friend!"
"I'm not your Football Friend, Hockey Guy!"
Val
Baltimore
Erin Andrews is my college basketball buddy, college football buddy and "Sunday Night Bowling For Ten" buddy.
---
John,
All the talk about Jaromir Jagr and "Would the Penguins retire his number?" got me thinking -- why isn't Ron Francis' No. 10 retired in Pittsburgh? Also, it seems like you either have to play all your games as a Penguin or be Wayne Gretzky to get your number retired in Pittsburgh.
Joe
Bensalem, Pa.
Francis played only seven full seasons in Pittsburgh, and one was a lockout year. Two Cups do go a long way. My initial instinct is no. But when anything is close in any sports issue like Hall of Fame inductions and retired numbers, I tend to lean on the side of charity. I mean, when an asteroid the size of Rhode Island slams into Earth, will it all really matter?
---
Bucci,
What has Podes been up to lately? It has been a long time since we heard anything.
SD
Balad, Iraq
For you, SD, and your brothers and sisters in Iraq? Done. Take it away, Shjon Podein. Give us your update:
"Updates, updates. Well let's start with the infant scoop.
Anna is 5½ and may not break a sweat more than a handful of times in her life. She definitely has a John Winger (Stripes) view on life. She is Daddy's princess.
Junior, 20 months. If I was a betting man, I would have him 20 years from now coming out of UM-D with the same Underwater Liquid Soap Carving degree that Daddy got in '90. This kid is all-boy and smart like a dump truck.
Busy with family and still consulting with The Octagon Agency out of Minneapolis.
I enjoy doing the consulting gig. Would like to do it more, but not quite in the cards with the kids so young. It has been one of the best experiences I have had in getting to know the individuals on the business/agent side of [things].
I would love to tell the beauty stories I have seen and heard from this side of the business, but you have only so much space and I only got a half a flat from the beer store tonight.
For those of you who don't know what a flat is, call someone you know who lives north of the 48th parallel.
I don't skate anymore. Only with my daughter to hit the outdoor rink and spend more time throwing snowballs than actually wheeling around. I hope life is great in Bristol, John. I would like to throw a HUGE thank-you out to SD and the rest of the men and women putting themselves on the front line everyday overseas.
I consider myself a very blessed man, but without SD and the rest of our troops, I wouldn't be able to give my kids everything they have. The most important is their freedom.
Peace be to Gary Louris, Jeff Tweedy, Dave Pirner, Brian Leighton, Paul Westerberg and playoff hockey.
Peace,
Podes"
---
Mr. Buccigross,
What's going on? My name is Anthony Morales and I'm a 12-year vet of the Navy out here in San Diego! Not to keep you long, but these hockey playoffs have produced some really entertaining games (4 OTs in Dallas was great!), but do you think ESPN will ever decide to bring hockey back on its schedule? Hopefully this e-mail finds you well, and the Keith Jones book is awesome!
OS2(SW) Anthony Morales
LCS CLASSRON
Operations Dept.
NBC and Versus will be your places for the NHL next season.
Good to get a couple of e-mails from servicemen this week. Always touched and a bit emotional when I receive those. "Jonesy" is doing well, but want it to do great! Buy yours today! Only two to three weeks' worth of plugs for the hockey book everyone is talking about! Hello? Anybody else talking about "Jonesy" here?
Hockey fact: The most goals in a single postseason in Detroit Red Wings history: Johan Franzen with 12 goals in 12 games this postseason. Sergei Fedorov had 10 goals in 22 games in 1998.
---
Hey John,
I hope you're having as much fun as I am watching these playoffs. So, my wife and I are pregnant with our first child. We're very excited! I know you are good with names, so how about a suggestion for a boy and a girl? Leafs fan, married to a girl from New Jersey, living in Hawaii, working as a golf pro. Is that enough material?
Jason Bangild
Director of Golf
Nanea Golf Club, Hawaii
Benjamin David Bangild
Eliza Maple Bangild
Hockey fact: The most goals in a single postseason in NHL history was by Jari Kurri in 1985 with 19 goals in 18 games.
---
Hi John,
My name's John Adams, and I'm from Niagara Falls, N.Y., and a die-hard Buffalo Sabres fan. As I watched all the games this year, I noticed that the team had a lot of things that they needed to work on, and I just wanted to know what an expert thought they needed to fix.
John Adams
So, John Adams, I'm in New Haven, Conn., last week having dinner with my girl in a Mexican place near the campus of Yale. It was 70 degrees. A perfect May day. There were maybe two or three people in the place. It was the day after Cinco de Mayo. As we ate our chips and salsa, in walks … David McCullough! Yes! The author of "John Adams." I introduced myself and we talked about the HBO series. McCullough, 74, is a Yale grad and was friends with former Yale president and MLB commissioner, Bart Giamatti. Giamatti died in 1989 at age 51. One of his three children is Paul, who played John Adams in the HBO series. This made McCullough very pleased. He said the final hour of the series was so emotional, he likely could never watch it again.
---
Hey John,
I read "Jonesy," and it was great. But before you go, will you give us some more hockey reading suggestions for what will be a long summer? Have you read "Saved" by Jack Falla? I know you liked his book "Home Ice."
Andrew
Quincy, Mass.
I have read "Saved," and it makes for a GREAT beach book. A really funny, poignant book by Falla. Falla could write directions to the nearest CVS and it would be worthy of publication. Other than that, I would buy 48 copies of "Jonesy."
Hockey fact: The Penguins are the eighth team in NHL history to start the postseason 10-1, but the first to do so since the 1995 Red Wings. Five of the previous seven teams have gone on to win the Stanley Cup.
---
Hey Bucci,
I can't believe how classless Caps GM George McPhee's comment was, saying, "Olie has been great for the Washington Capitals, and the Capitals were great for Olie." When you're talking about someone who's done that much for your organization, it's quite rude to mention how much you've done for them. And it goes without saying that McPhee's comment isn't true; it's not exactly clear the Caps did very much for Kolzig. They finally bring in some talent around him, and at the same time, push him out. [Cristobal] Huet is certainly the right goalie for the Caps at this point, but McPhee's comment is just ludicrous and insulting. I hope Caps owner Ted Leonsis expresses regret for the fact that Kolzig did much more for Leonsis and the Caps than they were ever able to do for Kolzig.
Brad
Atlanta
Some stats on Kolzig: The 2000 Vezina Trophy winner has spent his entire 17-year NHL career with Washington and helped lead the team to the Stanley Cup finals in 1998. He posted a 301-293-63 record (23 overtime losses) along with 35 shutouts and a 2.70 goals-against average.
---
Bucci,
I was curious about all of the hoopla over goaltender interference. As far as I recall, the rule was changed after Brett Hull's infamous OT goal against the Sabres and the rule now allows one to be slightly in the crease as long as there isn't contact with the goaltender. It seems like all of the announcers lately have been under a different impression that a player can't even touch the crease until the puck is in it. Being an avid Red Wings fan, I get a little tired of the complaining about Tomas Holmstrom. As long as he doesn't contact the goalie, which he normally doesn't until the puck is in the crease, isn't he just playing the game at the extent of the rules?
Nathanial C. Drenckhahn
In my view, Holmstrom has crossed the line for standing in front of the goaltender. He is in the blue paint, preventing the goalie from making a "goalie move."
---
John,
My wife and I adopted an 8-month-old girl in China last September. Having been raised in Madison, Wis., and having had a father who worked as a scout for Badger Bob, hockey was, and still is, a big part of my (our) life. We are lucky enough here in Denver to have both excellent college and professional hockey. As you can see in the photo, our daughter Madison is very keen at identifying future first-ballot Hall of Famers. Enjoy the balance of the playoffs, have a great summer and on Wisconsin!
Kurt V. Beyer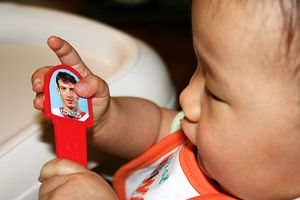 Baby made in China. Hall of Famer made in Burnaby.
John Buccigross is an anchorman for "SportsCenter" and ESPNEWS. For questions, comments or crosschecks, e-mail him at john.buccigross@espn.com. To check out his new book, "Jonesy: Put Your Head Down & Skate," click here.