The march of the Penguins has run into a wood chipper.
It would be more appropriate to call the Red Wings the Red Army. Expressionless, machinelike, almost joyless, Detroit is marching through the Stanley Cup finals the way the Soviet Union marched through the early portion of the 1980 Winter Olympics.
Coach Mike Babcock has at times borrowed Viktor Tikhonov's personality as well. If the Penguins are somehow able to win these finals, dubbing it "Miracle on Ice 2" would not be hyperbole. I don't think the Penguins are done by any means, the mountain is ginor- … BANG! OUCH! … gigantic. (Thanks for that. I deserved it.)
So, Detroit leads the series 2-0, which will give Wednesday's Game 3 in Pittsburgh a Game 7-type atmosphere. We all know the Penguins have to win Games 3 and 4 to have a chance. The Penguins improved in Game 2 and should play even better in Game 3. The Penguins are 8-0 at Mellon Arena in the postseason and have a 16-game home winning streak dating back to Feb. 24.
With that expected improvement and incredible atmosphere, I've decided to hit the road and take in Game 3 in person. Of course, I will sit among the people to let the passion, love and desperation wash over me like a cold shower after 18 holes at Oakmont Country Club. I will write about the experience in this space as well.
Until then, some observations on the first two games of the Stanley Cup finals:
• If it's a short series, Chris Osgood should win the Conn Smythe Trophy. Even if the Wings win in five, Osgood will have a 14-3 postseason record with at least two shutouts in the finals. If it ends up going six or seven games, Henrik Zetterberg is back in the mix if he is scoring.
• The Penguins have to be disappointed in Evgeni Malkin. In his past six playoff games, he has one goal, one assist and is minus-6. And you wonder why I always go with Sidney Crosby when the "Who is better, Malkin or Crosby?" argument comes up. I wrote the following in my last column before the playoffs began:
"I'm a little concerned at how Malkin will react -- during last season's playoff series against Ottawa, he had no goals in five games. He is a year older and the Penguins won't be playing against a Stanley Cup finalist in the first round this season, but I do think it is something worth monitoring."
• Wings defenseman Brian Rafalski is playing some of the best hockey of his career. What a good player he is.
• It's kind of interesting, but Brad Stuart would be a great fit in Pittsburgh next season. He made $3.5 million this season, and it will be difficult for the Red Wings to keep him. The Wings have Zetterberg and Johan Franzen for a combined $4 million next season before they both can become unrestricted free agents in the summer of 2009.
• Kris Draper is playing like the Kris Draper of 2002. That shouldn't be overlooked.
• The Penguins have done a good job on Pavel Datsyuk. He has no points.
• The Penguins need to play another mobile defenseman in Game 3.
• I've been a big Babcock fan for a long time, and regular readers know I have been pushing him to be Canada's 2010 Olympics coach for some time in this column.
See you in Pittsburgh.
Mother of All Mailbags
John,
I'm a dedicated Tampa Bay Lightning fan. I have been since they came into the league when I was 10 years old. We had a miserable season, but hopes are high with Steven Stamkos as our projected pick.
I read that some scouts are saying if John Tavares was in the draft this year, they would still pick Stamkos first overall. Tavares had a mediocre season last year, and they think Stamkos is the complete package, both on and off the ice. I think that there is no way I would pass up the chance to take Tavares if we could. Your thoughts?
Rob Nugent
Cleveland
I believe Stamkos will be a much better NHL player than Tavares. Stamkos isn't the Lightning's projected pick next month. He is THE pick. Now, the Lightning have to go out and get a winger to play with him. They don't have one right now.
As far as the rest of your team, I wrote this back in February:
"1. Trading Brad Richards was the first step. This is a dangerous thing to do when trying to win Stanley Cups. Richards is a big-game player averaging better than a point per game in his playoff career."
Update: Richards had 15 points in 18 playoff games for Dallas. The Lightning got very little in return for Richards if Mike Smith does not turn out to be a Level 2 goalie. Jussi Jokinen might be a shootout specialist (2-for-4 last season), but he is a zero-impact player. He makes $1.8 million next season and is then a restricted free agent. Jeff Halpern is 32, and even if he hadn't torn his ACL, his career would've had little tread left as he goes against younger players. The one positive is his $2 million salary, which is very manageable. Tampa Bay also received a fourth-round pick in the deal. The deal is open-ended, however. We have to wait and see what free agent the Lightning can sign with the Richards salary relief. Maybe they can bring in Wade Redden or Ryan Malone or Brooks Orpik.
"2. Extend Vincent Lecavalier's contract by 10 years. He needs to be marketed and cultivated as "Mr. Lightning," short term as a player and long term as a civic institution."
Update: The Lightning should announce a big Vinny extension after July 1. Lecavalier is in the final year of his contract.
"3. A coaching change. Let's face it, this will happen. The producer always wants to pick a director to help bring out his vision."
Update: If the sale of the Lightning goes through this week or next, and it should, one would think a coaching change will happen soon after. Tampa and John Tortorella both need a fresh start. The NHL has been doing its due diligence on the sale with the prospective owners.
"4. GM Jay Feaster may survive. How he managed the cap could be questioned by some, but one would think the new owners want someone who knows the organization's assets and infrastructure as intimately as Feaster does."
Update: However, with a bare cupboard of prospects, one should expect a change at the top via promotion and fresh organization faces. The Lightning also have a bloated organization in terms of marketing jobs and the like, and it will be heavily streamlined.
---
John,
First, I gotta say you're one of my favorite sports columnists. Religiously reading your column has greatly increased my understanding of the subtleties of a sport I love to watch but never got to play. (I grew up in the South-Central U.S. in the '70s; not a lot of hockey in Oklahoma in those days.) You are also gonna name my kids and possibly any otters I come across.
John Rhodes
Denton, Texas
In the end, I'm a tool for the otter population.
---
John,
Love the mailbag, but I wanted to address something that was posted in your May 21 column. 1st Lt. Eileen C. Donovan says that she would like to hear more people singing the national anthem. I understand her viewpoint, but some of us prefer to be quiet during the anthem as a sign of respect. Every time I hear the national anthem, I quietly think about those who have served in honor of their country, like my father who was in the Navy, and quite a few of my friends who are currently overseas. So, hopefully, 1st Lt. Donovan knows that some of us are being quiet out of respect and isn't upset with those of us who might not sing.
James Lucas
Denver
John,
I agree with you Bucci, "O Canada" is a much better melody than "The Star-Spangled Banner" (which allegedly was written on my birthday). At Blackhawks games, I sing "O Canada" because I can't hear myself during "The Star-Spangled Banner" if I tried. If Lt. Donovan really wants to hear "The Thunder" during our national anthem, she should come check out a game at the United Center here in Chicago.
Brad Lash
Chicago
Greetings, Mr. Buccigross,
First, when you're right, you're right. For better or worse, "O Canada" is indeed just a better song. It's also a lot easier to sing, not having those gut-wrenching high notes. Best of all, the opening line has the same metric makeup as your name. Have you considered having your own personal anthem?
Brian
Seattle
"O CAN-A-DA, JOHN-BUCC-I-GROSS. O CAN-A-DA, JOHN-BUCC-I-GROSS."
I like it.
---
Bucci,
Just finished reading "Jonesy." Nothing but interesting/funny/great stories. I was a big fan of his when he was playing for the Flyers, kind of like a mini-local hero (despite not being from the area).
I have my own Jonesy story I wanted to share with you. My friend and I left a little early from a Flyers preseason game a few years ago. (They were losing or winning, I honestly can't remember.) Through the parking lot, a Lexus came up on us quickly and had to brake hard to avoid us jaywalking. While I walked by the car to give the driver a dirty look, I recognized him. I said to my friend, "Hey, that was Keith Jones driving!" He, in his limited hockey knowledge, responded with "Who's Keith Jones?"
I guess he can't be everyone's mini-hero. But now, every time we see him doing his broadcast, my friend recognizes him as the guy who almost hit us with his Lexus.
Bert
Philadelphia
Only two more weeks of shameless "Jonesy" plugs. Get your two copies today!
Hockey fact: The Penguins have 13 first-round draft picks on their roster, including five players selected in the top five in five consecutive seasons: Ryan Whitney (fifth overall in 2002), Marc-Andre Fleury (first overall in 2003), Malkin (second overall in 2004), Crosby (first overall in 2005) and Jordan Staal (second overall in 2006).
---
Hey John,
Don't you think it's about time Sidney got his own SportsCenter commercial? How cool would it be to see him carrying the Cup around Bristol with the other anchors following him, wanting their turn to kiss it?
Ryan
I'm sure he has been asked. So much is asked of Crosby that I'm sure the Penguins pick their spots. People forget that Crosby has so much off-ice responsibility that someone like Malkin does not. Alexander Ovechkin is another player who is always giving interviews. That has to count for something.
---
Bucci,
We Blue Jackets fans need the kind of help only you can provide. It has just been made known by CBJ management that, for at least another year, Nationwide Arena patrons will have to endure Bush's "Machinehead" as the team's signature song to be played when the players take the ice. This is insufferable! We need your help, suggesting a way to campaign for a change and a few suggestions on what should be played to fire up the fans when Rick Nash and the boys hit the ice. Local beat writer Aaron Portzline from the Columbus Dispatch (we're blessed to have him, by the way) has suggested finding a punk band to cut some up-tempo covers of Civil War-era standards. I love this idea but feel we need to go to management with more eggs in our basket. Please pardon my imposition, but this seems like something right up your alley.
Jeff Kennedy
Worthington, Ohio
I'm answering this e-mail for two reasons. I've actually received multiple e-mails on this issue.
Aaron Portzline is God.
Aaron is right-on here. I assume Aaron has the Dropkick Murphy's version of "Tessie" in mind. I know some Red Sox fans have grown tired of that song, but I still enjoy it. I could see a number of artists being considered for such a cover song, especially for the Blue Jackets. I would have two versions: one by Toby Keith and one by Jimmy Eat World.
---
John,
When I think of the Hartford Whalers, I think of "Brass Bonanza!" How could anyone leave that off the list?
Danielle Bonsignore
Rochester, N.Y.
As WFAN's Mike Francesa would say, "That's not a good point. That's a great point." And as WFAN's Chris Russo would add, "Not terrible!"
---
John,
My son Logan just turned 1 year old this month. Attached is a photo of him all decked out in his Penguins gear, ready for a long Stanley Cup playoffs run. Let's go Pens!
Jason Heptner
Windber, Pa.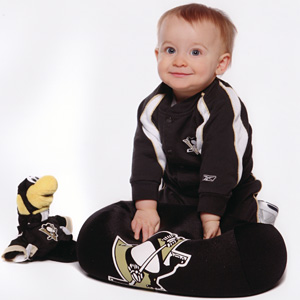 A wing and a prayer.
John Buccigross is an anchorman for "SportsCenter" and ESPNEWS. For questions, comments or crosschecks, e-mail him at john.buccigross@espn.com. To check out his new book, "Jonesy: Put Your Head Down & Skate," click here.