We're rolling on with my NHL season preview and here's teams 10-6 in the Western Conference. Check out Nos. 15-11 here and Nos. 5-1 here.

10. Dallas Stars
Now and then it keeps you running
It never seems to die
The trail's spent with fear
Not enough living on the outside
Never seem to get far enough
Staying in between the lines
Hold on to what you can
Waiting for the end

-- "Windfall" by Son Volt
For the second straight year, I've buried the Dallas Stars. Please forgive me, but I have a difficult time getting excited about a team when Mike Ribeiro is your leading scorer. That's my problem. That's my bad.
Mike Modano (23 games) and Brendan Morrow (42) missed a combined 65 games last season, which means Dallas has either a lot of underrated players or two overrated ones. How this offensively challenged, injury-depleted roster managed 107 points is something else. Of course, Dallas did it with defense. The Stars were one of four teams, all in the West, that did not allow more than 200 goals. All four of those teams made the playoffs (Stars, Wild, Sharks and Red Wings); an underrated defense led the Stars to the postseason. Good two-way play, a good goalie who had three shutouts against the Canucks and the Stars lost their first-round playoff series.
The Stars were 11-2 in their first 13 games and 12-4 in their last 16. That's 23-6 in 29 games, which puts them 27-26 in the other 53. So, Dallas was average more than they were good. Injuries certainly contributed to that, so perhaps their mix of youth, veterans, coaching and goaltending will be enough to get their 90-100 points and a playoff spot. I'm just a little uncomfortable with the age of some of the Stars' key players and the improvement other teams have made in the West.
It's strange because I like everything about Dallas. Modano's skating, the television announcers, Sergei Zubov's IQ, Jere Lehtinen's princely stature and Marty Turco's unique personality. There is so much to like, I don't know what my problem is.
Does Ribeiro's playoff act (when he was with the Canadiens) against the Boston Bruins in the 2004 playoffs really turn my stomach that much? Maybe it's just the ESPN cafeteria tacos.

9. Nashville Predators
Working hard to get my fill,
Everybody wants a thrill
Payin anything to roll the dice,
Just one more time
Some will win, some will lose
Some were born to sing the blues
Oh, the movie never ends
It goes on and on and on and on

-- "Don't Stop Believin'" by Journey
All summer long, the Predators franchise hung on the ledge of the Grand Ole Opry by the gigantic teeth that spew out of their implausible logo. They always knew those iron-ore fangs would come in handy. (Cue Austin Powers' voice: "OK. I get it. I have bad teeth.")
Jim Balsillie is now 0-2 in his quest to bring an NHL franchise to Ontario. Both the Penguins and Predators would have been gone had the conditions for relocation been met. But, for now, the Predators survive. They are not out of the Kansas City woods yet. If a team that has been as exciting and successful as the Predators have been was this close to relocating, something is wrong. That's off-the-ice stuff we can't control. That is controlled by millionaires, banks and NHL commissioner Gary Bettman. Bettman wanted the Hartford Whalers to move and he didn't want the Penguins and Predators to move. So, for now, they stay.
On the ice, the Predators have some issues. Peter Forsberg, Paul Kariya, Scott Hartnell, and Tomas Vokoun are all gone. Not only will they be missed as individuals, but their departures also change the team's overall depth. Injuries now will be a steeper price to pay than in the past. Pressure will be on players who haven't felt it before. Kariya gave them a presence and a dynamic offensive player. He led Nashville in scoring last season.
Forsberg wasn't a major contributor, but was basically a point-per-game guy in his short stay. Hartnell is a grinding, hard-to-play-against player, but wayyyyy overpaid by the Flyers. He is somewhat easily replaced in terms of production, but again, he did have 10 power-play goals last season and his absence does affect the Predators' depth. Vokoun has been a real horse for the Preds. In 2003-04, he played in 73 games. Now, many believe Chris Mason can step in and simply double the numbers he produced as a backup. Ask Roman Turek how easy that is. Plus, will Nashville's new backup, whether it's Dan Ellis or Pekka Rinne, be as good as Mason?
Jason Arnott told The (Nashville) City Paper: "Last year, we had so much talent, it was just expected that one of the lines was going to dominate or get us the win with goals. It may not happen like that this year. I think we have to buckle down defensively. Last year, we weren't all that strong defensively late in games. If we crack down on that and win games 2-1, I'll take it."
With less scoring depth, the Predators will be an easier team to defend. Add Steve Sullivan's back injury, and getting enough goals could be an issue early in the season. Preds fans will look to Alexander Radulov to perhaps get into that 30-goal area. That would ease the transition.
There are a lot of questions for the Predators, but what is certain is the team will play hard and be defensively sound. That has been their hallmark of making the playoffs the last three NHL seasons. They will need players to step up to heights they haven't reached to keep that streak alive. Steve Perry believes in you, Nashville.

8. Chicago Blackhawks
You came to take us
All things go, all things go
To recreate us
All things grow, all things grow
We had our mindset
All things know, all things know
You had to find it
All things go, all things go ...
I made a lot of mistakes
I made a lot of mistakes
I made a lot of mistakes
I made a lot of mistakes

-- "Chicago" by Sufjan Stevens
The word "lush" is one of the finest in the English language. It is one of the more descriptive and pliable words we have. It's the name of an English band; it describes wine with too much sugar; a person, usually a college student, who drinks too much; and anything rich, opulent and smooth. It is also a way to describe music, and Sufjan Stevens' song "Chicago" is the lushest entry in my CD player right now. It's the kind of song that gives me that anticipatory feeling as I walk to my car to drive to and from work, the same feeling you get during those 30 seconds when you are tying your skates as fast as you can because you can't wait to step on the ice. It is lush and it is good. Kanye West, The Flaming Lips and ELO also have given us lush music. Bobby Orr's skating was lush. Eva Mendes has lush hair.
Lyrically, as you see above, "Chicago" is in part analogous to the Blackhawks' recent history, and, hopefully for their dormant fan base, part of their near future. They've made a lot of mistakes, they need to change their mind-set; but eventually, usually, all things grow. And, in Chi-town, they could be sowing the seeds of love very soon.
We recently learned of the death of Hawks owner Bill Wirtz. We offer condolences to his family and wonder what this means for the franchise over the long term. Stay tuned. Wirtz is survived by his wife, Alice, five children, Rocky, Gail, Karey, Peter and Alyson, and seven grandchildren. Funeral services are scheduled for Monday in Chicago.
Yes, you are reading this right. I am picking the Chicago Blackhawks to make the playoffs. Their forwards are an interesting mix of young and old and Martin Havlat, who, if healthy, will score 40-50 goals. Sergei Samsonov is going to have a good season as he has a lot to prove. This may be his last, best chance. Jonathan Toews is the real deal as he tries to come back from a broken right index finger. It's hard imagining Toews not winning the Calder Trophy as NHL rookie of the year. Last season, the Hawks had a league-low 43 power-play goals. That will improve.
The gamble here is the defense and the coaching staff. The defense is young but talented, and it has a Stanley Cup-winning goalie behind it in Nikolai Khabibulin. Duncan Keith averaged 23:35 in ice time a night last season. Brent Seabrook and Cam Barker also played around 20 minutes each. The development of young players is always very difficult to project. If the defense takes a step back, the progression the Hawks have made could also take a step back. But I am banking on success and hopefully an early-season trade to give the blue line some depth.
The coaching is a very important aspect of this mix. Can Denis Savard take control and make this thing work? The Hawks are the kind of mix where coaching could make all the difference. They went 24-30-7 under Savard in 2006-07. I would not give him a long leash. He needs to show control, solid managing of personnel and good in-game decision-making.
It's a new era in Chicago. Hopefully, it includes televised home games. This is a heart pick more than a head pick, I agree; but I find the Hawks and their future very interesting. Now that I picked them, I will be watching them closely. I'll know after 5-10 games if I made a mistake.

7. Colorado Avalanche
Stop, it's too late
I'm feeling frustrated
I see no sign of fortress
I see no sign of fortress

-- "Fortress" by Pinback
Boy, did this team put the lotion in the basket last season -- 272 goals. No one in the West scored more and only Nashville had as many. The problem was defense -- 251 goals allowed. Can the Avs improve that? That is a major question.
Colorado's overall team speed isn't exactly lightning quick. The Avs make some speed sacrifices in exchange for offensive acumen among aging players. The blue-line corps is nothing to e-mail home about and the goalie situation is still a bit strange with Jose Theodore (and his $5.5-million salary) and Peter Budaj trying to share the net. Theodore still is coming back from knee surgery. If he is not ready, Tyler Weiman would be the backup to Budaj at season's start, which might be the best thing for everyone. But with Theodore playing for a contract, maybe he will find his old form out of desperation and give the Avs two good goalies ... or one good piece of trade bait for an East team.
The Avs will have two high scoring lines. The Joe Sakic-Andrew Brunette-Ryan Smyth line has struggled a bit in the preseason, but should be sound. Brunette will get the puck to Smyth at the right spots and Sakic's all-time release should produce some juicy rebounds. I see a big season for Smyth, who signed a five-year, $31.25-million contract in July. Earlier this month, Joe Sakic said, "We love our team."
Milan Hejduk was better than a point-per-game in the second half last season, and if he continues that kind of production, the Avs will be tough to defend and once again have a potent power play that was 21 percent in 2006-07. Paul Stastny, Wojtek Wolski and Marek Svatos give the Avs plenty of skill to go against the opposing team's Nos. 3, 4 and 5 defensemen all year long.
Jordan Leopold had a lost season last year, playing only 15 games. The Avs have solid performers in Brett Clark, Karlis Skrastins and Scott Hannan on defense. They need Leopold and John-Michael Liles to be dynamic. It's time for Leopold to step up, show some desperation and prove he can be a valuable defenseman. Liles had eight power-play goals. He needs to find his comfort zone with the team, shoot a little more and set himself up in a contract year. He only had 128 shots on goal last season. His goal should be 150.
Any time you are in that No. 7-10 prediction area and attempting to forecast teams' success, all you see are zits. But the Avs have a lot going for them -- they have plenty of offense, great coaching and veteran leadership that should provide the necessary benzoyl peroxide to cover up these flaws and build a fortress around its fan base's heart.

6. Calgary Flames
On the line boys, on the line boys
Drill your holes and stand in line
'til the shift boss comes to tell you
You must drill her out on top

-- "Mining For Gold" by Cowboy Junkies
Richard Corliss writes an engaging column in Time magazine this week about Westerns. With Brad Pitt and noted Michigan football assistant coach Russell Crowe starring in Westerns currently in local theaters, this was once again a good time to construct another installment of the old meeting the new.
Two memorable points were: (1) Westerns are analog. What you see is what you get. This isn't "Fantastic Four" land. This stuff is really happening. Guys are really falling off horses. It reminded me of what I wrote a couple of seasons ago about hockey being more vinyl than CD. If I were a better writer, I would have said hockey is more analog than digital. So, I'll say it now. Hockey is more analog than digital. More "3:10 to Yuma" than "Fantastic Four." That blood is real, and Jessica Alba can't take down Chris Simon no matter how good she looks.
Another point from the article: In this age of iPod, cell phones and e-mails, we are more detached than ever from each other. I have a couple of buddies who are so addicted to their BlackBerries, they are on it while golfing, at dinner and everywhere else in between. The world is going by while they stare at a 2-inch screen, punching out drab sentences for information that usually can wait after golf and dinner.
Westerns also provide confrontation, something the information age is able to shield people from. As we know, one of the underrated allures of hockey is its series of confrontations. Physical, emotional, mental and psychological confrontations, all over the ice over and over again. You have to be able to withstand, perhaps even subconsciously enjoy, confrontations if you want to play hockey, live in the West in the 1890s, or be a police officer. Confrontation seems to be a hobby of new Calgary Flames coach Mike Keenan. The stories of people he's turned off in his coaching tour of duty are endless.
When I heard the news that Keenan was hired by the Flames this summer, I laughed. Out loud. Funniest. Thing. Of. The. Week. I mean, what are the Flames thinking? Well, what Darryl Sutter and his other brothers think about hockey and understand about hockey is that it is a series of confrontations. That it is the Wild West out there, not matter how much the NHL sometimes tries to make it like the "Fantastic Four" as it has the last 15 years or so.
I don't know if Keenan's act will work in Alberta. He's done so much TV the past few years, the aura seems to have left the legend. After watching Iron Microphone on TSN, we saw a preacher's smile behind that legendary veneer of authority and gruff. That seems disingenuous, if true. That being said, Keenan's confrontational skills should be better honed in 2007.
He can scare young players with his new-sheriff-in-town attitude, a long-standing tradition in Canadian hockey and American football. But he won't scare Jarome Iginla. Iginla is good, respected and rich. He can squash Keenan in five minutes if he wants to. Players have the hammer in 2007. So, Keenan will need to watch his step. Now, if Keenan wants to get fired, get out of Dodge and still get paid, he can confront Iginla and then he can move on to the next gig. The Oak Ridge Boys of hockey coach/lounge acts.
Now to the players. It all starts with Iginla, but he is a given. What he needs is some physical and emotional support. He carries so much of this Northwestern weight, he is like an overused horse stuffed with extra luggage heading across the prairie. This will cause early deterioration in his game if the Flames don't watch out. We can talk about the passion until Michael Stipe comes home, but not everyone can carry the weight of the world forever.
Nonconfrontational Alex Tanguay was brought in to help. Last preseason, I projected this from Tanguay: Alex Tanguay, 41-58-99. He will have a career year in power-play numbers (16-25-41).
I was one assist off of Tanguay's actual assists as he finished with 59. Goals? He had 19. One reason why is he had 11 fewer power-play goals than I projected. There is no excuse for Tanguay not to be a double-digit power-play scorer. Five power-play goals is unacceptable.
This is where Mike "3:10 to Lethbridge" Keenan can help with a confrontational preseason pep talk to Mr. Tanguay.
"Alex, you are gutless. You need to get in high-traffic areas and take a beating sometimes and score more power-play goals. You have plenty of quality padding and a Ford F-250 windshield across your face. You are hurting yourself, your teammates and your family name by your soft play. Now, get in there or I will call you out in the media and I will take away your ice time and your future earning power. You make $5.3 million a year and I have no idea why. You almost make as much as Martin St. Louis, who has 10 times your courage and conviction. Is this how you want to be remembered? Because that's how you will be remembered by everyone you've ever played with.
"Some already feel that way about you. It's not too late to change your mind. You are a good person, but that's not enough in the wild frontier. Greatness comes from extreme effort, concentration and repetition. Hockey is not Saturday mornings watching cartoons and eating Apple Jacks. It is taking a punch in the face. Would you do that, Alex? Are you that kind of man? It's in all of us, son. That fire is in all of us. Now, go find it, or I'll find it for you."
There is a new sheriff in town in the wild, wild, Northwest, and he's got fake teeth and a Jeff Kent moustache in tow. Hide the women and children. And watch out Alex Tanguay.
More Mailbag!
Bucci,
Great to see you back at it. Congrats on the double-eagle ace!
Not that I am not expecting a long season in the desert, but I think people are selling the 'Yotes a bit shorter than they should. I've been to the last two home preseason games and watched the second Toronto game on NHL Center Ice online, and this team is going to surprise some people.
They remind me a bit of the D-Backs in that they are very young and have some obvious talent. See, e.g., Mueller, Peter and Hanzal, Martin (who needs to have the quote from "Zoolander": "That Hanzal, he's so hot right now" as the call for his first NHL goal, am I right?). Daniel Carcillo is going to be someone the Penguins will seriously regret giving up on, and how Kevyn Adams was enough to get Radim Vrbata from Chicago is anyone's guess. Does this equal an offense that is more than anemic? Probably not. But, if they develop a system on their power play where they actually put some pucks on net (how the PP is not better with Gretzky as the coach is beyond me), and commit to playing good team defense (this might mean getting rid of Nick Boynton ASAP), they may win a bunch of 2-1 and 3-2 games. I'm not going to delude myself into thinking this team has any chance of making the playoffs this season (unless David Aebischer or Alex Auld is actually the second coming of Martin Brodeur), but I really don't think .500 is out of the question.
Go Desert Dogs!
Jordan Ellel
---
John,
Question: Why doesn't the league encourage skaters to remove their helmets during shootouts?
Best regards,
Eric Fischer
Campbell, Calif.
Because they could trip over a goaltender's diving poke check, get upended going full speed, snap the back of their heads off the back of the ice, and maybe, like, die. I understand your motive, Eric, but it's too dangerous. Having players take off their helmets for shootouts won't sell one more jersey or make one more person watch a game on TV. More people watch football and NASCAR in the U.S. on a weekly basis than any other sport. Both wear complete head protection and one is in a car the entire time.
---
John,
When will your Keith Jones book come out?
Danielle Maust
I got this e-mail just Wednesday from the publisher, so this is the very latest:
"Hi John,
The book is now in and it looks great! I have sent a box of books up to your home -- it should be there tomorrow. As far as seeing it on the store shelves -- that should happen by the weekend, but it is possible that they might not put them out right when they get them. Thanks.
Blake Koen
Middle Atlantic Press"
For those of you who preordered from your computer, the book is on the way. Thanks a lot. For those unaware, the book is titled "Jonesy: Put Your Head Down And Skate; The Improbable NHL career of Keith Jones." Forward by Ray Bourque.
---
John,
Don't know if you're going to be featuring kid pics in your column this season, but here's one for you. Addie was born three days before the lockout began in September 2004. Zach was born at the close of last season as the Flyers were missing (to put it mildly!) the playoffs for the first time in 13 years. It's about time for the whole family to experience a really great season. We can't wait!
Jen
Rochester, N.Y.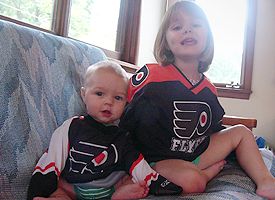 Into the distance, a ribbon of black
Stretched to the point of no turning back
A flight of fancy on a windswept field
Standing alone my senses reeled
A fatal attraction is holding me fast
How can I escape this irresistible grasp?
Can't keep my eyes from the circling skies
Tongue-tied and twisted just an earthbound misfit, I
Ice is forming on the tips of my wings
Unheeded warnings, I thought I thought of everything
No navigator to find my way home
Unladen, empty and turned to stone
A soul in tension that's learning to fly
Condition grounded but determined to try
Can't keep my eyes from the circling skies
Tongue-tied and twisted just an earthbound misfit, I
-- "Learning To Fly" by Pink Floyd
John Buccigross is an Anchorman for SportsCenter and ESPNEWS. For questions, comments or cross-checks, e-mail him at john.buccigross@espn.com. To check out his new book, "Jonesy: Put Your Head Down And Skate", click here.