We're rolling on with my NHL season preview and here's teams 5-1 in the Western Conference. Check out Nos. 15-11 here and Nos. 10-6 here.

5. Minnesota Wild
Will I get better or stay the same
I find I always move to slowly
Can't lift a finger, can't change my mind
I never knew till someone told me that ...
If that's all you will be, you'll be a waste of time
You've dreamed a thousand dreams, none seem to stick in your mind
Two points for honesty

-- "Two Points for Honesty" by Guster
From the time it was announced that they would be granted a franchise, the Minnesota Wild have had a textbook and they have followed it word for word. They have an idealistic view of "team" that they have published in print and preach verbally. It is the Montreal Canadiens way of yesterday when players lived in the same neighborhoods as fans. The mantra includes defense, responsibility and speed. Sacrifice for the team. That's harder to do when millions are at stake for individual players.
The fan base has eaten it up. The Wild sell every ticket available in what might be the NHL's best arena. It makes what already is the center of United States hockey even more vibrant. Can the Wild now take the next step to becoming a Stanley Cup contender?
Because of their early success, the Wild have been unable to develop a real world-class talent other than Marian Gaborik. The 25-year-old forward is one of the most talented players in the NHL. If he could somehow play 78-82 games, he would sniff 50 goals. He has also produced in the postseason. No player is more exhilarating to watch in the open ice than Gabby. It appears Dominic Moore (17 goals, 21 assists in 156 NHL games) will center Gaborik and Pavol Demitra. On the surface, Moore seems like an odd guy with those numbers to center the top line, but Moore has good speed, he wins faceoffs and obviously knows how to play all three zones.
Signing Eric Belanger to a three-year $5.25-million deal was a nice depth move. Belanger has been playing between Brian Rolston and Pierre-Marc Bouchard so far and that line has been good in the preseason. This allows Mikko Koivu to team with Mark Parrish for a nice third scoring line.
The defense is solid, but needs way more out of Kim Johnsson offensively. He was 3-19-22 last season in 76 games. The more he can offer, like 40 points, the more the Wild can think about going deep in the playoffs. Also, a strong minor league system and some cap room could also put the Wild in position to make a deadline deal to plug necessary holes.
The story of the Wild, their success and their popularity is probably the most underreported national story by the mainstream media. Like the Boston Red Sox and Fenway Park, the Wild and their rink provide an exciting, electric setting every single night. This energizes the team and its base. Those are key ingredients to an organization's success. With that in mind, the Wild are on the cusp of Stanley Cup success. They continue to build brick by brick. We'll have to see if those bricks help the Wild get better or stay the same.

4. Anaheim Ducks
It's the edge of the world
And all of western civilization
The sun may rise in the East
At least it settles in the final location
It's understood that Hollywood
Sells Californication

-- "Californication" by Red Hot Chili Peppers
For the first time in NHL history, the Stanley Cup was raised in California last June. The Ducks were a star-packed team with three certain Hall of Famers in Scott Niedermayer, Chris Pronger and Teemu Selanne. But as we begin the season this weekend, the Ducks will begin theirs without two of the three as Selanne and Niedermayer are learning that the Roger Clemens theory of employment is a pretty wise option when one is rich. Both have plenty of game left and I don't see why they wouldn't be back in January.
Niedermayer is entirely too young to retire. He just turned 34. He is a beautiful artist whose game has intersected its talent with its wisdom. He will likely live to be 100. What's he thinking? I understand the travel for Western Conference teams is less than ideal, but they do fly charter and there is no middle seat. The NHL needs Niedermayer. The league is better with his artistry and underrated passion. I understand the ache of missing family. Hopefully, after a couple months of dance recitals and 10-9 Mite games, he'll return to a game where he has no equal. The game is less beautiful without him.
Selanne is also a major void to fill. He too has underrated jam and leadership. He led the Ducks with 48 goals and 94 points last season and helped make Chris Kunitz a millionaire (he signed a four-year, $14.9 million deal). That seems excessive to me. Kunitz had five points in 11 postseason games.
Defensively, the Ducks replaced Niedermayer with the very capable Mathieu Schneider. Schneider will be out at least four weeks after breaking a bone in his left ankle during his first preseason game. When he returns, the power play will look very similar to how it looked with Niedermayer last season, right down to the beard. Schneider is one of the most underrated players of his generation. And the Ducks do have that Pronger guy to lean on.
Offensively, the Ducks scored 258 goals last season. If Niedermayer and Selanne don't take a shift this season, the Ducks will not approach that number.
Bobby Ryan, the 20-year-old winger chosen after Sidney Crosby in the 2005 draft, will get his shot. It looks as though Ryan will start the season playing with Ryan Getzlaf and Todd Bertuzzi. That's another big Anaheim freight train line, a line that should be effective as Getzlaf is a star giving Bertuzzi and Ryan plenty of chances to succeed. Bertuzzi looked really good in the playoffs despite having a 3-4-7 line in 16 games.
It might be a rocky start for the Ducks. But it is a long season, and Anaheim may look very different in April than it does right now.

3. Detroit Red Wings
Did you get all you want?
Did you see the whole show?
So where's all the fun
That we used to know?
As the memories fade
Way out of view
I'd love those old days
To come back to you

-- "Waiting So Long" by Supertramp
The waiting since the Red Wings' last trip to the Stanley Cup finals in 2002 must seem like seven Supertramp albums ago for Red Wings fans. From afar, it seems even longer because of the change in personnel and some of the lost magic at Joe Louis Arena. Things have changed.
The NBA's Pistons didn't win a playoff series from 1992 to 2001. The NFL's Lions last won a playoff game in 1992, when they beat the Cowboys 38-6. Prior to last season's World Series appearance, the Tigers hadn't been to the playoffs since 1987. Sports in Detroit during the 1990s were rancid. Then, there were the Red Wings.
Despite not having won a championship since 1955, the Wings had pushed aside the vapid 1970s and '80s and arrived by the early '90s. The Red Wings won 43 games in 1991-92 and their era of excellence, which continues to this day, was under way. The Wings have not missed the playoffs since 1990 and have won three Stanley Cups. They've won the Central Division the last six seasons.
Any franchise would have basked in that success, but the Red Wings augmented the winning with interesting characters. Steve Yzerman (692 goals) is a once-in-a-half-century knight. Brendan Shanahan, Sergei Fedorov, Darren McCarty, Nicklas Lidstrom, Igor Larionov, Brett Hull, Luc Robitaille, Dominik Hasek, Scotty Bowman, Chris Chelios, Tomas Holmstrom, Martin Lapointe, Joey Kocur, Vladimir Konstantinov, and so on. This was an interesting group of characters who gave the Red Wings' success texture and depth to last a lifetime. Theirs was an interesting story. Talented, physical, mysterious, confrontational, comedic -- this team had it all.
Today's Red Wings have been nothing like that of late. They are almost as successful, but far less interesting. They have lacked physical, confrontational players and are not as difficult to play against. You can't win a championship unless opponents are uncomfortable playing against you. No Red Wing had 100 minutes in penalties last season. In their Stanley Cup years, the team always had at least two. In 1996-97, the Wings had five. The champion Ducks, who beat the Wings in the conference finals last spring, had three players over the 100-minute mark.
Between that more passive style of play and the success of the Pistons, Tigers and possibly now Lions, the Red Wings are sharing the sporting dollar instead of owning it. Ticket prices and the local economy are small factors, as well, but I believe it is mostly because the Red Wings are not as interesting to Detroit fans as they used to be. From "Happy Days" to "Joanie Loves Chachi."
Can that change this season? Bringing in Dallas Drake is a shot of caffeine for Red Wings fans, but he is 38. He'll be able to run around only so much. At first glance, the Red Wings' roster again appears a little old, a little small, and, yes, a little boring. The majesty of Pavel Datsyuk and Henrik Zetterberg is still worth the price of admission for the hard-core hockey fan. They take your breath away on occasion. But the rest of the story appears to be lacking zest and the casual fan has a hard time latching on. The Red Wings will win the Central Division and make the playoffs. But unless we see a rise from an unexpected source or a perfect deadline deal, I think we will see more of the same. A few empty seats in the lower bowl of the Joe and another spring without Stanley.

2. Vancouver Canucks
so lead me down the
garden path
and take all of
what I have to give
'cause everyone dies in april
and everything ends in spring

-- "Everything Ends in Spring" by American Analog Set
The Vancouver Canucks have never won a Stanley Cup. Aside from when they were a game away from a championship in 1994, this is their best chance to win a title because they have the best goalie in the NHL in Roberto Luongo. As Sabres fans can attest, having the best goalie in the NHL doesn't always mean a championship. You need to able to score, and the challenge for the Canucks this season is scoring enough goals. They had 222 goals last season. New Jersey was the only other playoff team to have fewer goals.
Vancouver made no significant additions to help its offense in the summer, so the Canucks need two things to happen. They have to be even better defensively and they need scoring help from within.
Markus Naslund and Brendan Morrison, two free agents-to-be, need to see if they can step up and reverse their trend toward extinction. Naslund's goal totals have gone from 48 to 35 to 32 to 30. One reason is his shots on goal continue to plummet. Changing that won't completely reverse the goal-scoring trend, but the Canucks' key guys need to get more shots on goal. Perhaps having a goalie like Luongo puts teams in a more defensive mind-set late in games and too much offense is sacrificed. Naslund just turned 34. He should be more productive. He needs to have a heart like Selanne, while also playing nastier with more purpose. Raise his game in order to raise his team. Anyone can play that way. It can be learned.
I have a feeling Vancouver is not done. The Canucks will be monitoring other situations around the NHL to see whom they can add come trade deadline time. With a small addition to the offense here or there, the Canucks can win the Stanley Cup. It's all a matter of helping out the big man in net. It's not very complicated and not much more needs to be said.

1. San Jose Sharks
Tell me what you think about your sit-u-a-tion
Complication, aggravation
Is getting to you
Livin' on the edge
You can't help yourself from fallin'
Livin' on the edge
You can't help yourself at all
Livin' on the edge
You can't stop yourself from fallin'
Livin' on the edge

-- "Livin' on the Edge" by Aerosmith
Since I was a Mite-aged Sparky, whenever I've looked at life and the things included in it, I've usually looked at the edges first.
When I look at a Sports Illustrated swimsuit model like Veronica Varekova, I'll often look at her eyebrows, ears and calf size until moving on to more obvious things like her … shoulder blades. When I look at a car, I'll see how the tires look in relationship to the bottom edge-line of the frame. Right now, I am using my dominant left eye and lining up the edge of my computer monitor to the edge of the flat screen just to the left here in the newsroom. I am very close to having the brain of an ostrich.
I don't know what chromosome arrangement I have that accounts for this involuntary action of livin' on the edge, but it's part of who I am, like my uncontrollable appetite for cheese. I wonder if guitarist Dave Evans has the same condition and that's why he is referred to, universally, as The Edge. Or maybe he was seeking a shaving cream deal. Whatever.
This edgy condition has pros and cons. The pros are that one notices details and peripheral material more readily and that can help paint a complete picture of whatever one is analyzing. The cons are that one can sometimes initially miss the obvious, more important features.
I have a feeling GM Doug Wilson looks at the edges of life, as well. He appears to be meticulous and detail oriented. I'm guessing when he walks in front of a mirror, he checks his hair and practices his golf swing, making sure he is making an adequate shoulder turn. Left shoulder over right foot on the backswing, right shoulder over the left foot on the follow-through.
When Wilson looks at his Sharks roster, I wonder if he feels there is something missing along the edges. The Sharks have had three 100-point seasons (105 last season), but have underperformed in the playoffs. After an impressive series win over Nashville, they were ousted by Detroit in the second round. The Sharks responded by not trading Patrick Marleau (a move former Bruins emperor Harry Sinden and Bob Clarke would have made). There were no other significant changes this summer outside of bringing in Jeremy Roenick to, one can assume, take some edge off a quiet room and get him to 500 goals (he's five away).
One moment can change the course of history. See the Berlin Wall crumbling, Bill Gates being born and Scott Niedermayer signing with the Ducks and not the Sharks. Had Niedermayer signed with the Sharks, it very well could have been Northern California raising the Stanley Cup and not SoCal. Niedermayer and the Sharks are that good.
Now is the time for San Jose. The waiting and excuses, valid or otherwise, are over. There are no more prospects waiting on the doorstep. The team is the team you see. The Sharks have playoff experience. It's "go" time.
Mo' Mailbag
Bucci
Kyle Calder has looked like a genius signing so far. And while the Kings have a long way to go, you omitted one of the most exciting and intriguing stories of the preseason -- 19-year-old rookie and 2006 first-round draft pick Jonathan Bernier. He has looked like a cagey vet in camp and preseason games and has impressed in every start. In fact, he has played so well, he has virtually forced the team to keep him in L.A. at least until he gets his nine starts. I expect Bernier to excel and become the next Rogie Vachon in L.A. (maybe he'll even take up cigars and the porn mustache like Rogie), something Kings fans have been waiting nearly 30 years for. Write it down now, you will be the first in the media to say it, and you will look like a genius. Jack Johnson is good, but Bernier will be the Kings' Calder Trophy winner this season.
Peace, some of Marc Crawford's hair grease and a healthy dose of 3 Inches Of Blood's "Fire Up The Blades!"
Jeremy in San Diego
This is from Dobber's Fantasy Prospect Report released in June:
All you need to know about Bernier is that the organization fully expects him to be its starter within three years. For a 19-year-old, that's huge. That's Luongo territory. The 11th overall pick in 2006 shows a lot of maturity and has excellent composure. He is quick moving from one side of the net to the other and his catlike reflexes make that talent even more impressive. Bernier also shows consistency, which is usually the main weakness in goalies his age. By the summer of 2008 he could very well be the most hyped prospect goalie in over a decade. Potential: All-Star goaltender who steals games and seems destined to win a Cup or two.
---
Dear Bucci,
I had e-mailed you around the time of the Heritage Classic and I believe I called your employer "stupid" for not showing it on TV. Do you know if the Pittsburgh/Buffalo outdoor game will be shown this year on either Versus or NBC? Also, what are your thoughts on the new uniforms?
Matt
South Jersey
The game will air nationally on NBC from the home stadium of the NFL's Buffalo Bills, where capacity exceeds 73,000. The attendance for the event will likely break the NHL single-game mark set at the Heritage Classic on Nov. 23, 2003, when the Montreal Canadiens and Edmonton Oilers brought in 57,167 fans at Commonwealth Stadium in Edmonton.
---
Bucci,
I'm starting the season in style with the Kings-Ducks game at the O2 Arena in London! We are having drinks at the London Bridge and then taking a ferry down the Thames to the arena. How cool is that!
Ann Cartmell
Altamont, N.Y.
Cooler if the Thames were frozen and you skated to the game.
---
Hey Bucci,
Welcome back for another great season! Will the "Jonesy" book be available on CD?
One more question: How about an Avalanche-Rangers Stanley Cup finals this season?
Thanks and have a great season!
Matt
Phoenix, Ariz.
Call me Matt, and I'll read you the book over the phone. I don't believe it will be available as an audio book. Maybe if we sell 100,000 copies. By the way, I received my copy of "Jonesy" in the mail, so it is on the way for those who preordered and available for those of you who were waiting for the release. E-mail with me any questions on where you can find it.
---
John,
I know last season you posted pictures of kids in their hockey gear. This summer, our son Stuart got to sit in the Stanley Cup at an event hosted by Drew Miller in East Lansing, Mich. I thought you'd enjoy a couple of the pics. Needless to say, dad was thrilled. I also might mention that Michigan State won the NCAA hockey title last year, you need to promote college hockey more. :)
Steven Birn
Grand Rapids, Mich.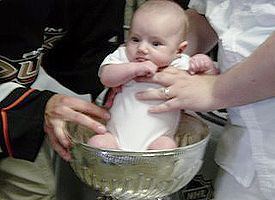 John Buccigross is an Anchorman for SportsCenter and ESPNEWS. For questions, comments or cross-checks, e-mail him at john.buccigross@espn.com. To check out his new book, "Jonesy: Put Your Head Down And Skate", click here.