I am still going ... and continuing my season preview with a look at the Eastern Conference, starting with my picks for No. 15-11. Check out my West picks here.

15. Atlanta Thrashers
I stopped believing what's inside of me
I was set on taking everything and making waves
Destroying the day
The world around went dark
I saw it disappear
As the colors turned gray

-- "Year of No Light" by Three Mile Pilot
Don't fret Thrasher fans; I picked the Islanders 15th in the East last season and they made the playoffs. If the Thrashers are to return to the postseason, many things have to go right, like getting solid play from their rookies. Four late camp openings went to rookies -- Bryan Little, Brett Sterling, Tobias Enstrom and Mark Popovic. Coach Bob Hartley told The Atlanta Journal-Constitution: "This is a good crop of young men coming in. I really believe that this is a good time for an injection of new blood. ... To patch with older guys, it's always a good option, but it's not the best solution."
No, it's not. You can't win with young players unless they win MVPs and scoring titles. The Thrashers have been unable to take that next step because they haven't really developed players outside of the "gimme" high picks of Dany Heatley and Ilya Kovalchuk. Heatley was dealt to Ottawa for Marian Hossa. Hossa can become a free agent next summer. Looking at the Thrashers' roster, you have to wonder why he would stick around after this season.
The key player in covering up some of the wrinkles is goalie Kari Lehtonen. How he rebounds from being benched in Atlanta's first-round series loss to the Rangers and a sore groin is worth watching.
This Thrashers ship seems to be teetering and it won't take much for it to capsize. A slow start could make Hossa, and coincidently Heatley, trade-deadline darlings. I don't think either will be on their present teams next fall. Ottawa should still be a contender, so Heatley will likely stay in Ottawa for the season. But perhaps a Hossa trade could help restock this Thrashers cupboard. Time to start over? Again?

14. Washington Capitals
The waiting is the hardest part
Every day you see one more card
You take it on faith, you take it to the heart
The waiting is the hardest part

-- "The Waiting" by Tom Petty and the Heartbreakers
The Capitals should be better than last season. That won't be difficult as Washington won only 28 games, the second fewest in the NHL. And with the additions of Michael Nylander, Tom Poti, Viktor Kozlov and rookie Nicklas Backstrom, the Capitals will score more and improve a poor power play. But those five will do little to improve the Capitals' defense, which is what they will need to start thinking about the playoffs.
The key for a team like the Capitals is getting off to a good start and giving their young guys and Kozlov purpose in their strides. I agree with what the Capitals are doing by going with their young players. The team is giving its youngsters ample opportunity to grow, while simultaneously continuing to acquire top-level talent with high draft picks. This past summer, the Caps drafted big defenseman Karl Alzner, who continues to improve in the WHL with the Calgary Hitmen. This season, Washington will either mildly surprise by reaching the postseason or get another lottery pick.
That being said, I do believe the Capitals have a shot at the playoffs and this 14th spot might be too low. If they can get their goals up to 250 and goals against down to 250, they should be able to earn around 90 points. That will put them in the playoff hunt. Then, they can reassess come deadline time if they want to add some defensive help in an attempt to make a stronger playoff run -- as long as they don't give up top-end value.
Capitals fans should feel good about things. Their team is getting better. They made a great uniform change. And they can read some old Washington Capitals stories in a brand new hockey book called "Jonesy: The Improbable NHL Career of Keith Jones" available everywhere now.

13. Tampa Bay Lightning
And I will do alright
Well in truth, I might
I may be stumbling round on some cold night
I will miss the times when we were so right
Although it seems so long ago, so long
This is my swan song, I'm gone, gone

-- "Swan Song" by Bruce Hornsby
It seems like only yesterday when Shjon Podein painted his entire body blue and slept in my hotel room in June 2004. And Chris Dingman, Podes' inspiration for the paint job, signed the back of my crisp white dress shirt with a bright blue sharpie in large letters after the series. And it seems like only yesterday when I watched Dave Andreychuk walk into an empty Lightning dressing room, place the Stanley Cup in the middle of the room and walk out, leaving me, two other reporters and three cameramen standing there in silence while we respected the 35-pound mug.
Considering the big three of Brad Richards, Martin St. Louis and Vincent Lecavalier, many expected this team to easily be in the hunt for a validation Cup, and maybe an additional one for good measure. But that has not happened. Why? The Bolts have become a porous defensive hockey team and have been hurt by the salary cap.
Since Tampa Bay won the Cup in 2004, it has given up 260 goals in 2005-06 and 261 goals in 2006-07. That will not win Stanley Cups. That defense is 3-8 in two playoff series since winning it all. The problem starts in net. You can't win in the NHL with good goaltending and you certainly can't win with average goaltending. You win with great goaltending, and the Lightning haven't come close to that in the past two campaigns and probably won't this season barring a trade.
The big three are eating up $21 million of their salary cap. This obviously hurts the Lightning's ability to make impact free-agent signing to plug holes. Now, they need to develop their young players, like defenseman Dan Jancevski, so they can make impacts during their low-salary years. I wonder if the Lightning will be keeping an eye on Jose Theodore and see if Colorado reaches a point at which it would want to move the unrestricted free agent-to-be. It might be the kind of gamble the Bolts have to think about.
Last season, the Lightning led the NHL in come-from-behind wins. If that "mojo" disappears and the defense once again gives up 260 goals, squeaking into the playoffs may turn into just missing the playoffs. Or worse.

12. Montreal Canadiens
They're the children on parade
They have a secret they can share
They're the children on parade
And nobody knows
And nobody knows

-- "Children on Parade" by Men At Work
"Children on Parade" is a song from the third album of Australian band Men at Work. Millions bought Men At Work's first two releases in 1982 and 1983, but by 1985, Men At Work was an afterthought and sold, like, 38 copies of their third release "Two Hearts." "Children on Parade", one of my favorite Men at Work songs, is from that cassette tape, which I still have today.
Whether it's Michael Ryder, Andrei Kostitsyn, Chris Higgins, Guillaume Latendresse, Tomas Plekanec or maybe even Carey Price, Montreal will put its kids on parade this season and will need them to produce. Sans Saku Koivu, Alexei Kovalev and Bryan Smolinski, all of Montreal's key forwards are in their 20s. Bob Gainey likes to grow his own and he is slowly doing that. The defense is more experienced.
Price is a 20-year-old goaltender prospect that has Habs fans buzzing. Last season, Price was the MVP in the World Junior Championship, CHL goalie of the year and American Hockey League playoff MVP as he led the Hamilton Bulldogs to the Calder Cup. He's the real deal and part of a very strong goaltending "problem," which also includes Cristobal Huet and another prospect named Jaroslav Halak.
If you add that goaltending depth with the veteran defense, you have a good foundation in Montreal. If the young forwards can stay healthy, grow together and consistently play good two-way hockey, the Canadiens can contend. The East is wide open. There are just a few too many "ifs" for me to feel comfortable picking the Canadiens in the top 8 of the Eastern Conference.

11. Boston Bruins
Maybe the sun will shine today
The clouds will blow away
Maybe I won't feel so afraid
I will try to understand
Either way

-- "Either Way" by Wilco
The most under-the-radar advancement man has made in the last 10 years has been the percentage of dollar bills that are accepted in vending machines. This has not been discussed enough, actually at all, on "Meet The Press", talk radio or "Oprah." There was a time when, if you wanted your Snickers out of a vending machine, your dollar bill had to be as crisp as Don Cherry's collar. Today, you can roll up a dollar bill, shove it in Abe Vigoda's hairy ear (Yep, still alive at age 86), take it out, unroll it and the vending machine will accept your bill. This is very satisfying.
About the time this technological advancement quietly crept into everyday life, sans the proper fanfare, the Boston Bruins began to become irrelevant. They had OK regular seasons, but they slowly began not to matter.
I think I can safely proclaim that no NHL franchise has been stripped of its vibe and relevance more than the Boston Bruins. The Blackhawks are close, but they've won one Stanley Cup since the invention of fiberglass in 1938 and, while wildly popular, I don't believe they've ever been a cultural phenomenon like the Bears, Cubs and Bulls have been at various times in their histories.
In the early 1970s, the Boston Bruins were what Red Sox Nation is today -- a phenomenon. The B's were wildly popular within their region, the most popular team in New England. The Bruins had national appeal because of their toughness and star power. They were also popular throughout Canada because they were mostly Canadian men led by Bobby Orr, perhaps Canada's all-time hockey icon.
Today, the Bruins are in danger of being surpassed in cultural relevancy by the New England Revolution of the MLS. (OK, slight exaggeration.)
Since the mini-lockout in 1994-95, the Bruins have won one playoff series. ONE! On the verge of slowly building toward a productive five or ten season run as Joe Thornton was entering his 27-32-year-old prime, when youth and experience intersect for big athletes, the Bruins traded Thornton in 2005 after he lost a faceoff late in a game against the Devils in New Jersey.
Back to last season. A 1-8-1 finish put the Bruins 16 points out of the final playoff spot and Dave Lewis was fired. Adding coach Claude Julien, goalie Manny Fernandez and two-way center Peter Schaefer makes Boston a better team because they are defensive players.
The Bruins had too many forwards who looked the same last season. They were especially soft, accumulating a measly 29 fighting majors, including zero for Zdeno Chara. (The Ducks led the league with 71 majors.) In that famous Bruins-North Stars brawl-fest in February 1981, referee Dave Newell handed out 26 fighting majors in one night! Bruins GM Peter Chiarelli signed Shawn Thornton (12 fights last season) to a fourth-line, three-year, $1.55-million contract.
Marc Savard is a first-class offensive player with fire; but, after him, there is a substantial, proven offensive drop off. Getting 30-plus goals from Marco Sturm would be nice, but he's never done that in his career. The Bruins need 80-90 points from Patrice Bergeron (22-48-70, minus-28 last season!), who had some minor knee problems in 2006-07 and says he feels better so far. They also need one or two of their young forwards to outperform their expectations. Phil Kessel says he has dropped about 10 pounds and added muscle after working out four or five days a week with a personal trainer this offseason. This is an important part of the Bruins offense.
This all could happen and the Bruins could make the playoffs as a 40-win/90-point team, but there are too many "ifs" to say the B's will finish within the top 8. Savard disagrees. He said in early September: "I think that the playoffs are where we're going to be this year, for sure."
We'll see.
Mailbag Mojo
John,
I am dumbfounded with your assessment of the St. Louis Blues. A prediction of 11th seems outlandish. I admit, they are no Cup contender, but to say they will finish this year worst than last year? I do not see them starting 7-17 as they did last year and they upgraded in every facet of the game -- offense, defense, special teams and depth in goal. Legace was a one-man show for a good portion of the second half. He still gets overlooked.
Kevin Griffin
Not as dumbfounded as I am this story in the L.A. Times last week:
"Not only has the Great One become the Grape One, but he has picked Ontario over California.
"Hockey legend Wayne Gretzky has sold his home near Thousand Oaks, Calif., for about $18.5 million (all figures U.S.), including some furnishings, so he can devote time to his newest vocation -- making wine in partnership with Creekside Estate Winery in Jordan Station, Ont., just west of St. Catharines.
"Gretzky, 46, keeps a residence in Arizona to be near the Phoenix Coyotes, the NHL team that he co-owns and coaches. He and his wife, Janet, have relocated there with their five children.
"The couple sold their seven-bedroom California home on nearly seven acres in the lakeside community of Lake Sherwood. The property has a 10,800-square-foot main house plus two guest houses and a carriage house. It also includes a golf course and lake views, a pool and a tennis court.
"The estate received a mention in Robb Report's 2007 lists of top designers and architects. Monique Lafia of Lafia/Arvin, a design corporation, completed the interior of Gretzky's estate, and Richard Landry was the architect. The buyer of the neo-Georgian mansion is retired baseball player Lenny Dykstra, 44, a former centerfielder with the New York Mets and the Philadelphia Phillies."
Lenny Dykstra?!?!
---
John,
Like you said yourself -- for two years, you're going to bury the Stars. They proved you wrong last year and, again, they will prove you wrong.
Mark Turner
---
Hey John,
How about a tip of your glass for Jim Lorentz? After 40-plus years as a player and announcer, he is hanging it up. Although much less eccentric and outspoken than Rick Jeanneret, they teamed up to make one of the finest announcing combinations in the NHL. Here's hoping Jim enjoys his much-deserved time off.
Ryan
Buffalo, N.Y.
A real pro. Didn't scream and was very balanced in his analysis. Great pipes too. He will be missed.
---
Hi John,
I'm still waiting on your comments about Cam Neely being named V.P. of the Bruins.
Bill Metras
I'd be more excited if he was suiting up.
---
Bucci,
Looking forward to another great hockey season, except this year will be different. This is simply indescribable. My youngest (Jack, 2) likes his older brother's (Cameron, 3) first helmet.
Shawn Bullinger
Fargo, N.D.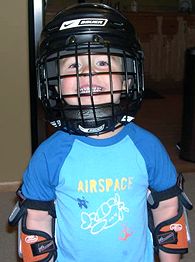 John Buccigross is an anchorman for SportsCenter and ESPNEWS. For questions, comments or cross-checks, e-mail him at john.buccigross@espn.com. To check out his new book, "Jonesy: Put Your Head Down And Skate", click here.