Last week, I previewed the Western Conference. Here's a look at the East:
Shot of the Week
It's back. You know how it works. We present an NHL photo, and Bucci provides a caption. E-mail him your suggestions (include your name and hometown/state), and we will use the best ones and provide a new photo the following week.
THIS WEEK: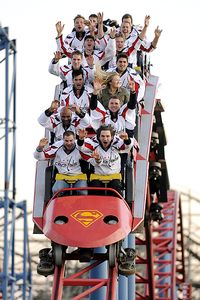 To offset mounting energy prices, the Capitals decide to carpool to games this season. (Courtesy: Washington Captials)

15. New York Islanders
Hey
I've got too much time
Baby may I might be dyin'
Got to help me Fallin' Doctor
Got to help me Fallin'
-- "Dr. Yang" by Ben Folds
The vibe: Lottery land. All signs point to the Islanders' being in the hunt for a top-three draft pick next summer. They need to play their young players for developmental sake and the evaluation process. The top two players in the 2009 draft likely will be John Tavares, a scorer from Canada, and Victor Hedman, a 6-foot-7 defenseman from Sweden. Tavares had 40 goals and 118 points in 59 games with the Oshawa Generals last season. In 2006-07, at age 16, he snapped Wayne Gretzky's OHL record of 70 goals in a season by scoring 72. Hedman would be a rock on the back end and be able to change light bulbs in the dressing room without a stepladder.
The Islanders are in a terrific salary-cap situation. Bill Guerin, Doug Weight, Mike Comrie and Mike Sillinger will be free agents after this season. That's $15 million more off the salary cap next summer for a team already $12 million under the cap. Those four also could be dealt for average draft picks, which would start the process of handing over the locker room to the younger players.
It's time for the Islanders to keep figuring out their identity, then draft and try to sign that kind of player. Then, the Isles can wait for that great free-agent player to present himself in the future, and hope that player chooses the Islanders, to speed along the process.

14. Atlanta Thrashers
Tell me, where are we going?
Oh, what's the future showin'?
Oh, where are we headed?
With all that's goin' on where are we getting?
-- "Where Are We Going?" by Marvin Gaye
The vibe: Reconstruction. After two consecutive seasons of 90-plus points, as well as their first playoff appearance, the Thrashers receded to 76 points last season. There is scant hope they will do much better this season. Ilya Kovalchuk will have little offensive support, and the Thrashers will be challenged to score more than 200 goals (hockey's Mendoza Line also uses 200). Kovalchuk has just two years left on his deal, and one could easily see him losing patience and heading to a winning organization if things don't change. Of course, the way back up to a playoff team is through defense.
Kari Lehtonen was the second pick of the 2002 draft. That was a hit-and-miss first round for NHL teams, and so far, Lehtonen has been a bust. In fact, Thrashers history can be defined by their horrendous first-round selections. Some of that is bad luck, but most of it is bad talent evaluation. And when they did make a good pick recently, such as Braydon Coburn, they inexplicably traded him for broken-down Alexei Zhitnik. One of the worst trades of the decade.
There is time for Lehtonen. His save percentage has risen every season. He is young, turning 25 in November. Also, the Thrashers have a bright spot in Tobias Enstrom and drafted Zach Bogosian third overall in June's draft (he also appears NHL-ready). To bolster the defense, Ron Hainsey signed a five-year, $22.5 million contract in early July after leading all Blue Jackets defensemen in scoring the past two seasons (32 points in 2007-08, 34 in 2006-07). And, most recently, the Thrashers traded for Mathieu Schneider to give them a couple of really nice offensive defensemen.
So, Lehtonen will have a decent group of blueliners in front of him. If he can make a giant leap in his game and the Thrashers' defense is able to stay healthy and solid in front of him, Atlanta could be in some games, find some help and continue to build from the back out. The Thrashers have loads of cap room and should have another lottery pick. That's the easy part. Will they make the right choices or more bad ones?

13. Toronto Maple Leafs
Yesterday I got so old
I felt like I could die
Yesterday I got so old
It made me want to cry
-- "In Between Days" by The Cure
The vibe: Stagnation. Last week, I was playing golf at Newport (R.I.) Country Club, site of my par-4 hole-in-one in September 2007. A buddy of new Maple Leafs coach Ron Wilson's gave me a Titleist golf ball that read "500th NHL win" on the side. He then proceeded to tell me that Wilson, a sensational golfer with a plus handicap, once got a hole-in-one on a hole he wasn't playing. Apparently, he hit it off line and it rattled around and landed in a wayward hole.
Wilson has game behind the bench, as well. Since his final season in Anaheim, Wilson has coached 10 full NHL seasons (and part of one when he took over in San Jose). In those 10 full seasons, Wilson's teams finished with more than 90 points in seven. His three coaching stops -- Anaheim, Washington and San Jose -- have been productive. He has a lot of work to do in Toronto.
Little is expected this season. The Leafs are $7.5 million under the cap, and that number will grow next summer, especially if they can trade Pavel Kubina's $5 million a year deal (two years left on that one). This season is about playing young players, setting the culture, getting in the lottery again, and deciding whether they want to make a free-agent splash next summer or wait another season.
For a coach who is used to making birdies, Wilson will have to try to stomach a round of about 79.

12. Carolina Hurricanes
The winning days are gone
Because I know just where I'm seeing
Was given eyes I know
I can hear
-- "Winning Days" by The Vines
The vibe: All or nothing. The Hurricanes have made the playoffs only twice in the past six seasons, but they make their appearances count. Both times, they made it to the Stanley Cup finals, winning one (2006) and losing one (2002). The past two seasons, they have battled just short of a playoff appearance. This season should be more of the same.
The Hurricanes are certainly good enough to make the postseason. They have a solid defensive corps, goalie Cam Ward and forwards who can score. What Carolina needs is more solid two-way play and better defense. The Hurricanes gave up 249 goals in 2007-08. If they can shave that by 25 goals, even if it costs them the same number of goals scored, they will have a better chance at making the playoffs. The front office certainly made strides toward better defense. The risk is that some of the players they are depending on to score have to score. If they don't, Carolina will have to use some of that cap room and change course during the season.

11. Florida Panthers
Could cry salty tears
Where have I been all these years?
Little wow, tell me now
How long has this been goin' on?
-- "How Long Has This Been Going On?" by Ella Fitzgerald
The vibe: Goal-challenged. This is an interesting season for the Panthers. They have spent to the cap ceiling with a high-priced goalie and six solid NHL defensemen who all make at least $2.2 million. If the Panthers are going to make the playoffs for the first time since the spring of 2000, defense will get them there. Florida needs to get its goals-against total down to the magic 200-210 range. Do that, and the Panthers will make the playoffs.
The offense is going to be the concern. Can the Panthers hang with some of the Eastern Conference offenses? It doesn't look like it on paper, especially with Olli Jokinen gone to Phoenix. They need Nathan Horton to score 35-40 goals. He is their best forward. I really like Stephen Weiss and believe he should be a better player than he has shown. Twenty-five goals from Cory Stillman is a must, and David Booth has to come back with 20-plus, as well. See what's happening here? We are reaching a bit. The margin for error is bikini small in Florida.

10. Buffalo Sabres
Let's pretend we never met
Let's pretend we're on our own
We live different lives
Until our covers blown
-- "The Racing Rats" by Editors
The vibe: Centers of attention. I had a real hard time keeping the Sabres out of the playoffs. They have a good team that has played a lot of games together as a unit. They could get off to such a good start that they build enough point equity to make the playoffs. They also have cap room and players coming off the payroll ($13 million!) over the summer. So, they could make a trade for a Marian Gaborik or Martin Havlat (if either were to become available) and be able to sign him (more so with Gaborik).
Last season, they had a 23-point drop-off after the free-agent losses of Daniel Briere and Chris Drury. Their departures made Buffalo weak down the middle, and it still is. The Sabres gave up the same number of goals the past two seasons. Without Briere and Drury, they scored 63 fewer goals. I don't think the Sabres can really change their style to give up fewer goals. Perhaps a little, but nothing drastic. The question is, can they get a few more goals. The answer is yes.
Maxim Afinogenov is the obvious target. He has the game to score 25-30 goals. He just hasn't had the health. He is an unrestricted free agent after the season. A big season could get him a good contract. The Sabres have been a fun, entertaining franchise the past three seasons. Two bad decisions with Drury and Briere have ended their hopes of a Stanley Cup -- for now. But they are still a viable franchise in a decent position to succeed.

9. Tampa Bay Lightning
We'll be back in the high life again
All the doors I closed one time will open up again
We'll be back in the high life again
All the eyes that watched us once will smile and take us in
-- "Back in the High Life Again" by Steve Winwood
The vibe: "NHL 2Night" forever. I've watched hockey games, drunk beers, played golf and laughed with Barry Melrose since the spring of 1998. He is a good man; a hard worker who has gravitas, accountability, presence and work ethic. What he doesn't have right now is a definite playoff team. The Lightning have a few flaws right now that, frankly, will be hard to fix. They need to be harder on the puck. Some of that is personnel, and those players should simply not play. The Bolts can't afford to have any soft players, especially when those soft players can't score (see: Jussi Jokinen).
The other is, of course, defense. The Andrej Meszaros trade was a steal for the Lightning. However, I completely disagree with the decision to trade Dan Boyle. I would not have re-signed Vinny Prospal if that's what it took. This team will have major issues creating offense from the blue line. The Bolts could be near the bottom of the league in blue-line production, and that will put a tremendous amount of pressure on the forwards. Paul Ranger, recovering from offseason shoulder surgery, needs to put up double-digit goals, as he did last season. Strangely, not one of those goals was on the power play.
In goal, Mike Smith is certainly in the question-mark department after posting a 3-10 record for Tampa Bay after last season's big Brad Richards trade. He looked great in the Lightning's opener against the Rangers. He is an elite puck handler and has good size. Giving him a contract extension looks like a very prudent move. It settles Smith down in terms of personal finances, yet it keeps him hungry for the next contract, which would be a life-changer. He'd better be good because this team probably will give up a lot of shots.
Offensively, the Lightning will have some issues. Last season, they had only 223 goals, and I don't see a whole lot more coming. Tampa Bay gave Ryan Malone $4.5 million, and he will struggle to score more than 50 points. Last season, he was tied for 99th in scoring. This year, he will not be in the top 100.
Last season, Prospal scored 29 goals in 62 games for the Lightning, but that was in a contract year and on a bad team while playing 20 minutes a night. That was a fluke. He is more of a 15-25 goals a year player. Tampa Bay is paying $3.5 million for that. Radim Vrbata also probably had a fluke 2007-08 season when he pumped in 27 goals for a bad team. He will probably never do that again, but three years at $3 million per is not a huge risk, especially considering the lack of the depth the Lightning inherited in the organization. Still, I would not have sacrificed Boyle to sign Prospal and Vrbata.
Whatever happens in Tampa Bay, watch Steven Stamkos play hockey. The rookie of the year chase is over. Stamkos has a first step on loan from whatever god you worship. He is sturdy and has personality and flair. I would put him in a lot of key situations right now. He can handle it, and he is already the third-best forward on the team.
To make the playoffs, the Lightning have to be healthy, probably will have to deal with a slow start and will have to work hard. Melrose will get them to play hard. All his teams have. Don't be fooled by the suits, hair and laugh. Our boy Barry is a farm boy -- hardworking and humble. On time, professional and well-liked by everyone. If the Lightning make the playoffs, it will be a heck of a coaching job. And yes, I am rooting for my friend. Plus, you get quotes like this on the topic of the Ottawa Senators, and possibly Meszaros, being party animals last season:
"Mez is a competitor and plays hard on the ice," Melrose told reporters last week in Prague. "I'd much rather have a guy like that who has a couple of beers than a guy who doesn't compete, who's home at 5 o'clock every night watching the 'Brady Bunch.' Same thing with guys who live in the weight room; give me a fat guy who hits anything that moves."

8. Ottawa Senators
The vista I see now is changing
Uncertainty is suffocating
-- "Accelerate" by R.E.M.
The vibe: Erosion. With their top-heavy offensive team, the Senators resemble Tampa Bay of last season. As they have lost big-time talent, their point totals have gone from 113 to 105 to 94. That 94 points was good enough for seventh in the East in 2007-08. This offseason, the Senators lost more pieces in Wade Redden and Andrej Meszaros; that might be the tipping point in terms of missing the postseason. The Sens have made the playoffs 11 straight years.
The big three of Dany Heatley, Daniel Alfredsson and Jason Spezza should all flirt with 40 goals again. The supporting cast isn't terrible, keeping this team in the playoff mix.
My concern is the defense and goaltending in tight games, and that combination could give the Senators problems holding on to leads in the third period. I also see the big three playing a lot of minutes in key situations, which not only takes away vital energy but also increases the likelihood of injury.
Any of the teams from 12 on down the page on this list have a shot at the postseason, including Ottawa. The Senators have three great forwards with lots of game and lots of pride. I have them falling just a bit short this season.

7. Boston Bruins
Can't see nothin' in front of me
Can't see nothin' coming up behind
I make my way through this darkness
I cant feel nothing but this chain that binds me
Come on up for the rising
Come on up for the rising tonight
-- "The Rising" by Bruce Springsteen
The vibe: Resurgence. The Bruins were the only team that made the playoffs this past spring that gave up more goals than they scored. That could categorize Boston as a fluke. It also could reveal the grittiness of the team. There is something about this team that I like. I sense a positive vibe around the Bruins that should be enhanced with the return of their best player, Patrice Bergeron. The Bruins have not won a playoff series since 1999, the only series they've won since the 1994 lockout. Not the 2004 lockout. They have been a sorry franchise.
Offensively, the Bruins should score more than the 212 goals from last season. The league average was 228. Bergeron should be good for 30, and Milan Lucic and Phil Kessel should be top-six forwards who improve their goal totals. Boston took a major gamble on Michael Ryder, giving him $4 million a year for three years. Ryder had back-to-back 30-goal seasons in 2005-06 and 2006-07, but those numbers were boosted by sick power-play goal totals of 18 and 17 in Montreal. His total plummeted to 14 last season because his shot totals have gone from 243 to 215 to 134. If the Bruins want to justify their investment in Ryder, they have to give him power-play time and encourage him to shoot, shoot, shoot and use that lethal release.
Defensively, the Bruins are rugged, but they are dependent on Zdeno Chara and Dennis Wideman to provide the offense, which they did big time last season (the pair combined for 30 goals). They will need those two to carry the load again.
The Bruins are certainly not a lock to make the postseason, but for the first time in a while, Boston seems to have some organizational passion and a plan. The margin for error is small. The key players need to be healthy, and the young players need to be important players without a drop-off. Otherwise, the Bruins will drop out of the playoffs again.

6. New Jersey Devils
It's the same old, same grind
But we don't feel we're wasting time
Not so bored that we can't find a better way
My friends, my kind
-- "Pumpin' Up the Party" by Hannah Montana
The vibe: Competence Inc. That's right. I did it. I went Hannah Montana. The music might be cheesy, but the lyrics fit.
The Devils are an elite NHL franchise. Clearly, one of the finest. They have won three Stanley Cups in the past 13 seasons and have made the playoffs 11 straight seasons. Do it right and do it now.
They are built on balance; they are built on the shoulders of Martin Brodeur. No one player on the team makes more than Patrik Elias' $6 million. New Jersey has small, quick players and big, sturdy players.
In the offseason, the Devils brought back versatile Brian Rolston after lacking a big, booming presence on the power-play blue line; he could help there. New Jersey's power play was a paltry 15.6 percent last season. The Devils have become such a below-average scoring team that it's no surprise they were out in the first round. The Devils' goal totals the past three seasons? 242-216-206. They need to turn that around if they are going to go deep in the playoffs. At worst, New Jersey is once again a professional product that is postseason bound.

5. Philadelphia Flyers
So you see I'm not naive
I just would like to believe
Ah what you tell me
So don't give me the world today
And tomorrow take it away
-- "Be For Real" by Leonard Cohen
The vibe: Not enough defense. Name one other person who takes the leap from Hannah Montana to Leonard Cohen. Seriously.
The Flyers went from worst in the league to the conference finalist in one season. They have a gigantic leader in Mike Richards, who is one of those athletes who has such a presence that you are shocked when he loses at anything. Richards wasn't a gigantic scorer in Junior, so last season's totals (28 goals, 75 points) should be about the norm in terms of scoring (30-ish goals, 50-ish assists and 80-ish points).
Richards leads a very deep and diverse forward group. The Flyers can skate, shoot, hit and score. I believe it is a championship group. From there, things get thin. If healthy, Kimmo Timonen and Braydon Coburn are two top-shelf defensemen. But Philadelphia has a bit of a drop-off and an overall lack of sturdiness and nastiness after that. As the season goes on, I'm sure the team will monitor that situation.
And finally, the goaltending. It's a tradition unlike any other in Flyerland. Martin Biron had an OK year in 2007-08, but is he the man to lead the Flyers to the Eastern Conference championship? He could be, but Philly had better continue to score. The Flyers are built to score, but they also gave up 233 goals last season. They are a bit unbalanced in that regard.
The Flyers are right on the verge. You wonder whether they will try to overpower their opponents or sacrifice some offense for the sake of team defense. Let's hope they go for the entertainment factor and go for broke.

4. New York Rangers
Starry nights city lights coming down over me
Skyscrapers and stargazers in my head
Are we we are, are we we are the waiting unknown
This dirty town was burning down in my dreams
Lost and found city bound in my dreams
-- "Are We The Waiting" by Green Day
The vibe: Blue collar. The Rangers named Chris Drury their captain for the upcoming season, and that is just about right. The center, 32, is entering his 10th NHL season and had 25 goals and 33 assists in 82 games last season. Drury takes over the post after Jaromir Jagr became a free agent and opted to play overseas with Russia's Avangard Omsk.
The Rangers' game plan is simple. Play defensive, not always entertaining hockey, and get great goaltending from Henrik Lundqvist. They will appeal not to the Manhattan stargazer but to the blue-collar union worker.
The Rangers have four players who account for $27 million against the cap -- Drury, Scott Gomez, Lundqvist and Wade Redden. It's paramount that those players have exceptional years. After that, this is a very average team with very average players. Some of those players are young and could step it up, but that is not a given.
Unless the completely unexpected happens, the Rangers will have to win low-scoring games. They were a below-average scoring team in 2007-08 (213 goals), and that was with getting 48 goals combined from Jagr and Brendan Shanahan. Yes, Rangers fans, you've become the Devils. In fact, a fun bet for you Devils fans is to bet your buddy who is a Rangers fan which team will score more goals. That will be a fun bet to track in the regular season.
Some have the Rangers missing the playoffs. I don't see that, but I understand the skepticism. An injury here or a lower-than-expected performance there, and the Rangers could be in trouble. I don't see that, but I don't see a championship-contending roster, either.

3. Washington Capitals
I've finally found the answers
To the questions that keep going through my mind
Hey babe
Isn't it time?
-- "Isn't It Time" by The Babys
The vibe: Mystery. The Capitals have not won a playoff series since their Stanley Cup run in the spring of 1998. They are in position to change that this spring.
Everything with the Capitals starts with Alex Ovechkin. He is, arguably, the biggest personality in professional team sports and its greatest force. Name another athlete who imposes his personality and presence on a game more than Washington's human low-pressure system.
But, after Ovechkin, is there enough to be a factor in the playoffs? That is the great mystery for the Capitals.
Forwards: There is a lot here. Good centers, snipers and grit. Washington should score enough. Although Ovechkin and his 65 goals are frightening, the Capitals are not a scary offensive team. Last season, they were seventh in the East in goals scored and fewest goals allowed; so, they are a competent defensive team.
Defensemen: Mike Green exploded onto the scene last season with 18 goals. He was also third in team scoring. The rest of the Capitals' blueliners still come with a bit of uncertainty. This defense could take a step forward or back.
Goaltending: Jose Theodore won the MVP and Vezina in 2002, but that was his peak season. There is nothing about him that screams he is the guy who could win multiple playoff series.
So, although the Capitals have this gigantic force in Ovechkin, the rest of the cast is filled with mystery and intrigue. If I could be plopped in any hockey city this time of year and have season tickets for an NHL season, this team certainly would be in the top five.

2. Pittsburgh Penguins
You thought you might be a ghost
You thought you might be a ghost
You didn't get to heaven but you made it close
You didn't get to heaven but you made it close
-- "42" by Coldplay
The vibe: Elite status still. The injuries to Sergei Gonchar and Ryan Whitney limit the Penguins to No. 2 in the Eastern Conference. Gonchar has been a monster player the past two seasons and will be sorely missed. Whitney will be out for half the season because of a foot issue. Fortunately, Pittsburgh has a couple of young, skilled defensemen in Kris Letang and Alex Goligoski. The Penguins can move Evgeni Malkin to the point on the power play and should remain potent. The Pens were a good defensive team last season, allowing the third-fewest goals in the East. Marc-Andre Fleury is a big-time goalie Pittsburgh has wrapped up for seven years at a good cap number of $5 million.
Offensively, it will be interesting to see how Miroslav Satan and Ruslan Fedotenko do up front. Losing the talent of Marian Hossa on a nightly basis is a huge loss. Ryan Malone had a nice, gritty, all-around game and was indigenous to Pittsburgh, and he never should have left. He will regret that the rest of his life. I'm sure a deal was there to be had. I don't think the Penguins will miss Malone on regular-season ice.
I expect Tyler Kennedy, playing with Malkin, to possibly score more goals than Malone this season. Satan should be able to get in that 25-30-goal area playing with Sidney Crosby. An empty VitaminWater bottle probably could score seven goals this season playing with No. 87. Also, Jordan Staal should put up good numbers. He is only 20, but if he plays with Malkin and gets more power-play time, he should be around numbers that look like 29-50-79. I wouldn't be shocked if he went over those.
This is still a very good team with young players who are getting better because they are maturing physically, mentally and emotionally. The Penguins should keep improving because their best players are young and still have room to grow. If they could do what they haven't been able to do -- get off to a good start -- and get Whitney and Gonchar back after New Year's, the Pens will be in prime position to reach No. 1 in the conference and be major Stanley Cup contenders.

1. Montreal Canadiens
I'm so happy for you baby
Now that you've found somebody new
I see it in your eyes, Lord it's no surprise
What he can do for you
-- "Happy Anniversary" by the Little River Band
The vibe: The Montreal Canadiens are good again. They are balanced, well-managed and have a positive energy that has them as my regular-season pick to finish in the East's top spot. They are a puck-moving team with an experienced and sturdy defense and a young goaltender who looks like a star. Watch them when you get a chance. They will be very entertaining.
Coach Guy Carbonneau received a multiyear contract extension for leading the team to first in the Eastern Conference last season. With GM Bob Gainey, the Canadiens have stable and steady leadership. Also, no one on the Canadiens has a contract that extends more than two years beyond this season. Talent, plus no long-term contracts, equals a hungry and energetic team.
This could be a special season in Montreal with the Habs' centennial celebration. They have the All-Star Game and a quality team, and Toronto is going to have a down year. For more details on the Canadiens, check out one of the 79 newspapers or Web sites that follow them.
Straight from ESPN Research
As we kick off the new season, here are some things to keep an eye on for 2008-09:

1. Will the Red Wings become the first team to repeat as Stanley Cup champions since the Red Wings did it themselves in 1997 and 1998?
2. This is the fourth season the NHL has played with a salary cap. Each season, the lower and upper limit has increased. In 2008-09, teams must spend at least $40.7 million and cannot have a roster over $56.7 million.
3. The Montreal Canadiens are playing in their 100th year. To help celebrate the event, the Canadiens will host this season's All-Star Game on Jan. 25.
4. The NHL will again play an outdoor game on New Year's Day. This time, the Chicago Blackhawks and Detroit Red Wings will play at Wrigley Field. It will be the 701st regular-season game between the teams, the most between any two clubs in NHL history.

Zednik

Schedule format
The 1,230-game season will be under the new schedule format: each team plays six games against each team in its division (24 games); four games against nondivision teams within its conference (40 games); and 18 nonconference games, at least one game against each club in the other conference (15 games) and three home-and-home series against nonconference teams.
Key games
Oct. 9: Maple Leafs at Red Wings (Detroit raises Stanley Cup banner)
Oct. 11: Thrashers at Panthers (Richard Zednik's first game after skate-to-throat injury)
Oct. 16: Capitals at Penguins (Ovechkin vs. Crosby and Malkin)
Oct. 20: Stars at Rangers (Sean Avery returns to MSG)
Nov. 10: Lightning at Capitals (Olaf Kolzig returns to Washington)
Nov. 11: Penguins at Red Wings (rematch of 2008 Stanley Cup finals)
Nov. 13: Canadiens at Bruins (Original Six rivalry)
Dec. 23: Lightning at Penguins (many former Penguins play for Lightning)
Jan. 1: Red Wings at Blackhawks (Winter Classic at Wrigley Field)
Jan. 19: Stars at Lightning (Brad Richards returns to Tampa)
Feb. 10: Sharks at Bruins (Joe Thornton returns to Boston)
Busiest night of the season
On Oct. 25, all 30 NHL clubs will be in action for only the second time in NHL history. Among the many story lines that night: Sidney Crosby and the Pittsburgh Penguins play the New York Rangers at Madison Square Garden in their first meeting since last season's conference semifinals series; Ovechkin makes his first appearance in Dallas since his rookie season of 2005-06 when the Stars entertain the Washington Capitals; Atlantic Division rivals Philadelphia Flyers and New Jersey Devils meet in Philadelphia for the second of back-to-back games; and the NHL's most historic rivalry resumes at the United Center when the Chicago Blackhawks host the Detroit Red Wings.

Tkachuk

Milestones within reach:
• Blues forward Keith Tkachuk is 16 points away from 1,000, while the Islanders' Doug Weight is 31 points shy of the same mark. They are vying to become the seventh American-born player to reach 1,000 points.
• Flames captain Jarome Iginla needs 69 points to become the Flames' all-time scoring leader (Theo Fleury 830, Iginla 762).
• Flames coach Mike Keenan needs 15 games to pass Pat Quinn (1,318) for fourth place on the all-time games coached list and 32 victories to pass Quinn (657) for fourth place on the all-time victories list.
• Red Wings defenseman Nicklas Lidstrom is 62 points from 1,000. Lidstrom would become the eighth defenseman to reach the milestone (Ray Bourque 1,579; Paul Coffey, 1,531; Al MacInnis, 1,274; Phil Housley, 1,232; Larry Murphy, 1,216; Denis Potvin, 1,052; Brian Leetch, 1,028).
• Red Wings defenseman Chris Chelios needs 20 games to pass Scott Stevens (1,635) for fifth place on the all-time games played list and 24 games to pass Dave Andreychuk (1,639) for fourth place.
• Avalanche captain Joe Sakic needs 28 assists to pass Mario Lemieux (1,033) for 10th place on the all-time assists list, 35 to pass Marcel Dionne (1,040) for ninth place and 44 to pass Gordie Howe (1,049) for eighth place.
Weekly Tribute to Jack Falla
The following is an excerpt from Jack Falla's "Home Ice." Falla passed away Sept. 14. We'll honor his memory each week with a few lines from one of his classic books:
"I sometimes ask friends for their descriptions of the perfect day and generally get answers involving Rome, Paris, beaches, music, vintage wines, gourmet food, and various combinations of the Big Trifecta -- love, romance and sex. It's not that I have anything against Paris and Rome (except they're not Boston and Montreal), but if you ask me to describe my perfect day, skating on black ice will be in the mix, though not to the exclusion of food, wine, music and the Big Trifecta.
The Mother of All Mailbags
Bucci,
You said in your most recent column that every time you mention Jack Falla, you get a bunch of e-mails from his former students about how great he was. Well, you can add another to the total.
I haven't spent a lot of time talking with other former classmates about the passing of Prof. Falla because it is such a hard concept to wrap my mind around. I took both of Jack's classes this past semester before graduating in May. They were easily my favorite classes I ever took while at BU. This is because he is one of the only people I know who loves hockey more than I do. We used to call his 8 a.m. class "Storytime with Uncle Jack" because of the great stories he would always tell. My personal favorite story was the one where he wrote a profile on Wayne Gretzky back in the heyday of the Oilers. He got to skate on a line during practice with Gretzky and Mark Messier. He also watched the Super Bowl at Gretzky's condo in Edmonton.
Jack was a fan of the game and that's what made him so special. The culture of the sport is infectious. With the way hockey is perceived in the mainstream U.S. media, it almost feels like a band of brothers among hockey fans. An "us against the world" mentality. And I, like you, don't mind that hockey is simply a niche sport, because it is my niche sport. I don't need high TV ratings to know that hockey is the best sport in the world. Jack embodied all of this. Between the Bacon Street Omni and your backyard hockey rink tales, it is a 100 percent certainty that my backyard will have a hockey rink (weather permitting, of course.)
Jack was like the leader of the Boston-area underground hockey fan alliance. He knew everyone and everyone knew him. That paragraph you included in your column was the same paragraph that he read aloud to class one day to see if it passed the smell test. It was powerful. Hockey is just a sport, but it means much more than that. It is hard to describe. And I have a hard time putting in words how much Jack meant to me as a student, fellow hockey fan and friend. I guess that's why I am trying to break into sports broadcasting and not sports writing. Jack was a normal person who loved the sport of hockey. But whether he liked it or not, his influence is anything but normal. It is far-reaching and powerful.
Jack was a professor of sports broadcasting, but he taught us much more than that. He taught us life lessons that will stick with me forever. From how to get a first job out of college, to how to deal with an angry wife (one of my favorite sayings was "You have to avoid those marital high elbows"). Jack's use of sports metaphors when applied to every-day life problems is something I will never forget.
There are many sad hockey fans and just plain friends of Jack that are still grieving and coming to terms with the fact that they will never get to talk hockey with him again. I am one of those. Thank you for giving me an outlet to express my feelings for Jack Falla. And thank you for everything you do for the sport of hockey and everyone that loves the game. People like Jack and yourself are able to put into words what so many hockey fans feel and think.
R.I.P. Uncle Jack
Justin DeSantis
Boston University
Class of 2008
John,
Thank you very much for the tribute on my father. The outpouring of support from the hockey family has been overwhelming and is a reminder why we all love the game so much. It's one thing to love somebody's books when they are glossy new jewels on the shelf, but it's another to have to go mucking in the corners when death and funerals are on the itinerary. But hockey people are never afraid to stand up and be counted, and this was certainly underscored in my mind over the past few weeks.
I still feel like I got Patrice Bergeron-ed in this whole deal, but I also feel truly blessed that my father managed to touch so many lives and his legacy will live on, not only in his books, but in people like yourself.
Thanks again, and good luck with the upcoming season -- lose the Lady Byng on the first shift.
Best,
Brian Falla
Daily News Transcript
---
John,
While I totally agree that the Blues won't make the playoffs this year, stagnant is not really an accurate assessment of the vibe around this team. Anticipation is high this year -- not so much for the playoffs, but for the coming-out parties for Patrik Berglund and T.J. Oshie.
Berglund's been great so far; he's looking like that franchise center that the Blues have been missing for years. And Oshie hits everything in sight; he's a maniac with some definite Oh-ffensive upside. Some have compared Oshie to a smaller [Jeremy] Roenick; I tend to see him more as the reincarnation of Pat Verbeek.
Couple that with Year 2 of David Perron, who's definitely put on some muscle and matured mentally, and the now-necessary expedited promotion of [Alex] Pietrangelo, (not to mention Jonas Junland), and the fans are thrilled to see all these draft picks finally arriving. Yeah, the Erik Johnson thing [is horrible] and they can't replace him, but this is actually an exciting time to be a Blues fan.
So, stagnant is probably not the right word. Last year's NHL darlings were [Jonathan] Toews and [Patrick] Kane. This year, it could be Berglund and Perron, possibly Oshie, too. Just my two cents.
Brad Touchette
St. Louis
Fair points. A core of young, energetic players can come together quickly and unexpectedly at times. The Blues have some nice pieces. But nice pieces need a star around them. Maybe Berglund can be that guy. But we can only go on certainty until something is proven.
---
John,
I'm trying to get my girlfriend into hockey. She lives just a few miles from the United Center. Any suggestions? She came to one of my men's league games last weekend, so there is hope.
Adam
You can't get your girlfriend into hockey like you get your children into hockey.
You can take your girlfriend to games, watch a game on TV once in a while, ask her to come to your games (then take her out to dinner) and take her to a Blackhawks game after a day of shopping and lunch in Chicago. Watch "Miracle" and "Slap Shot" one weekend. She will either fall for our great game and the values we hold dear, or she will watch "Grey's Anatomy" on the night of one of your games, tell you your equipment stinks and complain there are not enough goals.
If she chooses "B," break up with her immediately.
---
John,
About a year and a half [ago], I was in the position to talk with my then-fiancée (now she's my wife, for this is not a sad e-mail) to discuss the vital question of First Dance Song. Remembering this mailbag, I threw this idea out to my bride, and made her listen to Ben Folds' song "The Luckiest" a couple times. At first, she wasn't sold on the idea, but a few weeks later, she asked to listen to it again, and the third time proved to be the charm as she agreed that should indeed be the First Dance Song.
When she asked me where I had even heard of such a song, I had to fess up and say that though I had the CD, the idea came from this guy who is on ESPN and writes a great hockey column full of terrific references to outdoor hockey rinks and wonderful music, heavy on the R.E.M. references. I'm pretty sure I just remember her shaking her head upon hearing the news that our first song is a result of ESPN. But I think we both agreed that "The Luckiest" was the perfect song for us on our wedding day, and I just wanted to thank you for planting the seed of a great idea that made a wonderful day even that much better!
Shane Drahota
Minnesota State University, Mankato
Ben Folds new album, "Way to Normal," is in stores and online now.
---
John,
Well, in the "off" season, Jack Logan McHugh was born on Aug. 7 (9 pounds, 3 ounces, 22.5 inches long). He "watched" his first game (preseason) last night, Detroit vs. Montreal. Stanley Cup photo taken at Paul Boyer's day with the cup. Lucky kid! Welcome back!
Jason D. McHugh
The father, the son and the holy grail.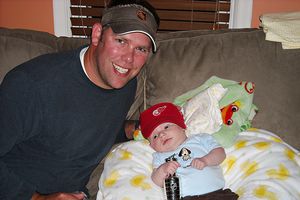 John Buccigross' e-mail address -- for questions, comments or crosschecks -- is john.buccigross@espn.com.