Frederick Breedon/Getty Images Shea Weber averaged 23:10 in ice time for the Preds last season.
Predators: 10 Things You Need To Know
By Scott Burnside
Every year, the Nashville Predators' preseason entry goes something like this: great coaching, top-end blue line and goaltending, but suspect offense makes a playoff berth a long shot. Or something like that.
Same old, same old in Nashville.
Patric Hornqvist, the Preds' top goal scorer last season, happened to be the last player taken in the 2005 draft. They continue to boast a top-notch blue line, even with Dan Hamhuis leaving to Vancouver. Captain Jason Arnott also is gone. And yes, the playoffs remain far from a given, even if the Predators have qualified for the postseason in every year but one since 2004.
The downside, of course, is the team has yet to win a playoff round, despite pushing Chicago to a sixth game in the first round this past spring. But more about that later. As always, GM David Poile has managed to fill his lineup with under-the-radar moves, like the acquisitions of Matthew Lombardi and the enigmatic Sergei Kostitsyn.
1. Oh, why wait?
The Predators were less than a minute from taking a 3-2 series lead against the Blackhawks in the first round this past postseason when they inexplicably gave up a short-handed goal to Patrick Kane with 13.6 seconds left. Marian Hossa, given a major penalty late in regulation for boarding Hamhuis, returned from the penalty box to score the overtime winner, and Chicago was on its way. The Hawks would later describe it as their defining moment in the playoffs.
Small consolation for the Preds, but it will be interesting to see whether there is a hangover. Poile acknowledged it is the kind of shift that has the potential to alter not only a game and series, but perhaps a franchise's history itself. "We'll have to see," Poile told ESPN.com.
2. The Hamhuis hole
Make no mistake -- Poile wasn't happy about losing Hamhuis, a homegrown prospect who meant a great deal to the franchise. But the economics in Nashville and the collective bargaining agreement made it financially unviable to keep him. The Predators still boast top-end blue-line talent in captain Shea Weber and Ryan Suter. Poile is hopeful other homegrown prospects like Kevin Klein and Ryan Parent will take steps forward.
3. Fresh faces
It's possible the Preds could boast four starters from the same draft year (2003) in Klein, Weber, Suter and Alexander Sulzer, who played for the German Olympic team and could find his way onto the Preds' opening-night roster. Another blue-chip blue-line prospect in the mix will be Ryan Ellis (11th pick in 2009), who was impressive during rookie camp.
4. The backup battle
When Poile locked up top netminder Pekka Rinne to a two-year deal worth $3.4 million annually, it took away the safety net of backup Dan Ellis, who signed with Tampa Bay in the offseason. Rather than rush out and sign one of the many experienced netminders on the market this summer, Poile opted to leave the door open for one of his own young netminders.
Mark Dekanich, Chet Pickard and Anders Lindback, who at 6-foot-6 bears an uncanny resemblance to Rinne, were in the mix during training camp and might see some time depending their level of play and Rinne's health. Look for Dekanich to earn the backup job, with Lindback getting more seasoning in the AHL with Pickard. It seems safe to say that Rinne (32-16-5, 2.53 goals-against average and .911 save percentage last season) will see a lot of ice this season if the Predators are going to be back in the playoffs.
5. Scoring woes?
Poile has heard the questions before about whether his team will be able to score enough to get into the postseason. "Yes, we've never been real strong in that area," he joked.
Yet the Predators actually finished 18th overall in goals per game last season. They again will rely on scoring by committee, and there's no reason they can't replicate that level of production even with the free-agent departure of Arnott. The emergence of Hornqvist (30 goals, plus-18 rating) was a pleasant surprise.
6. What about Sergei?
If you're looking for a breakout candidate, what about Sergei Kostitsyn, who was acquired from Montreal after a tumultuous couple of seasons with the Habs? By the end of his time in Montreal, Kostitsyn was persona non grata with the team. Whether it was attitude or conditioning or too big a hockey city for a kid from Novopolotsk, Belarus, Kostitsyn now has a fresh start in Nashville. He is blessed with top-end talent; the question is whether he can find top-end maturity to match it.
Poile is wondering the same thing. "I think so, but do I 100 percent know? The answer is no," he said.
7. Veteran help
While there are young pieces like Kostitsyn and new center Lombardi (19 goals for Phoenix last season) in the mix, Poile also would like to see more out of his veteran players. He is hoping David Legwand puts up his best offensive numbers after Legwand posted just 11 regular-season goals but was terrific in the postseason (seven points in six games). He's also looking for Martin Erat (whose giveaway led to the Kane goal in the playoffs), J.P. Dumont and Steve Sullivan to give a little more.
8. Not so special
One of the more curious elements of the Predators' season was their lack of success on special teams. They were 28th on the penalty kill during the regular season and managed just one power-play goal on 27 postseason attempts. Fixing that will mean seeing new faces in those roles, whether it's Parent on the penalty kill or Lombardi on the power play. Regardless, Poile promised special teams repair will be a "pretty high priority."
9. Discipline
If your penalty kill is weak, it helps if you can stay out of the box, which the Predators did better than any other team last season. They were the least penalized team in the NHL, averaging just 8.7 minutes a night in penalties. And you wonder why Barry Trotz is still coaching.
10. Mindset
The Predators are a bit of a curiosity in the NHL; they've had the same GM and coach for their entire existence. The continuity has been laudable, given that Poile and Trotz have perennially iced a competitive hockey team through significant ownership upheaval and threats of relocation.
But the team always has been hamstrung by an internal budget that makes it difficult to keep homegrown assets (witness Hamhuis) or attract top free agents. Whether that has contributed to the team's playoff rut is debatable. But the reality is the Preds need to do something to shake themselves out of their April lethargy.
PREDICTION: We'll likely get this wrong, as we always do when it comes to the Predators, but we have them fourth in the Central and outside the playoff bracket.
Scott Burnside covers the NHL for ESPN.com.
More From The Magazine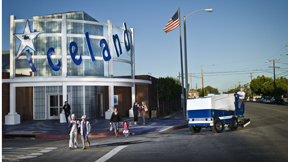 ESPN The Magazine's "Ice Issue" provides even more in-depth coverage of the upcoming NHL season:
• Smith: What is Gary Bettman's legacy?
• Fleming: Most beloved machine in sports
• Berra: The Red Wings' scouting edge
Coach's Corner
Coach:
Barry Trotz
Experience:
Entering 12th NHL season
Record:
411-371-60-60
Stanley Cup titles:
0
• It goes without saying that Trotz and the Predators fit like a comfortable old skate. He is sixth all time for games coached and wins with a single franchise, and was nominated last season for the Jack Adams Award as coach of the year. His teams are always well-prepared, hard-working units, and Trotz has become a visible figure in Nashville, working tirelessly for a number of charities.
Along with Lindy Ruff in Buffalo, Trotz is the longest-tenured coach in the NHL. When the Preds looked like they were going to slide out of the playoff race in the West last season, Trotz got them on track and they went 14-6-1 after the Olympic break.
The Fab Five
Burnside's top positional players for the Preds:

F -- Matthew Lombardi: The Preds aren't deep down the middle and are expecting Lombardi to step forward.

F -- Patric Hornqvist: A wrist injury slowed Hornqvist during the latter part of last season, but he's healthy and looking to build on his big 30-goal season.

F -- J.P. Dumont: The former Sabre had 20-plus goals in six of seven seasons but now has had two straight seasons below that mark.

D -- Shea Weber: The new captain has emerged as a top-five NHL defenseman.

D -- Ryan Suter: One of the best U.S. defensemen at the Olympics, Suter provides great puck-moving ability and positional play.
Fantasy Focus

Best bet: Patric Hornqvist
Taking a lot of shots and fighting for pucks in front of the net is certainly a good recipe for scoring goals, and Hornqvist proved what sheer determination can do by scoring 30 times last season. He'll never be a point-per-game player, but Hornqvist does have 40-goal potential in him. If Colin Wilson turns out to be the perfect centerman for Hornqvist and if the Predators' power play remains efficient, this could be a very strong season for the skilled youngster. He is a safe pick as a No. 2 winger. -- Sean Allen

Risky pick: Steve Sullivan
It doesn't appear Sullivan is quite able to approach a point per game anymore, and his 17-goal, 51-point season in 2009-10 is not as strong as many would have expected over 82 games. A lot of his success will depend on Wilson's ability to replace Jason Arnott as the Predators' top pivot. Wilson certainly has the potential and could make a nice fit between Sullivan and Patric Hornqvist. It's probably wise to push Sullivan back toward the end of your draft, but a case can be made for him as a starter. The injury discount means you should at least have six or seven forwards on your roster when you start looking at him. -- SA

Sleeper pick: Colin Wilson
After scoring 15 points in a 35-game debut with the Predators last season, Wilson may be the reason Arnott was no longer needed in Music City. The Preds will surely try Wilson out as their first-line pivot since David Legwand and Matthew Lombardi have proven they are better suited to second- or third-line roles. Wilson is an excellent playmaker with the ability to light the red lamp. -- SA
More Fantasy: Join now! » Draft kit » Ranks »
Insider: NHL
The Rankings
See how all 30 NHL teams stack up for the coming campaign in The Magazine's 2010-11 Rankings. Story