Greg Fiume/Getty Images Nicklas Backstrom signed a 10-year, $67 million deal with the Caps this past offseason.
Capitals: 10 Things You Need To Know
By Scott Burnside
Why do we have this image of the Capitals holding their hands over their collective ears this upcoming season and saying, "I can't hear you, I can't hear you"?
Blocking out the shrill noise that still echoes from last spring's colossal collapse against the eighth-seeded Montreal Canadiens will be a big enough challenge for the star-studded Capitals. They ran away with the Presidents' Trophy as the top regular-season team -- establishing club records for wins, goals and points -- and then built a 3-1 series lead in the first round before inexplicably pulling the chute.
"I think we wanted it so bad," Washington captain Alex Ovechkin told ESPN.com in a recent interview. "I think our emotions were so high and we just, when we [were up] 3-1, we just stopped playing and stopped doing what our coaches said."
GM George McPhee believed in the team he built and made only cursory changes in the offseason, entrusting even more responsibility to young homegrown talent.
"The kids we will be bringing in this year have had success in the American league, won championships, and they will make our team better," McPhee said in a recent interview. "You want them to believe that they deserve to be here and they're just not going to give up this opportunity."
1. Ovechkin's role
The Capitals' captain remains a bit of an enigma. As dynamic a player as there is in the NHL, Ovechkin has collected more goals and points than any other player since the lockout. He was won three straight players' association "most outstanding player" awards, won two straight Hart Trophies as league MVP (2007-08 and 2008-09) and is the only active player with four 50-goal seasons.
And yet he has struggled to lead the Caps and other teams to success. His star-studded Russian Olympic squad flamed out in the quarterfinals of the 2010 Olympics and was denied gold against a weak field at the World Championship. The Caps have failed to advance beyond the second round since the lockout and have won just one playoff series.
This doesn't fall solely at Ovechkin's feet, but as one former player said upon exiting the team, there are a lot of players who have a lot of growing up to do in that room. Ovechkin needs to grow into a leadership role if the Caps are going to shake the doubters. It sounds like he understands that; he tells ESPN.com he doesn't care about his own game, only the success of the Capitals.
"I just want to win," he said. "I don't care about my game now, actually. I just want to win. I just want to do my best to help the team to win."
2. The goaltenders
The Capitals' goaltending has been an ongoing saga the past couple of years. In the spring of 2009, Jose Theodore was yanked one game into the postseason and replaced by rookie Semyon Varlamov. In August 2009, Theodore lost his infant son, but the goaltender was remarkable during the '09-10 regular season (30-7-7). Then, one game into the postseason, he was gone again. Now, Theodore is gone for good and Varlamov will have to compete with top minor league prospect Michal Neuvirth for playing time.
Look for the first few months to be a testing ground as to whether the pair is capable of taking the Caps deep into the playoffs. If there is any faltering, look for McPhee to add some veteran presence before the trade deadline. Neuvirth signed a two-year contract extension during training camp and was described by McPhee as being technically near-perfect, so the duel in net should be a great subplot.
3. A new and improved Mike Green?
The Calgary native has evolved into one of the most exciting defensemen in the NHL. Nominated for two straight Norris Trophies, Green is one of only seven blueliners in NHL history to post back-to-back 70-point seasons before the age of 25. He is, to put it mildly, a force, a modern-day Paul Coffey. Yet Green has struggled in the postseason. He has 50 goals in the past two regular seasons, but just one in his past 21 playoff games, calling into question his mental toughness and physical preparation.
But Green was candid with ESPN.com in preseason interviews and has vowed to be in the best shape of his life come next April. If he is, this may be the Caps' year to put the doubters to rest.
4. John Carlson in the house
We had an interesting window into the future when Caps rookie defenseman John Carlson faced off against Montreal prospect P.K. Subban in the first round. Both showed glimpses of greatness in high-pressure situations. By the end of the series, Capitals coach Bruce Boudreau was sending the 20-year-old Carlson over the boards in almost every situation. Ovechkin described the youngster's postseason play as "unbelievable."
Carlson has enjoyed a dramatic rise to fame in a short time, from starring on the international junior stage with Team USA to success in the AHL and NHL. Sometimes those kinds of curves have a sudden interruption. But Carlson, who averaged 20:14 per night in ice time in the postseason, will be looking to buck that trend. Boudreau already has him penciled in on the second power-play unit. Carlson may end up on the short list of some voters for the Calder Trophy as rookie of the year. Look for Carlson to possibly play alongside Karl Alzner.
5. Power-play flameout
Want to know how quickly things can change when the money is on the table? During the regular season, the Caps dominated on the man advantage and led the league with a 25.2 percent efficiency rating. In the playoffs? Not so much. (They scored just once on 33 attempts.) Boudreau said he went through tape of all those opportunities during the offseason and couldn't find his team lacking in anything other than in finishing.
"We had multiple golden scoring chances that we would normally have scored [on], and whether we were missing the net or the goalie was making great saves, that was that," Boudreau said. "That has kept me feeling that what we did and what our power play [has been] since I've gotten here is on the right track."
6. Penalty-kill woes
Boudreau sees some good things in the Caps' penalty-killing unit, one that finished 25th overall during the regular season and gave up six power-play goals during the seven-game loss to Montreal. "We think our penalty killing can't get any worse," Boudreau said.
But seriously.
"We've changed a couple of tactics on our penalty killing that [associate coach] Dean [Evason] has worked on all summer long, and we think that's going to help," Boudreau said. "Only time will tell."
7. Alexander Semin
Keep your eyes on the talented Russian with a penchant for pulling the chute when the going gets tough. When he's on, he's as dangerous as they come (he has averaged 34.5 goals the past four seasons and has an absolutely deadly release and terrific speed). Still, Semin seems to lack what several Caps observers have called "the compete gene." People can point the finger at Ovechkin for the Caps' playoff missteps all they want, but Semin's inability to come through in the clutch has been a major drag.
After potting 40 regular-season goals last season, he failed to score at all in the playoffs despite his 44 shots on goal. He is in the final year of a deal that pays him $6 million. Don't look for the team to initiate talks on an extension until they see what they get out of Semin when it really counts.
8. Backing Backstrom
Although there were few significant changes to the Caps' lineup, the big offseason news was the long-term deal tendered to top center Nicklas Backstrom. The slick puck handler, who has emerged as one of the top playmaking centers in the NHL, signed a 10-year deal worth $67 million that gives Caps fans reason to believe there will be many nights of Backstrom-to-Ovechkin and vice versa. In the same way that the Penguins' fortunes have been solidified with long-term deals to Sidney Crosby and Evgeni Malkin, locking up Backstrom to complement Ovechkin was key to the Capitals' stability.
9. The rest of the middle
A year ago, veteran Brendan Morrison was brought in to help provide depth down the middle for the talented Capitals. That experiment didn't work out, as Morrison struggled during the second half and was a healthy scratch at times during the playoffs. This summer, the question of the team's depth down the middle remains unanswered. Tomas Fleischmann, Mathieu Perreault, Keith Aucoin and rookie Marcus Johansson (the 24th overall pick in the 2009 draft) are waging a battle for what amounts to two pivot positions on the roster. Our guess? Perreault and Fleischmann get the nod to start, but that could change at a moment's notice.
10. The T-shirt
It's not quite "Win one for the Gipper," but Caps players could be seen during training camp sporting T-shirts with the slogan "Stay Angry Believe In Yourselves" on the backs. By next April, we'll find out whether angry translates into erasing last spring's disappointments.
PREDICTION: Washington will rebound from its first-round ouster to once again win the Southeast Division and finish atop the Eastern Conference standings. A berth in the Eastern Conference finals, at least, is in the offing.
Scott Burnside covers the NHL for ESPN.com.
More From The Magazine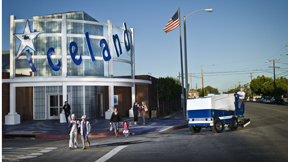 ESPN The Magazine's "Ice Issue" provides even more in-depth coverage of the upcoming NHL season:
• Smith: What is Gary Bettman's legacy?
• Fleming: Most beloved machine in sports
• Berra: The Red Wings' scouting edge
Coach's Corner
Coach:
Bruce Boudreau
Experience:
Entering third full season with Caps
Record:
141-56-28
Stanley Cup titles:
0
• Was there disappointment in Washington last spring? Sure.
As Boudreau said, he's had good teams lose in the playoffs, but it's different in the NHL.
This season will serve as a great litmus test for Boudreau and his coaching acumen. For our money, the former Jack Adams Award winner is still a terrific bench boss, but the stakes are high, as are the expectations.
Look for the Caps to be a better defensive team -- we're guessing top 10 in goals allowed -- and for them to be zeroed in on the task at hand come April. As for a repeat of last spring's upset special? Not a chance.
The Fab Five
Burnside's top positional players for the Caps:

F -- Nicklas Backstrom: Signed long-term extension in the offseason and should be a top-five point producer.

F -- Alex Ovechkin: This season is a big one for the talented captain who needs to lead his team over the playoff hump.

F -- Mike Knuble: Solid, durable and capable of scoring 30 or more goals.

D -- Mike Green: New diet and new outlook on staying strong for the postseason.

D -- Tom Poti: He overcame an eye injury in the playoffs and signed a new two-year contract extension during training camp.
Fantasy Focus

Best bet: Alex Ovechkin
What can you say about Ovechkin that hasn't been said before? He is a threat to lead all forwards in as many as five of the seven categories in fantasy and the entire league in four of them. He takes enough shots to single-handedly win you that category. He has a career average of 5.5 shots per game. Playing with Nicklas Backstrom is enough to make sure he continues to propel past 100 points, and even if Alexander Semin is separated from Ovechkin at even strength, they still get together on the power play. He is far and away the No. 1 overall pick in fantasy. -- Sean Allen

Risky pick: Semyon Varlamov
After an impressive run through the 2008-09 playoffs, big things were expected for Varly in 2009-10. Unfortunately, a sports hernia injury, followed by a knee injury while recovering from the hernia injury, short-circuited those plans. Let's face it: whoever winds up between the pipes for the Caps will get some wins considering the team's offensive firepower. But it's hard to project which Varlamov we'll get, given his frequently banged-up status last season. A handcuff pick of Michal Neuvirth is required if one takes Varlamov. -- Tim Kavanagh

Sleeper pick: Eric Fehr
On a pure points-per-minutes-played basis, Fehr was one of the best in the NHL in 2009-10. As a third- or fourth-liner last season, Fehr scored 21 goals and 39 points in 69 games. He re-upped with the Caps and is now being paid like a second-line winger. But unless Mike Knuble gets injured or Fehr can outplay Tomas Fleischmann, Fehr looks like a good option to stash on your bench in case he earns more ice time. -- SA
More Fantasy: Join now! » Draft kit » Ranks »
Insider: NHL
The Rankings
See how all 30 NHL teams stack up for the coming campaign in The Magazine's 2010-11 Rankings. Story