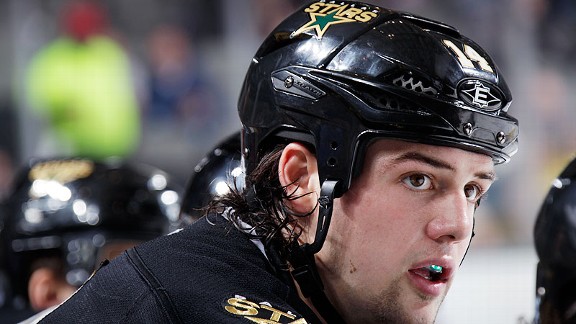 Glenn James/NHLI/Getty Images Getting Jamie Benn under contract needs to be the Stars' first priority.
Stars: Five Things You Need To Know
By Scott Burnside
There was a minor social media kerfuffle after the NHL and its players reached a tentative accord on a new collective bargaining agreement when a tweet went out from the Dallas Cowboys essentially saying, who cares hockey's back? Ha, ha, those wacky Cowboys.
Eventually, the Stars sent a Twitter shot back at the Boys, and everyone went on their way, but the exchange highlighted the challenge facing the Stars in Dallas, where the one-time Western Conference power has now gone four straight years without a playoff berth. They desperately need to get back in the playoffs to return to a place of relevancy in the sports-mad community.
The good news is Joe Nieuwendyk has now fully put his personal stamp on the team, and new owner Tom Gaglardi is committed to winning. Now, can they get it done on the ice with an interesting blend of aging veterans with solid resumes and a nice homegrown core of talented scorers? Time for the rubber to hit the road in Big D.
1. Lock Up Benn
Nieuwendyk's No. 1 order of business will be to get scoring forward Jamie Benn under contract ASAP. The restricted free agent was tied for second on the team with 26 goals and is a key part of a revamped offensive corps. "I'm very hopeful that we're both motivated to get a deal done," Nieuwendyk told ESPN.com on the eve of training camp. Although ownership has given Nieuwendyk more to work with in terms of budget to bring in outside help like Ray Whitney and Jaromir Jagr, Benn is one of the Stars' own prospects, and the last thing anyone wants is for this to become a distraction after the sting of the lockout.
2. Offseason Additions
The Stars boasted just one 30-goal scorer last season, Michael Ryder who had 35, as Dallas ranked 22nd in goals per game and dead last on the power play. That has to get better if the Stars are going to sneak into the playoffs after missing four straight years. To that end, Nieuwendyk added veteran scoring in the form of Whitney, who was signed away from division foe Phoenix, and future Hall of Famer Jagr, who had a successful return to the NHL in Philadelphia after spending three seasons in the Kontinental Hockey League. Derek Roy comes over from Buffalo as well and appears ready to go after recovering from shoulder surgery. Assuming Benn is brought under contract, the additions give sophomore head coach Glen Gulutzan lots of options up front. Those options will be especially important on the power play, where Jagr and Whitney both have vast experience controlling the puck. Roy also has experience manning the point on the Buffalo power play. "The power play was a big thing that we had to address," Nieuwendyk said.
3. Managing Veterans
Whitney is 40 and Jagr will turn 41 in February. Whitney went from 24 regular-season goals to just two in the postseason, as Phoenix went to the Western Conference finals. Jagr, meanwhile, saw his production slow as the season went on in Philadelphia as he was dogged by core body issues. A shortened season may play to their strengths, although the condensed schedule means Gulutzan will have to be wary of overextending them. But, in theory, that's the good thing about having a bunch of guys to slot into key offensive moments. Nieuwendyk noted that with Brenden Morrow banged up and other injuries, the team has often been forced to rely on just Loui Eriksson, Mike Ribeiro and Jamie Benn, and even then the team has been achingly close to making the playoffs the past few years.
4. Whitney's Leadership
The Hall of Fame GM is trying to build a culture of winning in Dallas. He gave up some sand in Steve Ott, who went to Buffalo in the Roy deal, and scoring down the middle in Ribeiro, who landed in Washington. Nieuwendyk was especially optimistic about the impact Whitney will have. The 40-year old has been around Dallas since the summer when his kids went back to school, and Nieuwendyk feels there's already been an impact in terms of Whitney's leadership. "I feel we're better prepared to get over the hump now," the GM said.
"We've been knocking on the door," the GM said. Speaking of Roy, the former Sabre mainstay has been hampered by injuries and was part of a Buffalo team that badly underachieved last season under new ownership. He worked hard rehabbing offseason shoulder surgery, and Nieuwendyk said he can tell that Roy is excited for a new beginning in Dallas.
5. D In Big D
Last summer, Nieuwendyk took a chance on Sheldon Souray, signing the big defenseman to a one-year deal. It was a positive experience for both sides, although Souray signed with Anaheim in the offseason. This year, the Dallas defense will have a more homegrown look with an imposing group of prospects, including Benn's brother Jordie, Brenden Dillon and Jamie Oleksiak expected to get a look coming out of camp. Oleksiak is 6-foot-7 and was the 14th overall pick in 2011. The one addition to a blue line that already includes offensive specialist Alex Goligoski, Trevor Daley and emotional leader Stephane Robidas is Aaron Rome, who was part of Vancouver's run to the 2011 Cup finals. "He's a real heart-and-soul guy, a real meat-and-potatoes guy," Nieuwendyk said. That group should help give netminder Kari Lehtonen good protection and a good shot at the postseason.
Scott Burnside covers the NHL for ESPN.com.
Coach's Corner
Coach:
Glen Gulutzan
Experience:
Entering second NHL season
Record:
31-32-0-5
Stanley Cup titles:
0
Fantasy Focus

Outlier Season?: Kari Lehtonen
Never much of a ratios whiz during his time in Atlanta or Dallas, Lehtonen busted the door down in 2011-12, finishing with a 2.33 GAA and .922 SV percentage, good for tenth and eighth, respectively, in the NHL. Add his 32 wins into the mix, and you have the No. 10 goalie on our Player Rater for last season. So, the million dollar question is: Was 2011-12 the start of a new trend, or an outlier on the career trajectory? The Stars invested big money on free agents in the summer prior to last season, and most of them return for 2012-13. The club was busy this offseason again, trading away Mike Ribeiro and Steve Ott, but getting Cory Eakin and Derek Roy in return, as well as signing Jaromir Jagr. Cautious optimism is the play here on Lehtonen; draft him as your second goalie and hope for another big year.
More Fantasy: Join now! » Player projections »
Who's On The Move
The offseason signings/acquisitions and departures for the Stars:
Signings/Acquisitions
• June 18: Named Curt Fraser assistant coach.
• June 22: Acquired C Cody Eakin and a 2nd-round pick in the 2012 NHL Draft.
• July 1: Signed LW Ray Whitney and D Aaron Rome.
• July 2: Re-signed C Toby Petersen.
• July 2: Acquired C Derek Roy from Buffalo.
• July 3: Signed RW Jaromir Jagr.
• July 6: Re-signed C Tom Wandell.
• July 12: Re-signed G Richard Bachman.
• July 13: Re-signed D Philip Larsen.
• July 22: Re-signed D Mark Fistric.
• July 25: Re-signed D Jordie Benn.
• Sept. 14: Re-signed G Kari Lehtonen.
Departures
• C Mike Ribeiro (traded to Washington)
• D Sheldon Souray (unrestricted free agent, signed by Anaheim)
• C Steve Ott (traded to Buffalo)
• D Adam Pardy (traded to Buffalo)
• C Jake Dowell (unrestricted free agent, signed by Minnesota)
• RW Adam Burish (unrestricted free agent, signed by San Jose)
• RW Radek Dvorak (unrestricted free agent)