Ottawa Senators: Flying high again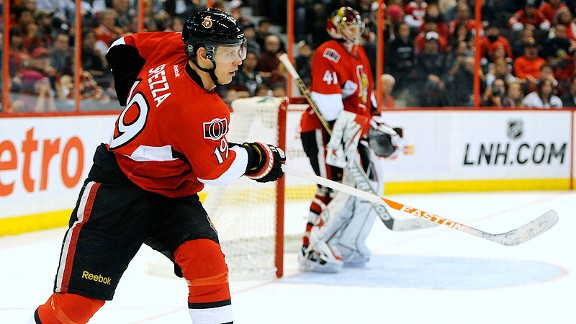 Eric Bolte/USA TODAY SportsThe Senators may have some questions up front, but captain Jason Spezza likes what he has seen so far.
With the stunning departure of longtime captain
Daniel Alfredsson
this offseason, it's easy to overlook what this team is capable of doing. The
Ottawa Senators
are on the rise, a club that has the potential to challenge for the Atlantic Division title this season. Back-to-back trips to the playoffs, both surprising many people, have the Sens making believers out of many.
"We're in a good stage, but we have to make that next step now," new captain Jason Spezza told ESPN.com. "Two years ago, nobody gave us a chance at all, and we felt we were better and proved that to people. Last year, we had all the injuries and we managed to battle through it and have a great year. This year, the expectations have gone up. When those expectations go up, you have to take a step as a team.
"It sucked having all those injuries last year -- and personally, it sucked not playing much myself -- but as a team, we hope it fast-tracked our team. It gave some guys ice time who probably wouldn't have got that ice time had we not had those injuries. So hopefully that helped grow our team. With the additions we've made and the guys coming back, we know the expectations have gone up. You have to be ready for that."
Still, it figures that until the Senators play their first game against Alfredsson's Red Wings in Detroit on Oct. 23, and perhaps not until the former fan favorite plays his first game in Ottawa with Detroit on Dec. 1, will Canada's capital region be able to move on from the divorce. Alfredsson has done so much for that community and market since his rookie NHL season in 1995-96 that anything but a standing ovation from the Ottawa crowd would be an absolute disgrace.
Oh, and I'm picking the Senators to win the Atlantic Division this season. So there's that, too.
CHANGES
Joining Alfredsson through the exit door were forwards Jakob Silfverberg, Peter Regin and Guillaume Latendresse, as well as blueliners Sergei Gonchar, Andre Benoit and Mike Lundin. The new faces include forwards Bobby Ryan and Clarke MacArthur as well as defenseman Joe Corvo.
The big change, really, is in the dressing room, where Alfredsson's void will be felt most. This is now Spezza's team, and the star center is ready for that role.
"Leadership is something that comes naturally," Spezza said. "Early on in my career maybe I wasn't ready to be in a role like that. But I've been leading the team for the last few years and being one of the main guys in our room. It's something that I feel comfortable with. It wouldn't change much in how I deal with my day-to-day stuff."
On the ice, the addition of Ryan was a big-time move. Spezza really hasn't had a reliable triggerman on his top line in Ottawa since the days of Dany Heatley. Although head coach Paul MacLean likes to move his pieces around a lot, we could see a lot of the Ryan-Spezza tandem this season.
"From afar I've seen his game, he's a great player, he's dynamic, he shoots the puck real well, all attributes that I like in a linemate," Spezza said of Ryan. "Hopefully we get a chance to play together. Paul likes to mix things up, too. But I think we'll have a good chance to be linemates for most of the season if we make things work."
STRENGTHS
We start with reigning Jack Adams Award winner MacLean, who deservedly got the honors as NHL coach of the year last season after he somehow guided his team into the playoffs despite losing most of his top players for most of the season. Spezza, Erik Karlsson, Craig Anderson, Milan Michalek and Jared Cowen were gone for long stretches, but the Senators didn't break. It was nothing short of spectacular coaching.
"Mac's a good man," Spezza said. "He respects us as players, and we respect him as a coach. That, in turn, makes it easy to play for a guy. He has a good sense of humor, he's great with the media, he's good taking pressure off us at times. But he can also be a bit of a bear, too, which is nice. You need to have that with a coach. He knows how to push our buttons. He's a smart hockey guy. And he asks for our opinion, he values that. Our assistant coaches don't get enough credit, either. They have a nice dynamic as a staff."
In goal, the team is deep with Anderson and Robin Lehner: the former a proven veteran who again was outstanding last season, the latter a rising star in many scouts' eyes. The blue line, led by Karlsson, is also paramount to Ottawa's success, perhaps underrated as a group around the league, but it shouldn't be. In addition to the high-flying Karlsson, Marc Methot was invited to Team Canada's Olympic camp, which should tell you that he's been playing under the radar until now. He's a dependable two-way player. Cowen's ceiling is high, high, high; he's a beast of a physical specimen. Patrick Wiercioch opened a lot of eyes last season after getting a chance to play real minutes thanks to all the injuries. Chris Phillips remains the dependable veteran he's been for a long time. Corvo and Eric Gryba complete a group that's very good and dependable.
Another plus for this team? A motivated Spezza, who two years ago was fourth in NHL scoring. Back surgery wrecked last season, and the fact he wasn't invited to Team Canada's Olympic summer camp also fuels him.
"I was disappointed I wasn't invited," Spezza said. "I didn't play last year, so that factors into it. I was pretty excited coming into this season just being healthy and rejuvenated. When you don't play, you realize what you're missing. Not being invited to the summer [Olympic] camp, that gives me an extra little chip on my shoulder, too. I would have hoped that they had looked at my entire body of work and not just last season, but that wasn't the case. For me, it's just added motivation to show people you're a good player."
WEAKNESSES
The Senators were 27th in the NHL in goals per game last season, and although some of that can easily be attributed to the injuries, it remains that this isn't the deepest club up front in terms of finding goals. The team needs consistent secondary scoring from the likes of Kyle Turris, Colin Greening, MacArthur, Cory Conacher and Mika Zibanejad this season to take the pressure off Karlsson, Spezza and Ryan to do it all.
REALIGNMENT EFFECT
The old Northeast Division is now the new Atlantic plus Detroit and the two Florida teams, so in general the competitive balance is largely the same. But for Senators fans, it means seeing former captain Alfredsson within the division all season. Well, then. Perfect.
PREDICTIONS
LeBrun: No question Boston and Detroit are the strongest teams on paper in this division, and odds are one of those two teams will win this division. But this is my 2013-14 upset-special pick: Sens take the Atlantic Division title. They surprised two years ago making it and they stunned last season staying in it despite the injuries. Now they're going to turn heads again.
Burnside: Second in the Atlantic Division.
Custance: First in the Atlantic Division.
Melrose: Third in the Atlantic Division.
Strang: Third in the Atlantic Division.
ESPN Senior Writer
Covers the NHL for ESPN.com and TSN in Canada
Six years on the "Hockey Night In Canada" Hotstove panel
13 years at The Canadian Press national news agency
Coach's Corner

Coach: Paul MacLean
Experience: Entering 3rd NHL season
Record: 65-48-16
Stanley Cup titles: 0
Who's On The Move
The offseason signings/acquisitions and departures for the Senators:
Signings/Acquisitions
• July 5: Acquired LW Bobby Ryan from Anaheim for RW Jakob Silfverberg, LW Stefan Noesen and a 1st-round pick in the 2014 NHL Draft.
• July 5: Signed LW Clarke MacArthur.
• July 8: Signed D Joe Corvo.
• July 10: Re-signed D Mark Borowiecki and LW David Dziurzynski.
• July 12: Re-signed RW Erik Condra.
• July 18: Re-signed C Mike Hoffman.
• July 22: Re-signed D Patrick Wiercioch.
• Aug. 7: Re-signed C Stephane Da Costa.

Departures
• RW Jakob Silfverberg (traded to Anaheim)
• D Andre Benoit (unrestricted free agent, signed by Colorado)
• D Sergei Gonchar (traded to Dallas)
• RW Daniel Alfredsson (unrestricted free agent, signed by Detroit)
• C Peter Regin (unrestricted free agent, signed by NY Islanders)
• D Mike Lundin (unrestricted free agent)
• LW Guillaume Latendresse (unrestricted free agent)
Fantasy Focus

Bobby Ryan
There is no way the move to Ottawa isn't a good thing for Ryan, whose progression in the NHL had stalled, and seemed to be slipping with the Anaheim Ducks. Ryan joins a team eager for a top-line winger that can score more than 30 goals a season to play with one of the league's better playmakers in Jason Spezza. Banking on a rebound from Ryan is absolutely fair, but don't take things too far in your draft. There are still a lot of barriers between Ryan and his peak of 35 goals and 70 points, not the least of which would be the checkered health history of his new star centerman. But betting on Ryan to earn a lot more fantasy value than last season or the season prior is a prudent move. Ryan should be counted on as one of the top scorers for the Ottawa offense, and will get more power-play time than he was getting with the Ducks. Those two factors alone make him a great candidate to return to form.
More fantasy: Join now! » Top 250 players »