Leafs lose Antropov and Tucker to injuries
PHILADELPHIA (AP) -- The Toronto Maple Leafs couldn't afford to
play overtime. They barely had enough players to finish regulation.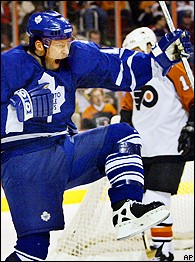 ---
Mikael Renberg scored a power-play goal with 5:39 left, leading
Toronto to a 5-3 victory over the Philadelphia Flyers in Game 1 of
their Eastern Conference quarterfinals series Wednesday night.
Game 2 is Friday night at the First Union Center.
The Leafs, already without centers Doug Gilmour (knee) and
Travis Green (ribs) and defenseman Glen Wesley (ankle), lost center
Nik Antropov to a foot injury, and right wing Darcy Tucker to a leg
injury.
"It's frustrating,'' Leafs captain Mats Sundin said. "We've
had our share of injuries the last few years."
Sundin broke his wrist in Toronto's first-round series against
the New York Islanders last season, but the Maple Leafs advanced to
the conference finals where they lost to Carolina in six games.
Toronto coach Pat Quinn said Antropov broke a bone in his foot,
and should be out a while. Tucker is scheduled for an MRI on his
knee on Thursday.
The Flyers dominated the game, outshooting the Leafs 31-15. But
Toronto scored four goals on its first 13 attempts against Roman
Cechmanek.
Alexander Mogilny had three goals, and Tie Domi also scored for
the Leafs, who have won four straight first-round series.
Eric Desjardins, Donald Brashear and Eric Weinrich scored for
Philadelphia, which has been eliminated in the opening round four
of the last five years.
"Any time you give up 13, 14 shots, you're doing some things
right," Flyers coach Ken Hitchcock said. "The difference was they
scored on the few chances they had."
The series opener was filled with hard hits, near-misses and
even featured goals from both teams' enforcers -- Domi and Brashear.
But Toronto took advantage of the wide-open style, scoring a
short-handed goal on a two-on-one early in the first.
"We are lucky to get this one," Mogilny said.
Philadelphia surpassed its record-low total of two goals in its
five-game playoff loss to Ottawa last year but didn't get any
Wednesday from high-profile players -- Tony Amonte, Jeremy Roenick,
John LeClair, Mark Recchi, Simon Gagne or Keith Primeau.
Instead, they got goals from three players who combined for 18
in the regular season -- Desjardins (8), Brashear (8) and Weinrich
(2).
"It's good to go through a little adversity," Roenick said.
"We might as well go through it early."
With Brashear in the penalty box for boarding, Renberg, a former
Flyers player, took a pass from Tomas Kaberle and beat Cechmanek
for the go-ahead goal.
Mogilny scored into an empty net in the final minute to complete
his first playoff hat trick.
Ed Belfour had 28 saves. Cechmanek stopped just 10 shots.
"I played a bad game," Cechmanek said. "I can play a lot
better. I made a lot of mistakes. I have to help my team. It's only
one game so we'll see the next game. I'm surprised we lost."
After falling behind 3-1 early in the second, the Flyers tied it
on goals by Desjardins and Brashear that were 62 seconds apart.
Desjardins took a pass from Sami Kapanen, but his first shot hit
Antropov before bouncing back out to him. Desjardins then skated
inside the right circle and lifted a shot over Belfour's glove.
Brashear's goal, a turnaround slap shot, was his first career
playoff point in 18 games.
Mogilny gave the Leafs a 2-1 lead with 8:50 left in the first
when he slapped a shot from the slot inside the left post.
Domi made it 3-1 early in the second on just his fifth career
playoff goal in 79 games. Domi took a shot as he fell to the ice,
and the puck bounced off Flyers defenseman Kim Johnsson and
underneath Cechmanek's right skate.
The Leafs took a 1-0 lead on Mogilny's short-handed goal 8:10
into the first. Bryan McCabe set up a two-on-one by clearing the
puck from behind Toronto's net. The puck bounced over Kapanen's
stick and went to Mats Sundin, who broke in with Mogilny on Chris
Therien. Sundin carried it down the right side before passing to
Mogilny, who one-timed a shot past Cechmanek.
Weinrich tied it at 1 just 63 seconds later. He lifted a shot
through a screen just under the left crossbar as Philadelphia's
power-play ended.
Toronto, the most-penalized team in the NHL this season, had
seven penalties. The Flyers were 1-for-6 on the power-play and
allowed a short-handed goal.
Cechmanek was 33-15-10 with a 1.83 goals-against average and a
.925 saves percentage in the regular season. He fell to 3-8 in the
playoffs.
"We didn't get a lot of shots, but we did well with the
percentage," Leafs coach Pat Quinn said.
Game notes

Only two players on the Flyers' playoff roster scored
postseason goals last year, and neither player did it for
Philadelphia. Kapanen scored for Carolina and Marcus Ragnarsson had
one for San Jose. Ruslan Fedotenko (Lightning) and Dan McGillis
(Bruins) scored for the Flyers last year. ... Mogilny had two goals
and two assists in four games against the Flyers in the regular
season. ... The Flyers have beaten Toronto in three of four playoff
series, losing in the first round in 1999. ... There were 18,937 at
the First Union Center, a rare non-sellout for a Flyers playoff
game.