Shanahan returns with two assists; Rangers KO Flyers
NEW YORK -- Colton Orr didn't let Todd Fedoruk rough up his New York teammates this time.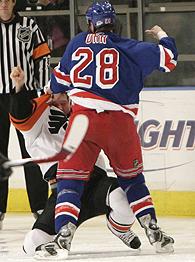 "I guess I got my bell rung," Todd Fedoruk said of his fight with Colton Orr on Wednesday night.
(AP Photo/Seth Wenig)
Just seconds after Orr started for the Rangers, Fedoruk hopped off the Philadelphia bench for a quick line change and squared off with the New York enforcer. The gloves came off and Orr dropped Fedoruk with a hard right to the cheek, knocking him out and forcing him to leave the ice on a stretcher.
The jolt just 21 seconds in sparked the crowd and sent the Rangers on their way to a 5-0 victory over the Flyers on Wednesday night.
"It was just a fair fight," Orr said. "It was a good fight. He is going to hit you, so you want to hit him. The same thing could've happened to me. It is part of the game."
Elias Says

Henrik Lundqvist and the Rangers beat the Flyers 5-0 in New York on Wednesday night. It was Lundqvist's fourth shutout (in 19 games) since Feb. 9, tying him with San Jose's Evgeni Nabokov for the league high over that span. Lundqvist had only three shutouts in 92 career starts before Feb. 9. All seven of Lundqvist's NHL shutouts have come at Madison Square Garden. Elias Says
Orr flattened Fedoruk in response to Philadelphia's rough play in the last meeting on Feb. 17. Fedoruk was taken to St. Vincent's Hospital and kept overnight.
"I'm a little sore but I'm fine right now," Fedoruk said in a statement. "I remember everything. I looked at him and he said, 'Let's go.' He knocked me out on the way down. When I got off the ice I woke up. I guess I got my bell rung."
Orr didn't dress for the previous game, a move Rangers coach Tom Renney said he regretted. But Orr quickly made his presence known in the rematch.
He took on Fedoruk in the Philadelphia zone and decked the hard-hitting forward with a shot flush to the left cheek. Fedoruk went down on his back, was strapped to a board, and had his head immobilized before being wheeled off.
"Todd is doing fine," Rangers neurologist Claude Macaluso said in a statement. "He is awake. He is having some problems with short-term memory, but other than that he is great. There are no neurological problems at all.
"We scanned him basically from the top of his head right down to the bottom of his neck. There are no fractures. (His) brain looks fine. He is going to be fine."
Renney started the line centered by Blair Betts and flanked by Orr and Ryan Hollweg that was so effective Monday in shutting down Pittsburgh's Sidney Crosby, the NHL's scoring leader, in the Rangers' 2-1 victory. In response to Orr's early presence, Fedoruk came onto the ice.
"I wanted to get a good start," Renney said. "I wanted to get a forecheck, I wanted to make sure that we gave them nothing. If you look back on what they did against our last opponent, Sidney Crosby, you can sort of understand why I start that line.
"I'm not sure why they made the change to put Fedoruk out there. There's 60 minutes to do that if that's what you're after."
Brendan Shanahan had two assists in his first game back from a concussion sustained against Philadelphia. Henrik Lundqvist shined again, making 17 saves for his second shutout in three games.
Fedoruk and teammate Ben Eager combined for four roughing penalties and a misconduct in the first period of Philadelphia's 5-3 victory last month, a game best remembered for the violent accidental collision between Shanahan and Flyers forward Mike Knuble.
Shortly after Orr emerged from the penalty box Wednesday, he fought Eager. Orr absorbed a punch that sent him to his knees, but wasn't injured. After returning to the bench following a second-period interference penalty, Renney gave him pats on his shoulders and back.
"We admitted it was a mistake the last time we played them that Colton wasn't in the lineup," Shanahan said. "Colton is a tough, tough guy and he plays well, too.
"For a guy that is known as a fighter, he plays a very intelligent and sound defensive game."
Shanahan helped set up two goals by Sean Avery that pushed the Rangers closer to sixth place in the Eastern Conference. New York trails Tampa Bay by one point and is three points above the playoff cutoff line.
Petr Prucha, Jaromir Jagr and Jed Ortmeyer also scored for the Rangers, who have surged back into contention with an 8-1-3 spurt. New York went 8-3-4 without Shanahan, who also left the Madison Square Garden ice on a stretcher when he slammed into Knuble.
Shanahan heard chants of "Shanny" when he came on for his first shift Wednesday just over 2 minutes in. He earned an assist when Avery scored a power-play goal 7:50 into the second period and nearly netted a goal of his own in the third, but rang a shot off the post.
It didn't matter. A few minutes later, Shanahan took a pass from Ryan Callahan and moved it to Avery for his 16th of the season and fourth in four games.
"I wanted it to just be about the team and getting a win and keeping the focus," Shanahan said. "Leading up to the game it was like being a rookie all over again. But once the puck drops and you get a couple of shifts and you get a couple of bumps you feel back to normal."
Knuble played in his fourth game since coming back from a broken cheekbone and orbital bone -- sustained in the collision -- that required surgery.
At the time, New York's loss to Philadelphia, owner of the NHL's worst record, coupled with Shanahan's injury, seemed to doom the Rangers' playoff hopes. But Lundqvist has been stellar since, and the attention to defense has propelled them.
Lundqvist has five shutouts this season. He has allowed only 12 goals in nine games since his last day off and hasn't given up more than three in a game since Feb. 5, going 11-3-5.
"This team was revved up with a lot at stake playing at home and with Shanahan coming back," Flyers coach John Stevens said of New York. "We knew it was going to be a tough game."
Prucha gave Lundqvist all the offense he would need 3:40 in. Jagr and Avery scored power-play goals 6:24 apart in the second period to make it 3-0. Prucha nearly had his second of the game, but the goal was waved off because he kicked in the puck.
Ortmeyer made it 4-0 and Avery capped the scoring, both in the third period.
Game notes
The Flyers had killed all 32 short-handed situations in their previous eight games. The Rangers connected twice in four chances. ... Orr took three of New York's four penalties. ... Philadelphia lost for the sixth time in eight games.
Regular Season Series
NYR lead 5-2
Madison Square Garden
7:30 PM, March 21, 2007
Coverage: TSN
Attendance: 18,200
Capacity: 18,006
Referees:
Dan O'Halloran
Dave Jackson
Linesmen:
Jonny Murray
Mark Shewchyk