Hockey fans brag that their playoffs are the best in sports. They're fluid! Exciting! Unpredictable! Hard to disagree -- except now, thanks to our new Stanley Cup forecasting model, they just got a little more predictable. We began by studying recent Cup winners for common denominators, finding four consistent traits: elite puck control, top-tier goaltending, deep playoff experience and the ability to neutralize power plays. Then we calculated the average, per trait, for each champ since the 2004-05 lockout. Surprisingly enough, the only team to surpass each benchmark this year? The Blackhawks. Don't argue with us. It's math!
1. For Puck's Sake
When the score is close -- tied or a one-goal game -- and a lucky bounce can change the outcome of a season, puck possession is key. With four players in the top 35 in Corsi-For Close percentage, which measures puck possession when the score is within one goal in the first two periods or tied in the third or OT (Andrew Shaw, Patrick Sharp, Patrick Kane, Jonathan Toews), Chicago exhausts its foes with sharp, quick passes in the offensive zone and outshoots them -- to the tune of 700 more shots than its opponents. The Blackhawks are tops in the NHL by far in possession rating and the only team to eclipse the Cup benchmark this season.
---
Corsi-For Close % Leaders
When the game is on the line, no team controls the puck like the 2014-15 Blackhawks.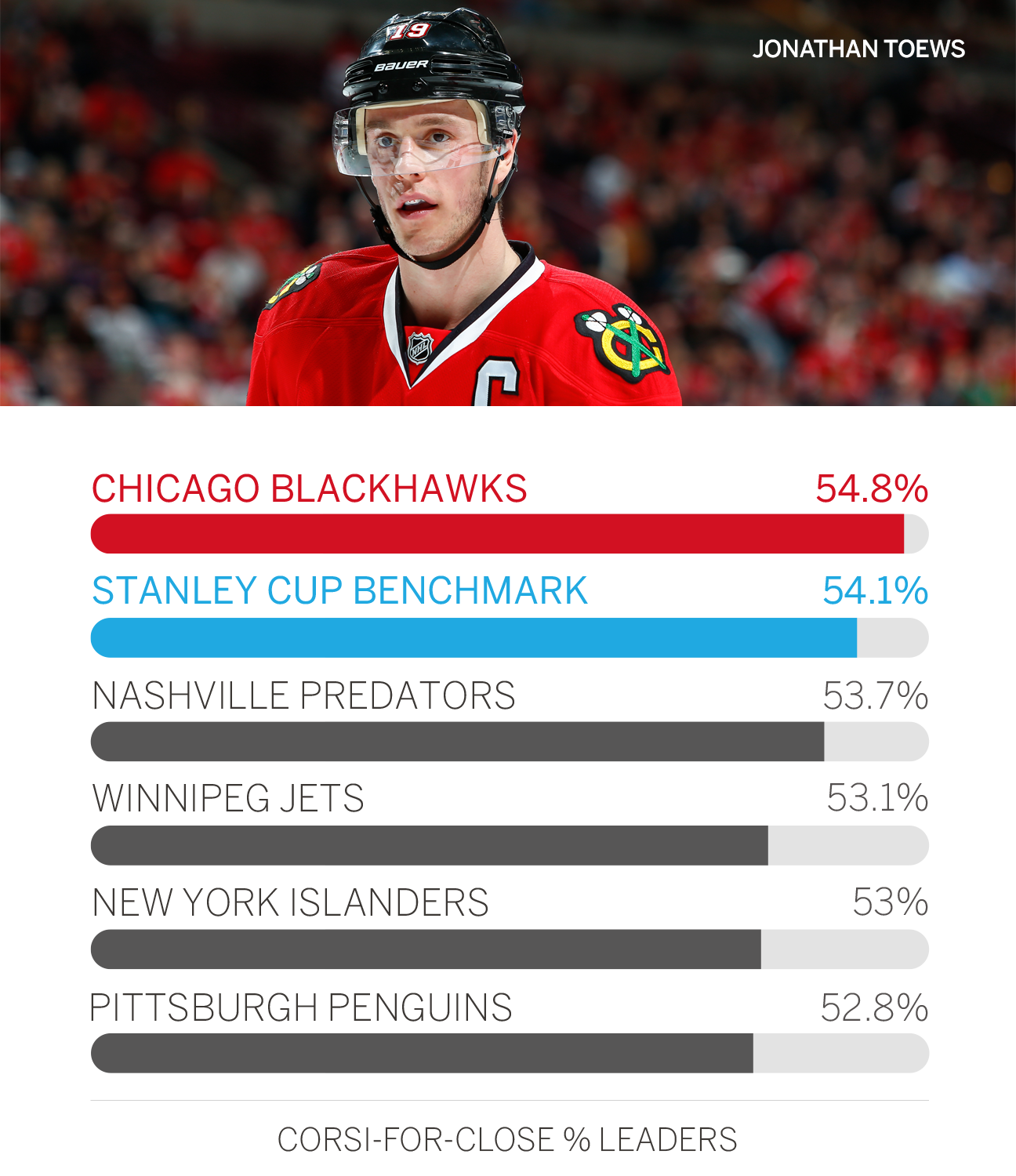 2. Minding The Net
News flash: Keeping the other team from scoring is kind of a big deal. "If you don't have goaltending, and you have everything else, there's something wrong," says Blackhawks coach Joel Quenneville. In Chicago's Cup run in 2013, Corey Crawford posted a stellar .938 5-on-5 adjusted save percentage, which adjusts for even-strength situations and shot difficulty. This season he's once again posting a .938 rate, the NHL's sixth-best among starting goalies (minimum 20 games). All of which has helped Chicago hold opponents to fewer than three goals in 48 games -- the most in the NHL.
---
5-On-5 Adj. Save % Leaders
Accounting for game situation and the difficulty of the save, there are few better keepers than 30-year-old Corey Crawford.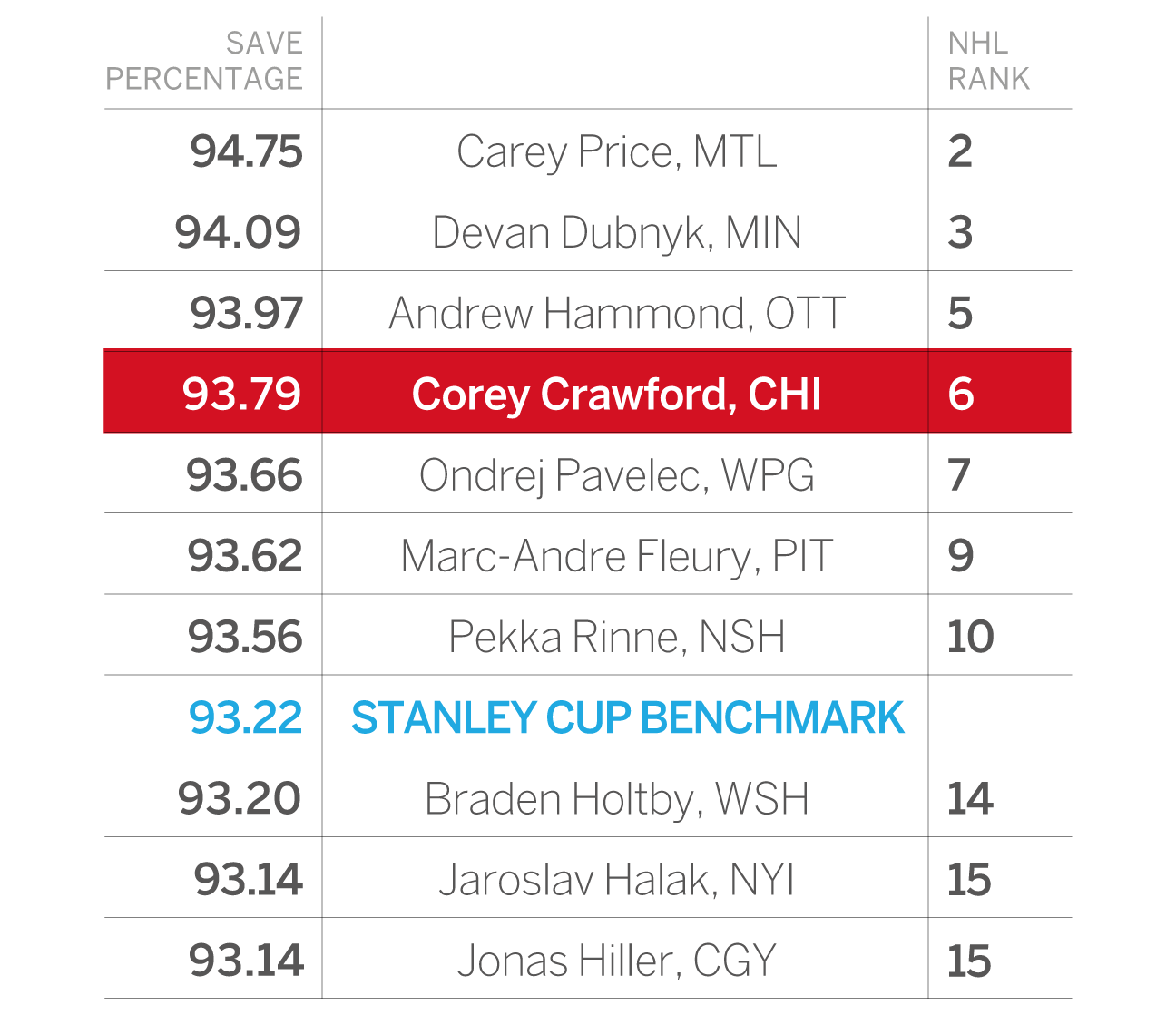 3. Have Beard, Will Play
Talk all you want about fresh legs and team speed -- in the playoffs, experience matters. Consider: The typical Cup winner has 793 games of playoff experience on its roster. Chicago has 1,559. Winger Marian Hossa, who with 171 career postseason games trails only Jaromir Jagr among active players, joins nine other Blackhawks with at least 80 such games. Quenneville even leads active coaches in playoff games behind the bench (181). As one Western Conference general manager says: "Teams like the Blackhawks, who have been there before, should be favored."
---
Top Career Playoff Appearances, By Roster
The heck with youthful exuberance! In the NHL, old-man wisdom often leads to postseason glory.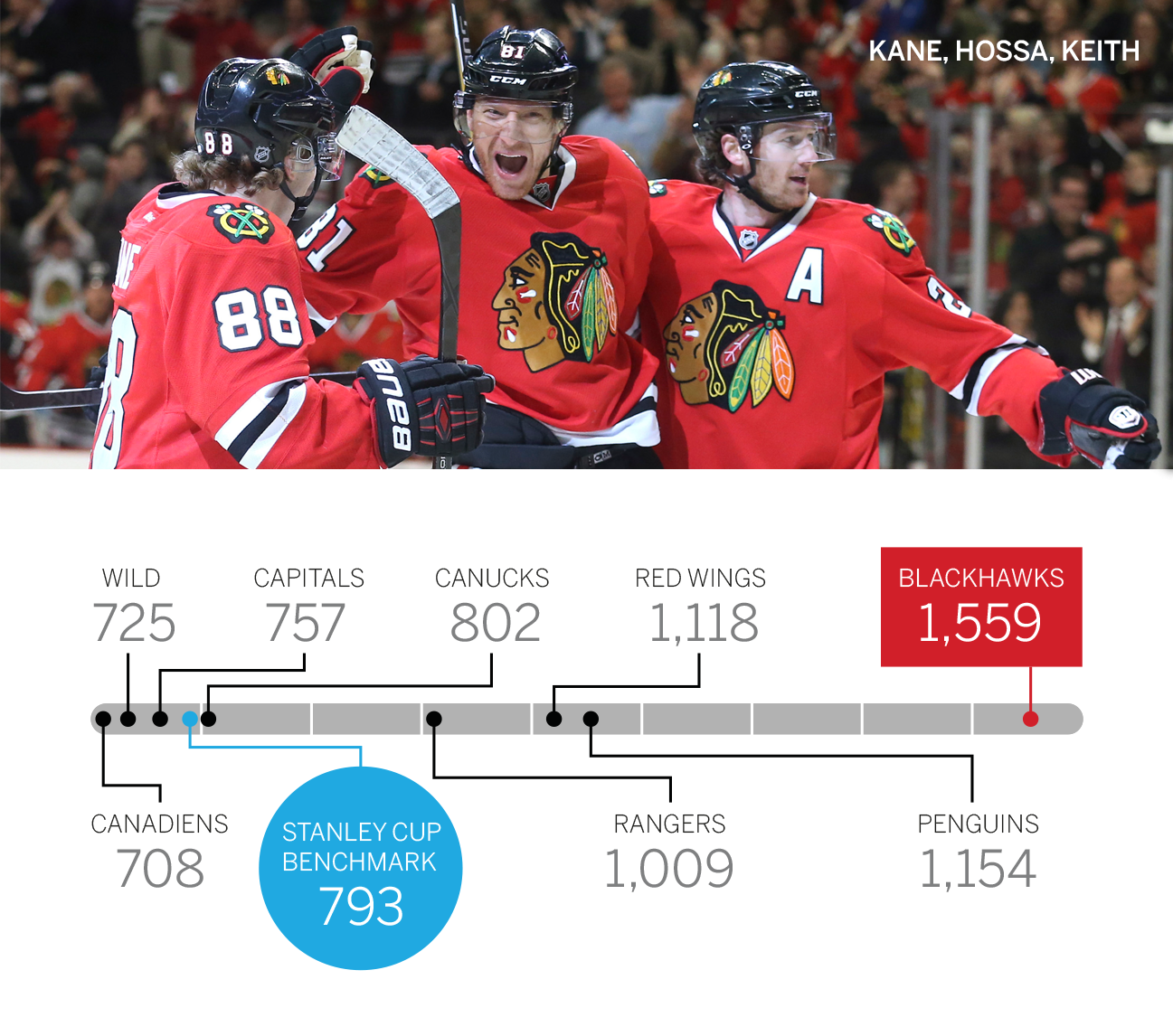 4. Killer on the Penalty
Forward Marcus Kruger, 24, anchors Chicago's penalty kill, which stops opponents' power plays an elite 84.3 percent of the time (seventh in the NHL). "Krugs is great on draws," says Hawks center Andrew Shaw, "and great on taking away lanes to the net." Both are key to neutralizing one-man advantages and should come in handy in the postseason: Of the past eight Stanley Cup champs, six had penalty-kill units in the top eight in the league. Our bet? Come June, Chicago will make that seven of the past nine.
---
Penalty-Kill Percentage Leaders
Put another way: If your team, down a man, can manage to prevent a goal, just think what they could do at even strength.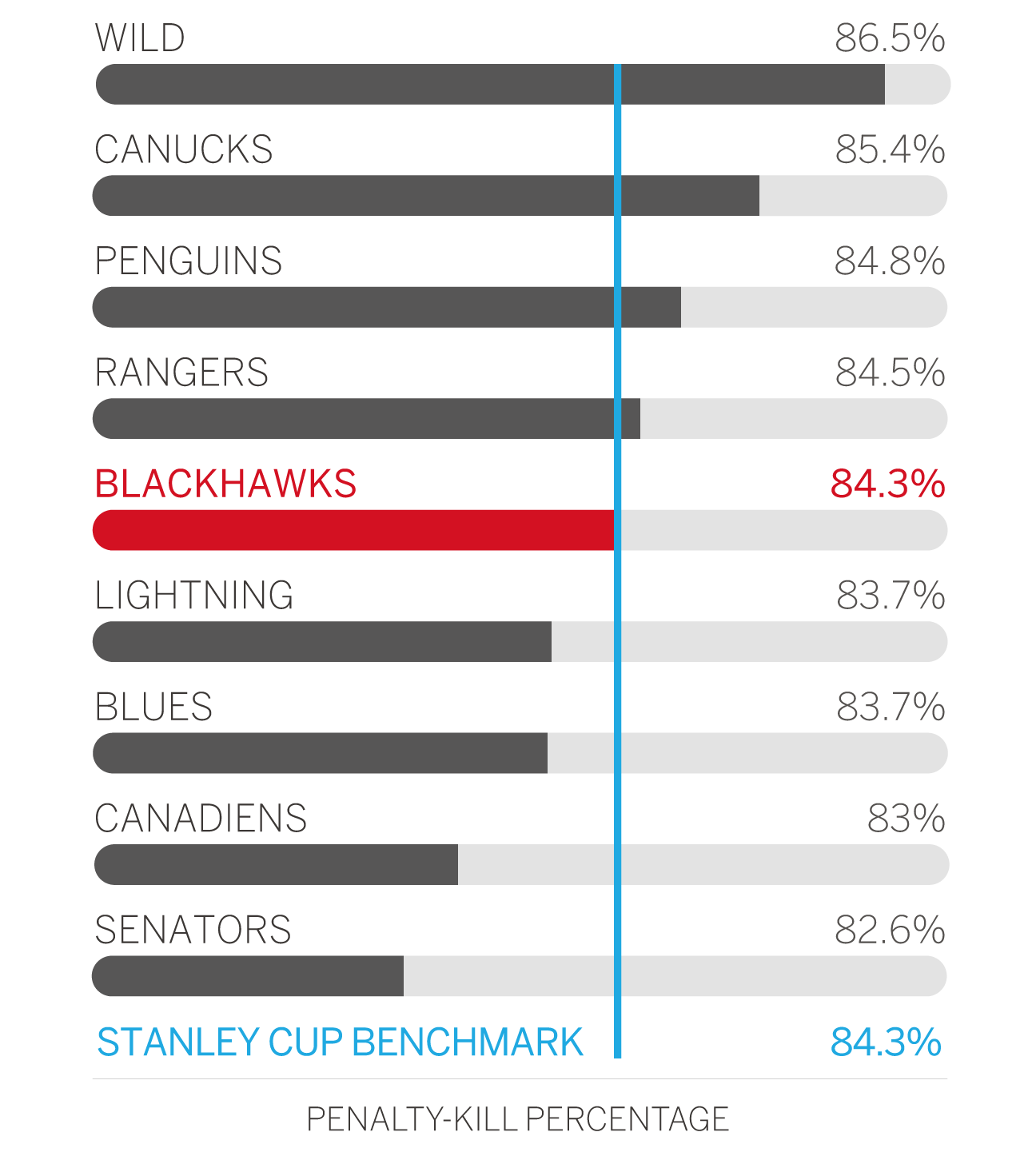 All stats through April 7, courtesy of war-on-ice.com.