The NHL is uneven at 31 teams. That could change soon, as Gary Bettman has invited Seattle to apply for expansion. Should the new franchise join the league in 2020-21, it's a coup for the NHL; the league has long coveted Seattle, plus other owners would relish in the $650 million expansion fee.
The only problem? Symmetry would push a significant imbalance in the two Western divisions, calling for realignment. We've thought long and hard about this scenario, and below present what we believe to be the most perfect NHL divisions.
Oh, and another thing: We're bringing back the old-school divisional names. Because, come on, playing in the Smythe Division is significantly cooler than playing in the Pacific.
---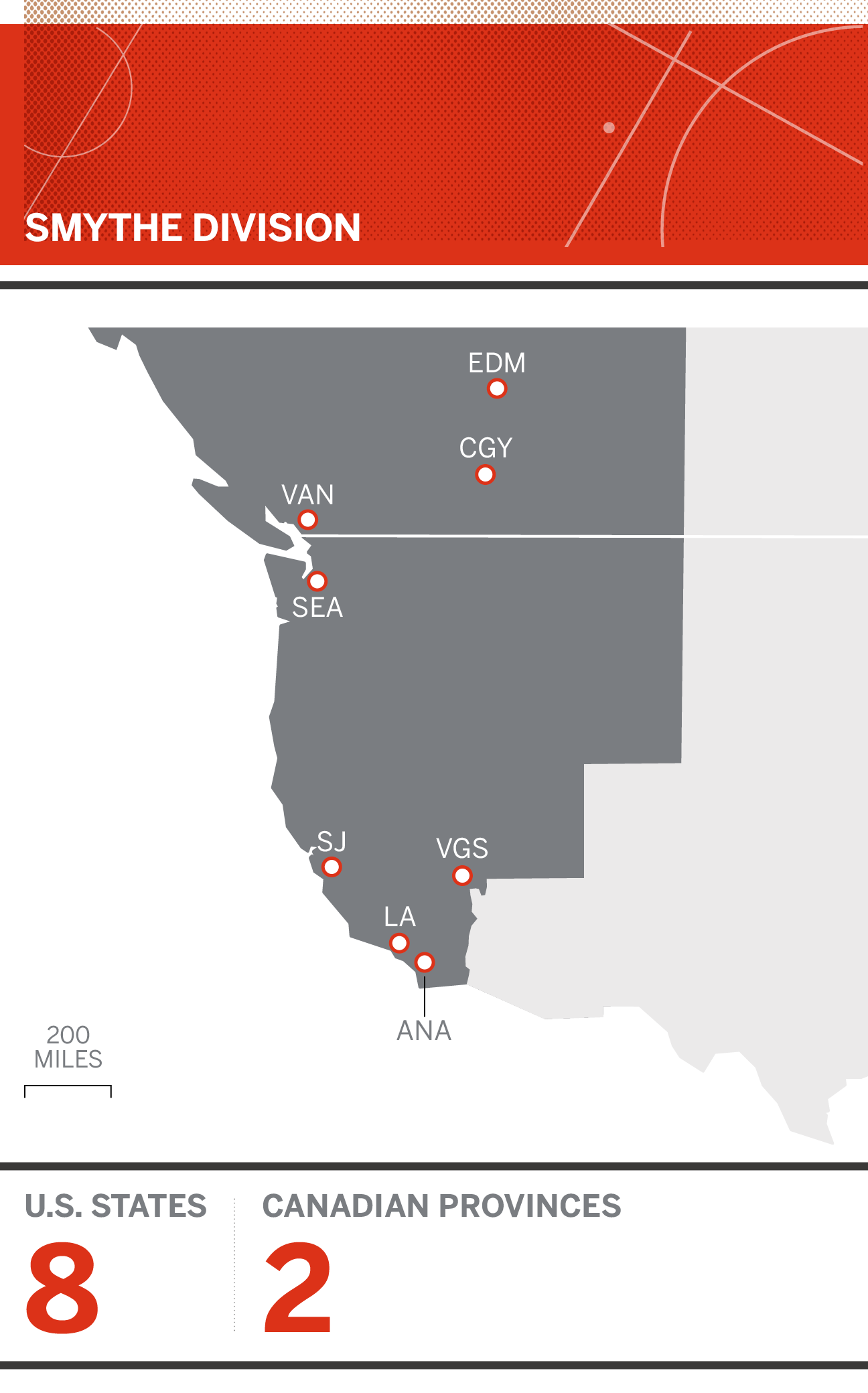 Anaheim Ducks
Calgary Flames
Edmonton Oilers
Los Angeles Kings
San Jose Sharks
Seattle
Vancouver Canucks
Vegas Golden Knights
Geography factored high into our equation, and the goal is to minimize travel as much as possible within the division. Canucks president Trevor Linden has said he would welcome a rivalry with the potential Seattle franchise -- the cities are less than a three-hour drive apart -- so this was an obvious centerpiece.
Other important considerations: keeping the California teams together, as well as the Western Canadian franchises (let's not imagine a world in which Flames-Oilers does not exist more than three times per season).
You'll notice Arizona is conspicuously absent from this group; the Coyotes have been shifted to the Norris Division. It's a bit more travel, however it gives the league a safeguard: Should the team need to relocate -- say, to Houston -- the "Central" division is the easiest landing spot without having to realign yet again.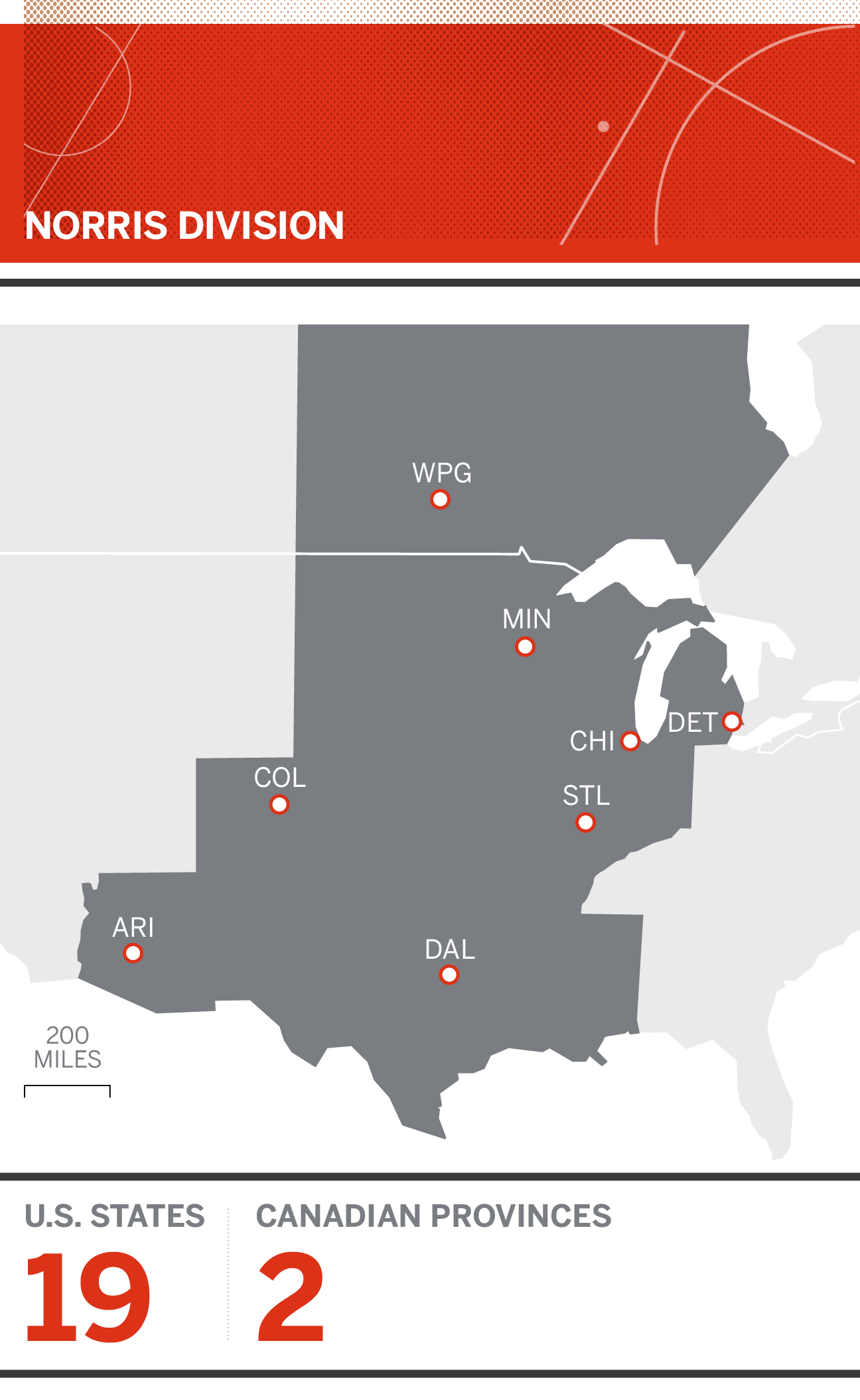 Arizona Coyotes
Chicago Blackhawks
Colorado Avalanche
Dallas Stars
Detroit Red Wings
Minnesota Wild
St. Louis Blues
Winnipeg Jets
I shared my list around the Blackhawks locker room recently, and when Patrick Kane got a look of it, he immediately noticed one thing: "We're not with the Predators anymore," Kane said, genuinely disappointed. "That has become a really good rivalry."
However, Nashville moved to make way for an important correction: returning the Detroit Red Wings where they belong. Separating the Blackhawks and Red Wings has been an injustice, and Kane agrees. "I think that would be awesome to bring them back," Kane said. "Even more so for the fans than anyone else. They appreciate those games so much. Now when there's just one game at home and on the road, it doesn't seem like the rivalry is where it needs to be. It would be fun to play them a few more times a year, and who knows, maybe in the playoffs."
Blackhawks rookie Alex DeBrincat, who grew up a Red Wings fan in Farmington Hills, Michigan, agreed. "I know how much history there is with Blackhawks and the Red Wings," DeBrincat said. "It would be cool to bring that back."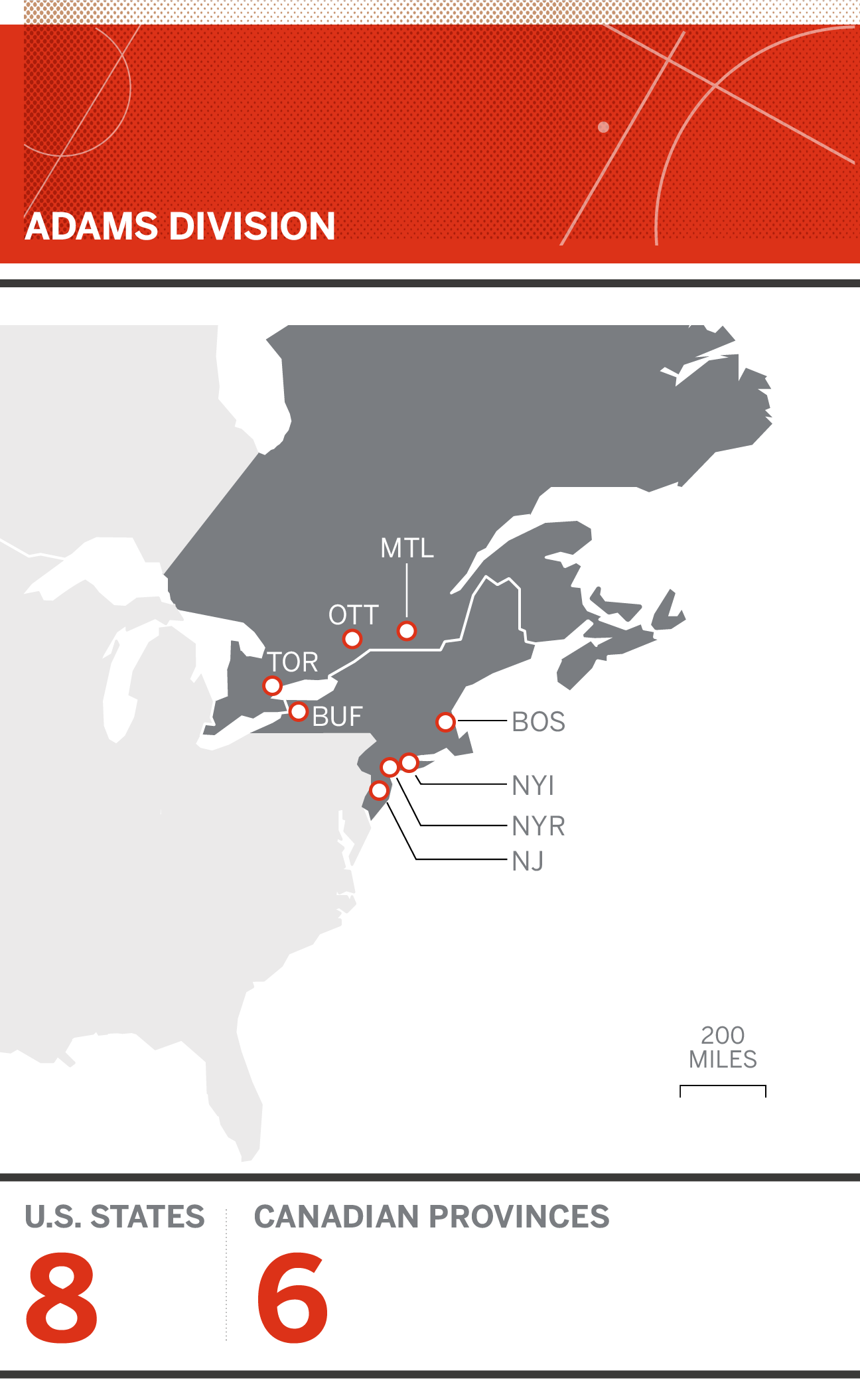 Boston Bruins
Buffalo Sabres
Montreal Canadiens
New Jersey Devils
New York Islanders
New York Rangers
Ottawa Senators
Toronto Maple Leafs
Let's be honest: The current Atlantic Division is a geographic mess. It makes no sense for the Maple Leafs to be in the same division as Tampa Bay. In fixing this, some reshuffling occurred, and the New York and New Jersey teams (a package deal) were plucked from the current Metropolitan Division. This rekindles some awesome Original Six rivalries: New York versus Boston, New York versus Toronto -- heck, we even love New York versus Montreal.
"Yeah, I like that you put the Original Six teams all together," said Blackhawks defenseman Cody Franson, a former Maple Leaf. (It also invites the Islanders' and Rangers' upstate neighbor, the Sabres, to get in on the fun; this year's Winter Classic "rivalry" felt more than contrived).
And yet, one of the most difficult decisions was plucking the New Jersey and New York teams away from the Pennsylvania teams. "The Islanders, that's the Rangers' real rival," devout Rangers fan (and ESPN SportsCenter anchor) Linda Cohn told me when she joined the ESPN on Ice podcast last week. Consider, the most regular chant at Madison Square Garden -- "Potvin sucks!" -- is about an Islanders player who hasn't skated in 30 years. So, as long as those two teams are together, all is well.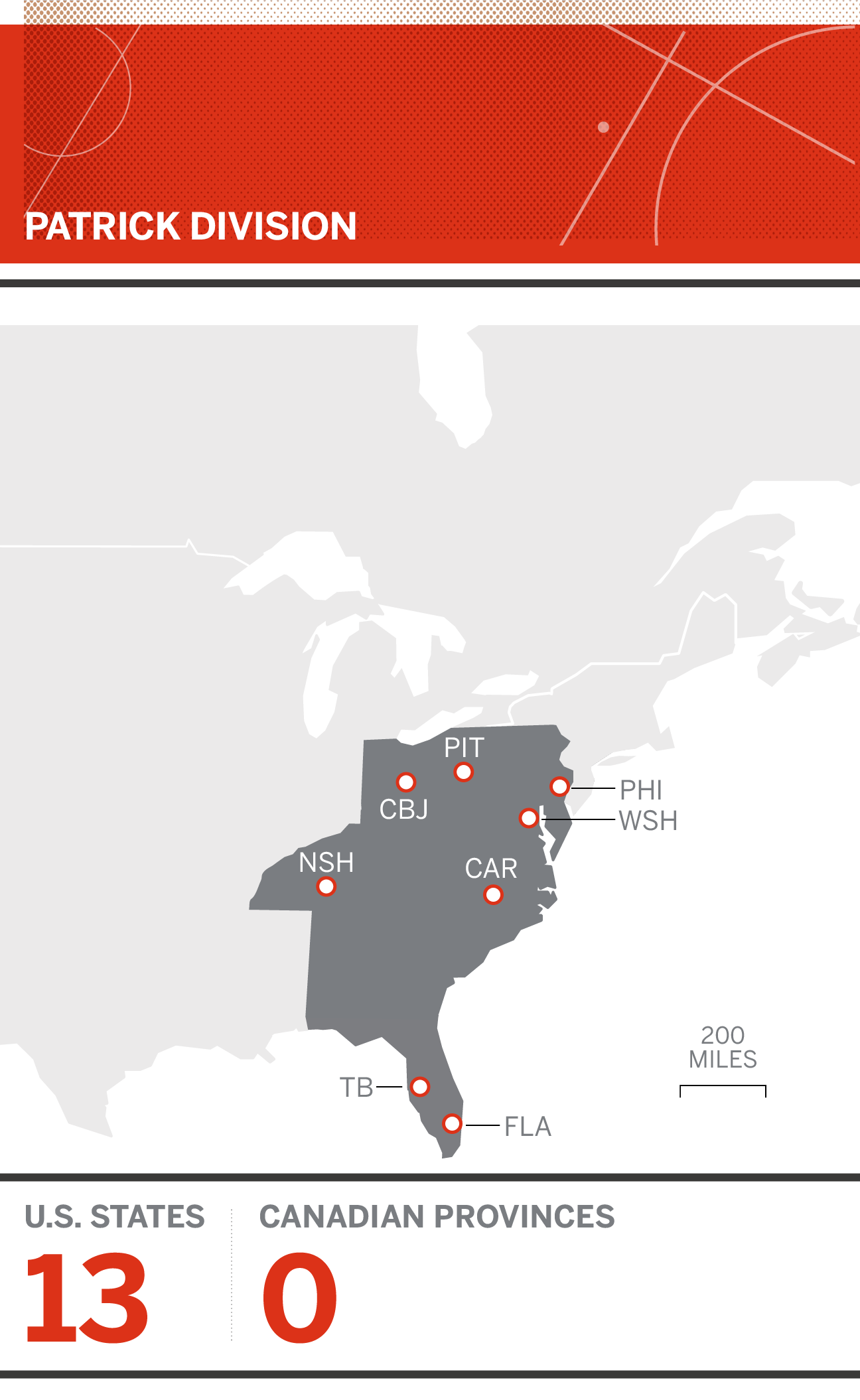 Carolina Hurricanes
Columbus Blue Jackets
Florida Panthers
Nashville Predators
Philadelphia Flyers
Pittsburgh Penguins
Tampa Bay Lightning
Washington Capitals
This might seem like a hodgepodge division, but geographically, it makes a lot of sense.
It's a shame to see the Predators exit the current Central Division, but if anything, it's a similar -- if not easier -- travel jump to cities such as Raleigh (539 miles), Columbus (379 miles) and Washington, D.C. (666 miles) than to Chicago (460 miles), St. Louis (309 miles) and St. Paul (877 miles). Additionally, besides the Hurricanes, the Predators are the league's closest teams in proximity to both Florida franchises.
We preserved the Flyers-Penguins rivalry in this division -- talk of splitting them up was an absolute nonstarter -- as well as Capitals-Penguins. It just makes sense.