They are very much like a productive hockey line -- three men with different skill sets, contrasting and complementing a fluid situation.
Mark Hoppus (clever two-way center), Tom DeLonge (yapping scoring winger) and Travis Barker (sauciest hands of the bunch) are Blink-182.
Formed in the same year as the San Jose Sharks (1992) and close to age as "NHL 2Night" (1995), Blink-182 is very much a "hockey" band, the band I most associate with the old ESPN2 and our ESPN2 hockey show because of the band's age (the average age of the guys and girls who worked on "NHL 2Night" was Blink's average age, despite the dusty and ancient Barry Melrose). And after living my 20s in poverty, the newness of everything covering the NHL at ESPN on a daily basis was like being back in high school, except I no longer had Wheat Thin-sized acne. Every day was a "Rock Show."
Blink-182 is fast, ferocious, funny, profound, profane, vulgar, touching, honest, insecure, self-effacing, violent and fun. If there is a band that shares adult North American hockey's true DNA, it is this one. There is little difference between a Blink mosh pit and a game-ending hockey scrum in front of the net in a one-goal game.
All three members of Blink-182 (just "Blink" to their followers) are Southern California-bred. Hoppus' and DeLonge's parents divorced as kids, while Barker's mother died of cancer the day before the drummer entered high school. Fertile and liberating ground for artistic and outcast teenagers. For Blink., there is no holding back; there is no fear of what Mom or Dad or Coach would think. They just play. This is not a cone-and-whistle practice, this is pond hockey.
The band released its latest construction "Neighborhoods" in late September, the band's sixth studio album and first album of new material in eight years. It gets better with each chunk of listens. My latest listen, Sunday at LA Fitness (I lift things up and put them dowwwn), was another notch up the Facebook "like" ladder. Then, this tweet on my Twitter timeline last night blew up my original blogumn and guaranteed another late night:
JVReemer21 James van Riemsdyk
i think @Buccigross would be thrilled to know i just got the latest blink 182 cd #whatsmyageagain
Thanks for nothing, Jersey Boy. So with an apple from JVR (on a 30-goal, 25-assist pace this season for the Flyers, by the way) and a nod to our past tributes to U2 (twice) and AC/DC, I'm taking Blink's latest album and using lyrics from each track as a bridge to a current hockey topic.
Track 1: "Ghost On The Dance Floor"
I saw your ghost tonight
The moment felt so real
If your eyes stay right on mine
My wounds would start to heal
Edmonton fans' wounds are starting to heal. The Oilers have missed the playoffs in 11 of the past 18 seasons. They haven't had a 100-point season since Wayne Gretzky left and have had only four 90-point seasons since their last Stanley Cup in 1990. Taylor Hall is an absolutely ridiculous talent and his skating is off the charts.
This team is now a must watch on the late night Center Ice package. There are no Gretzky ghosts out there, but this team is legit and fun, building like Blink's opening track and forging its own identity. If Ryan Whitney can get healthy and resume last season's production (27 points in 35 games and a plus-13), this team could really fight for a playoff spot. And if they could somehow position themselves to pick up Predators defenseman Shea Weber down the line ... gulp!
Track 2: "Natives"
I'm like a cat in a cage, locked up and battered and bruised
I am the prodigal son, a shameful prodigy too
I am the love of your life, battering ram and confused
I turn each day into night, I stand there waiting for you
There is desire to fight, but I have nothing to prove
With the crowd and some lights, I start to feel things move
Do you have something to hide? 'Cause I think that we all do
I am a child inside, back up and give me some room
Octflowber has turned into Movember. Jaromir Jagr no longer has his dirty '90s flow, but a meaty 'stache on Jags would be downright epic and/or illegal. Still, a shorn Jagr remains a charismatic NHL entity. Playing with one of the NHL's most dynamic and exciting centers in Claude Giroux (if I could describe Giroux to Hoppus, it would be the first 27 seconds of "Natives"), Jagr can use Giroux's brilliance to make his game easier and productive (I project 27-44-71) while being the biggest attraction on the team, something that would not have happened in Pittsburgh. Jagr turns 40 on Feb. 15. Blink's Hoppus turns 40 one month later.
Track 3: "Up All Night"
Did I get this straight, do you want me here?
As I struggle through each and every year
And all these demons, they keep me up all night
They keep me up all night
What is going on with Weber and New Jersey's Zach Parise? Weber is still set to become a restricted free agent after this season, while Parise is set for unrestricted free agency in July. There are other players in similar contractual situations, but these two really stand out as franchise difference-makers that seem to be destined to go somewhere else. They are five-star players yet to sign long-term deals. They are saying all the right things, but only they know what's deep in their souls. Do they stay put or put themselves in different situations? What's the hold up? Are both leveraging the situation by asking for monster years and cash knowing what an exit would psychologically mean to their respective fan bases, or are the teams unwilling to meet the market price? I can't believe it's the latter.
Track 4: "After Midnight"
Hold on as we crash into the earth
A bit of pain will help you suffer when you're hurt, for real
'Cause you are driving me crazy
Knights of Columbus, this hurts. In 11 seasons, the Columbus Blue Jackets have yet to post a win in the playoffs. In their one playoff appearance, they were swept by the Red Wings. This season, they may already be in too big of a hole to make the playoffs. In their past 34 games, just using straight wins and losses, the Blue Jackets are 5-29. Two bright spots: Ryan Johansen (the rookie looks slick and smart, a definite top-six forward) and Rick Nash. I genuinely admire his attempt to lead this franchise with his play and actions. So many from his generation want things so quickly and they eschew the process. For Nash, the struggle is a blessing, not a curse, and has so far led with honor. It's quite touching to witness. I hope he sticks it out and is rewarded someday.
Track 5: "Snake Charmer"
You are a hero and survivor
Your eyes are getting tired
There's claw marks up your spine
It happens all the time
It's time for the Calgary Flames to trade Jarome Iginla and for him to allow it to happen -- for his sake and the Flames'. In the past 14 seasons, the Flames have advanced past the first round only once -- the season they lost in Game 7 of the Stanley Cup finals to Tampa Bay in 2004. Iginla is 34 and with a $7 million number this season and next. It wouldn't be the easiest of trades, but he should play to that number with his production and presence through next season. The Flames could get a player (or two, for cap-matching purposes), a prospect and a draft pick in some combination from a team looking for that last piece. Iginla will not win a Cup in Calgary. It's time to go somewhere else to try to win it.
Track 6: "Heart's All Gone (Interlude)"
(This is an instrumental track. Just picture TV analyst Daryl Reaugh getting a facial at a Fort Worth Spa. Cucumbers on the eyes, and the whole thing.)
Track 7: "Heart's All Gone"
But you only care about fame and fortune
Watching others tortured
Casting your reflection
Grocery store perfection
This is the last time
Sent to the front line with dirty boots on the ground
You said, "I'll make this all mine."
It appears as if Sean Avery will return to the Rangers. Again. Watching coach John Tortorella explain the situation on MSG's pregame show Monday night resembled a man talking with an over-starched shirt. Rangers fans have been chanting "We Want Avery" at home games. The customers have spoken, and the customers are always right.
Track 8: "Wishing Well"
I can try to get by
But every time I start to panic
I'm a little bit shy
A bit strange and a little bit manic
I have often contended that if his name was Frank Lipple and he had male-patterned baldness, we would care a lot less about Roberto Luongo. However, he's got that dirty salad and that rhythmic, melodic name. Thus, he's kind of a big deal. He is off to a slow start and we wonder if last spring will have damaged him for good. That would go against what history tells us: goalies live a thousand lives.
Track 9: "Kaleidoscope"
It's the first time I'm worried
Of a bad dream, of a journey
On the highway, through the valley
It's a long road through the night
November is here and still no Sidney Crosby. It's now been 10 months since Crosby last played. There is no rush to bring him back since the Penguins -- and the Steelers -- are in first place, and there seems to be little outcry from Penguins season-ticket holders, suite owners and sponsors and the revenue generators to ask for more transparency. Why isn't he playing? Is the team being ultra-extra cautious? Does he still have an injury? Is the plan to give him one full month of training camp-like work after he is cleared to play?
The game needs him, not only for his brilliant artistry, but also because he is one of the more hated players in certain rinks. Every theatrical performance needs a villain. Jonathan Toews will never be hated unless he starts slew-footing schoolchildren at Greater Detroit bus stops. Crosby is the whole entertainment package. With football season in full swing and the Penguins' season off to a good start, Crosby's return can wait.
Track 10: "This Is Home"
Gunshots, the punks are rioting
The stage is slowly crumbling
Smash boards and try to stay alive
A few drinks and a lot of broken lights
This is my favorite song on the new Blink album. (The best part about iTunes and the extinction of the CD is albums are comfortably called albums again.) The song is only 2:46 long (another stick tap to The Cure). The song and its lyrics were in my head while I was at a Hurricanes-Bruins game last month. Boston games are an absolute party -- Rated PG13-R. The crowd is young and hardcore and I love it. The upper bowl is sold out this season with the NHL's darling demographic. For the love of Jack Daniel's, someone threw a whiskey bottle onto the ice after the Bruins completely lost their cool late in the third period. It only would have gotten better if Shawn Thornton picked up the bottle and finished what was left. They would have retired his number during the NESN postgame show.
Track 11: "MH 4.18.2011"
So let's light another match, stop living in the past
Where nobody can hear me now
Blow the lock off the cage, watch the children come of age
When their parents stop to take a bow
The United Nations Population Fund announced earlier this week that the world's population was set to reach 7 billion people, or so they say. The world is more populated, and it certainly is louder. We are a caffeine-addicted society, never better illustrated than here in Connecticut as many are still without power. No power means no coffee. The lines at local Dunkin Donuts are gas-line long. People are sprinting across freeways to get their java. We are amped up.
Montreal's home games are a caffeinated blast of hockey passion, but the Canadiens' roster doesn't always match it. Can you imagine if the Canadiens ever acquired one of the game's elite players? Can you imagine if they had an elite team? They've made one conference finals appearance in the past 17 seasons. Not great, not terrible. Just average.
Track 12: "Love Is Dangerous"
I've had it with this damn double vision
My hand swollen, I can't keep holding on
My heart's sinking, and stuck in deadly rhythm
I can't fake it, I can't, can't brush it off
Let's be honest. As much as we enjoy fights, the NHL cannot sincerely care about head injuries and the general overall health of its players if it only punishes bare-knuckle fighting with five-minute penalties and doesn't make visors mandatory. Any talk otherwise is disingenuous. These are simple and necessary acts. The time has come. And as I've written before here, there will still be fights in the NHL, as there are in the NBA, NFL and major league baseball. The NHL just won't be culpable as an enabler. And there may be fewer whiskey bottles hurled onto the ice.
Track 13: "Fighting The Gravity"
This makes no sense
This makes no sense
This makes no sense
This makes no sense
Our local rink has no power. Armageddon is here.
Track 14: "Even If She Falls"
And she was like a blade of ice
Like a lonely road, clear as day, alive
Always sharp and cold, always beautiful
I am such a fool
Oh, Dallas Stars ice girls ... why do you mock me?
The Mother of All Mini-Mailbags
Bucci,
The wife and I are expecting our first child this spring. I have always enjoyed names that you have come up with. We are huge Avs fans and would love any suggestions that you have.
Josh and Whitney Hersh
Rocky Joseph Hersh ... future third-line checking winger.
---
John,
The Hawks are looking so far, so good this year. Just a couple things I'm worried about! Two years ago after they won the Cup, they cleared the house and got rid of 3 to 4 All-Star caliber players! This offseason we gave away a couple key players that really gave depth to the roster like defenseman Brian Campbell! This year all the guys are saying how they love to play together and this is the team they want. What do you think will happen next offseason?
Jayme Harr
The Blackhawks are pretty well set for the next three seasons with their top-six forwards and their top-four defensemen. As long as Corey Crawford can be that consistent, playoff-caliber goaltender, they will also be set in net. Going forward, the Hawks are in good shape to fill the bottom half of the roster with inexpensive parts to complement their excellent core. They also have a bit of room to add a piece at the deadline. They obviously don't have the depth of their Cup-winning roster, so they will have to stay healthy and give their best players more responsibility to consistently produce.
---
Hey Bucci,
Not sure if you ever had faith in "YOUR Philadelphia Flyerrrrrrrs", but leaving them out of your top ten cup hopefuls was a bit brash. I'm going to give you a big "bum bum bum bum" (http://www.youtube.com/watch?v=1ytCEuuW2_A). Dean Ween would not be happy. This team looks good. Giroux is going to finally rise to the top of the NHL elite. Simmonds has already won the fan base over. Jagr is Jagr. Matt Read for rookie of the year. And for the hundredth time, I think we solved the goalie problem. Come to Roxborough, I'll make ya a hoagie.
Peace,
Dan
It was a bit of a gamble to leave the Flyers out of the top eight in the East. My reasons at the time:
1. A very competitive Atlantic Division.
2. I assumed Jagr would get off to a good start and I assume he will tail off. Will others pick up the slack?
3. Ilya Bryzgalov has a reputation of being a bit out there and irritable. Certainly, he's not the only goalie to fit that description. But if he has one of his Bon Iver out-in-the-woods stretches that lasts too long and there are injuries to key players, the Flyers will sweat it out. This team needs Chris Pronger and Giroux to carry it. If either misses games or goes through dry spells, the Flyers will become average.
4. Odds are, they will make it. I just had a strange feeling come over me. Maybe it was that bowl of grapes I ate.
View from the Hockeyverse
Here is a picture you've sent me via email. You can also hit me up via Twitter at @buccigross!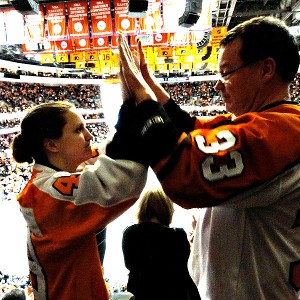 Hi John,
Here is a pic of me and my dad at a Flyers game celebrating a goal. Not staged at all ... just a snap shot of the passion.
Nora Cothren
Stay tuned ...
Coming next week, we'll have another Bucci-produced podcast. Still no word on the status of Ken the Otter.
John Buccigross' email address -- for questions, comments or crosschecks -- is john.buccigross@espn.com.